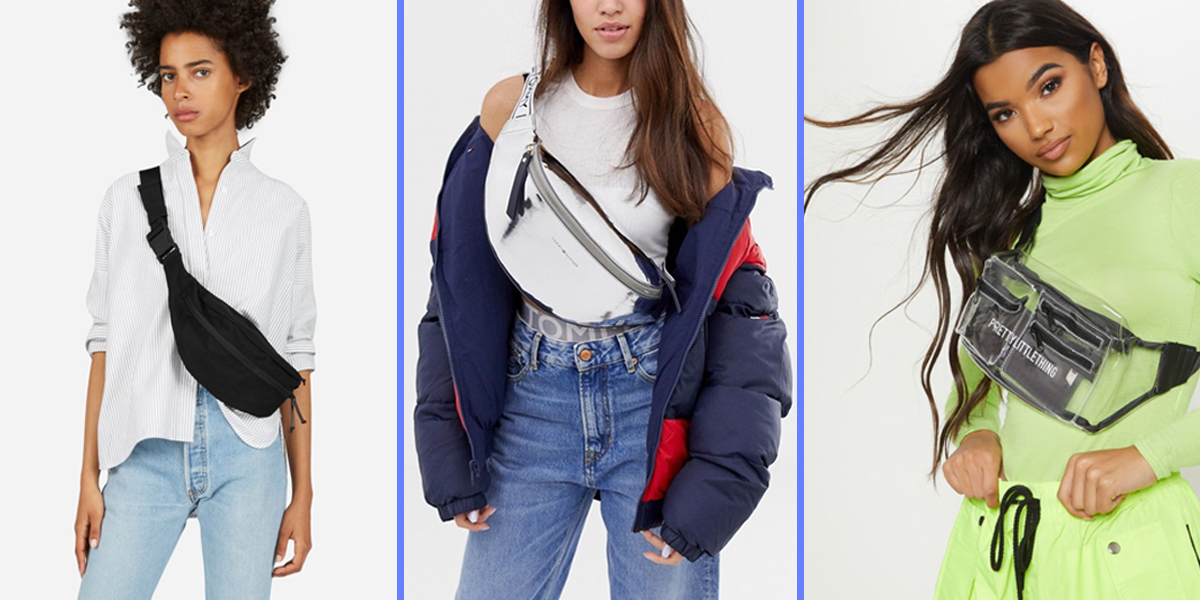 Shop
Which Fanny Pack Are You?
Fanny packs are probably high on your list of products you never thought would make a comeback. The crowning glory to every nerdy dad mental image (combined with knee socks and Tevas, of course), this accessory has catapulted from byword for uncool to it-bag status. Celebs, influencers, Kate from Accounts Payable—everyone is rocking the fanny pack (or belt bag, as it has been rechristened). We're all for a worthy trend, especially one that makes our travels a little easier: Is there any feeling more luxurious than not having to carry a handbag around?! We didn't think so.
Now, we know what you're thinking, "I love the look, I just don't know if I can pull it off." Well, we're here to tell you (and your inner monologue) that you can and should. Take a look at our favorite fanny packs right now.
Water Works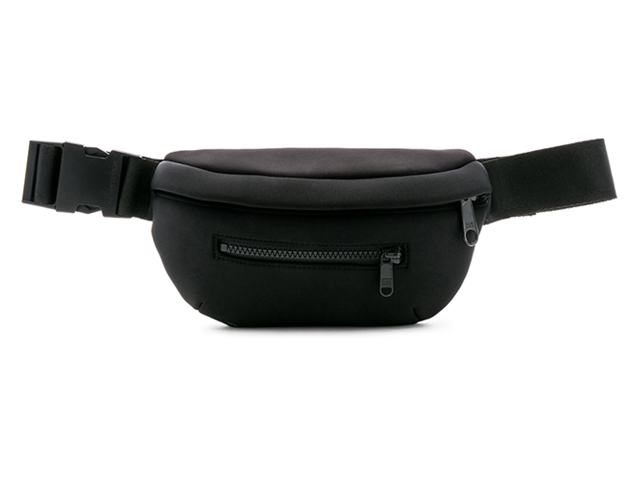 1
Ace Fanny Pack by Dagne Dover
What sets this Dagne Dover design apart from all the other styles on this list? It's squishy neoprene fabric. Not only does it provide a sporty look and feel, but the sponge-like material is also water-resistant. And don't be fooled—while this bag may seem compact, it's plenty big for your phone, wallet, lip balm, keys, e-reader, and gum.
$85 at Revolve
The Statement-Maker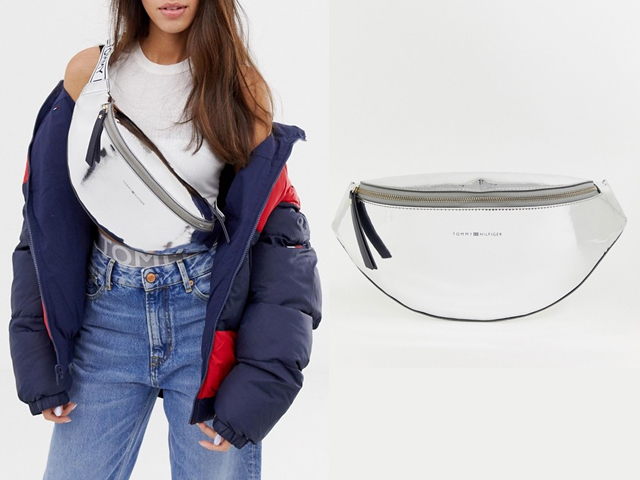 2
Tommy Hilfiger Metallic Bumbag
You know what they say: "go big or go home." This shiny Tommy Hilfiger bag packs a double style punch in the form of metallic silver faux leather and a chic, oversized shape. The former instantly adds edge to your look, while the latter means you can fit all your essentials in it without worry. The white logo strap is a nod to streetwear, but more importantly allows for comfortable wear around the waist or shoulder.
$154 at Asos
Sleek & Stylish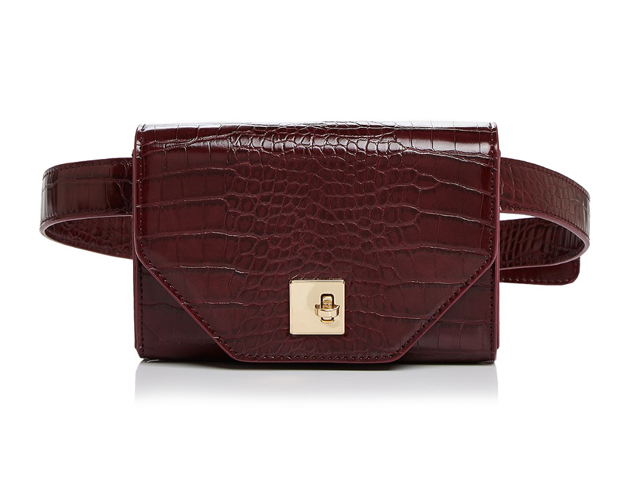 3
Croc-Embossed Convertible Belt Bag by AQUA
In a trend that's typically characterized as streetwear, AQUA's croc-textured version offers a refreshing change. The rich burgundy color, gold locking hardware, and tidy rectangular shape all come together to make one very grown-up take on the fanny pack. Plus, interior pockets and card slots allow it to double as your wallet. The best bit? This style actually converts into a mini shoulder bag. Reach for this on days you're going straight from commute to cocktails.
$40.80 at Bloomingdale's
RELATED: The 10 Best Backpack Purses
Mini But Mighty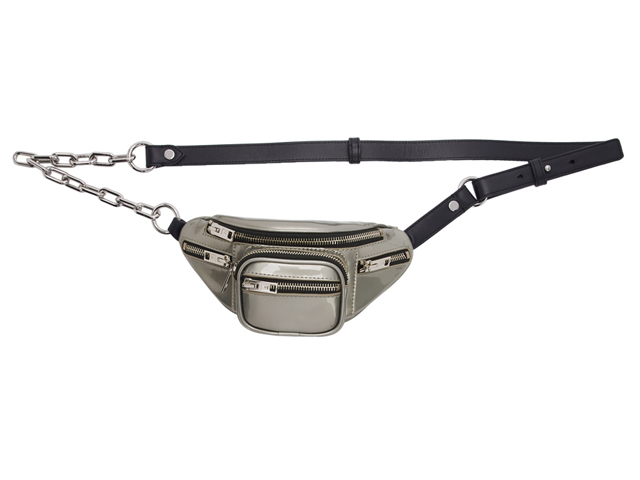 4
Silver Patent Mini Attica Fanny Pack by Alexander Wang
The Classic
5
The Street Nylon Fanny Pack by Everlane
Aptly named "The Street," Everlane's water-resistant nylon bag has a minimalist, urban style that looks effortlessly cool when slung over one shoulder. The durable bag has a roomy main pouch for your phone, snacks, and Kindle Oasis, while an inside security pocket can stash items like cash and credit cards. And did we mention that it has 100-plus five-star reviews? That multiple people report loving it so much, they bought two? Yup, it's that good.
$25 at Everlane
Best of Both Worlds
6
Satin Fanny Pack by Elizabeth and James
With a simple shape that appeals to minimalists and red satin fabric that looks equally "date night" as it does "shopping in SoHo"—this stylish waist pack by Elizabeth and James is perfect for those of us who can't decide on what look we're going for. Even better? Front and back zipper compartments, plus a spacious interior, guarantee that this sleek design is more than just a pretty face.
$135.99 at Zappos
RELATED: The Best Money Belts for Travel
The 80s Called…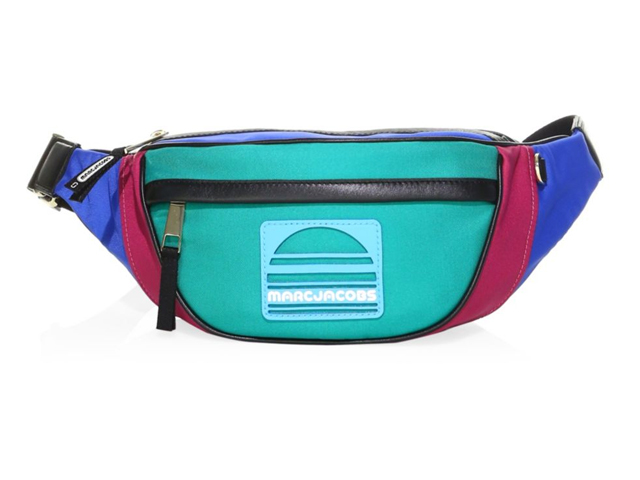 7
Color Block Sport Fanny Pack by Marc Jacobs
What better way to pay tribute to ultimate 80s accessory than with a fanny pack that embodies that decade's aesthetic? The bold Caboodle color palette and retro sunset logo make this snap-closure waist bag look like it came straight out of a "Full House" closet. It's, like, totally rad.
$250 at Saks Fifth Avenue
Tough Love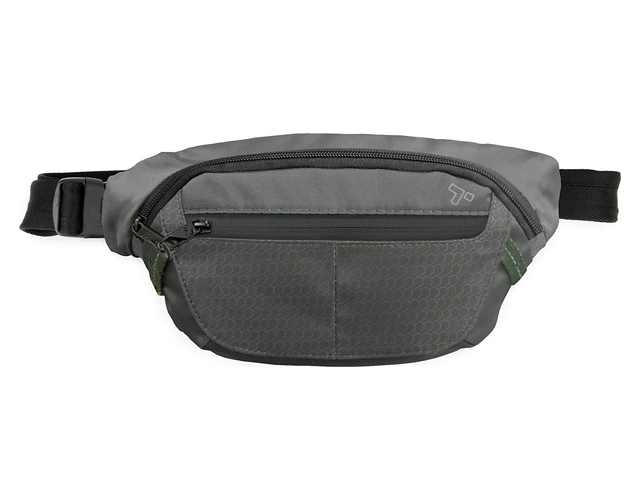 8
Anti-Theft Active Waist Pack by Travelon
There's a lot to think about when you're traveling, so you might as well eliminate worrying about strap-cutting and illegal credit card scanning from the list. Not only is this water-resistant nylon bag's body and strap slash-proof, but the front organizer is equipped with its own RFID-blocking card. Oh, and the main compartment includes an LED key light, making it easy to locate items day or night.
$40.99 at eBags
The Clear Winner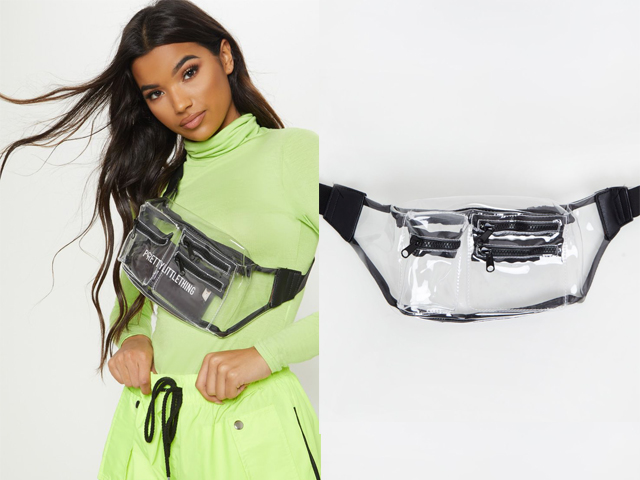 9
Transparent Multi-Zip Bum Bag by Pretty Little Things
The clear trend's not for everyone, but those who are fans love to turn bags—even luggage—into their own curated exhibit. This edgy pack's transparent material is offset by chunky black zippers and a thick black straps. You can pair it with anything and everything—trust us, it'll pretty much always work!
$32 at Pretty Little Things
Related Stories
All products have been hand-picked by our writers and editors. Items purchased through links may earn us a commission.