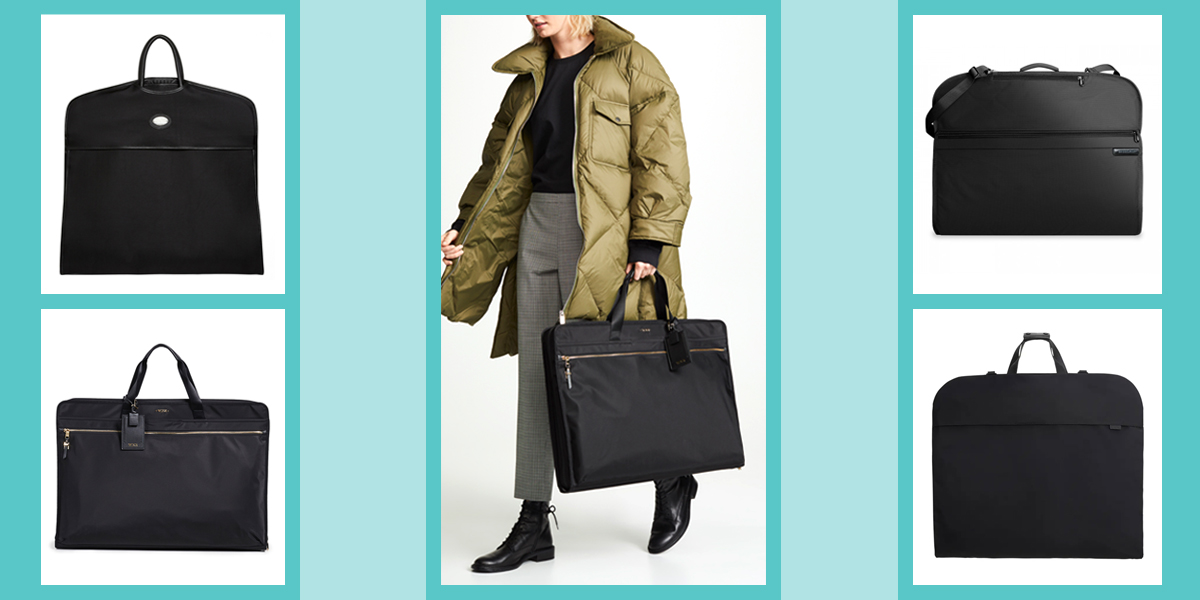 Shop
The 10 Best Garment Bags to Up Your Packing Game and Stay Wrinkle-Free
A garment bag should be more than just an afterthought. Up your packing game, and consider the garment bag the workhorse of your luggage collection. A typical garment bag is usually a cloth, zippered bag with an interior hanger to keep suits, shirts, and dresses wrinkle-free and protected from the elements in transit. But a good garment bag does more than just store clothes that are too delicate/important to be folded and placed in a suitcase. Whether you want a garment bag with wheels, accessory pockets, or enough space to pack a week's worth of outfits—these 10 garment bags deliver. The real trick is nicely asking the flight attendant to hang your garment bag in the first class closet.
1
Best Status Garment Bag
If your garment bag's label and design is as important to you as the fashions stored inside, Tumi's Voyageur Odessa Garment Bag is the status choice. It was designed to accommodate longer dresses (hello Fashion Week) and features a curtain closure and top carrying handle, plus a shoulder strap. Inside, there are several convenient zip pockets—including one with a velvet lining to protect jewelry. The quick-access pocket is ideal for stashing your phone. And the Tumi name brand is popular with celebrities and fashionistas, so expect subtle nods of approval from the first class crowd, even if you're flying coach.
Exterior dimensions: 17 x 24 x 4 inches
Weight: 63 ounces 
Primary material: technical weave with cowhide trim
Available colors: black
$495 at Shopbop
2
Best Garment Bag on Wheels
Keep one hand free for a much-needed airport cappuccino by taking your garment bag to-go—with the addition of wheels. The Samsonite Silhouette XV Duet Voyager is a wide and spacious pick that can comfortably fit a week's worth of clothes, including shoes. Compression straps help to keep your pressed items flat and wrinkle-free, and a panel extender allows for longer items. The front pocket provides easy access to keys and boarding passes. Rotating wheels allow you to pull or glide the suitcase, which is ideal. 
Exterior dimensions (excluding wheels): 23 x 11 x 23 inches
Weight: 12.4 pounds
Primary material: nylon
Available colors: black
$263.99 at Zappos
3
Most Spacious Garment Bag
The Sportsman's Rolling Garment Bag, from L.L. Bean, is already one of the larger garment bags available. And it ups the space ante by incorporating a large flat exterior pocket that easily accommodates a change of outerwear or clothes you can grab without having to unpack your whole bag. The soft nylon shell allows for expansion to squeeze in one last outfit without wrinkling anything and the tall frame works well for suits or long dresses.  
Exterior dimensions: 24 X 21¼ X 7 ¾
Weight: 12.6 pounds
Primary material: nylon with leather trim
Available colors: navy, sage
$319 at L.L. Bean
4
Best Simple Garment Bag
Simple doesn't have to mean boring. Brooks Brothers is known for their well-made, clean-lined mens' suits, so it's no surprise they also created a well-made, clean-lined garment bag. To keep an expensive suit or special occasion outfit protected, this classically simple Brooks Brothers Suit Garment Bag does the job and looks good. The water repellant nylon material will keep your wardrobe dry even in a downpour. The spiffy pinstripe lining is a nice attention to detail. 
Exterior dimensions: 22" x 44½"
Primary material: nylon with leather trim
Available colors: black
$298 at Brooks Brothers
5
Most Compact Garment Bag
When space is at a premium, especially on short flights in smaller planes, you'll appreciate the compact and slimline design of the Briggs & Riley Baseline Garment Cover. The bag easily lies flat inside an overhead compartment or hangs on a car hanger. There's still enough space to fit two suits or dresses, as well as personal care items inside the durable front pocket. We like it for stashing jewelry or ties. 
Exterior dimensions: 22.5" x 24.5" x 2"
Primary material: nylon
Available colors: black, olive
$158.99 at Blomingdale's
6
Best Garment Bag for Air Travel
The TravelPro Carry-On Rolling Garment Bag lives up to its lofty brand name, providing enough space for everything fliers need in one dependable carry-on for a few days of travel. A handy panel folds out of the interior, allowing for garments to be packed without wrinkles. Multiple accessory pockets provide space for jewelry, ties, and socks. The extension handle is strong and sturdy enough to cope with the extra weight of another case or laptop bag being slipped over the top, making airport travel quick, easy, and lightweight.
Exterior dimensions: 14"H x 22"L x 9"W
Weight: 9.3 lbs
Primary material: nylon
Available colors: black, indigo
$187.13 at Amazon
7
Most Versatile Garment Bag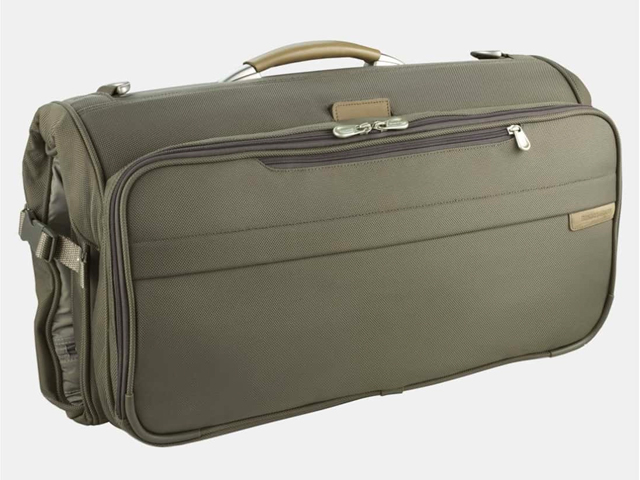 Versatility is key. This sleek and modern Briggs & Riley Baseline garment bag is perfect for weekend jaunts—from destination weddings to business conferences. It opens as a full garment bag with a convenient hanger hook, and then effortlessly folds into thirds for easy transportation. It holds hanging loops and six interior zip pockets, with space for makeup, jewelry, and toiletries. The separate shoe compartment keeps clothes clean and loafers organized. This will be your garment bag for any sort of occasion. 
Dimensions: 22"W x 8 ½"H x 14"D.
Weight: 6.6 lbs
Primary material: ballistic nylon
Available colors: olive
$316 at Nordstrom
8
Best Garment Bag for Quick Packing
For travelers who don't want to spend a lot of time packing and unpacking, check out the Samsonite Armage Wheeled Carry On Garment Bag. The hanger bracket allows you to move your clothes from the bag to the closet in one quick move. Mesh interior pockets allow you to quickly locate accessories and the extender panel accommodates longer items for fewer wrinkles. The retractable locking handle and inline-skate wheels are excellent for dashing around the terminal for quick connections.
Exterior dimensions: 22.0" x 18.0" x 10.0"
Weight: 10.6 pounds
Primary material: nylon
Available colors: black
$450 at Samsonite
9
Best Garment Bag for Value
The extremely lightweight and affordable Wally Bags Extra Capacity Garment Bag features smart design that's way above its pay grade. The garment bag features two pockets and a deep capacity that easily fits up to eight garments. More importantly, a special Wally lock mechanism stops hangers from falling down into the bag during transit, helping keep clothes pressed and neat. The double handles make for an easy and comfortable commute—even in the rain, thanks to waterproof material. At this price point, you'll want to buy one for yourself and one for a thoughtful gift. 
Exterior dimensions: 45 x 22 x 4 inches
Weight: 2 pounds
Primary material: polyester
Available colors: black, navy
$69.99 at eBags
Related Stories
All products have been hand-picked by our writers and editors. Items purchased through links may earn us a commission.