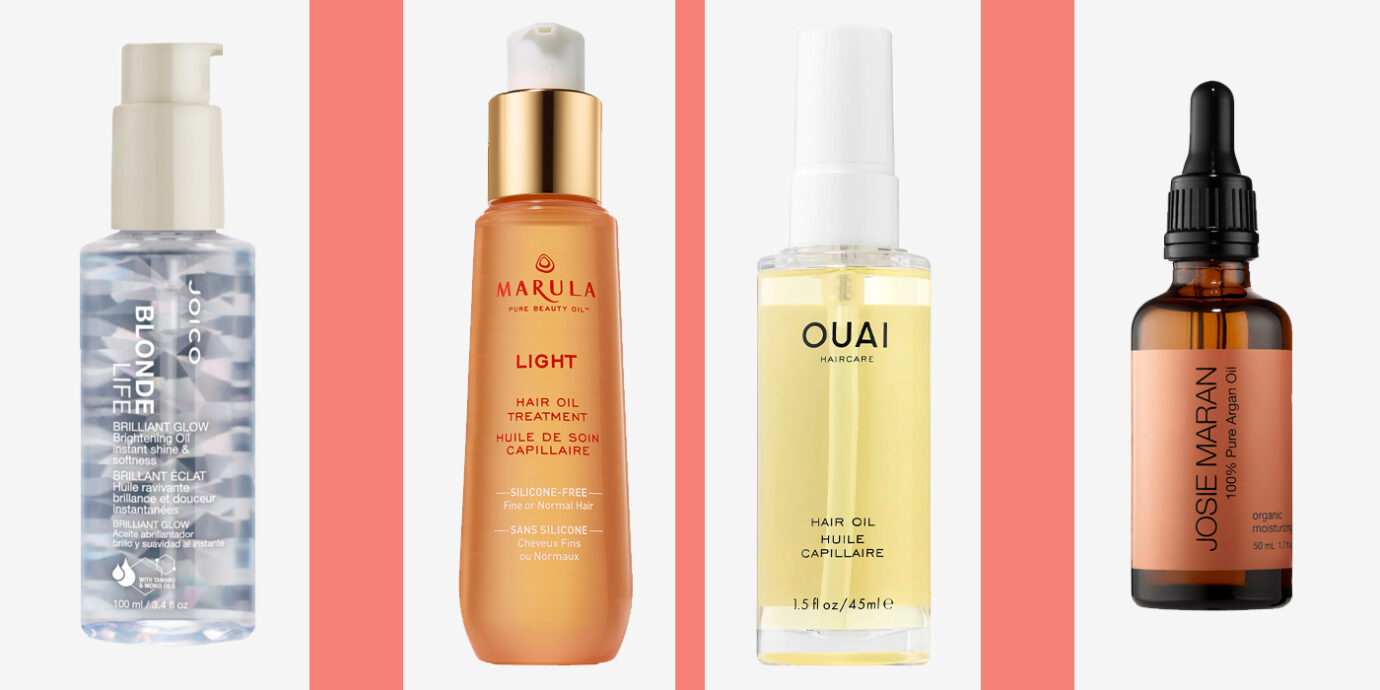 Shop
The 14 Best (and Best-Smelling) Hair Oils for Shiny, Healthy Vacation Hair
You've probably read all about how to get gorgeous hair from the inside out: fill your plate with leafy greens and healthy fats from sources like omega-rich fish and creamy avocado. While we're all for the long game, sometimes we need a quick boost to keep our strands happy, especially when we're on vacation and the changes in diet and environment can throw our entire systems out of whack. Enter hair oils—often a mixture of ultra-conditioning oils (like argan, jojoba, or coconut) and delicious-smelling ingredients. To tell the truth, some of our favorite hair oils smell so good, we don't even have to pack perfume for vacation. Who doesn't love a multitasker? Read on to find the right oil for you.
What Is Hair Oil?
To its legions of fans, hair oils are magical elixirs than can boost shine, cut frizz, and condition strands. Some are a pure one-ingredient oil, such as 100% argan oil, though most use a base oil like marula or macadamia as their key component, supplemented with additional oils (some of our favorite hair oils include buriti and rice bran) and other hydrating ingredients, either natural or synthetic.


What Are The Benefits of Hair Oil?
We could write a book on the benefits of hair oil, but here's the long story short: hair oils help to detangle hair, seal the cuticle, protect from heat, and hydrate like no other. Also remember those aforementioned healthy fats? Hair oils have them in spades, and they're integral to maximizing shine and keeping strands from splitting.
How Do You Use Hair Oil?
Each product will have instructions for their use, but in general: avoid applying oils directly to your scalp. Start at the ends and work about halfway up the length of damp hair before styling, or smooth onto dry hair.
The Best Hair Oils To Buy
Best Hair Oil Overall
The OG of hair oils is an icon for a reason: Moroccanoil's argan oil-based formula smooths flyaways like a champ and provides exceptional shine and softness. If you still need convincing, take a peek at the more than 500 five-star reviews on Nordstrom.
Best Hair Oil Treatment
Take everything you think you know about heavy hair oils and throw it out the window. Marula Beauty's incredibly lightweight treatment feels nothing like the goopy hair oils of yesteryear—it sinks into hair instantly without weighing it down or leaving greasiness in its wake. The fruity-smelling, vitamin E-rich blend of marula, acai, passionfruit, and moringa seed oils are tempered by earthy rosemary, lavender, and cedar.
Best Hair Oil for Color-Treated Hair
Ouai's sheer hair oil is well on its way to achieving cult status. Beloved by hairstylists, beauty writers, and ultra-enthusiastic Sephora shoppers alike, the lightweight sweet almond oil-based product is delicate enough for even super-fine hair, with baobab and borage oils tackling frizz and dullness and galangal root extract preserving hair color. Ouai's oil doubles as an overnight treatment—work some in before hitting the hay, rinse in the morning, and voila! Happier, healthier hair. It triples as perfume: the musky Rue St. Honore scent of violet, gardenia, and ylang ylang notes will have you smelling like a garden in Paris.
Best Hair Oil with Macadamia Oil
Most hair oils are too heavy to be applied directly to the scalp, but Macadamia Natural Oil Healing Oil is light and non-greasy enough to massage straight on the scalp if your tresses could use a little TLC. Reviewers report that it leaves hair feeling like pure silk.
Best Hair Oil with Argan Oil
What better belongs in this category than a formula that's 100% argan oil? We love it even more because it's not only vegan and cruelty free, but also formulated without formaldehyde or GMOs. Another brilliant multitasker, Josie Maran's organic miracle worker can be used on hair, skin, cuticles, and even lips. As one Sephora five-star reviewer puts it (one of nearly 5,300, by the way), the oil is "all you ever wanted in a bottle." Note that while other hair oils on this list can double for perfume, this one is essentially scentless (though some reviewers report a subtle nutty scent).
Best Hair Oil for Black Hair
Use this free-of-all-the-nasty-stuff (no silicones, parabens, petroleum) hair oil by all-natural brand Carol's Daughter by massaging it into your hair and scalp (like the Macadamia Natural Oil Healing Oil, this one won't overpower the scalp). Alternatively, you can set the bottle in a bowl or sink of warm water for a few minutes, then work the hot oil into hair and scalp prior to shampooing. Whichever you choose, you'll love conditioning blend of corn and safflower seed oil, the intoxicatingly sweet-sultry scent—and the $10 price point (for 4.3 ounces, no less!).
Best Hair Oil for Fine Hair
Because most fine hair already tends to get naturally oily pretty quickly, a dry oil is your best bet. Again here, we reiterate: avoid your scalp. What not to avoid? Those achy muscles! This totally natural product can stand in as a non-greasy body oil for massages. The marriage of sweet almond, sunflower, and basil oils smells divine.
Best Hair Oil for Curly Hair
What's head-spinningly gorgeous yet ridiculously high-maintenance? Curly hair! Luckily for curly-haired people everywhere, L'Oreal Mythic exists. This argan oil-based liquid gold detangles knots, lessens frizz, and moisturizes curls for touchable, glossy, compliment-inducing lushness.
Best Hair Oil for Hair Growth and Thickness
If you're looking to stimulate hair growth, OGX's argan oil is the hair oil for you, as it's rich in fatty acids, antioxidants, and vitamin E, which is thought to support growth. However, consider this an all-purpose hair oil, not your first course of action to promote hair growth. Hair growth is a process, so it's unlikely that any one product will be a magic bullet.
Best Hair Oil for Blonde Hair
Here's a bit of little known beauty advice: fair-headed folks should steer clear from amber-hued oils, as they can impart a dark, brassy shade to light hair. Who knew! So for you blondes out there, a super-light or even clear oil is the way to go. Joico's completely clear hair oil is rich in arginine—an essential building block for hair keratin.
Best Hair Oil for Men
This quinoa- and shea oil-based beard oil is marketed for facial hair, yes, but it's a fabulous moisturizer for head hair, too. Plus, it smells sexy as hell and comes in a sleek barbershop-inspired bottle that will look cool on the bathroom countertop.
Best Drugstore Hair Oil
If you hold your beauty products to a high ethical standard, this under-$7 hair oil is a great pick. Love Beauty and Planet's multipurpose oil is cruelty-free, vegan, and packaged in 100% recyclable bottles. Those do-gooder traits are made all the more impressive because the stuff really works. Use it as a pre-shampoo treatment (work into hair and let sit for up to an hour before washing) or as a post-rinse styling product to jumpstart shine and hydration.
Best Status Hair Oil
Ahhh, Oribe. The stuff that hair dreams are made of. The brand's highly coveted hair oil has a featherlight texture that belies its serious power to coddle, smooth, and soften—not to mention leave behind incredible shine. The heady mix of exotic botanicals (jasmine, edelweiss flower, lychee, and cassis, just to name a few) is what really makes this oil lust-worthy.
Related Stories
All products have been hand-picked by our writers and editors. Items purchased through links may earn us a commission.