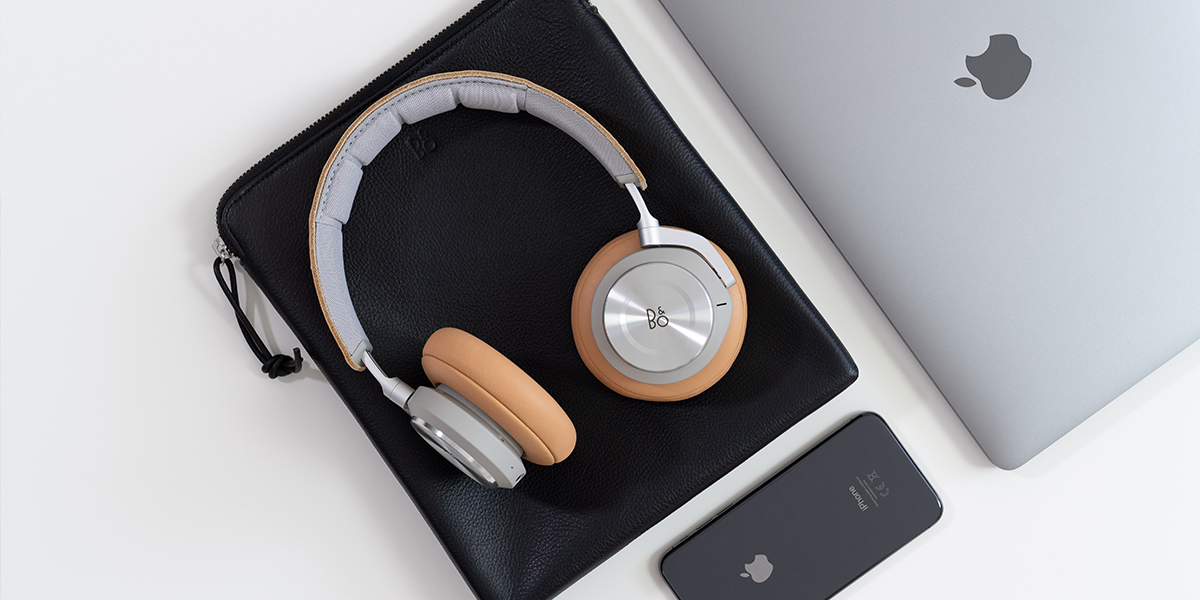 Shop
The Best Travel Headphones
Sometimes travel can be the worst—yammering seatmates, rowdy kids, that crying baby in row 11. But a good pair of headphones can cocoon you in your own little audio bubble. Consider it a bit of packable sanity. Finding a comfortable pair with must-have features doesn't have to cost a fortune, either. Headphones that come with essentials, like active noise-cancellation and long battery life, are available in a range of price-points. And killer sound and high-end design aren't out of the question either. Whether you're looking for wireless Bluetooth headphones, sporty earbuds, or a stylish pair to accessorize your travel outfit, we've got you covered.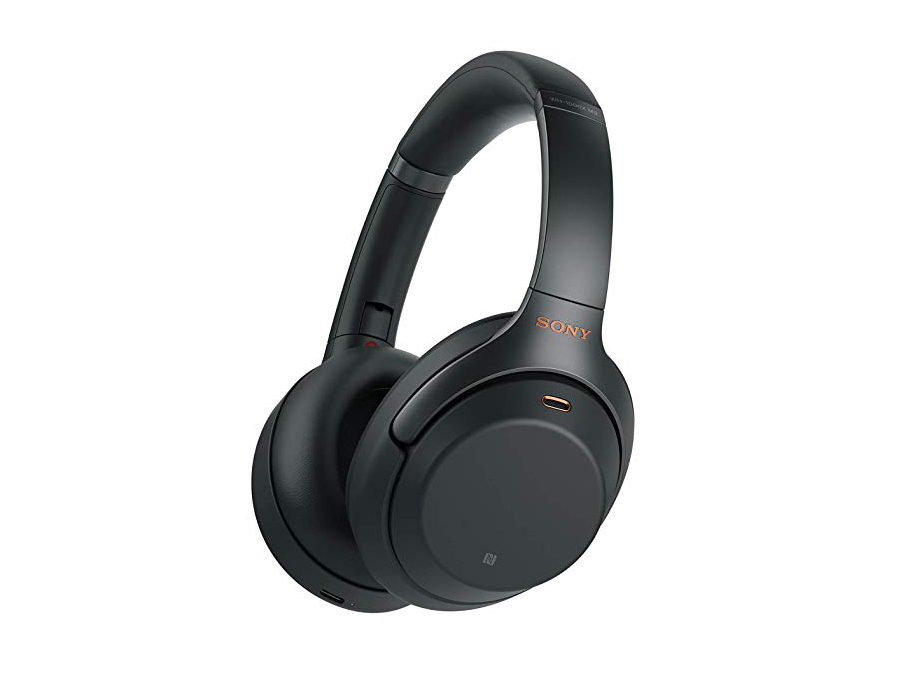 1
Best Overall: Sony WH-1000XM3 Wireless Noise-Cancelling Headphones
Sony upped their game when it released these wireless headphones. Some critics even argue they beat the former champ, Bose QuietComfort 35 II. And while Bose might still get the win for noise-cancellation (see below), Sony beats their pants off doing what it does best: providing exceptional audio. The ability to customize sound and active noise-cancellation (ANC) using a dedicated app, plus oodles of other fantastic features—including the air-travel specific atmosphere pressure adjustment—makes them our best overall pick.
Swipes and taps on the right earcup control things like music tracks, Bluetooth call functions, and Google Assistant access. Putting your hand over the earcup allows you to tune into the outside world to catch things like airport announcements. Other major perks include a whopping 30 hours of battery life, with a 10-minute charge that gets you five hours of power, super-soft earcups, a cushiony headband, and a total weight of just under nine ounces. And while some debate that the plastic construction looks cheap, they're still sleeker than Bose.
$348 at Amazon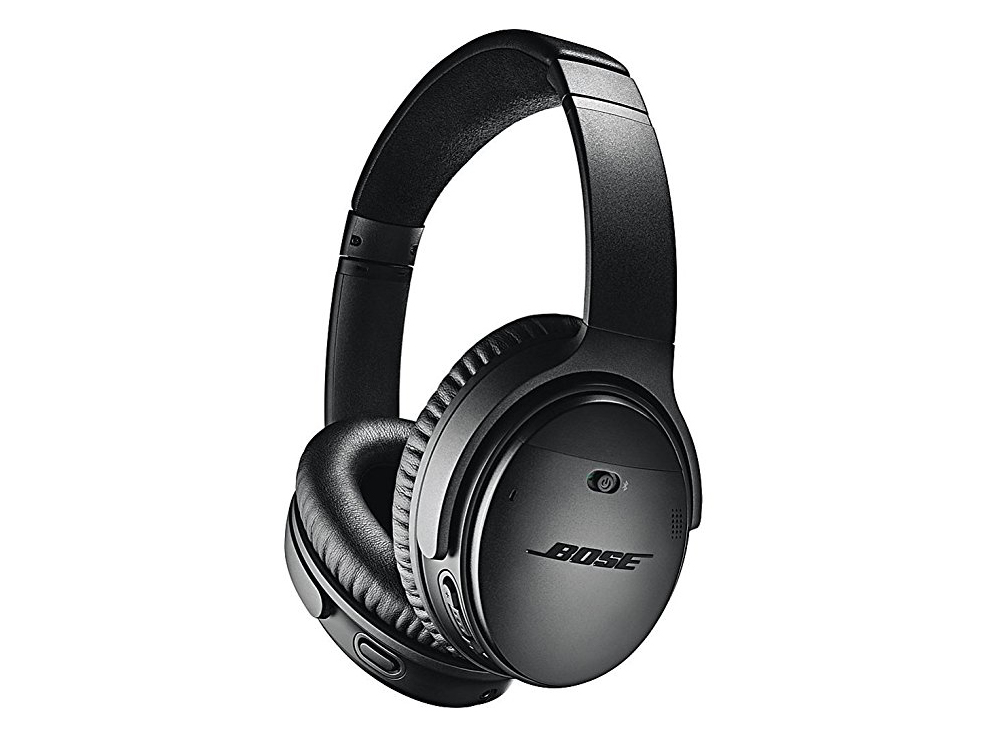 2
Best for Noise-Canceling: Bose QuietComfort 35 II
When it comes to noise-canceling headphones, this Bose pair is still top dog. And if you've got a long-haul flight, you'll appreciate their soft, leathery earcups and comfy, cushioned headband. The "action" button on the left earcup gives noise-cancellation settings and Google Assistant access. The right earcup is for volume control, call functions, and there's a multitasking button for selecting music tracks. Despite stellar sound quality, extreme audiophiles may want to consider other options, as the app doesn't let you customize surround-sound/positioning or the equalizer. Another group that's not exactly on the Bose bandwagon? Fashionistas. Alas, Bose headphone aren't known for their style, although they do come in black or silver, and the earcups swivel flat to store in its hard clamshell case.  
$349 at Amazon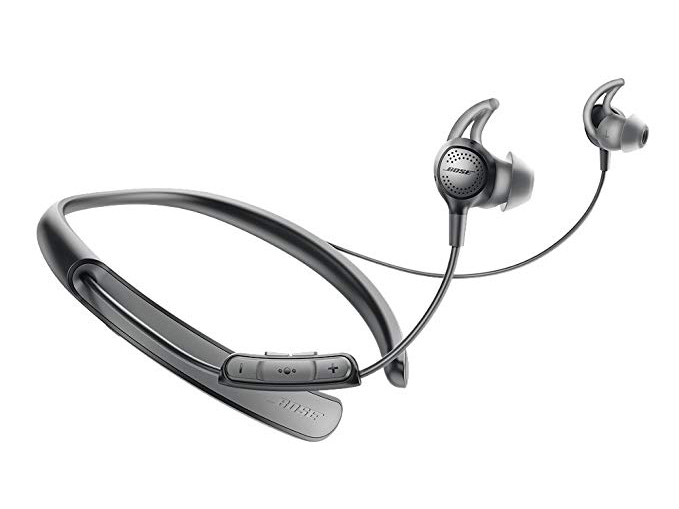 3
Best Wireless Earbuds: Bose QuietControl 30
Don't be fooled! That neckband doesn't mean these earbuds aren't wireless. If you can look past the statement necklace going on, you'll find your best bet for wire-free travel. While they don't beat their over-ear sibling for noise-cancellation, they come darn close. Plus, they offer the same app functions and Bluetooth technology, and the battery lasts for 10 hours (which is longer than average for wireless earbuds). OK fine, we get that the neckband makes them look a little dorky, especially when compared to the ultra-popular Apple AirPods. However, unlike everyone's favorite white earbuds, these drown out airplane noise and won't pop out when you bend over to grab luggage off the carousel.
$299 at Amazon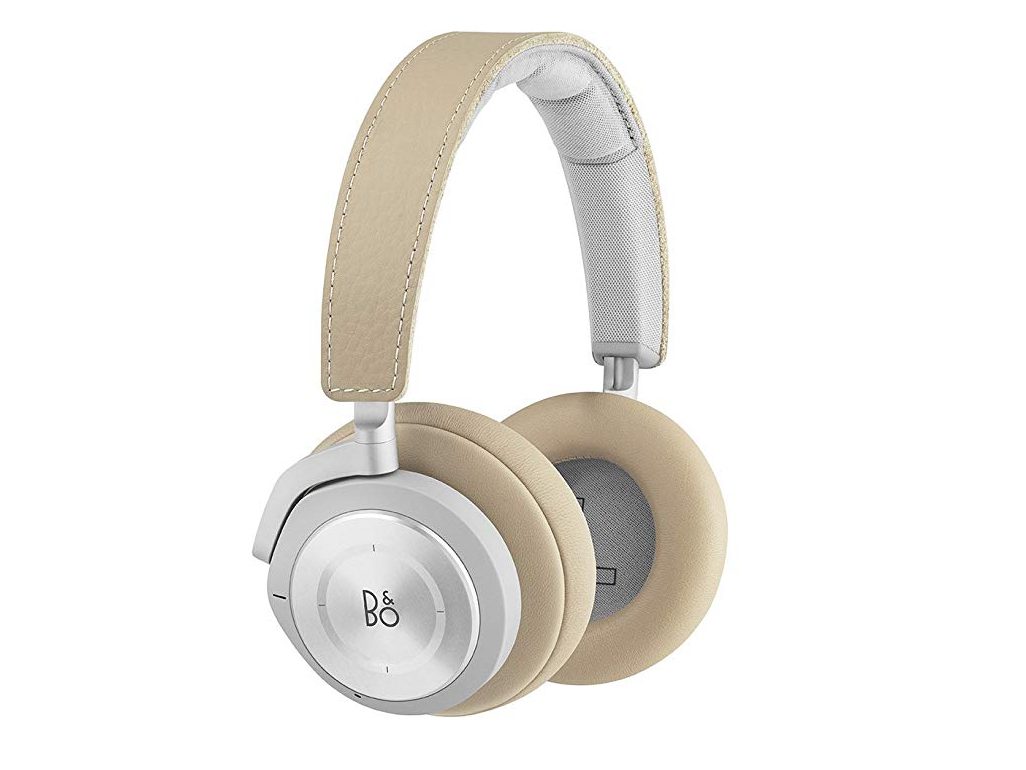 4
Most Stylish: Bang & Olufsen Beoplay H9i Wireless Bluetooth Over-Ear Headphones With Active Noise Cancellation
Design-lovers, this one is for you. With a textured leather headband and a matte-black or natural finish, these Bang & Olufsen headphones are full-on gorgeous. The catch is that these babies will cost you $499. That said, they're a serious upgrade over other stylish options on the market that are all flash and no function. These are more than just a pretty package, offering up superb sound, excellent tech features, and 18 hours of battery life, plus great noise-cancellation—a must-have for every jetsetter. Transparency mode automatically pauses music if you take the headphones off, and let's you continue your groove when they're back on. And if you're the type that like to live in your headphones, you'll appreciate how comfy these feel. Their leather headband is cushioned underneath and the ear pads are made from lambskin. Note: You can't customize the ANC using the app, but you can equalize sound.
$499 at Amazon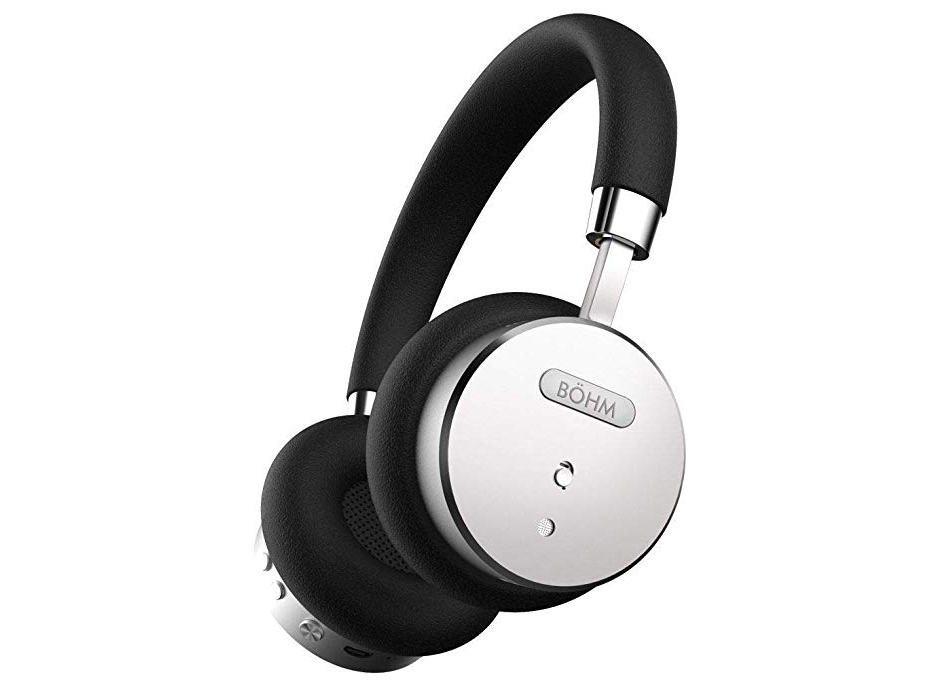 5
Best Under $100: BÖHM B66 On Ear Wireless Bluetooth Headphones with Active Noise Cancellation
Does it feel like all noise-canceling headphones are priced for one-percenters? Here's a pair for the rest of us. While the ANC technology isn't as advanced as Bose or Sony, these headphones still serve up fantastic sound, remarkable range, and they deliver an excellent 16 hours of playtime on a three-hour charge. There's no app to customize sound or noise-cancellation, but music automatically stops when a call comes in and resumes after you hang up, which is a cool extra feature for something at this price. Plus, they're pretty freaking cute, made from quality aluminum in a black-and-sliver combo or tan-with-rose-gold. The earcups rotate so they lie flat in their hard-shell carrying case, which has an inside pouch for wires. The only real drawback? They're a touch heavy, weighing 1.8 pounds.
$80 at Amazon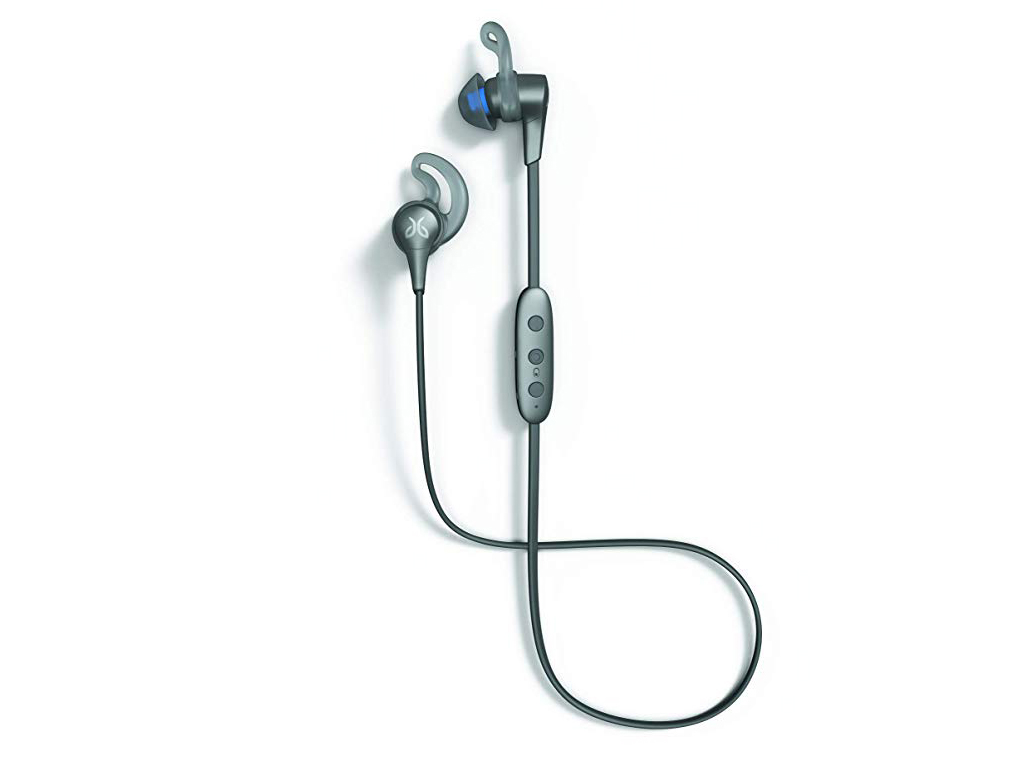 6
Best for Working Out: Jaybird X4
Sweat can put a killer playlist on the fritz. Thankfully the Jaybird X4 isn't just sweat-proof—it's waterproof. And while the earbuds might not survive a dunk in the pool, they'll certainly hold up to a 10-mile run in the rain. You don't have to worry about them falling out, either, as the silicon earplugs come in different sizes that can be customized. The audio quality is stellar, and it's paired with an amazing app, which lets you customize sound and even geo-locate misplaced earbuds. Switch between music and calls while working out is a snap, too. And the colors they come in aren't boring or too loud: black with a hint of yellow, a dark- and light-green combo, and light gray with blue.
Customers have one gripe, and it may be a deal-breaker. These only charge in their dedicated cradle, which means you can't plug them into the wall with a USB wire. Forget it, and you're out of luck. However, once charged, they won't die for close to eight hours, and a quick 10-minute charge gives you an hour of juice in a pinch.
$130 at Amazon
Related Stories
All products have been hand-picked by our writers and editors. Items purchased through links may earn us a commission.