Shop
The Best Portable Speakers for Travel
Streaming music from your phone is fine for when you're at the airport or on the train, but your device doesn't cut it for every travel situation. If you're biking rough terrain or partying by the pool, you'll want something more durable, and, well, loud. That's where a portable speaker comes in handy. We picked eight travel-friendly options that are small, but still pump out high-quality sound, wherever your music takes you.
Waterproof
1
Ultimate Ears Boom 3 Speaker
We've all been there: you're throwing a party, the good vibes are flowing, and then bam! The music cuts off. Eep! This speaker will prevent that party foul from happening when you're having a get-together at your Airbnb, hotel room, or campsite. The Boom 3 delivers super-crisp, 360-degree sound for 15 hours, so you can jam until the wee hours, if it's that kind of night. If you bring it to the pool or a boat ride and it takes a tumble—no worries! This baby will float to the top, so you can just scoop it up and keep on grooving.
$130 at Amazon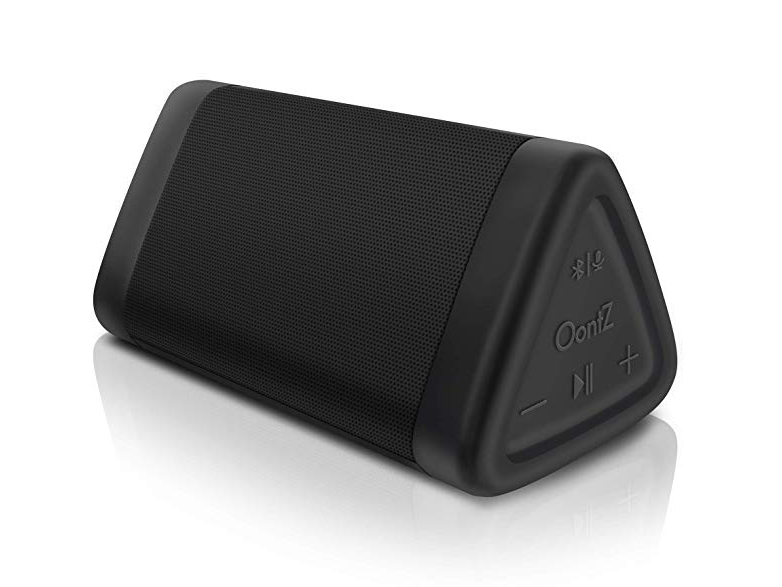 2
OontZ Angle 3 Speaker
With 30,000 overwhelmingly reviews (and counting!), this speaker is a clear customer favorite. Splash-, rain-, dust-, and sand-proof (and apparently Chevy 2500-proof, as one owner accidentally drove over it with their truck and trailer, and it came out the other end A-OK), this is a solid travel buddy whether you're Bali-bedding it on South Beach or hiking through Joshua Tree. The sound quality is pretty impressive, too—considering the under-$30 price.
$22 at Amazon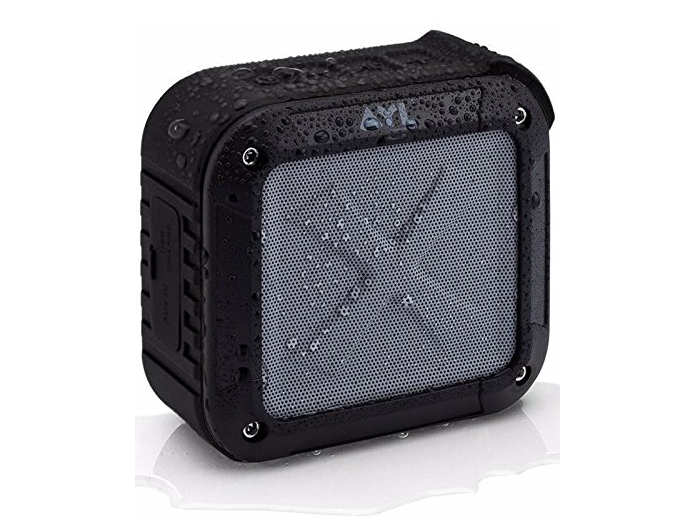 3
AYL Outdoor and Shower Speaker
Getting a speaker near water is risky—just a tiny bit of moisture can wreak havoc on most sound systems. So it's a quite a relief that if this speaker gets wet, it's not "goodbye, speaker." The AYL SoundFit's waterproof shell is designed to withstand H20 from any angle—it can even survive an accidental plunge. Plus, the high-capacity battery means you can stream your playlists for up to 12 hours.
$23 at Amazon
Mini
4
JBL Clip 2 Speaker
We're all for the peace and solitude of hiking, but sometimes what you need on a long walk (especially if you're solo) are some tunes. This speaker has a durable clip that latches on to any bag or backpack so you can listen on the go. Plus, the IXP7 waterproof rating (the second highest) means that a rain shower won't stop the music.
$45 at Amazon
5
Bose SoundLink Micro Speaker
Constructed with a tough silicone rubber exterior (we sure love the peachy/Creamsicle-y color), this speaker can withstand all the snafus that happen when you're in transit, like falls and scratches. The tear-resistant strap means you can secure it to the straps of your backpack, the handlebars of your mountain bike, or the handles of your beach or camping cooler.
$79 at Amazon
Special Features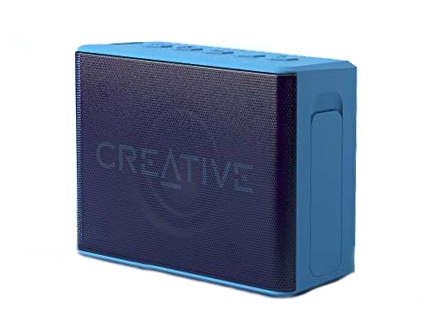 6
Creative Muvo 2c Speaker
Most speakers play music by tapping into your phone's or tablet's playlists via a Bluetooth connection. But if you're traveling sans iPhone (good for you) or don't want to drain its battery, this palm-sized model lets you download your music onto a micro SD Card and play it on the built in MP3 player.
$40 at Amazon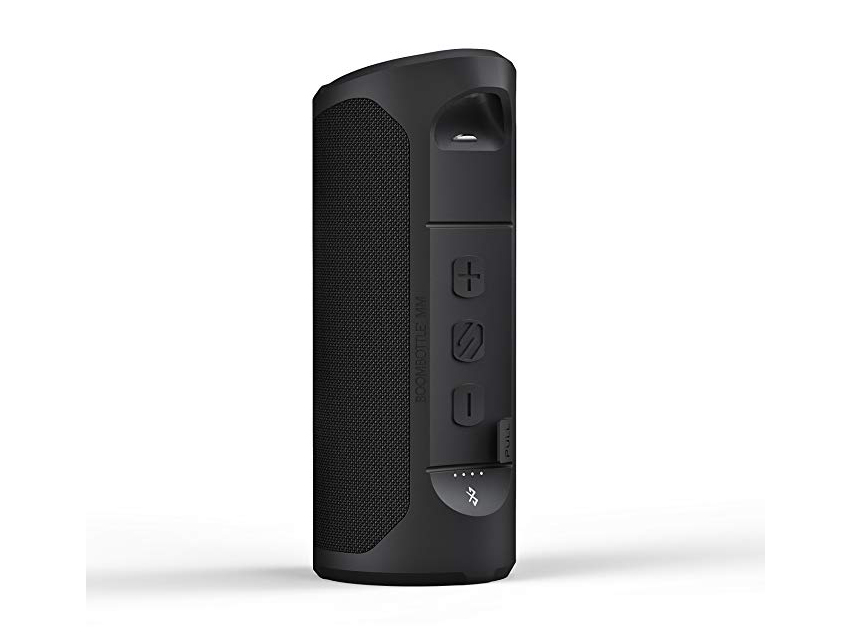 7
Scosche BoomBottle with Magic Mount Speaker
If you have a tendency to misplace your phone, then 1) welcome to the club, and 2) welcome to your new portable speaker. The waterproof BoomBottle has a magnetic strip for securing your device directly to the sound system. The circular design fits into most cup holders, so it can blast your playlists or podcasts on long road trips. Oh, and there's a built-in bottle opener, for when you're ready to, you know, get the party started.
$100 at Amazon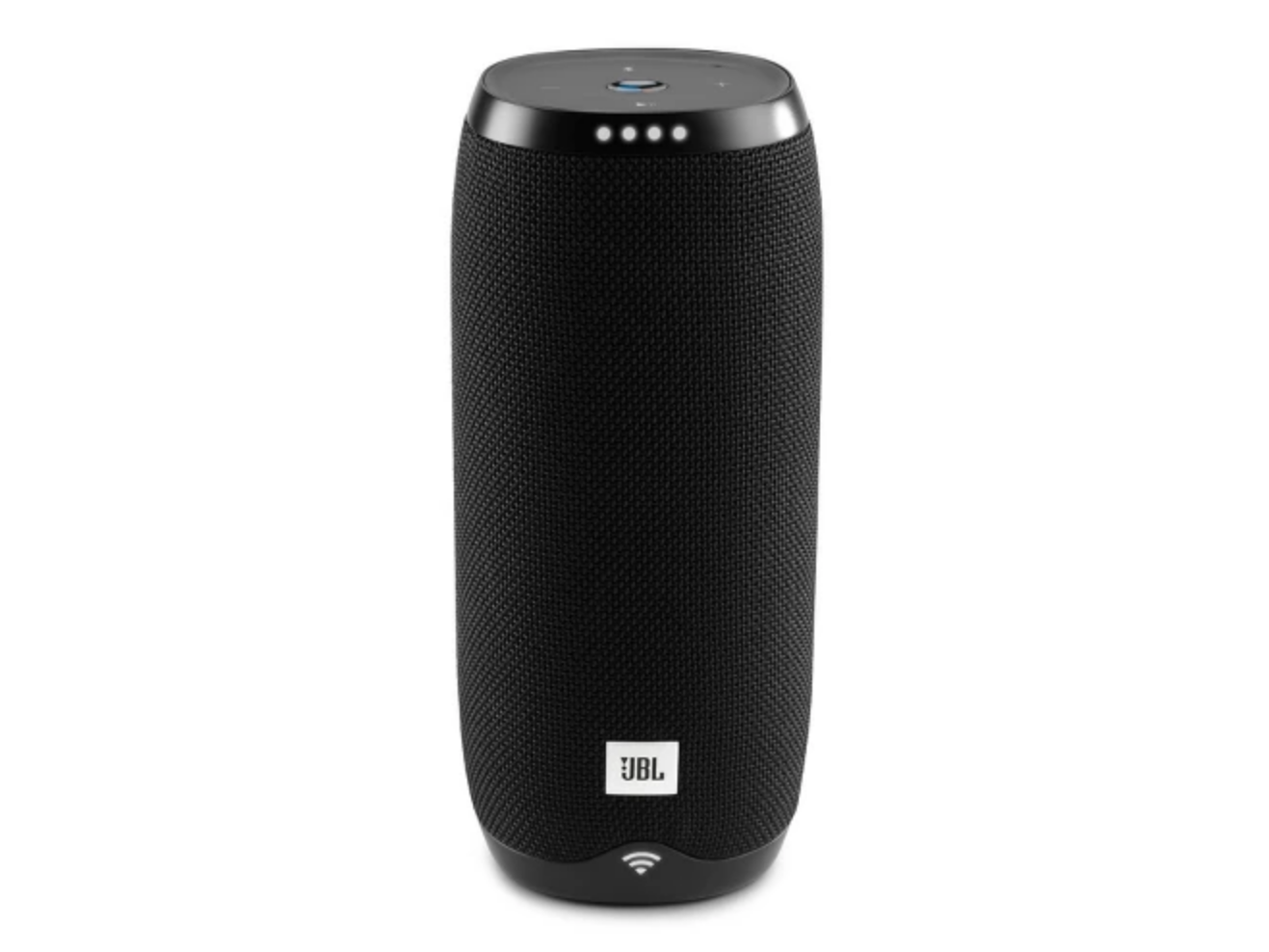 8
JBL Link Speaker
If you find yourself suddenly in need of directions or restaurant recs, this speaker has you covered. It's enabled with Google Assistant to get you answers ASAP, as well as handy indicators to let you know if the connection is poor or if the battery is low.
$130 at Target
Related Stories
All products have been hand-picked by our writers and editors. Items purchased through links may earn us a commission.