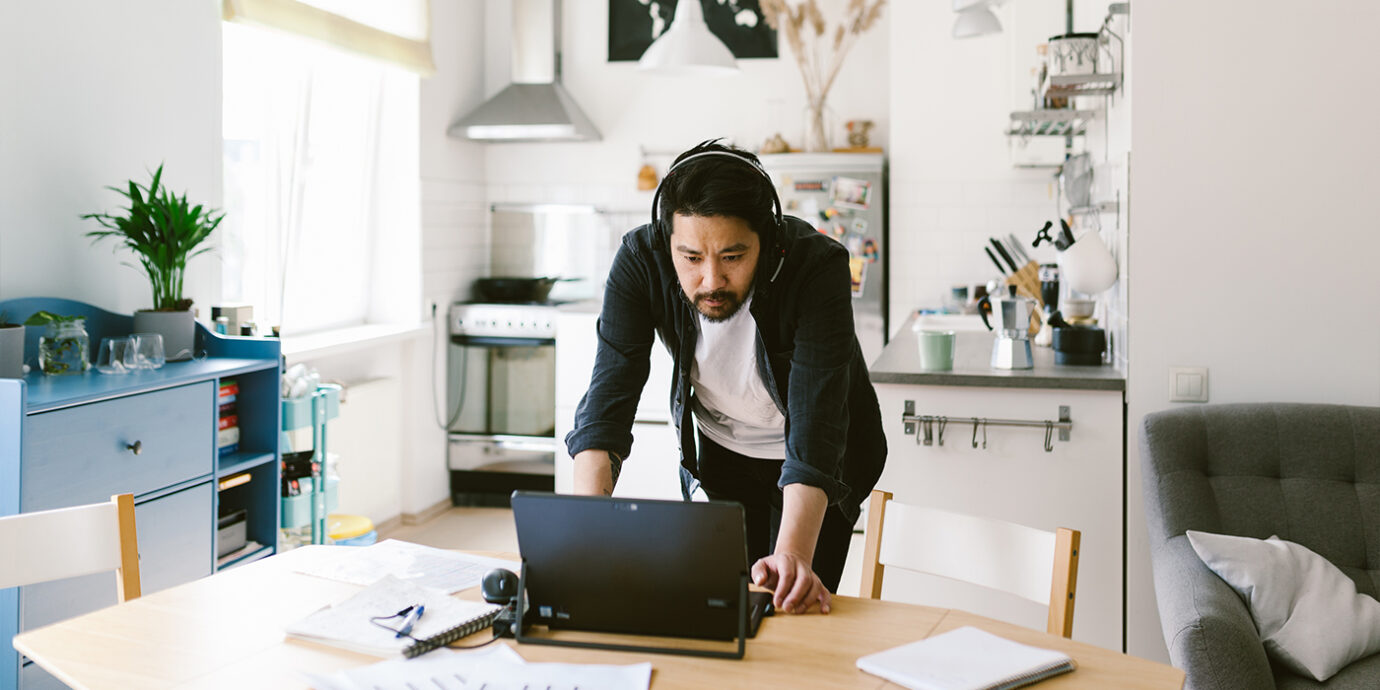 Shop
The Best Headsets for Working From Home or on the Road
As great as headphones are for jamming out or listening to "The Daily," they don't necessarily cut it when you have to take an important call. Headsets, on the other hand, can mean the difference between sounding like you're six feet underwater and sounding like you're in the same room with someone. It all comes down to the microphone. Not only do headsets by definition have one, but unlike the one on your workout earbuds, these are designed to zero in on your voice and block out any background noise. While the styles can vary, a good headset is also comfortable to wear for long periods of time and can go for hours on a single charge (hello, marathon conference calls). Whether you're looking to improve your work-from-home game or set yourself up for future business trips, we've rounded up the best headsets out there.
1
Plantronics Voyager 5200
This Star Trek-like device slips securely over one ear for clear-as-day chats wherever you are. Amazon reviewers rave about the mic, saying they've taken calls on busy streets and in crowded coffee shops and the listener was none the wiser. One reviewer even claims: "You can roll your windows down going down the highway and the person on the other end won't be able to hear a thing." As if that's not enough, it also comes with built-in Alexa, voice controls, an extended Bluetooth range (up to 98 feet), and a very nifty mute alert. If there's one downfall, it's the battery life—reviewers say they only get about four or five hours out of it, not seven like the brand claims. But if you're good about charging your devices, this headset is a sure bet.
Buy It Here
2
Jabra Evolve 75
A lot of headsets don't have great audio quality. After all, they're focused on making sure you hear the voice on the other end, not the bass in your favorite song. But the Jabra Evolve 75 is an exception. Not only does it look like a pair of wireless headphones, but it acts like one too, allowing you to switch from Skype to Spotify without missing a beat. Thankfully, the headset also holds up to all-day wear, both from a battery life perspective (18 hours of talk time, 17 hours of music) and from a comfort perspective (cushy ear cups, padded headband). It even folds flat into an included hard-shell travel case, which will come in handy when you can finally leave your house again.
Buy It Here
3
Mpow 071 USB Headset
If you're usually tied to your desk all day (on Zoom, in a virtual classroom, leading webinars), you might want to consider a wired option, which tends to be less expensive and doesn't have to be recharged every few hours. This affordable Amazon best-seller is more compact and lightweight than most, plus has a regular audio jack in addition to USB, so you can easily transition to your phone or tablet when you're traveling. A handful of reviews do mention the headset breaking after about a year of use, but happily the company was great about issuing a replacement. For the price, you really can't beat it.
Buy It Here
4
Sennheiser Presence UC Wireless
You'd never guess from its compact design, but this high-tech earpiece features not one but three microphones, to make sure your voice is heard. Not only that, but it takes advantage of Sennheiser's proprietary noise-canceling technology, which filters out background noises, enhances speech, and keeps you from sounding like you're in a wind tunnel, even when you are. It also connects to both your laptop and mobile phone at the same time, so you can switch between the two with just a tap of the headset. While its small size, 10-hour talk time, and carrying case make it especially ideal for travel, it's equally great at blocking out screaming kids or loud roommates.
Buy It Here
5
New Bee Bluetooth Earpiece
Don't let the price tag fool you: This inexpensive gadget has one of the best battery lives out there (a full 24 hours with a 60-day standby time) and over 1,500 five-star reviews on Amazon. While it doesn't come with all the bells and whistles you might see from other brands, what you do get is clear sound in one tiny, lightweight package. And unlike most headsets, it comes in gold and white in addition to basic black, should you want to jazz things up. It doesn't block out everything, but it does cut down on noise, both for the caller and the receiver.
Buy It Here
6
Logitech H800 Wireless Headset
"These headphones are EXTREMELY comfortable," raves one reviewer. "All day at work and my ears don't hurt," says another. In other words, if you're looking for a headset that won't squeeze your head or pinch your ears, this Logitech pair is the way to go. The headset also does a solid job of filtering out background noise and delivering quality sound (reviewers say they use it for music, podcasts, audiobooks, and games, in addition to calls and video conferencing). And even though it's a headband style, it folds up neatly for easy storage and portability. One caveat: It only has a six-hour battery life, so it won't last a full nine-to-five.
7
BlueParrott B550-XT Voice-Controlled Bluetooth Headset
Subtle and sleek, this one is not. But if you need to take very important calls in very loud places, you can do no better. Designed for truck drivers (who know a thing or two about chatting over noise), BlueParrott headsets are renowned for their ability to get rid of background sounds and deliver crystal-clear audio. This one, in particular, has nearly 2,000 five-star reviews on Amazon hailing its battery life, comfortable padding, and noise cancellation. It doesn't pack as easily as some of the others on this list, but if you find yourself frequently trying to talk over planes taking off, people on the street, or your dogs, the extra bulk may be worth it.
Buy It Here
Related Stories
All products have been hand-picked by our writers and editors. Items purchased through links may earn us a commission.