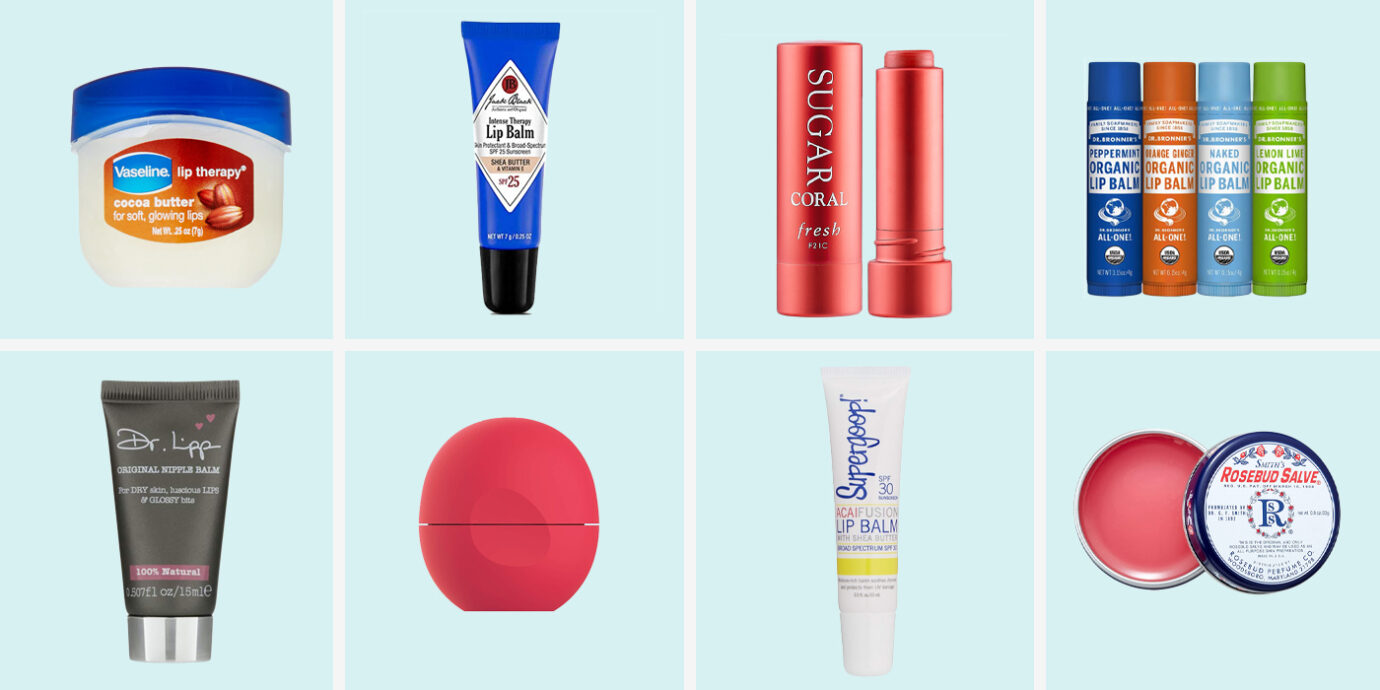 Shop
The Best Lip Balms We Keep in Our Carry-On Pocket
Have you ever settled into your airplane seat—shoes off, blanket draped, headphones on—only to realize you didn't pack lip balm? Nooo! A forgotten lip balm onboard = hours in the air in low-key discomfort + a mad dash to a pharmacy once you land to snap up the first stick you see. We're here with next-level recommendations so good, you'll never forget to stash one in your carry-on pocket ever again.
1
Best All-Around Lip Balm

A whopping 4,000 Amazon shoppers have bestowed five stars on this inexpensive multi-pack. Made with only natural ingredients like beeswax and coconut and sunflower oils, each Burt's Bees stick is essential for maintaining healthy hydration.
Shop Now
2
Best Lip Balm for Men

Among Jack Black's many made-for-men skincare products, reviewers especially love the brand's lip balm for its ability to absorb quickly to a non-shiny finish. For those looking for something other than the Shea Butter Mint standard, there are out-of-the-ordinary flavors like Basil Lemon, Black Tea Blackberry, and Grapefruit Ginger.
Shop Now
3
Best Lip Balm with SPF

When slathering on sunscreen, it's easy to forget about our lips. But they need protection, too! And in the winter, with reflective surfaces like snow, sunscreen becomes even more critical. Supergoop uses tried-and-true ingredients like shea butter and petroleum jelly for moisture and is rated SPF 30, which dermatologists recommend since it blocks 97 percent of UVB rays.
Shop Now
4
Best Drugstore Lip Balm

This cute little ball-shaped balm doesn't just smell good; it tastes good, too: papaya and coconut make you feel like you're on a tropical vacation no matter how many layers of winter-wear you have on. More importantly, beeswax, shea butter, and olive and jojoba oils provide deep and long-lasting moisture. Reviewers say it healed chapped, bleeding lips in a matter of days and kept lipstick from smudging.
Shop Now
5
Best Lip Balm With Color

At the top of most beauty guru's wish list is this hydrating color blast of a lip balm. The light, moisturizing balm comes in 16 different shades with options that provide smooth finish or shimmery one, depending on how sparkly you're feeling. It has SPF 15, so you can stay protected in the sun, but if you're headed somewhere warm, keep the tube in the house—it tends to melt in temps over 80 degrees.
Shop Now
6
Best Organic Lip Balm

Dr. Bronner's has been a hippie household name for years for their bulk Castile soaps (and verbose packaging), but their lip balms are worth a cult following, too. A blend of beeswax and jojoba, avocado, and hemp oils delivers intense moisture to your lips and wards off dryness. The balms can also be used on chapped hands, cheeks, and feet—although you might want a separate stick for that one.
Shop Now
7
Best Dermatologist Recommended Lip Balm

If your lips are cracked and painful, then remember: simple is best. According to the American Academy of Dermatology Association, the best balms for dry, cracking lips are 1. unscented, and 2. made without lip-tingling ingredients like camphor, menthol, eucalyptus, or salicylic acid. Plain moisturizers like hemp oil, shea butter, and petroleum jelly are the way to go. For that reason, classic Vaseline is a top choice for dermatologists.
Shop Now
8
Best Lip Treatment

Hundreds of Amazon reviewers swear by this tube for its healing powers on chronically dry lips. And dry lips are far from the only potential beneficiary—the balm works as an eyebrow shaper, mustache wax, eyelash conditioner, and a panacea for breastfeeding moms. Made from 100-percent lanolin, this pick definitely has a thick finish, so if that's not your jam, you might prefer another balm on this list.
Shop Now
9
Best Anti-Aging Lip Treatment

Admittedly, anti-aging lip balms are going to set you back more than that cheap tube at the checkout counter. But for shoppers dealing with wrinkles, roughness, and a loss of springiness in the lips, this lip serum by Fresh is worth its weight in gold. The paraben-free formula plumps lips to reduce the appearance of fine lines and boosts elasticity to make them feel firmer. Fresh credits the serum's fruit and flower extracts for its magical—um, scientific—youth-giving powers.
Shop Now
10
Best Rose Lip Balm

Thousands upon thousands of Amazon and Sephora shoppers heap the praise on this cure-all in a classic tin. The petrolatum- and cotton seed oil-based all-purpose balm is a godsend for painful peeling winter lips, fraying cuticles, patchy elbows, rough heels, and anywhere else that needs hard-hitting moisture. You can even apply to cheekbones as a quick highlighter. The salve goes on glossy but not a bit sticky, and lasts up to a year even with heavy use.
Shop Now
Related Stories
All products have been hand-picked by our writers and editors. Items purchased through links may earn us a commission.