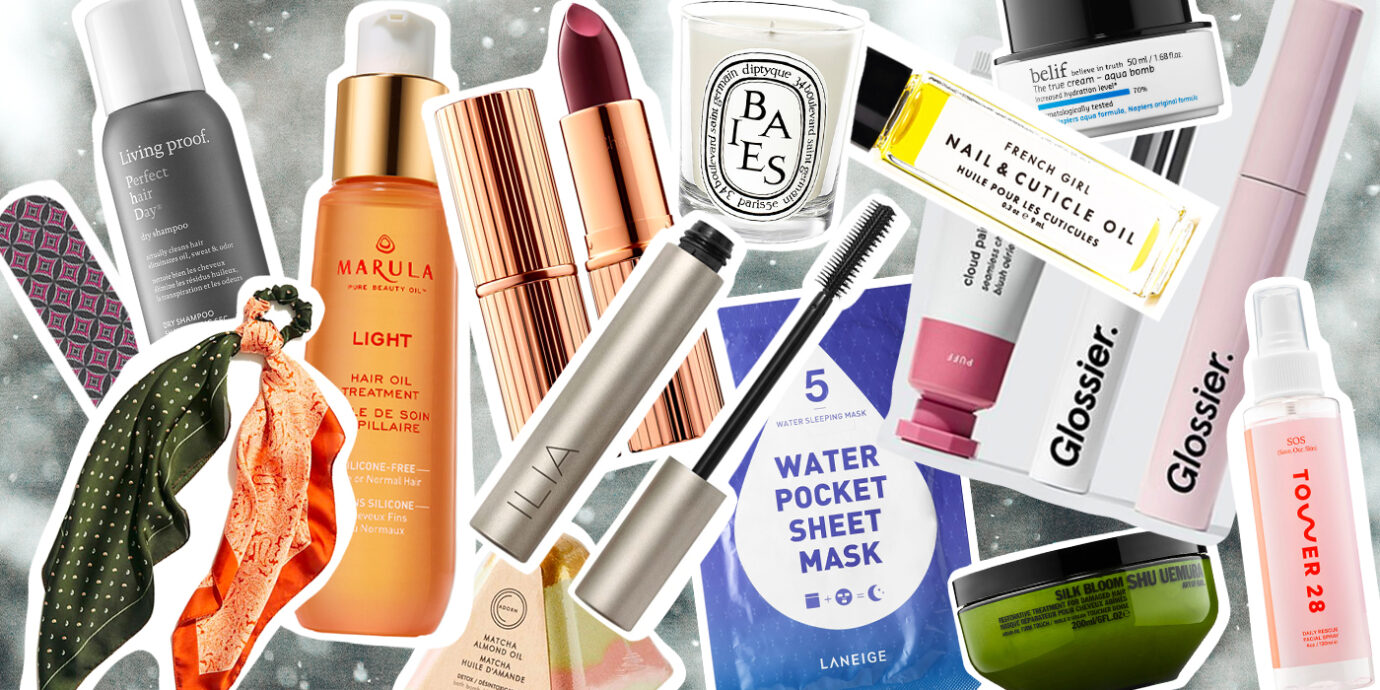 Shop
The Best Beauty Stocking Stuffers for Every Budget
If you're tired of stuffing your loved ones' stockings with whatever candy, chapstick, and random gift card you can find at the CVS checkout, we're here to lend a helping holiday hand. Whether you're shopping for a skincare lover, makeup junkie, or bath time fanatic, we've got the best beauty stocking stuffer options—and at every price point. From chunky hair clips and hydrating sheet masks to CBD oils and cult-favorite eyeshadow palettes, these are the beauty stocking stuffers we'll be giving and wish we were getting. This year, gift them with the beauty stocking that'll make Santa jealous.
Best Beauty Stocking Stuffer Gift Sets
Budget Pick: Tarte Slay, Then Frosé Color Collection
Looking to stock a stuffing with a beauty kit on a budget? Check out Tarte's Slay, Then Frosé color collection. The affordable set comes with four of the brand's favorite products: a REMIX lipgloss, a chrome paint shadow pot, a big ego mascara, and a 12-hour Amazonian clay blush. Very frosty, very cute.
Mid-Range Pick: Glossier The Makeup Set
Glossier has amassed a cult following for a reason—their products are easy to use, affordable, and can we talk about the millennial-pink packaging? With three of the brand's most popular staples—Boy Brow, Cloud Paint, and Lash Slick—The Makeup Set is a great gift for those new to makeup or those who've expressed interest in Glossier but have yet to make a purchase. Consider this gift set to be their Glossier gateway drug.
Splurge Pick: Yves Saint Laurent Holiday Essential Mini Set
If you're looking to splash out on a luxury stocking stuffer beauty set, you can't go wrong with Yves Saint Laurent's Holiday Essential Mini Set. The limited-edition collection comes with a trio of miniature products including Faux Cils Mascara, Rouge Pur Couture (in YSL's best-selling rose stiletto shade), and Touché Eclat Blur Primer. This is for the giftee who has been very good this year.
Best Beauty Stocking Stuffers for Skincare Lovers
Budget Pick: The Ordinary The Daily Set
Developing a good skincare routine isn't cheap, but The Ordinary is in our corner. The disruptive skincare brand offers high-quality products at an affordable price—and industry experts approve. The Daily Set comes with three gentle products: a cleanser, serum, and moisturizer—that are ideal for everyday use. Give the gift of good skin.
Mid-Range Pick: Belif The True Cream Aqua Bomb
If there's one skincare item we just can't resist, it's a lightweight moisturizer. While we've tried plenty, few rival Belif's The True Cream Aqua Bomb, and it has over 2,500 five-star reviews on Sephora to prove it. The Aqua Bomb is suitable for oily, normal, and combination skin and clinical tests have shown that the moisturizer hydrates skin 70 percent. It's the perfect base layer for a dehydrating flight (or a holiday hangover).
Splurge Pick: Tata Harper Clarifying Blemish & Oil Control Cleanser
If your gift recipient is a real skin care buff, chances are they're a fan of Tata Harper. The beauty guru offers a range of natural products from hydrating floral essences to lip and cheek tints, but one of the backbones of her line is the Clarifying Blemish & Oil Control Cleanser. The green formula—which combines prickly pear flower enzymes, juniper fruit, and chlorella—attacks blemishes and mattifies skin in one fell swoop.
Best Beauty Stocking Stuffers for Makeup Junkies
Budget Pick: Flesh Firm Flesh Thickstick Foundation
Flesh's Thickstick Foundation is just the gift for your makeup lovin' friends. The tiny, travel-friendly stick can be used to cover, conceal, contour, and highlight—leaving skin looking dewy and all natural. The best news is with 40 colors, you'll have no issue finding the right shade for everyone on your gift list.
Mid-Range Pick: Charlotte Tilbury K.I.S.S.I.N.G Lipstick
British makeup artist Charlotte Tilbury has dolled up the likes of Kim Kardashian West, Amal Clooney, and Naomi Campbell with her cult-favorite face, lip, cheek, and eye products. But lucky for the rest of us, we don't have to spend a Hollywood-level fortune to gift her signature K.I.S.S.I.N.G lipstick. The $34 moisturizing lipstick comes in 10 satin finishes from nude pink to plum red—the perfect holiday hue.
Splurge Pick: NARS Skin Deep Eyeshadow Palette
NARS is known for their highly pigmented, long-lasting formulas and their Skin Deep Eyeshadow Palette is no exception. The versatile palette (it was designed to complement every skin tone) comes with 12 neutral shades that can be used to define, line, and highlight the wearer's eyes and brows. With six shimmery metallic shades and six rich matte shades, your giftee will be perfecting their smoky eye just in time for New Year's Eve.
Best Beauty Stocking Stuffers For Those In Your Life Who Know Hair Is Everything
Budget Pick: Living Proof Perfect Hair Day Dry Shampoo
Hair fanatics know that one of the best tools to have on hand is a reliable dry shampoo. And Living Proof's Perfect Hair Day is just that—a bestselling formula that not only revitalizes hair by eliminating oil, sweat, and odor, but also gives you a volume boost without any added stiffness or residue. Let them add, "wash hair less" to their 2020 New Year's resolutions.
Mid-Range Pick: Marula Lightweight Hair Oil Treatment & Styling Oil
If your hair-obsessed friend is hung up on flyaways and frizz, Marula's Lightweight Hair Oil will be a welcome beauty stocking stuffer. Whether worked into pre-styled wet hair or smoothed over finished dry locks, the lightweight formula gets to work locking in moisture and controlling frizz. While it adds a bit of shine, you won't find any greasy build-up in its wake, either. Truly, a holiday miracle.
Splurge Pick: SHU UEMURA Silk Bloom Restorative Treatment
It seems like everyone's tapped into the hype of sheet masks, but what about hair masks? With a formula heavy on argan oil and vitamin E, Shu Uemura's Silk Bloom Restorative Treatment intensely conditions and repairs damaged hair fiber, leaving silky, voluminous strands after just five to ten minutes of wear. It's the perfect way to start a lazy beauty day.
Best Hair Accessories to Give as Beauty Stocking Stuffers
Budget Pick: Urban Outfitters Chunky Flip Clip Set
Chunky barrettes are having a moment and this multicolor set from Urban Outfitters is just the on-trend gift the holiday season calls for. The trio of acrylic clips can be worn individually or all at once—use them to sweep a few strands of hair back behind your ear or to dress up a plain braid or ponytail. Very on point.
Mid-Range Pick: Free People Mixed Menswear Scarf Pony
Searching for a beauty stocking stuffer for your impossibly chic friend? Free People's Mixed Menswear Scarf Pony is just the thing for those who aren't afraid of statement-making accessories. The long, silky scarf mixes polka dots and paisley in deep, winter-friendly shades of green and rust. They'll wear this well into the new year.
Splurge Pick: Lele Sadoughi Knot Headband
If you're up to date on royal fashion, you know Kate Middleton is a big fan of padded headbands. And if you're shopping for someone who's just as enthusiastically embraced the style, you can't do better than the Lele Sadoughi version. The designer's work has popped up on the heads of influencers everywhere, and with a face-framing design and cute detailing (see: pearls, velvet, leopard print) it's not hard to see why.
Best Beauty Stocking Stuffers for the Person Whose Nails Are Always On Point
Budget Pick: Japonesque Glamour Salon Boards
Japonesque's Glamour Salon Boards are the ideal beauty stocking stuffer for the giftee whose mani is always on point. With three patterned files they'll throw one in their purse, keep one at work, and have a go-to in the bathroom cabinet. Nails for days.
Mid-Range Pick: Londontown Lakur
Want to gift someone a signature holiday color? Double the Deck, one of Londontown's most festive shades, will be their favorite go-to Christmas red. The nail lacquer is vegan, cruelty-free, and infused with a blend of natural oils and botanical extracts that enhance nail growth, prevent yellowing, and hydrate dry nails. What more can you ask for from a nail polish?
Splurge Pick: French Girl Nail + Cuticle Oil
Nail devotees know all the tricks for extending the life of their manicure, and French Girl's Nail + Cuticle Oil is sure to up the ante on their routine. The roll-on formula is crafted from botanical extracts and organic essential oils which help moisturize dehydrated nail beds.
Best Self-Care Beauty Stocking Stuffers
Budget Pick: Laneige Water Pocket Sheet Mask Sleeping Mask
When it comes to K-beauty, Laneige needs no introduction. The brand is known for its insanely hydrating products, including the Water Pocket Sheet Mask. The non-slip mask moisturizers thirsty skin but that's not where it stops; it also addresses dullness and uneven texture and skin tone. Wear one and take a skin care selfie with a Christmas tree backdrop.
Mid-Range Pick: Urban Outfitters Pharma Essential Oil Diffuser
Shopping for a homebody who loves anything that cozies up their space? UO's Pharma Essential Oil Diffuser is compact and cute with a round design and (optional) color-changing LED light. If you want to round out your gift with a few essential oils, lavender can help relieve stress, peppermint is great for headaches, and ylang ylang is said to help with insomnia. Turn their bedroom into a spa this holiday season.
Splurge Pick: Lord Jones Royal Oil 1000 MG CBD
Lord Jones made a splash this spring when their Royal Oil was announced as the highest-concentrated CBD product available at Sephora. The two-ingredient formula—broad spectrum CBD oil and grapeseed oil—can be rubbed into skin, taken as a tincture, or dropped into your beverage of choice. Ever had a CBD peppermint latte? Try it.
Best Clean Beauty Stocking Stuffers for Clean Beauty Diehards
Budget Pick: Tower28 SOS (Save. Our. Skin) Daily Rescue Facial Spray
While clean products—AKA those that are non-toxic—can be expensive, Tower28's SOS Daily Rescue is an affordable way to clean up your beauty roster. The facial spray contains just three ingredients—water, salt, and hypochlorous acid (which is naturally found in the body)—to soothe and hydrate skin.
Mid-Range Pick: Ilia Limitless Lash Mascara
Ilia's Limitless Lash Mascara gets a lot of love not just for its flake-free curling, lengthening, and volumizing abilities, but also its clean ingredients. Made from a blend of organic bee and carnauba waxes, organic shea butter, and keratin, the nourishing formula is ideal for those with sensitive skin and eyes. Who doesn't love a fresh tube of mascara?
Splurge Pick: Farmacy Green Clean Makeup Removing Cleansing Balm
Filling a beauty stocking stuffer for someone who's Marie Kondo'd their entire beauty cabinet? If they're trying to get back to (clean) basics, Farmacy's Green Clean Makeup Removing Cleansing Bomb is a great option. The creamy formula melts makeup off with a combination of papaya enzymes, sunflower and ginger root oils, and turmeric and moringa extracts. Together, the ingredients exfoliate pores, strip impurities, and keep skin silky smooth.
Best Beauty Stocking Stuffers for People Who Are All About Bath Time
Budget Pick: Urban Outfitters Adorn Pyramid Bath Bomb
There's no better way to destress than with a soothing bath bomb. Crafted from coconut hemp seed oil, matcha almond oil, and turmeric sunflower oil, Adorn's Pyramid bath bombs melt away stress in a show of shimmering bubbles. For just $8, you can even afford to get your friends/family/self all three scents. Happy holidays to everyone!
Mid-Range Pick: Diptyque Baies Candle
Any bath fanatic will tell you a candle is an essential part of the equation. While you can buy $3 options from IKEA or Target, the cheapies won't come close to the candles by luxury perfumer Diptyque. The brand's Baies candle—a fruity, floral mix of blackcurrant and rose—is just the one to pull out when you're ready to relax. It'll fill your entire bathroom with a lingering scent, we promise.
Splurge Pick: Splurge Pick: Goop Beauty G. Soak Set

If your bestie takes bath time trés, trés seriously, you can't do better than Goop Beauty's G. Soak Set. The trio of best-selling bath soaks includes The Martini (Himalayan pink salt and chia seed oil), G.Nite (Valerian root and Australian sandalwood), and G.Tox (glacial marine clay and activated charcoal)—AKA options for relieving stress, eliminating insomnia, and detoxifying. Each is crafted from a blend of essential oil, botanicals, salts, and minerals, so not only will you feel them working, but you'll enjoy the subtle fragrance as well.
Cozy Gifts for Under the Tree
One of our favorite parts of the holiday season is breaking in a new set of PJs. Splendid's matching long-sleeved set is available in stripes, floral, and camouflage and we appreciate that the bottoms have a drawstring so we can really go hard on Christmas morning cinnamon rolls. When it comes to comfort, there are few slippers that can top a pair of sheepskin-lined Uggs. With a plush wool interior, decorative stitching, and rubber outsole that makes these slippers as suitable for outdoor use as in, the Wrin is our seasonal Ugg of choice. Half the fun of staying in a hotel is wrapping yourself in a luxurious robe. But if this year's holiday plans call for a visit home instead, Brooklinen's Super-Plush Robe—which is constructed from heavy long-staple Turkish cotton—will work just as well.
Related Stories