Shop
The Best Men's Underwear on Amazon
The wrong pair of underwear can ruin your day. When it comes to undies, you're shopping for comfort where it matters most. But what wears well during a workout might not be ideal for date night. Those around-the-apartment boxers are really cozy on weekends, but they probably won't flatter you under your weekday khakis. Because choosing underwear is trickier than you might realize, we rounded up our favorite dozen pairs—boxers, briefs, and boxer briefs on Amazon. We bet one of these will end up being your lucky pair. 
1
Best Boxer Briefs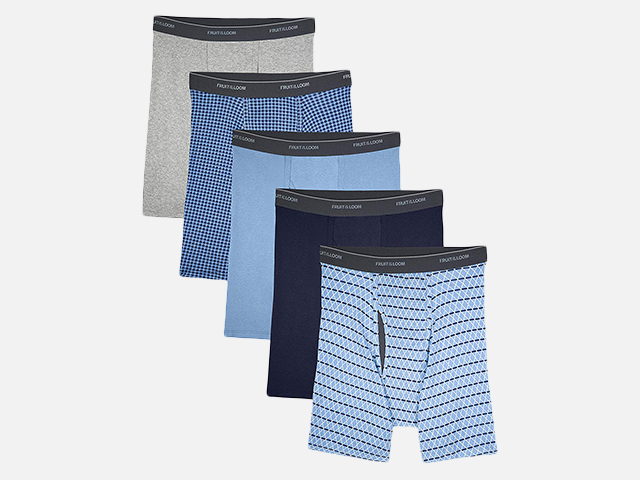 Fruit of the Loom Men's Coolzone Boxer Briefs 
Along with the perfect balance between stretch and breathability, Fruit of the Loom's Coolzone briefs also feature a mesh fly that helps ventilate your nether regions. No more sitting in your own swampiness at the height of summer, and no more sweaty bunching-up throughout the day. The briefs come in all sorts of patterns and solid colors, but this black-gray combo is a wardrobe staple, so start there at the very least.
Shop Now
2
Best Briefs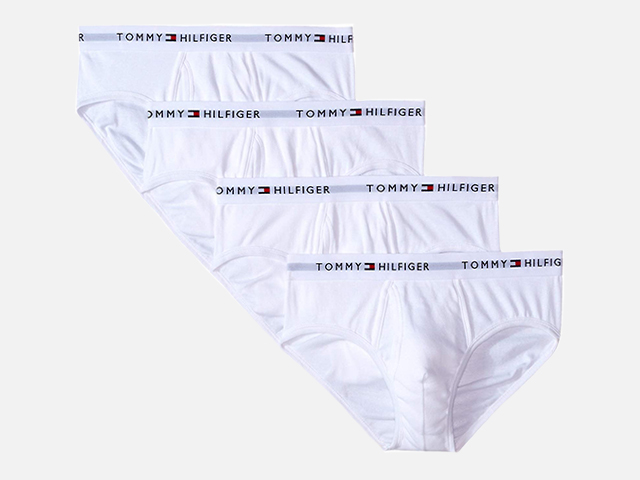 Tommy Hilfiger Men's Underwear Multipack Cotton Classic Briefs
Speaking of wardrobe staples, every guy should have some white cotton briefs at the ready. And before you discard the notion that they're "tighty-whities," consider how unflattering it is to have bunched-up fabric pressing against your khakis or chinos, for the entire office (or airplane) to see. Ditto for a colorful and overzealous waistline every time you lean over or sit down. These Tommy Hilfiger white briefs are flattering not only because they *don't* call attention to themselves, but also because they fit like a glove (around your entire rear end, so they're comfortable, too). And, between us, that four-logoed waistline doesn't look half bad in the event it does make an unexpected cameo as you open the overhead bin.
Shop Now
3
Best Boxers
Gildan Men's Woven Boxer Underwear Multipack 
If boxers are your preferred underwear pick, then get a polyester-cotton blend that wicks moisture and doesn't hinder movement. Gildan's woven set fits the boxers bill, and promises to lay flat under your pants so that they don't leave the wrong, um, *impression* on your peers. The boxers come in an assortment of sightly patterns and soft-solid colors, too, so they're flattering for everyone—including the people who get an exclusive sneak peek. (We're talking about your roommate.)
Shop Now
4
Best Calvin Klein Underwear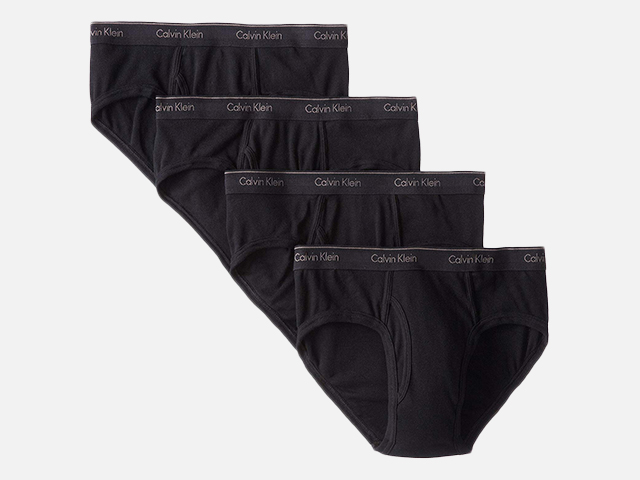 Calvin Klein Men's Cotton Classics 4-Pack Low Rise Hip Briefs 
Somehow, in the past decade, it's become a fashion requirement to own a set of Calvin Klein underwear. It's as if we take pride in showcasing that famous "CK" waistline, whenever the t-shirt careens too high. Luckily, this is your chance to invest in some high-qual briefs, like these cotton low-risers. Calvins always flatter the figure; they feel as good as they look, and they outlast the competition. (We suggest the black set, since they're the most flattering of them all, for obvious reasons…)
Shop Now
5
Best Moisture-Wicking Underwear
Under Armour Men's Tech 6-inch Boxerjock 
Moisture-wicking and sport-friendly often go hand in hand. You don't want to workout in something that collects sweat and fails to expel it. These boxer briefs from Under Armour are up for the task, and double as excellent daytime undies. In addition to keeping you dry, they also fit your figure and don't impress upon your pants. Bonus: when it comes to flattery, they also give you a little extra lift where it matters.
Shop Now
6
Best Long, Thermal Underwear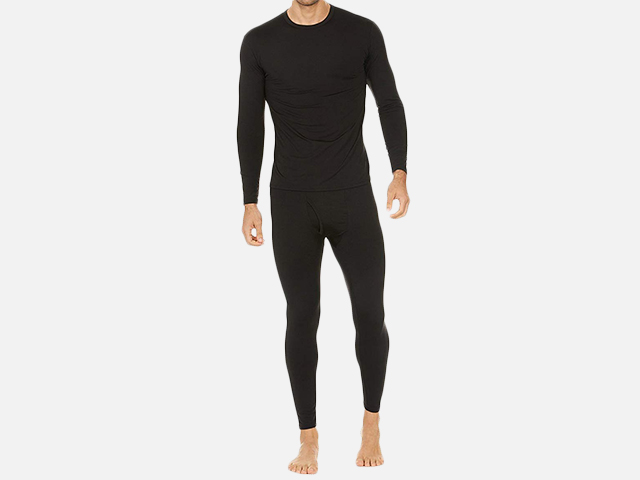 Thermajohn Men's Ultra Soft Thermal Underwear Long Johns Set 
Here's yet another wardrobe staple: black long underwear. You can wear it as regular underwear on especially cold days, and it always feels a little sneaky when you do. Long johns are imperative for the days you've got to shovel, or want to hurl yourself down a ski slope. Theramjohn's polyester-spandex long johns are ultra soft, especially stretchy, and give you something to look forward to wearing in winter. As soon as you put them on, you'll understand the yoga-pants-as-regular-pants trend. (But these ones are actually underwear, not regular pants, for the record.)
Shop Now
7
Best Boxer Briefs with Pouch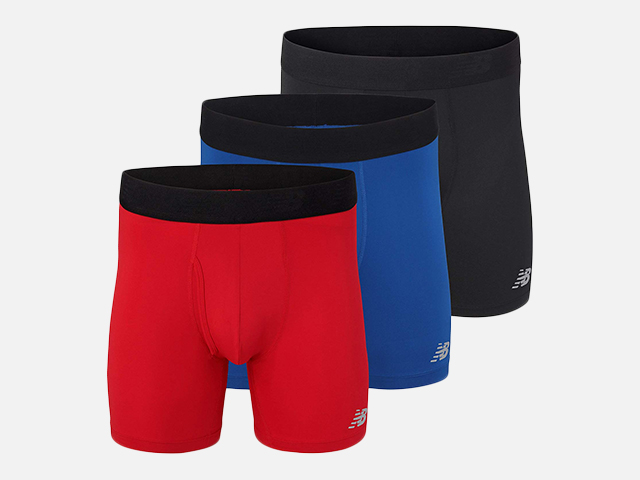 New Balance Men's 6" Boxer Brief Fly Front with Pouch
When it comes to underwear design, a little extra engineering goes a long way. That's why lots of guys prefer boxer briefs with added space in the groin—a simple pouch keeps everything comfortable throughout the day. New Balance's polyester-spandex boxers also don't ride up, ensuring added comfort where it matters most. The pouch has a side-fly opening, if your method is "through the fly, not over the elastic".
Shop Now
8
Best Underwear for Date Night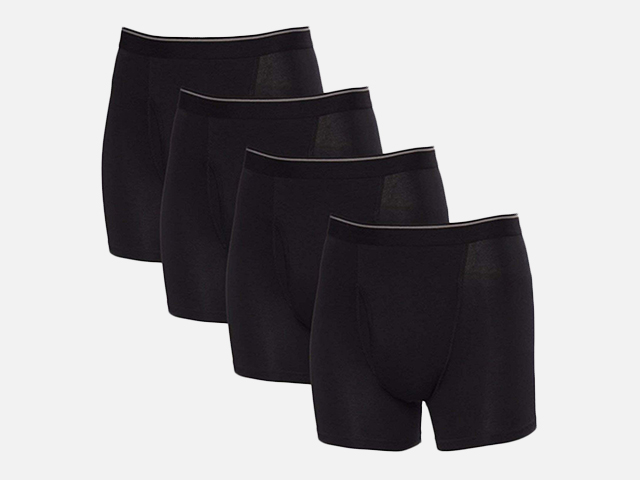 Kirkland Signature Men's Boxer Brief Pima Cotton 
Date night calls for cotton black boxer briefs. They're essential for the nights you might get lucky, since so many other kinds of underwear can kill the mood. (This isn't up for debate.) Kirkland's cotton-spandex blend complements the body, wears comfortable, and above all, doesn't raise any eyebrows when the pants are off.
Shop Now
9
Best Boxer Briefs for Working Out
Adidas Men's Performance Boxer Briefs Underwear 
Adidas polyester-spandex boxer briefs might be the most universal of the underwear lot. Not only do they give you full-range motion and comfort during your workout (by wicking moisture and never riding up), but they also wear exceptionally well as everyday undies—perhaps because our day-to-day lives require all the same comforts and some of the movement as an hourlong workout. Stock up and wear these for every occasion.
Shop Now
10
Best Cheap Boxers
Fruit of the Loom Men's Soft Stretch-Knit Boxer 
If you don't want to splurge on your underwear but also don't want to compromise on comfort, then these 100% cotton boxers from Fruit of the Loom are your ideals. They're best worn under loose pants or thicker material like denim, since they aren't as gripping as boxer briefs, but they'll never fail you in the comfort (or wallet) department.
Shop Now
11
Best Cheap Boxer Briefs
Perry Ellis Men's Portfolio Luxe Stripe Boxer Brief
If you need a stylish boxer brief (hey, it's fair game to be stylish under there, too), then these Perry Ellis undies are an obvious pick—and for just $9 too. It's the flexible striped polyester-spandex blend that gives you movement, comfort, and even a bit of pizzazz. We suggest buying a few of them, since you're going to want to wear them daily. Underwear drawer: stocked. 
Shop Now
12
Best Cheap Briefs
Jockey Men's Underwear Seamfree Brief 
Need a single pair of briefs—white or otherwise—but don't want to break the bank? These shapely underwear from Jockey will give you the support you need, and a nylon-spandex-polyester blend ensures comfort and a stay-put fit. They are low risers, too, so they won't peek out over your waistline or obstruct your shirt tuck. This is underwear at its easiest.
Shop Now
Related Stories
All products have been hand-picked by our writers and editors. Items purchased through links may earn us a commission.