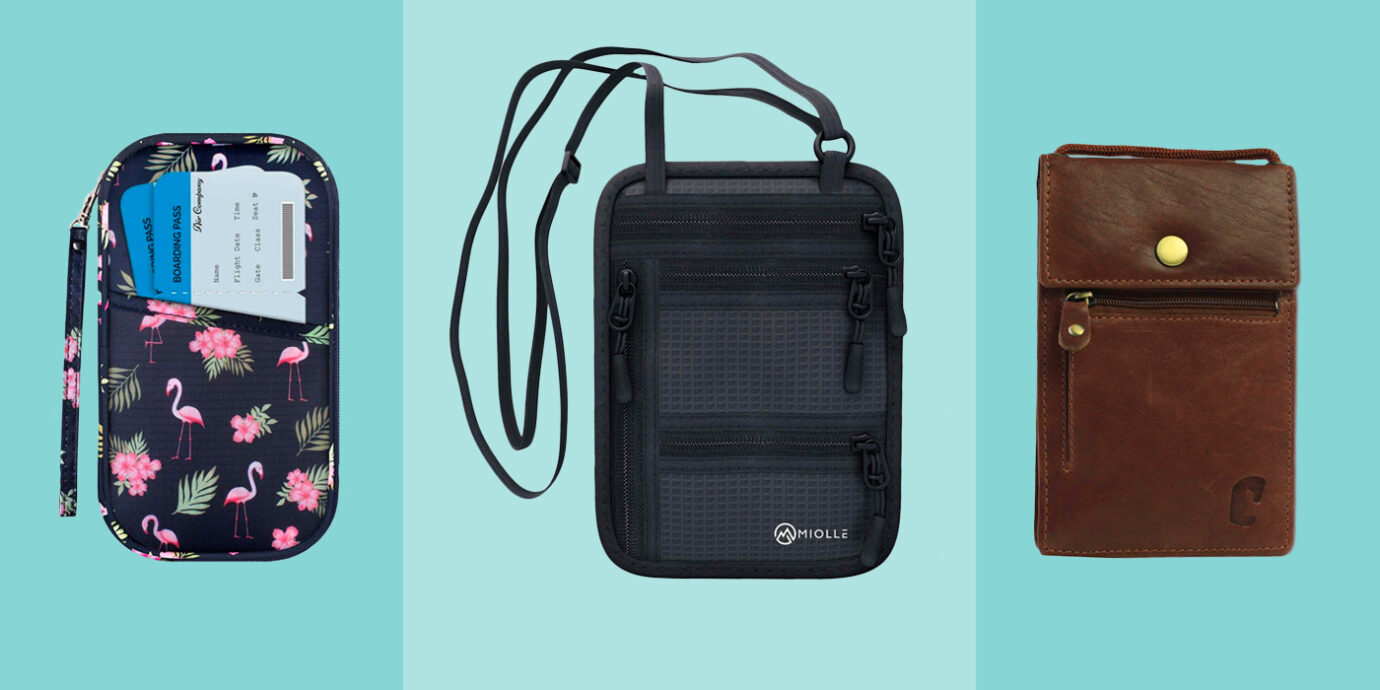 Shop
The Best Neck Wallets on Amazon for Secure Travel
Plenty of things can ruin a trip, but few are as dispiriting as losing your stuff. Enter the neck wallet, which lets you safely and securely store your passport, money, and credit cards. You'll not only stay organized but your hands will be free for more shopping and selfie-snapping. To pick a suitable neck wallet, consider what kind of travel you'll be doing, as well as whether you'll want to tuck the wallet beneath your clothes or wear it loud-and-proud outside of your shirt. You'll also want to think about size: Are you carrying passports for your whole family, or can you get away with a slimmer wallet holding just your precious items? With that in mind, read on for the best-of-the-best below.
1
Best Overall Travel Neck Wallet

Delightful, discrete, and ready for adventures around-the-globe—this wallet is exactly what we look for in a travel-mate. Vantamo's wallet offers a full rundown of all the features you could want or need, from all-over RFID tech to a slim design to a customizable, chafe-free strap. A Velcro flap fastens the roomy back pocket while the side pockets rely on zippers to stash your cash and phone; a wee pocket in the front is just-right for a couple of credit cards.
Buy It Here
2
Best Affordable Travel Neck Wallet

The Miolle wallet offers an unbelievable set of features for about the cost of a coffee and a donut. Unfurled, you can carry your passport and phone around your neck, or you can lengthen the strap and wear the wallet cross-body. Alternatively, you can roll it up and attach it to the waistband of your jeans. Four differently sized pockets ensure your stuff gets stored neatly, and durable nylon and zippers keep everything where you put it, even if you get jostled on public transit.
Buy It Here
3
Best Sleek Travel Neck Wallet

We'll be the first to admit that you don't often find the words "sleek" and "neck wallet" in the same sentence. After all, your goals when choosing a neck wallet are to make sure that 1) it'll store and safeguard your things, and 2) it can be worn around your neck. Everything else is bonus. But QLYNUDO's adds in some streamlined design, making it a travel wallet for 2020. Its futuristic appearance comes courtesy of light gray nylon and shiny silver zippers. As an added bonus, the front is both water- and fire-proof; the back is no-sweat mesh.
Buy It Here
4
Best Minimalist Travel Neck Wallet

Here's the thing about neck wallets: You don't necessarily want to advertise the fact that you're wearing one, which is why we love this version by Venture 4th. It's sturdy, it's spacious, and it's small enough to go inside your shirt without adding telltale lumps and bumps. Into the main pockets go your phone, passport, and credit cards, while a hidden pocket in the back just fits your AirPods or lipstick. Adjustable straps mean you can get it exactly where you want it on your torso (or you can thread it through your belt for a more old-school look).
Buy It Here
RELATED: Best Travel Credit Cards of 2020 (via Tripadvisor)
5
Best RFID Travel Neck Wallet

If you've traveled in the past few years, you've probably been warned about RFID: using radio frequency identification (RFID), hackers can remotely access a person's credit card info, eliminating the need to actually steal a purse or pick a pocket. RFID-blocking jams this high-tech nefariousness and keeps your data private. Not only does the HERO Neck Wallet have plenty of pockets for squirreling things away, each one is insulated with this type of blocking tech, covered in rip- and water-resistant nylon, and closes with a durable zipper. This wallet's about as close to indestructible and inscrutable as you can get.
Buy It Here
6
Best Travel Neck Wallet That Converts to a Clutch

Talk about options: The Homchen passport holder is super-roomy, capable of holding credit cards, documents, cash, coins, and even keys for you and all of your travel-mates. If you want everything in one safe, RFID-blocked place, then this is your travel wallet. It also comes with both a neck strap and a wrist strap, making it easy-peasy to convert into a cute clutch (and robust enough that you won't accidentally drop it). We fell hard for the flamingo-and-palm tree pattern, totally on message for a sunny getaway.
Buy It Here
7
Best Small Travel Neck Wallet

We might as well say it—size matters. Some neck wallets hold four passports, for example, and are about the size of War and Peace. By comparison, Travelon's wallet folds up to the size of your passport, making it an ideal option for someone who wants to keep the most valuable of valuables secure while minimizing the potential for neck strain. This wallet even comes with its own little pen, which not only heightens the adorableness factor but also guarantees that you'll never need to borrow one from your seatmate or flight attendant ever again.
Buy It Here
8
Best Splurge Travel Neck Wallet

Safekeepers' leather travel wallet opts for a '20s look—1920s that is. A polished snap and zipper pull offset the warm sable—giving it an upscale Hemingway-goes-to-Coachella vibe, and ensuring that this is one wallet you won't want to wear tucked away. It's just big enough for a phone, passport, and some cash or cards, but therein lies its beauty: shove in too much, and you risk ruining the leather or its shape. You'll want to use it as a wee pouch or accessory even when you're not on the road.
Buy It Here
9
Best Bra Safe

Suitable for a secret agent, the YOYI Bra Wallet lets you stash your cash next to your curves. Concerned about the itch factor? Don't be. This tiny slip of a wallet—just large enough for some bills and credit cards or room key—is made of silky, slip-like material, so it won't irritate your skin as it nestles inside your bra cup, under your armpit, or beneath your bra band (you can also wear it clipped to the band of your undies). Hand wash it, or toss it into your lingerie bag.
Buy It Here
Related Stories
All products have been hand-picked by our writers and editors. Items purchased through links may earn us a commission.