Shop
The 11 Best Packing Cubes Ever
Packing cubes might not look like much, but they're a godsend for overpackers. The deceptively simple-seeming small bags help you organize your packed items to maximize space in your suitcase or travel bag. And they really, really work! And not just for wrangling up precious extra packing space, but for staying organized, too. You could pick a different cube for every trip day and plan out your outfits. Three days? Three packing cubes. Or, if you're sharing a suitcase with a partner or travel buddy, you can separate belongings with different packing cubes. So useful! Take a look at the packing cubes we swear by and get ready to be amazed by what these mini but mighty pouches can do.
1
Large Double-Sided Packing Cube by Tumi
Coming as no surprise to Tumi's legion of fans, the luggage company's packing cubes are definitely a win. And in first place is this large double-sided version, featuring two compartments, a mesh top, and an extremely sturdy exterior with double zippers. Overpackers, you've met your match.
Buy It Here
2
Paravel Packing Cube Trio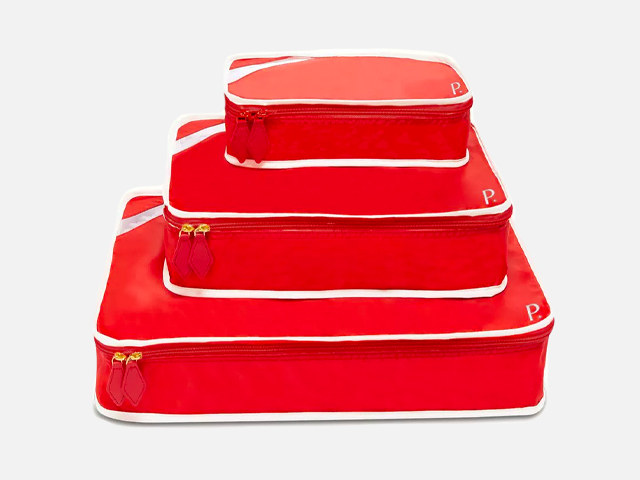 The expression "divide and conquer" applies to your packing technique, too, you know. Paravel's attractive trio of packing cubes allows you to arrange your gear either by type (sweaters here, dirty clothes there) or by outfit. Not only do the bags help you organize, but their design details help you stay organized: Diagonal windows on the corner let you peek inside without actually unzipping the bags, and when you are ready to open up, the two-way zippers let you open them up without contents tumbling out. Plus, each bag folds completely flat when not in use. Sold!
Buy It Here
3
Pack-It Specter Multi-Shoe Cube
Frequent fliers with a shoe problem, this one's for you. Keep your clean clothes safe from whatever ickiness lurks on the bottom of your shoes with this water- and rip-resistant cube. The cube comes with two collapsible dividers that can make up to three sections.
Buy It Here
4
5-Piece Packing Cube Set by Calpak
This five-piece set by Calpack comes in Instagram-friendly colors, like silver, rose gold, and marbled black and white. The set includes two small cubes for things like shoes, socks, and lingerie, and medium and large ones for clothing and bigger items. There's also a water-resistant envelope to hold them all when not in use, and a personal I.D. tag in case you leave them in the dresser drawers of your hotel room. (Yikes!)
Buy It Here
5
Eagle Creek Travel Gear Pack-It Specter Compression Cube Set
If you tend to fill your suitcase to almost-bursting, then you need packing cubes, like the Eagle Creek Travel Gear Pack-It Specter Compression Cube Set. These expandable space-savers have a dual-zipper system that helps condense your stuff to take up a little less space. Just roll your clothing, pack them in these water-repellent ripstop cubes, and zip.
Buy It Here
6
The Insider Packing Cubes by Away
With a water-resistant body and a see-through mesh top, Away's set of four packing cubes that come in a variety of subtle colors, from blush and brick to navy and black.
Buy It Here
7
TranVERS Waterproof PVC Travel Packing Cubes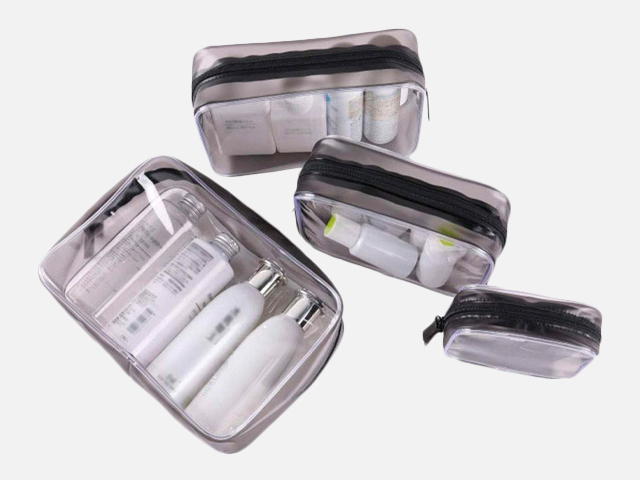 Camping, boating, or heading to the beach? Keep your clothes protected from sand and water with the TRANVERS Waterproof PVS Packing Cubes. The clear PVC keeps your belongings safe inside, or, works the opposite way if you want to fill them with wet towels or swimsuits and keep everything else in your bag dry.
Buy It Here
8
Shacke Pak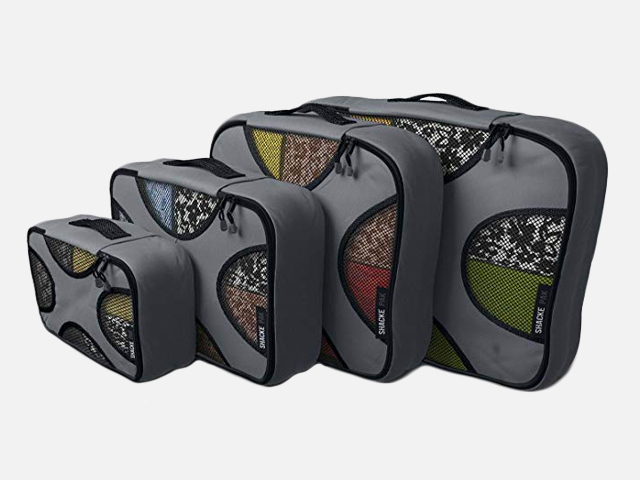 The Shacke Paks are the highest-rated packing cubes on Amazon. They earn high marks from reviewers for their durability and roomy size. Their unique X design helps the bag to maintain its shape.
Buy It Here
9
Calpak x Oh Joy! Packing Cube Set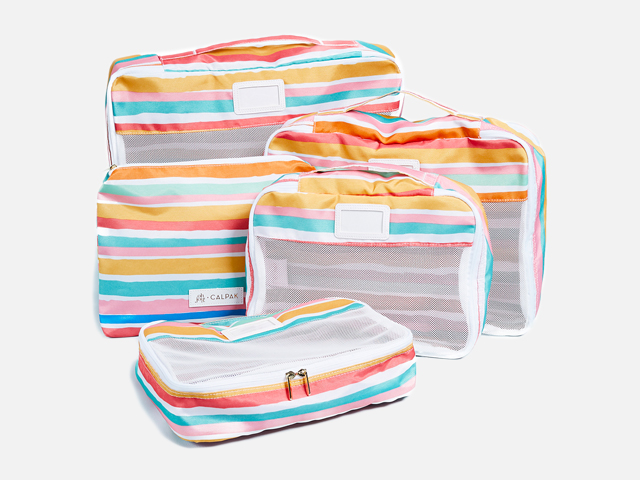 These cute canvas packing cubes offer the same set-up as the Calpak five-piece set above, but we couldn't resist including this cheery version—a collab between Calpak and Oh Joy!—as well. Like Calpak's other packing cubes, this collection is designed to keep your clothing, bras/underwear, accessories, toiletries, and miscellanea neat and tidy. With four zippered bags (two small, one medium, and one large) and a water-resistant envelope in fun colorful stripes, you might just inspire you to start packing early, instead of the morning of your flight (hey, we've all been there).
Buy It Here
10
Uncharted Ultra-Light Packing Cube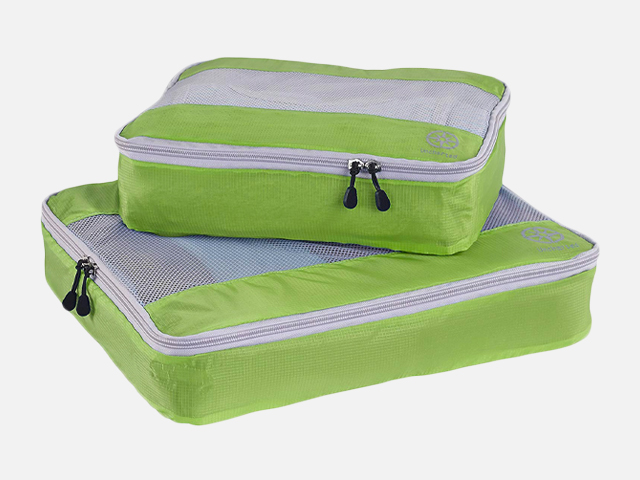 Packing cubes can be a double-edged sword—you can fit way more in your suitcase, but then your bag becomes overweight thanks to everything you stuffed inside. Don't add on any more weight than you have to. Instead, get the Uncharted Ultra-Lite Packing Cubes, which are made from an incredibly lightweight nylon. Each bag weighs just 4 ounces!
Buy It Here
11
Pack Gear Luggage Organizer Packing Cubes
Create your own portable dresser with this nifty nylon collapsible hanging bag. Three of the four compartments have view windows for spotting and accessing your stuff easily (imagine: no more digging through a messy suitcase to find that last pair of clean socks) and there's a top zippered pouch for tucking away extra items.
Buy It Here
Don't Forget These Travel Essentials on Your Next Getaway
Looking for a way to maximize comfort and style without breaking the bank? Check out these popular travel essential picks to bring along for your next vacation!
For info on these editor-selected items, click to visit the seller's site. Things you buy may earn us a commission.
Women's Travel Essentials

Related Stories
All products have been hand-picked by our writers and editors. Items purchased through links may earn us a commission.