Shop
The 11 Best Packing Cubes Ever
Packing cubes have become a must-have luggage organizer. Though they look like simple small bags, these genius items organize packed items to maximize space in suitcases and travel bags. They've forever changed the way we pack—for the better. It seems like there are packing cubes for every imaginable item and use case. You could pick a different cube for every trip day and plan out your outfits. Three days? Three packing cubes. Or, if you're sharing a suitcase with a partner, family member, or travel buddy, you can separate belongings with different packing cubes. Take a look at our favorite packing-cube sets out there.
By Jeanette Zinno and Caroline Morse Teel
1
Large Double-Sided Packing Cube by Tumi
Coming as no surprise to Tumi's legion of fans, the luggage company's packing cubes are definitely a win. And in first place is this large double-sided version, featuring two compartments, a mesh top, and an extremely sturdy exterior with double zippers. Overpackers, you've met your match.  
$75 at Bloomingdale's
2
Pack-It Specter Multi-Shoe Cube
Frequent fliers with a shoe problem, this one's for you. Keep your clean clothes safe from whatever ickiness lurks on the bottom of your shoes with this water- and rip-resistant cube. The cube comes with two collapsible dividers that can make up to three sections.
$27 at Eagle Creek
3
Spacepak Lingerie by Flight 001
Keep bras and panties clean and safe in this slim bag by Flight001. With separate compartments for worn and unworn items, the case holds two to four bras and eight to 10 pairs of underwear, depending on style and size. Bonus: there's a removable mesh bag for washing delicates. Sold!
$42 at Amazon
4
5-Piece Packing Cube Set by Calpak
This five-piece set by Calpack comes in Instagram-friendly colors, like silver, rose gold, and marbled black and white. The set includes two small cubes for things like shoes, socks, and lingerie, and medium and large ones for clothing and bigger items. There's also a water-resistant envelope to hold them all when not in use, and a personal I.D. tag in case you leave them in the dresser drawers of your hotel room. (Yikes!)
From $48 at Nordstrom
5
Eagle Creek Travel Gear Pack-It Specter Compression Cube Set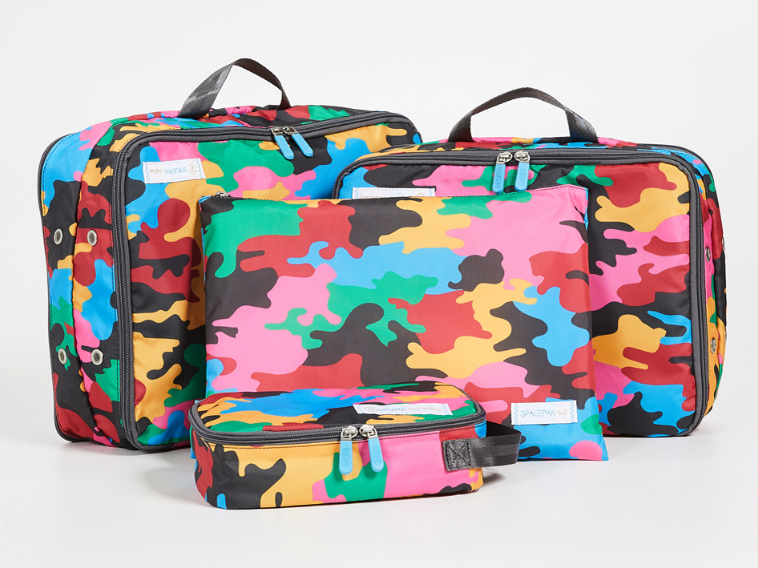 6
The F1 Spacepak Bag Set by Flight 001
Divide and conquer—literally—everything on your packing list with these cute camo packing cubes. Designed to consolidate your clothing, underwear, and toiletries, this colorful trio might just inspire you to start packing early, instead of the morning of your flight (hey, we've all been there).
$115 at Shopbop
7
The Insider Packing Cubes by Away
8
TranVERS Waterproof PVC Travel Packing Cubes
Camping, boating, or heading to the beach? Keep your clothes protected from sand and water with the TRANVERS Waterproof PVS Packing Cubes. The clear PVC keeps your belongings safe inside, or, works the opposite way if you want to fill them with wet towels or swimsuits and keep everything else in your bag dry.
$41 at Amazon
9
Shacke Pak
The Shacke Paks are the highest-rated packing cubes on Amazon. They earn high marks from reviewers for their durability and roomy size. Their unique X design helps the bag to maintain its shape.
$24.99 at Amazon
10
Uncharted Ultra-Light Packing Cube
Packing cubes can be a double-edged sword—you can fit way more in your suitcase, but then your bag becomes overweight thanks to everything you stuffed inside. Don't add on any more weight than you have to. Instead, get the Uncharted Ultra-Lite Packing Cubes, which are made from an incredibly lightweight nylon. Each bag weighs just 4 ounces!
$9.99 at Amazon
11
Hanging Packing Cube Set by Great Useful Stuff

Related Links