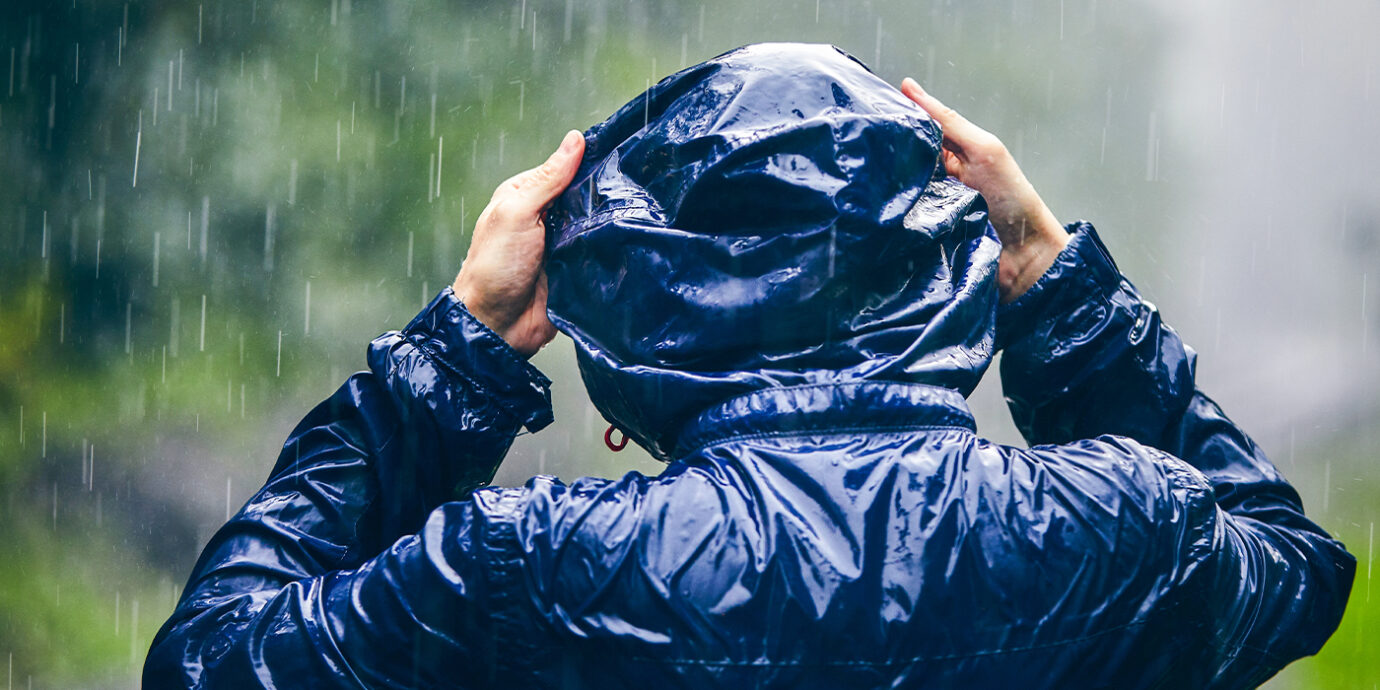 Shop
The Very Best Rain Gear for Men and Women
Topping off your wardrobe with high-quality rainwear is a great investment (because who doesn't want to stay warm and dry?). A dependable rain jacket is a closet essential on par with a little black dress or a great pair of jeans. Whether you're looking for a stylish raincoat that will last you years, water-friendly sandals, or full-on fishing gear, here are our picks for staying comfortable in everything from a drizzle to a downpour. 
Best Raincoat Overall
For raincoats that go the distance no matter the weather, we look for ones with a durable, fully waterproof finish. Londoners, Seattleites, and anyone else accustomed to wet weather know to go for a coat made with Gore-tex, a synthetic fabric that repels water while simultaneously expelling water vapor, so you stay dry without overheating. The reason it works so well is because it's made from stretched-out Teflon—the non-stick coating that keeps grease and oils from gunking up your nonstick cookware. The same chemical compound applied to outerwear ensures that even heavy rain will roll right off your back. Some manufacturers, like L.L.Bean, have developed their own malleable polymers for their rain gear, like this coat made with the company's Tek 2.5 waterproof fabric. We also love Patagonia for its minimalist and waterproof parka.
Best Rain Jacket for Hiking/Adventure Travel
Unexpected summer showers and brief bursts of winter hail are par for the course in the great outdoors. Without the ability to run inside for shelter, you'll need to prepare with outerwear that can keep you dry while you keep moving. Marmot's Eclipse EvoDry Jacket is a favorite among backpackers for its Angle-Wing Movement, which provides enough give for hikers to extend their arms fully overhead while still keeping their torsos dry. Its waterproof exterior is made to withstand full thunderstorms.
Best Rain Pants
For lengthy backpacking trips, or day hikes with a chance of drizzle, a pair of rain pants is the best way to stay comfortable from head to toe. While you can find ultra-light rain pants that are just a thin exterior shell, we prefer a pair with a built-in waterproof lining to ensure our inner layers stay nice and dry. The zippered pockets and leg openings on L.L.Bean's Trail Model rain pants are great additions for keeping both you and your belongings dry.
Best Rain Suit
Pairing rain pants with your favorite rain jacket is likely enough water protection for avid hikers and backpackers, but outdoor enthusiasts who might get stuck one place during a downpour (like hunters), or those who face an influx of water from all directions (like boaters) often need a rain suit. While the term "rain suit" might conjure up an image of a fisherman in head-to-toe yellow rubber, there are now many more flexible options—like these Frogg Togg's rain suits—made from breathable fabrics that are just as resilient as the old-school options. Look for windproof hoods that fasten tightly around your face and elastic bands that hold your jacket and pants securely in place around your wrists and waist.
Best Reusable Poncho
Ahh, the poncho. The preferred rain accessory of amusement park day-trippers and music festival fans everywhere. The poncho's loose cut looks great spinning around in a summer shower, and it's hands down the easiest water protection to add or remove at a moment's notice. Because ponchos aren't fitted or lined like true rain jackets, they're great for stuffing into backpacks—but keep in mind this also means they're more suited for warmer weather. If you're planning to use your poncho as your main waterproof layer on a hiking or backpacking trip, you'll still need a jacket underneath to keep from catching cold in a downpour. Look for ponchos with fully attached hoods and easy-access outer pockets, like these styles from Canada Goose and Adidas. (For the latter, you have to admit—that's one cute poncho!)
Best Disposable Poncho
Disposable ponchos are obviously not as durable as reusable ones, but they're a great way to carry rainwear with you while traveling to destinations where you're not expecting stormy skies. Store one in your glove compartment, or keep it in a cooler side pouch when heading out to a picnic or ball game. They're also a good item to keep in your home's emergency kit, along with a disposable thermal blanket. We like this one from Mountain Warehouse for its light weight, ample coverage, and fabric (read: non-sweat-inducing) material.
Best Waterproof Jacket
Denmark-based Rains specializes in coats and bags designed to help owners embrace wet weather. Unlike your stereotypical rain jacket, Rains is all about pairing smart functionality with an aesthetic that's actually pleasing to look at. The brand's rain gear for men and women is actually—gasp!—fashionable, and will hold its own through many years of storms. Mid-length cuts help keep you dryer longer, and Rains' drawstring hoods with built-in visors negate any need for an umbrella.
Best Warm Rain Jacket
Because showers are not limited to spring and summer, you may be in need of a raincoat that can get you through the winter season. Our favorite option for cold, wet climates is the waterproof parka. A well-insulated, well-made parka can withstand frigid temps that come with a side of rain, snow, sleet, or hail. Our favorite waterproof parkas are made by Everlane with 100% recycled materials, keeping your carbon footprint down while you warm up. Handwarmer pockets and snorkel hoods help to keep every last bit of you cozy and dry.
Best Lightweight Rain Jacket
Even Hawaiians and Angelenos can find themselves caught out in the rain. Our point is, for those who live in climates that usually range from warm to hot, it can be hard to find a Gore-tex option that's light enough to leave on in direct sunlight. Luckily, Marmot has designed a super streamlined and packable trail jacket that won't cause you to overheat, even in peak summer temperatures. Like our Eclipse EvoDry pick, this jacket features Angle-Wing Movement, so you can keep your full range of motion during any outdoor activity.
Best Packable Raincoat
While many lightweight raincoats and ponchos can pack well enough into a travel bag, our favorite packable raincoats fold into their own bags. These jackets by Compass 360 (a rain gear brand) and Joules (a traditional clothing based in Great Britain, where they know a thing or two about rain) are perfect for storing in your car trunk or desk drawer so you're never without an extra layer.
Best Umbrella
Thousands of five-star Amazon reviews can't be wrong—the undisputed champion of travel umbrellas is the Repel Windproof Umbrella with Teflon Coating. With nine resin-reinforced fiberglass ribs, the power of a nonstick Teflon outer surface, and a slip-proof rubber handle grip, it's easy to see why this one-pound wonder is so loved. All 11 color options, from bright yellow to celestial print, are under $25.
Best Rain Boots
British brand Hunter is iconic for their tall, pull-on rubber footwear with traction-gripping soles. In fact, Queen Elizabeth herself has issued the company a Royal Warrant of Appointment, so you know the quality here is excellent. Hunter's lace-up boot works just as well as their original tall boot at keeping out the rain while providing insulation for added warmth. Lace up or pull on, these boots will give your feet the full royal treatment.
Best Lightweight/Packable Rain Boots
For a pair of rain boots that won't gobble up precious suitcase real estate, go short and all rubber. The pliable material can be rolled, folded, and squished any which way you need in order to pack them. We especially love this packable option from Bogs for its anti-odor soles, so your pack stays smelling fresh from city to city.
Best Waterproof Sandals
No one likes slipping around in their flip-flops, which is why we love Teva sandals—they fasten! We wear them to anything from a run to the farmers' market to relaxing hikes along the river. If you partake in some shallow wading, or get caught in a summer shower, your Tevas will dry out fast.
Best Rain Gear for Fishing
To go a step beyond your rain suit, consider investing in a pair of rain bibs for wet-weather fishing trips. Some seafarers prefer full-coverage bibs over traditional rain pants, as bibs keep water from entering at the waist. Look for a pair with simple suspender clasps for easy removal, and pockets for added on-person storage, like these picks from fishing gear brand Grundens.
Best Rain Gear for Hunting
If you're investing in a raincoat specifically for hunting, go full camo. L.L.Bean and She Outdoor make waterproof options with stowable hoods (that can be removed when not in use), so you can stay extra warm and dry out in the woods, and a 100% polyester shell for quiet movement.
Related Stories
All products have been hand-picked by our writers and editors. Items purchased through links may earn us a commission.