Shop
The Very Best Shapewear Pieces, From Back-Smoothing Bras to Compression Leggings
Shapewear isn't just about cinching your waist or eliminating a bit of back flab. While those are awesome perks, obviously, a high-quality, well-fit shaper can improve your posture and give you a big ol' boost of confidence. Compression garments come in every shape, size, and silhouette, so it's important to find the piece that best meets your needs. Whether you're looking for something to wear with your office-friendly pencil skirts or you need a slip that will work with the special dress you're wearing to a destination wedding, we've got options. Keep reading for all of our favorite picks from sculpting bodysuits and back-smoothing bras to compression leggings and supportive maternity tights.
Shapewear FAQs
How does shapewear work?
SPANX, the brand that's near synonymous with shapewear, may have made its debut in 2000, but compression garments are nothing new. Ladies have been squeezing into (at the time, organ-crushing) girdles and lace-up corsets for centuries. Luckily, we've come a long way. Today, high-tech microfiber and mesh garments have replaced bone- and steel-enforced cinchers. Modern shapewear uses highly engineered fabrics that work to flatten out problem areas and enhance natural curves. In most cases, shapewear simply compresses fat for a smoother, sleeker appearance, but in some areas—like your abs—the garment actually repositions fat, moving it into areas of decompressed muscle. Torso garments, in particular, can also improve your posture—that alone can make a difference in your appearance as you stand and walk straighter.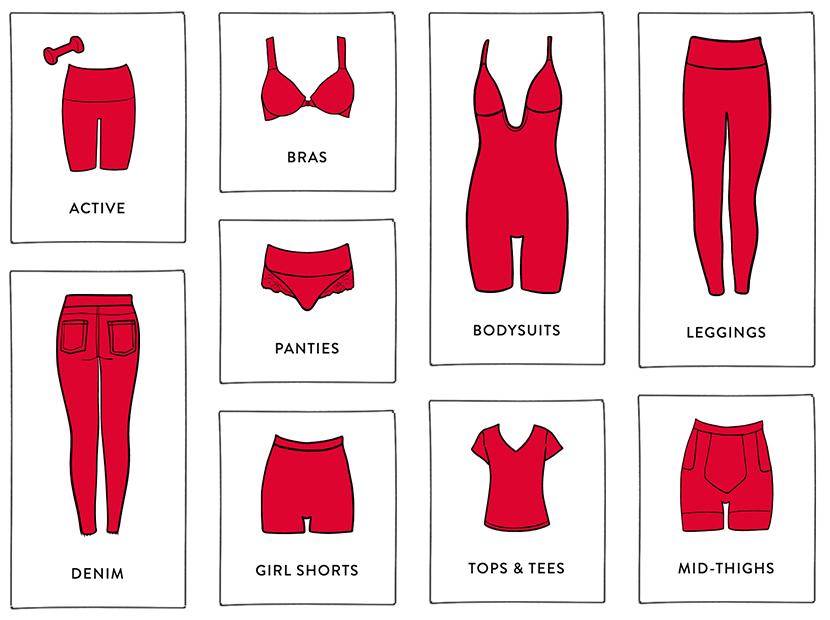 Is shapewear harmful?
As long as you're wearing the correct size, shapewear shouldn't pose a risk to your health. According to the Cleveland Clinic, a nonprofit academic medical center, you should use common sense when choosing your shapewear. Does it irritate your skin or leave marks? If so, those are indications you're not wearing the right size. While many assume that wearing a smaller size can help achieve even better results, the truth is that too-tight garments can move your organs in dangerous ways. The habit can also exacerbate acid reflux and heartburn, pinch a nerve (leading to numbness and tingling), or even lead to UTIs if you put off going to the bathroom because you don't want to wiggle out of your shaper. While shapewear does have the power to turn you red carpet-ready at a moment's notice, it's essential that you find the right fit because a temporarily flat tummy just isn't worth the side effects of sprayed-on SPANX.
What are the benefits of shapewear?
We can all agree that the number one benefit of shapewear is a sleeker, smoother figure, right? Shapewear is an instant esteem booster, but the positives don't stop there. Properly fitted shapewear can also help improve your posture by pulling in your core and aligning your spine. The added support helps you sit straighter and walk taller which is invariably a good thing! Specially designed maternity and postpartum shapewear can also offer much needed support—more on that below.
Can I wear shapewear during or after pregnancy?
According to WebMD, which interviewed Laura E. Riley, MD, the medical director of Labor and Delivery at Massachusetts General Hospital, shapewear can actually be particularly beneficial during pregnancy. Riley notes that as long as your compression wear is comfortable and you can eat, breathe, and use the bathroom like normal, you shouldn't be worried. In fact, she says that it can actually help women with varicose veins and even ease pain by lifting your uterus off your cervix. Postpartum wear can also support your midsection while engaging your core muscles. If you're considering maternity or postpartum shapewear, consult with your doctor over any concerns you have and make sure you buy specially made pieces. Brands like SPANX, Motherhood Maternity, and Blanqi offer maternity wear with stretchy stomach panels that can accommodate your growing belly.
What should I look for in shapewear?
Buying shapewear can be a little tricky at first but consider the following and you'll have a much easier time. First and foremost, you need to buy the right size. Many people assume you need to size down in order to achieve maximum compression, but this can cause extreme discomfort and lumps and bumps that actually make you look larger, so stick with your actual size. Next, consider your desired "performance level." A lightweight garment will help you smooth out targeted problem areas, while thicker, firmer fabrics (those with more nylon, spandex, and elastane) will most drastically alter your shape. Finally, think about what you're trying to achieve. Do you just need to eliminate chub-rub and slenderize your thighs a bit? In that case, compression shorts will do the trick. Are you looking to eliminate underbust rolls, back flab, and minimize your muffin top? If so, a bodysuit is likely in order. Shapewear comes in every silhouette you can think of, so consider what you want to wear it with before looking into your options.
The Best Shapewear
Best Shapewear Bras and Underwear
Best Smoothing Bodysuits
Best Shapewear Tops
Best Shaping Shorts and Slips
Best Shaping Leggings and Tights
Best Shapewear for Maternity
Now for the Clothes…
Related Stories