Shop
Is ThirdLove the Best Bra and Underwear for a Comfortable Flight?
Figuring out how to dress comfortably for a flight should always start with your bra and underwear. No matter how comfy your leggings and plush your sweater, if you're wearing a pinching bra and creeping underwear, you're in for an uncomfortable flight. When it comes to travel, the best bra is the one you never have to think about. So when we saw ThirdLove bras and their guaranteed-to-fit sizing system splashed across our social media feeds, we were intrigued. Sure, ThirdLove underwear might fit well, but would it be comfortable enough that we could relax through a red-eye? To find out, we tested ThirdLove's bra and underwear on an overnight cross country flight from Portland to New York City. Read on for our unbiased and honest ThirdLove review.
In this ThirdLove Review:
What Are the Pros and Cons of ThirdLove?

ThirdLove Pros
ThirdLove Cons
Frequently Asked Questions About ThirdLove

How does ThirdLove work?
First, you need to dedicate about a minute to taking the ThirdLove Fit Finder survey. It's basically a few simple questions about your boobs and the bras you already own. We promise you won't have to think very hard. Each question is multiple choice and illustrated with cute graphics. At the end, you'll be prompted for your email address and then ThirdLove recommends your size and bra style based on how you answered. So, if you reported a lot of gaping in the cups of your regular bra (ugh) or a strap that rides up the back (the worst), ThirdLove will suggest a bra that addresses those issues. The super cool part is that ThirdLove ships you a backup size, so you can try on two bra sizes in the comfort of your own home (with all your favorite tops—it's handy to see how the bra looks under your clothes). You get 14 days to try on your bras, and returns are free within that time frame.
How much is a ThirdLove bra?
Prices start at $68 for most of the bras, including the 24/7 Classic T-Shirt Bra. Joining Hooked Rewards, the brand's free rewards program, is the way to access bundling discounts (essentially, incentives for ordering more items), free shipping on purchases of $50 or more, and a special gift (usually a discount code) on your birthday. Pricier bras, like the Lace Contour Plunge Bra, cost $76. Underwear is 3 for $30 or 2 for $36. ThirdLove might cost a bit more than you usually spend on bras, but the quality and fit are truly there. It's about as close as you can come to a custom-made bra, which start in the triple digits.
Does ThirdLove have a store?
ThirdLove has exactly one store in the fashionable SoHo neighborhood of New York City. It's billed as a concept store. Visitors are encouraged to book a 30-minute appointment with a fit specialist. You can try on any of the bra styles, and receive a mini-education in bra fitting. The store is quite slick and decorated with a modern feminine aesthetic. Think: elegant fitting rooms with circle mirrors and daylight and twilight lighting options, bust-shaped neon lights, and a gallery wall—of bras. Some items are available to take home immediately, others will be shipped for free to your home.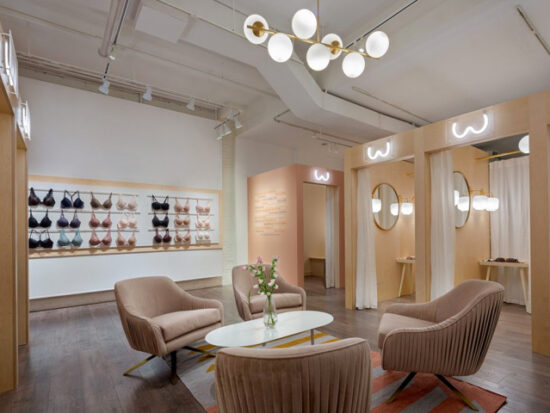 Does ThirdLove have plus-size bras?
Yep. But ThirdLove's whole thing is that it has the best fitting bra for every boob on the planet, without separating the little ones from the big ones. Seriously, cup sizes are available in A through I, with bands from 30- to 48-inches. That means 78 sizes in total when you include ThirdLove's genius half-cup sizes. If you wear a bra, ThirdLove likely has one that will fit. For our ThirdLove bra and underwear review, we tried out a half-size smaller and larger than our normal size. ThirdLove's underwear is also available in sizes XS to 3X.
Can I return ThirdLove bras and underwear?
Absolutely. After you order your initial item(s) and backup size(s), you have a 14-day window to try them on for size and return what doesn't fit for free. After that, you get 60 days to both wear and wash your items. ThirdLove will accept returns on bras and underwear that just didn't hold up the way you expected after a few washes. That's how confident ThirdLove is that you'll love their bras and underwear for the long-term. After our ThirdLove bra and underwear review, we kept all five ordered items and they've kept their shape after multiple washes. One tip here: Don't put your bras in the dryer.

What's so great about ThirdLove bras and underwear?
Not only does ThirdLove come in an extensive range of sizes (cup sizes are available in half-sizes of A through I, with bands that range from 30- to 48-inches) they're also designed to solve fit issues found in their competitor's bras. Signature memory foam cups form to the body and eliminate pesky cup gaping. Uniquely designed straps don't slip. High-quality elastic means your band won't dig into your back (ouch) or stretch out and lose support over time (ugh). If your boobs are more like sisters than twins, some of the bras have removable inserts to adjust the shape of one or both cups for a more symmetrical look. That's just genius.
Our ThirdLove Bra and Underwear Review for Travel
Our underwear drawer is a mix of Calvin Klein, Hanky Panky, Natori, and Victoria's Secret. There are a few Adidas sports bras and a couple of Urban Outfitter bralettes in there, too. We've always approached bra and underwear shopping by browsing sales, asking friends for their favorite brands, buying a nude strapless bra in a bridesmaid-induced panic, and simply snapping up anything cute that caught our eye in a moment of shopping weakness. But we longed for a better way to shop for long-lasting and well-fitting bras and underwear. Enter: ThirdLove. It's hard to ignore ThirdLove, they're everywhere from eye-popping Instagram posts to anti-Victoria's Secret rants in The New York Times. Plus, a few of our friends swear by ThirdLove. What we really needed was a bra and underwear comfortable enough to wear on an upcoming (and slightly dreaded) red-eye flight from Portland, Oregon to New York City. In the past, a sports bra or bralette and Hanky Panky underwear had been our go to sort of comfy underclothing for a red-eye. But we hopped over to ThirdLove to see if they had an even better solution to our travel underwear woes. Read on for our ThirdLove bra and underwear review.
How We Shopped ThirdLove Bras and Underwear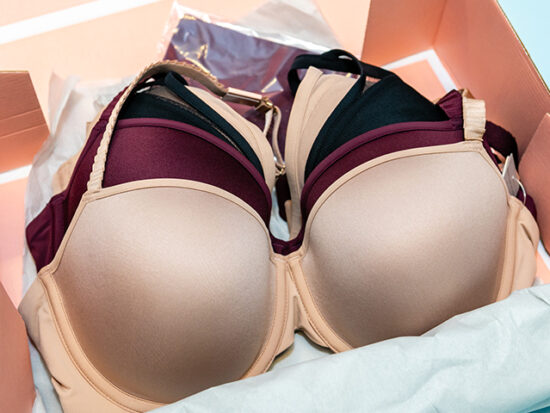 Just like everyone who orders from ThirdLove, we took the super simple ThirdLove Fit Finder survey. And it was kind of fun—who doesn't love answering questions about themselves? Based on our multiple choice responses to questions about fit problems and the bras we already own, ThirdLove results suggested the 24/7 Classic T-Shirt Bra. This crowd favorite bra has almost 40,000 reviews, with an average 4.5 star rating. It comes in 11 tasteful colors, like taupe, rose dust, and fig. However, not every size is available in every color. Reviewers love the soft micro jersey fabric, ultra-thin memory foam cups, and pleated straps. We ordered it in our usual size, and another half-size down as the back-up. Next, we went for the Classic Contour Plunge Bra, just to give two styles a test run. And for the sake of our ThirdLove bra and underwear review, we wanted to wear a ThirdLove bra and pair of underwear on our overnight flight (the ultimate comfort test) so we also picked out a Comfort Stretch Thong.
What We Ordered From ThirdLove
24/7 Classic T-Shirt Bra in Pinot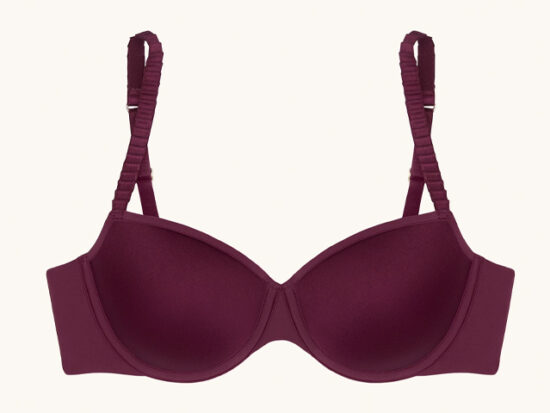 We've worn T-shirt bras from other brands before—the idea is that they're a casual everyday bra that'll stay comfy and won't show under something as lightweight as a t-shirt. But ThirdLove took the t-shirt bra concept and perfected it. Signature memory foam cups comfortably adhere to the body and eliminate annoying gaping between the breast and the cup. Pleated straps felt soft and didn't slip down our shoulders. And most importantly for a red-eye flight, the soft micro jersey fabric was breathable—no sweat. Did we mention the tagless printed label and foam-padded hook and eye? Wearing the 24/7 Classic T-Shirt Bra on a flight was the next best thing to traveling in pajamas.

24/7 Classic T-Shirt Bra in Taupe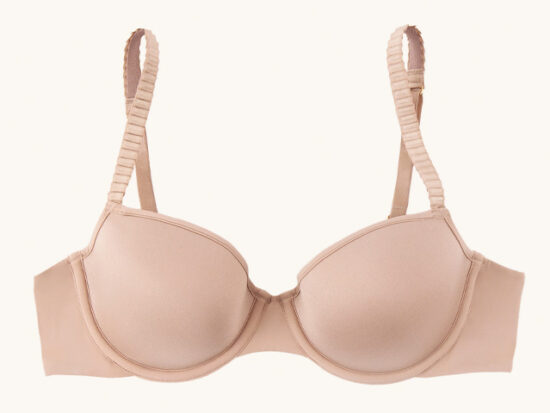 We ordered the taupe version of the 24/7 Classic T-Shirt Bra in our backup size (a half-size smaller than what we usually wear) but honestly couldn't find that much of a difference in the feel or fit. Still, having the next half-size smaller did make us feel better about ordering bras online, since ensuring the right fit is so-so-so important. And if you're constantly struggling to find the right cup shape in a world of full-size letters only, the half-size cup is likely the answer you're looking for. The taupe color was invisible underneath white clothing—which is critical.
24/7 Classic Contour Plunge Bra in Black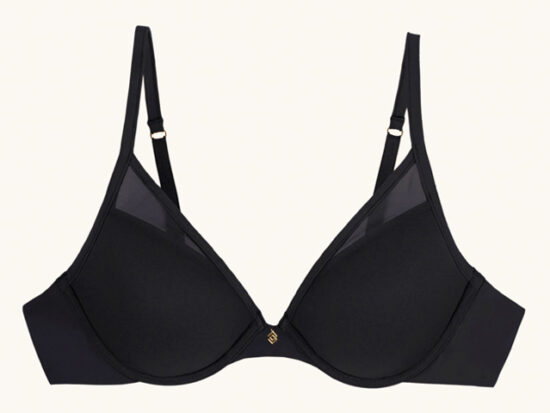 If you want something that's a little sexier than the Classic T-Shirt Bra, but still exceptionally comfortable—slip on the Classic Contour Plunge Bra. It's got all the bells and whistles of the 24/7 Classic T-Shirt Bra, plus a little natural lift and removable inserts for a slight push-up effect. The plunge style and mesh overlay add some sex appeal (especially in black or ginger), but this is still the type of bra you'll wear day to day with confidence. We didn't try it out on a flight, but have been reaching for it under sweaters, blouses, and dresses.
24/7 Classic Contour Plunge Bra in Taupe

We ordered the 24/7 Classic Contour Plunge Bra in taupe in a half-size smaller than our regular size. Much like with the Classic T-Shirt Bra, we didn't notice much of a difference between the half-sizes. As with the black one, it was nice to have the option of adding or removing the inserts for more or less of a lift.
Comfort Stretch Thong in Pinot

ThirdLove designed their Comfort Stretch Thong with the perfect mix of nylon and spandex that does not budge. The material feels silky smooth, but breathable, and it's completely seamless. That means you can wear them under leggings without any VPL (that's visible panty line for the uninitiated). We tested the Comfort Stretch Thong in the middle seat of a red-eye flight from Portland to New York City. The results? We worried more about armrest access than we did about our underwear. The Comfort Stretch Thong officially earned a place of honor in our underwear drawer.
Finally: Is ThirdLove Worth It?
If you're shopping for comfortable bras and underwear that fit perfectly and will last, then ThirdLove is definitely worth it. We had a solid night's sleep without any underwear worry on a red-eye flight—no easy feat for even the most expensive bra and underwear set. Unless you're willing to pay even bigger bucks for a custom set of undies, ThirdLove has the most affordable and accessible bras and underwear out there. We've got them ready to go for an upcoming flight to Punta Cana. In our book, the new rally cry of comfortable travel should be, "I see London, I see France, I see ThirdLove underpants."
Related Stories
All products have been hand-picked by our writers and editors. Items purchased through links may earn us a commission.