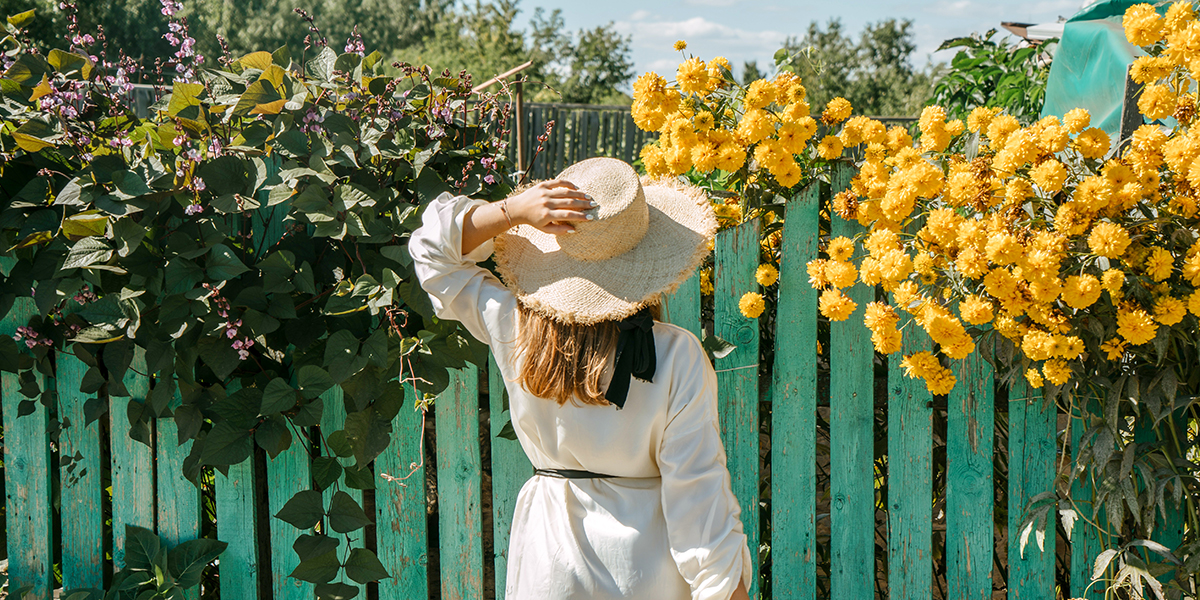 Shop
The Best Sun Hats to Protect Your Face While Still Looking Stylish
Going on vacation? It's time to up your sun-care game. Trust us, sun damage is not a cute look. And if you've already checked off sunscreen and sunglasses, a good hat is the next essential to buy. But there's an awful lot of choice out there. Do you go for a statement floppy hat or a sporty visor? A vintage cloche or a straw fedora? To help make things easier, we've narrowed down the best sun hats and listed our top picks in every category below.
What to Look for in a Sun Hat

As with sunscreen, the "best" hat is the one you actually wear, so consider what you're going to use it for. If you're planning on being outside for hours at a time, then it's worth finding a hat that can give you plenty of shade—one with a wide brim that can give coverage to your full face, or a bucket hat that'll help you avoid burning the back of your neck. Next, think about materials—straw hats are lightweight and well ventilated, while cotton ones provide the strongest sun protection and can easily be crammed (sorry, folded) into a suitcase. And finally, one size doesn't always fit all, so it's worth investing in a hat that can be adjusted.
1
Best Giant Wide-Brim Sun Hat
Looking to make a poolside statement? It doesn't come much wider than the San Diego Hat Company's Ultrabraid XL Sun Hat, which is broad enough to shade your face, neck, and even shoulders from the sun's rays. Made with finely woven paper straw with an interior sweat-wicking band and an adjustable knotted tie around the base, this simple, stylish sun hat comes in eight bright colors, including black, white, cobalt blue, hot pink, and citron. Pair it with a summer dress and sandals and you'll be good to go.
$44 at Zappos
2
Best Straw Fedora
If you're after a timeless fedora design that's still light and breezy, this woven wheat-straw Joanna sun hat by trendy West Coast label Brixton will be your new beachside BFF. Effortlessly light and airy with a classic dimpled crown, it features a black textured ribbon around the base and a wide brim to make sure you have plenty of shade when you spend an afternoon beside the pool. It comes in two color options—classic straw and a warm multi-colored tan weave.
$44 at Urban Outfitters
3
Best Women's Visor
Bold, bright and oh-so-beachy, this cute visor by Bondi comes ready to play. The oversized braided straw design is courtesy of laidback California brand Brixton. Its chunky braids have been woven together into a full brim to keep sunbeams out of your eyes, while strawberry-pink stripes have been added for a playful splash of color—perfect for pairing with a popsicle. And even if you get a bit too enthusiastic in your game of beach volleyball, this visor's adjustable hook-and-loop closure will keep it nice and secure.
$38 at Urban Outfitters
4
Best Medium Wide-Brim Sun Hat
Gingham is truly a warm-weather print—the stuff of picnic blankets and light, strappy dresses—and the Shoshanna Collaboration Lucia Sun Hat channels all that summery goodness. Wrapped in a black-and-white checkered ribbon band, this wide, floppy hat will seamlessly fit into your summer wardrobe, all while providing you with plenty of protection from the baking sun. Made entirely from finely woven straw, it's wonderfully light and airy and comes with an interior sweatband for added comfort.
$92.99 at Zappos
5
Best Simple, Chic Bucket Hat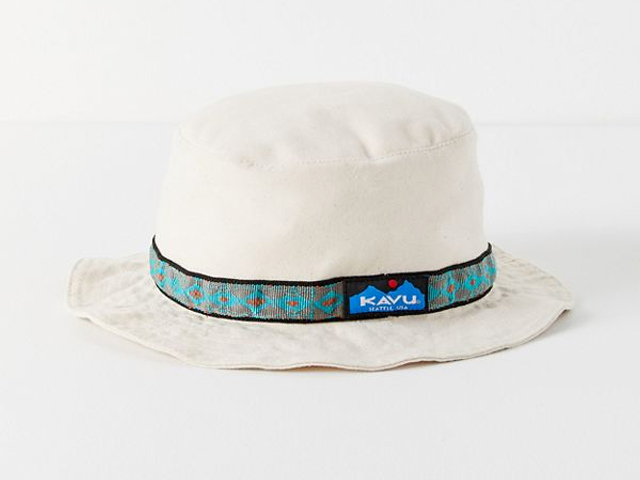 The Strap Bucket Hat offers all the benefits of a bucket hat without compromising on style. You can thank Seattle-born designer KAVU for that. First off, let's talk about the benefits: Its durable cotton canvas material means it'll keep you effortlessly cool, and you can fold it away with minimal fuss. It also features a wide brim to keep the rays out of your eyes, not to mention an internal sweat-wicking band and adjustable chin strap. And then there's the style: a classic bucket look in black, white, and multi-colored designs, accented with a fun diamond-patterned band around the base.
$35 at Urban Outfitters
6
Best Straw Panama Hat
Our rule: You can never go wrong with a classic Panama. But for an original twist, take a look at the Basket Weave Hat by Something Navy, which combines a natural paper straw rim with an offbeat woven crown. A black textured grosgrain band provides a contemporary finishing touch, which has been tied flat in an understated bow. The hat's snugness can be adjusted thanks to an internal tie, and is lightweight enough for all-day wear—perfect for a trip to the farmers' market followed by a sunny picnic in the park.
$39 at Nordstrom
7
Best Boater Hat
Who says classic boaters have to be boring? Enter the modern monochrome Two-Color Boater Hat by popular fashion-blogger-turned-style-icon Arielle Charnas. It pairs a spotless ivory top with a fun zig-zag-patterned brim to create an eye-catching design that's sure to get you noticed on a picnic. The finely woven straw base is wrapped in an understated black ribbon, and comes complete with an adjustable tie that gives it plenty of staying power, even when there's a summer breeze.
$45 at Nordstrom
8
Best Women's Baseball Cap
Forget loud logos and Gatorade-colored hues, our summer wardrobes are all about incorporating soft cottons and linens to keep effortlessly cool. And this sporty six-panel baseball cap by Madewell delivers a home run. Its textured canvas fabric has been left in an understated neutral tone, designed to be worn every day, whatever your outfit, making it totally versatile. On the back, an adjustable brown leather strap secured with a gold clasp adds an on-trend hint of color.
$29.50 at Nordstrom
9
Best Sporty Bucket Hat
Lightweight? Breathable? Quick dry? Yes to all of the above. Based on Fjallraven's instantly recognizable backpacks, the Abisko Summer Hat is perfect if you're planning an active outdoor adventure. It comes in four nature-inspired colors, each with the Swedish brand's cute curled fox logo emblazoned across the front. The hat's wide brim provides plenty of shade, and it can also be folded up and secured at the sides with a pair of snap buttons. Other features include an interior sweat-wicking band, as well as an adjustable draw cord to keep it from slipping off on a windy hike.
$59.95 at Zappos
10
Best Summery Cloche Hat
The effortlessly feminine Face-Framer Hat by reality TV star and fashion designer LC Lauren Conrad is pure "Downton Abbey by the sea." A wide downturned brim will keep you protected from the sunburn while still looking entirely elegant. It can also transition from beach to outdoor market to garden party, with a lightweight, split-back design and pretty black bow detail. But that's not even the best thing about it—just take a look at the price.
Related Stories
All products have been hand-picked by our writers and editors. Items purchased through links may earn us a commission.