Shop
The 8 Best Toiletry Bags That Will Keep You Super Organized When You Travel
Travelers tend to fall into two camps: those who make do with hotel-provided toiletries and those who pack their entire at-home arsenal. Whether you're a barebones packer or a more-is-more traveler bringing hair masks and moisturizing essence, a toiletry bag is an essential part of your packing strategy. Organizing your products into a single pouch saves you time, energy, and valuable carry-on space—and most of 'em are pretty cute to boot. Below are eight of our all-time favorite toiletry bags to take on your next trip.
1
Women's: Dagne Dover Large Hunter Neoprene Toiletry Bag
If you're traveling with delicate or expensive cosmetics like eye palettes, you're going to want a little extra padding to protect these babies. Fashioned from shock-absorbent neoprene (which can easily be cleaned with one swipe of a makeup wipe), Dagne Dover's Toiletry Bag is just the way to go. The minimalist pouch comes in three moody colors: dark moss, onyx, and storm. The interior features a roomy main compartment as well as a removable mesh pouch (perfect for toothbrushes) and various loops and pockets for stowing lip balms, razors, and other small items.
$55 at Nordstrom
2
Men's: Herschel Supply Co. Chapter Travel Carry-On Kit
Sorry guys, but throwing your deodorant, pomade, and contact lens solution into your suitcase to tumble around and possibly pop open isn't very smart—especially when this no-fuss toiletry bag from Herschel Supply Co. is an easy solution. The compact canvas pouch features a roomy three-liter interior (lined with the brand's signature striped fabric), a side carrying handle, and a small zippered compartment on the exterior. Packing your toiletries seriously doesn't get any easier than this.
$25 at Need Supply Co.
3
Hanging: Mossio Hanging Toiletry Bag
Most hanging toiletry bags are a bit of a trade off: They're high on function but low on looks. Not this one. Available in an array of fun patterns—we're talking cactus, leopard, polka dot, daisies—these hanging bags check off a lot of boxes on our must list. It's water-resistant, antimicrobial, compact, and cute. Hang it up on the back of the bathroom door or pop it on towel rack and unzip it to find pouches and pockets—six in total—to fit in everything you need.
$13.99 at Amazon
4
Kids: Reisenthel Toiletry Bag
Look, we know there aren't many things that'll get kids psyched to brush their teeth, but maybe a whimsical toiletry kit could help? (No promises.) This hanging bag from Reisenthel is both practical and fun with three kid-friendly patterns: cats, dogs, or circus animals. Three mesh pockets and one zippered compartment mean traveling kiddos can organize all their essentials to their liking. And the water-repellant lining can hold up to the inevitable spills.
$23.99 at Amazon
5
Super-Sized: Expert Travel Family-Size Toiletry Bag
If you're tasked with packing the whole family's toiletries in one bag, you're going to need a bottomless Mary Poppins miracle, and that's precisely what this case supplies. The mammoth 42 x 14-inch bag from Expert Travel features four compartments that are able to accommodate full-size bottles, travel hairdryers, and full makeup sets. It's available in several unisex colors: baby blue, black, and obsidian, and hangs, sparing precious counter space. As a bonus, the kit is covered by Expert Travel's lifetime guarantee, so you can return or exchange it if you ever have problems.
$44.97 at Amazon
6
Small: Goodfellow & Co. Rectangle Organizer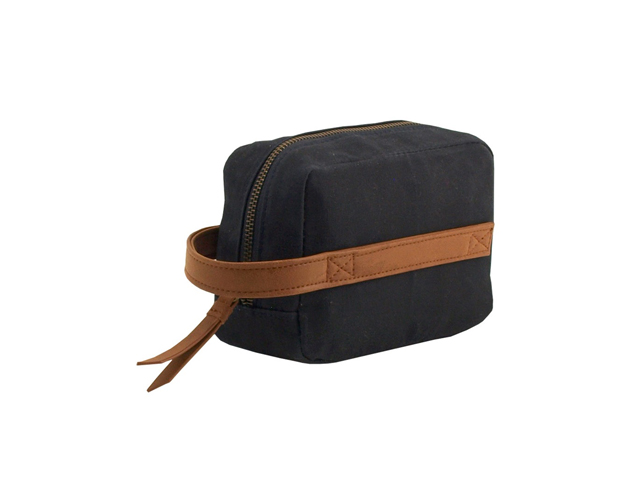 For travelers who only intend to take their essentials, this sweet little dopp kit from Goodfellow & Co. is ideal. The black cotton bag measures 4.5 x 2.75 x 6.5 inches, which means it can accommodate your deodorant, toothbrush and toothpaste, and other small toiletries, yet fits snugly in your carry-on. And thanks to its faux leather handle, the kit can easily be fished from the bottom of your bag when you need to lay your hands on that Advil, stat.
$9.99 at Target
7
Easy to Clean: Fjallraven Kånken Toiletry Case
Toothpaste puddles. Setting powder explosions. If you're prone to on-the-road messes this easy-to-clean bag will be a lifesaver. The beloved Swedish outdoor brand Fjallraven is behind the Kånken kit, which borrows design cues from the company's cult-favorite backpack. The tidy nylon bag is designed with two zip-top closures as well as two interior mesh pockets. Whenever it gets messy, you can either throw it into your washing machine or just wipe it down with a wet cloth.
$60 at Nordstrom
8
High-End: Common Projects Toiletry Bag
If you're looking to upgrade your beat-up toiletry bag for something seriously high-end, let us steer you in the direction of Common Projects. The name behind some of the hippest sneakers around (gracing the closets of Jennifer Aniston, Alexander Skarsgård, and Nick Jonas), this brand knows how to make quality leather products—and their dopp kit is no exception. Their leather, Italian-made bag is stamped with a unique serial number and fitted with a carrying loop. Inside you'll find a supple leather lining and one zipped compartment.
$362 at Need Supply Co.
Related Stories
All products have been hand-picked by our writers and editors. Items purchased through links may earn us a commission.