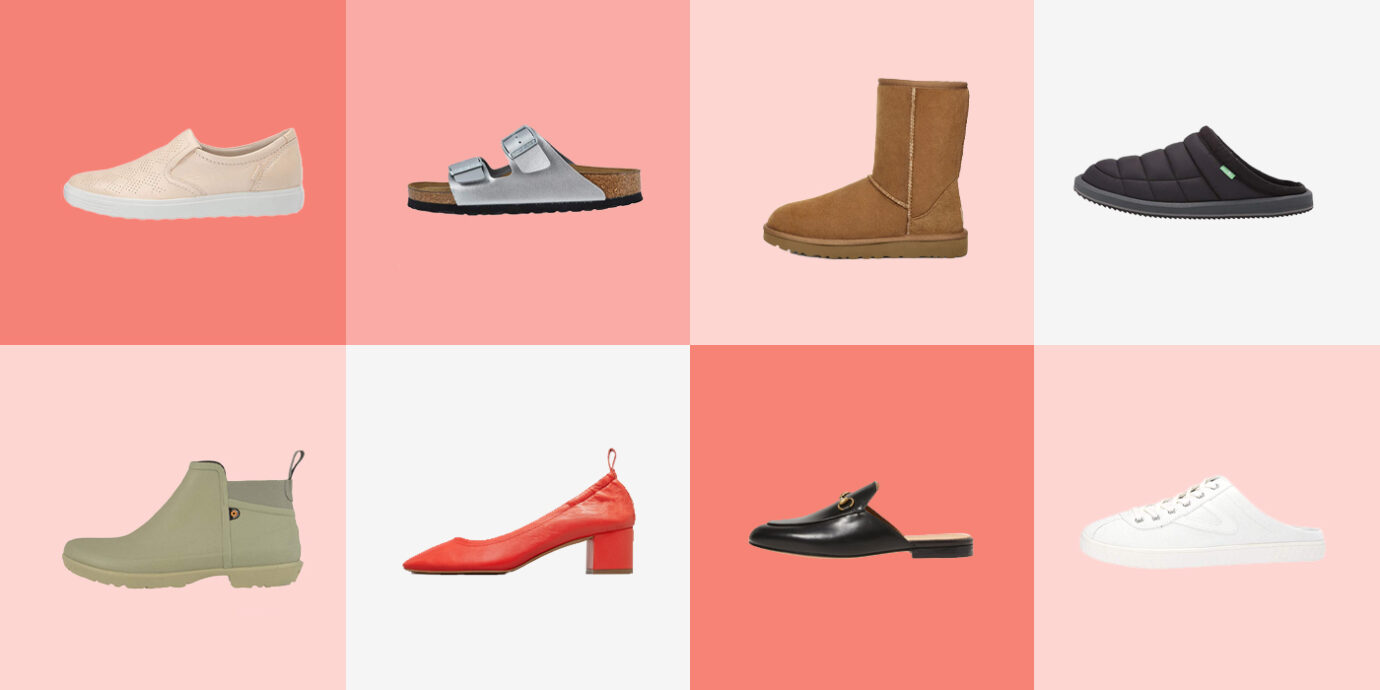 Shop
The 11 Most Stylish and Comfortable Slip-On Shoes for Flying and Traveling
Travel shoes should cover the three Cs: comfortable, convenient, and cute. Finding shoes that meet all three criteria can be a challenge, but it's crucial to think extra hard about your feet when you know you'll have a long-haul flight, TSA checkpoints, and airline treks to deal with. Slip-on shoes are usually your best bet, and they have the added bonus of being a versatile shoe to wear when you reach your destination. The following 11 slip-on shoe options will allow you to put your best foot forward on your next travel day and beyond.
1
Best Status Slip-On

Gucci Princetown Loafer Mules and their signature goldtone horsebit hardware have been the coveted slip-on with the fashion crowd for several years now. The Italian leather is luxe, the construction is meant to last decades, and they come with shearling if you want extra warmth or oomph. Wearing Gucci loafers signals good fashion taste to the world and if you look closely at the feet in first class and the Virgin Airline lounge, you're likely to spot several pairs. But, if you'd rather spend your money on airfare than footwear, several more affordable brands have made a similar shoe, like Sam Edelman's Linnie Bit Mules.
Shop Now
2
Best Casual Slip-On

You don't need to download DuoLingo to understand wearing these Danish imports translates to happy feet. The Ecco Soft 7 Casual Slip-On's feminine silhouette and perforated vamp give it a youthful look that can be paired with skirts and sundresses for brunch dates, museum ambles, or other urban pursuits once you reach your destination. The dual goring for easy on and off, removable cushioned insole, and dependable arch support means you can log a lot of airline miles in these puppies without barking dogs.
Shop Now
3
Best Slip-On With a Heel

Most women opt to go low when they go high, altitude, that is. But if your travels require the sophistication of a pump, reach for Everlane's The Day Heel. The Italian leather shoes were designed to be comfy for a full 12 hours on your feet. They feature an elasticized back for extra comfort and easy on and off access. The rounded toe and ballet-inspired silhouette look beautiful, but at only two inches, the lift won't send you to CVS for Tiger Balm. Day Heels are available in 8 distinct shades.
Shop Now
4
Best Eco-Friendly Slip-On

Let's face it, air travel isn't great for the environment. So let your feet do some damage control with eco-friendly shoes. Leave it to Merrell, a trusted outdoor outfitter, to produce a moccasin that cares about the planet. Merrell's Gridway Moc gets high marks in the upcycled department without sacrificing good looks. It's stretchy breathable upper—a godsend in stuffy shuttles and on long days of sightseeing in humid climates—is made from 100%recycled yarn. The lacing is also totally recycled. Forty percent of the EVA (ethyl vinyl acetate) midsoles and up to 50% of the footbeds are crafted from manufacturing scraps, while the speckled and clingy Vibram EcoDura bottoms lighten your carbon footprint as they too are made with repurposed ingredients. The lightweight slip-ons (14 ounces) feature a helpful easy-off loop at the heel, which is incorporated into a beautiful stamped leather surround.
Shop Now
5
Best Cold Weather Slip-On

Love them or hate them, Ugg boots are the coziest and easiest footwear on the planet to turn to when in a hurry or traveling. They were originally invented for Australian surfers who wanted to keep their feet cozy before and after early morning wave sessions. Today, the sheepskin lining, just about the toastiest and softest ever invented, makes them a great shoe choice for another kind of boarding, the kind that involves airplanes. We like the Classic Short II Boot for travel, especially if your itinerary involves a red-eye flight or a chilly destination, thanks to the low profile, ease of pulling them on and off and, of course, the aforementioned warming wooly lining.
6
Best Slip-on Sneakers

If you want the urban cool look of a sneaker and the ease of a slip-on, check out Tretorn's Cam Mule Sneakers. Sure, they have laces, but you don't have to worry about tying or untying them at TSA, thanks to the open back. These sneakers are up to the task of keeping your feet happy while you stand at the last available charging station (seriously, where are all the outlets?) or when you wake-up somewhere over the Atlantic and need to make a quick red-eye run to the restroom. Bonus? They come with simple white laces and chunky black-and-white striped laces if you want to mix up your look.
Shop Now
RELATED: The Best Men's Slip-On Shoes for Zipping Through Security
7
Best Slipper Slip-On

These California cool slides, by Sanuk, are like a puffer jacket for your feet thanks to the quilted uppers and heel beds as well as the soft fabric lining. Reminiscent of Moonboots, the tricolored (or basic black) Puff n' Chill Low is built on the company's signature Sidewalk Surfer design. The shoes are easily slipped on and off for security screenings and ideal for when you're wedged into an economy seat pinned in by the passenger in full recline and unable to reach down and tie laces. The sturdy rubber saw-toothed soles will likely keep you from slipping in the unidentifiable liquid that always seems to accumulate on the cabin's bathroom floor.
Shop Now
8
Best Lightweight Slip-On

There's so much to obsess over when it comes the Lolita, a Portuguese-made ballet flat from Arcopedico that comes in a rainbow of vibrant colors. For one, it weighs so little—about five ounces per shoe—and its super-stretchy Lycra upper engulfs the foot so softly that you might forget you're wearing them. The non-binding design also grows to accommodate swelling, bunions, or other foot maladies, promotes circulation, and allows for therapeutic toe spreading and stretching—which are doubly important on long flights. Twin molded-polyurethane cleats support the entire length of the arch and help distribute body weight evenly. Bonus points for also being vegan-friendly, waterproof, and machine-washable.
Shop Now
9
Best Suede Slip-Ons

Everyone loves the look and feel of suede, but it can look a bit fussy. That's not the case with SeaVees Huntington Middie Sneakers, which look fresh and modern thanks to the cut that's mid-way between a high-top and a low-top. Whether you rock jeans or joggers as your plane uniform, the Seavees look cool. Heck, they even add a little edge to a skirt or dress once you land. But the molded rubber sole and sidewall are durable enough for hours of pounding the cobblestone pavements of Italy and the maze-like alleys of Tokyo.
Shop Now
RELATED: The 16 Best Walking Shoes You Can Buy on Amazon
10
Best Wet Weather Slip-On

Rainy travel days no longer have to get you down, thanks to Bogs waterproof Flora Bootie. They'll have you arriving dry—well, your feet anyway—even if you have to cross a tarmac to board your plane or wait curbside for your Uber driver. Basic black is a reliable workhorse for business trips while sage and violet add cheer to dreary days. The low profile and ribbon pull at the back make them much easier to get on and off than traditional Wellies. No insulation means they aren't great for extreme cold, but DuraFresh technology embedded in the fabric lining fights sweaty odor to avoid getting the stink eye from row mates if you take the boots off at cruising altitude. And should the sun come out tomorrow and render them useless on the next leg of the trip, they're made of a pliable rubber that packs down well in a carry-on.
Shop Now
11
Best Warm Weather Slip-On

If you don't own a pair already—run, don't walk, to score a pair of Birkenstock sandals. The iconic footwear looks and feels amazing everywhere from a white-sand beach to summer streets to, in the case of metallic versions, a resort nightclub. The wide footbed, deep heel cut, longitudinal arch support, and raised toe bed supply endless comfort. Birkenstocks are the next best thing to being barefoot.
Shop Now
Related Stories
All products have been hand-picked by our writers and editors. Items purchased through links may earn us a commission.