Shop
The Pair of Winter Boots I've Worn (and Loved!) for 10 Years
The year was 2009. I was a New York newbie settling into big-city life, and I needed winter boots. After spending my first NYC winter in a pair of comically unsuitable faux-leather knee-highs—boots that let in the cold, and eventually the slush, too—I was ready for actual, serious, not-here-to-play winter boots. So I bought what was one of the greatest purchases of my life so far: the Trevis boots by La Canadienne, sleek, waterproof winter boots that can withstand almost any weather. Now, one full decade later, I am still pulling on this exact same pair of boots the second the mercury drops below 40. (I may be a true New Yorker now, but I'm still a baby-about-the-cold Southerner at heart.) Here's why the Trevis boots by La Canadienne are the best all-around winter boots money can buy—and here's to rocking them for another 10 years.
Few things in my life have stayed the same for 10 years. The fateful day in 2009 when I found the Trevis boots at a shoe store in Union Square, I was calling and texting from a green LG slide phone that didn't have the internet. Now I've cycled through at least a dozen iPhones throughout these boots' lifetime. The boots pre-date Pinterest, the iPad, and Instagram! They date back to the first Obama administration, for heaven's sake. Certainly no item in my closet has kicked around as long as these boots, save a college sweatshirt and a few pieces of jewelry.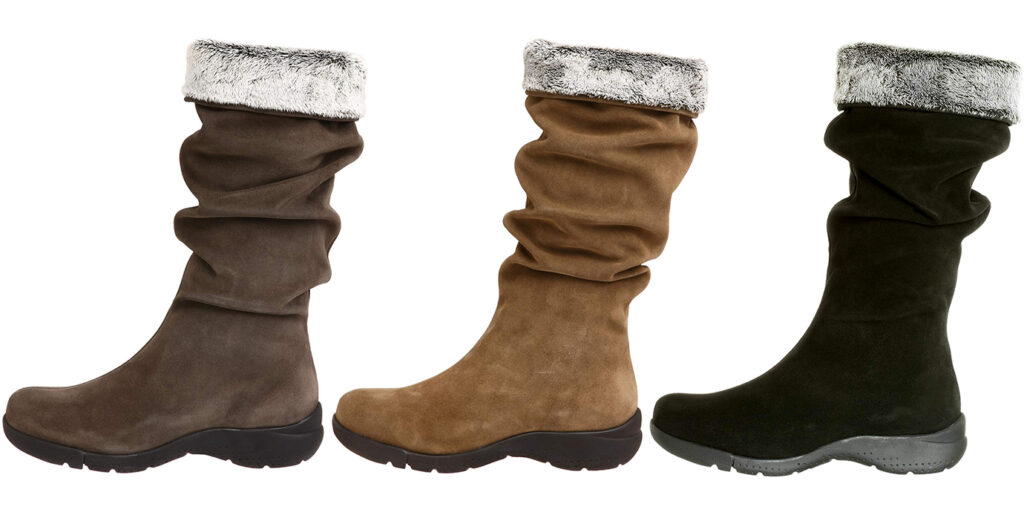 The second I bought the boots, I found a spot on one of the store's crowded benches and changed into them right then and there. My crappy old "winter boots" went into the La Canadienne box and later, the trash. When I walked out of the packed, overheated store and out onto cold, windy 14th Street, my feet could barely feel the difference. They felt like they were still inside. The weatherproof boots have kept my toes warm ever since, even in single-digit temps and negative-degree windchills in the dead of January. Their waterproof Italian suede keeps out rain, snow, wind, and New York's infamous slush, too. When the city's sidewalks and streets turn into high-risk slip-and-slides, these boots give great traction on the treacherous ground. Their rubber soles are thick enough to provide a good grip, but not so thick as to feel stiff or weighty, making them heavy-duty but not awkward or cumbersome. Instead, they're light and agile on, kind of like tall furry bedroom slippers. All this in a streamlined—even sleek—package.
Made by hand with super-soft Italian suede and warm, satiny faux fur, these slouchy boots are a lot sleeker than the stereotypical winter boot—no complicated laces or aggressively lugged outsoles here. Obviously a big pair of Sorels, Merrels, Columbias, or classic Bean boots are brilliant at what they do, but they're not the most flattering options. And I'm happy to admit that I don't want to spend my whole winter looking practical; I want to look a little stylish, too! The Trevis boots are as—dare I say—trendy as winter boots get, and they're designed to withstand almost any weather.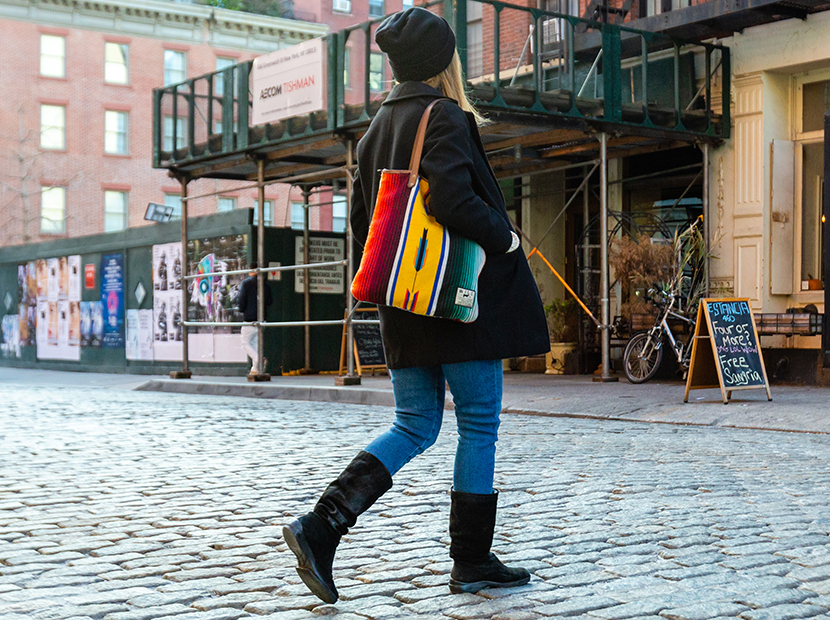 I love how the boots' ruched suede can be pulled up for an all-black look or rolled down to reveal some of the shearling inside. While wearing them, I can go from an errands marathon in the snow and straight into a wine bar downtown without feeling self-conscious or out of place. Case in point: on an ill-timed Thanksgiving trip to Montreal, they transitioned seamlessly from navigating the cobblestone streets of frigid Vieux Port to seeing a punk show downtown. They were the only shoes I brought on that trip.
Speaking of trips, these boots—unlike every winter boot in the history of winter boots—are a dream to travel with, whether I want to wear them on the plane or pack them in my suitcase. Their easy pull-on style is a cinch at TSA checkpoints; as opposed to the crazy assortment of laces, zippers, straps, or buckles you could find on cold-weather boots from, say, The North Face or Merrell. And if I want to pack them, the flexible and lightweight boots fold nicely into a suitcase or travel bag. No more wasting precious suitcase space on big, clunky, snow-busting boots. I actually brought mine all the way to Alaska for a cruise just to have them for padding around the deck at night. In addition to snowy Canada and Alaska, the boots have also been clutch on fall vacations to Maine, back-to-back February ski trips to Gore Mountain in Upstate New York, a memorably freezing visit to Storm King (an open-air sculpture center north of NYC), and more Chicago trips than I can count. Hello, Lake Effect snow. One caveat: The Trevis boots are not what I would suggest for hard-core hiking in the cold. For that, I'd stick with hiking boots with rugged construction and traditional lacing for more support than these offer.
Alas, nothing is perfect, even these boots, and their single biggest flaw is their serious $475 price tag, which is rarely discounted. The cost is a big one, but it certainly helps that the boots are handmade with high-quality Italian suede and will last for years and years—mine are proof! I put this type of investment into the same category as an aluminum suitcase or a goose-down ski parka. Like any big-ticket item, the boots merit a bit of care. To keep salt stains off their beautiful Italian suede, spritz them down with a water-repellent spray at least once a winter. And treat the boots to a trip to the cobbler if the tread starts to wear down—though here's where I'll brag that I've only had to bring mine to the cobbler once in their 10-year lifespan. Once! I imagine they'll need another cobbler visit in the next couple of years. Then I'll start saving for the day when these boots finally fall apart and I get a new pair—I'm aiming for 2029.
TLDR: La Canadienne Trevis Winter Boots
Handmade, waterproof winter boots that punch well above their weight
Built to last (I've had the same pair for 10 years, people!)
Chicer, sleeker alternative to most clunky winter boots
Made from waterproof Italian calf suede, lined with breathable faux fur
Slouchy style rolls up or down (exposing shearling) for two distinct looks
Collapsible and highly packable
Easy pull-on style; no laces to lace, no buckles to buckle, no zippers to zip
Memory Foam footbeds for cushioned comfort that lasts all day
Rubber sole is sturdy but flexible; flat base makes them great for walking
Con: Not cheap and rarely on sale (but they'll outlast all your other shoes)
How I Wear My La Canadienne Trevis Winter Boots
Anne's Trevis Winter Boots Outfit #1
For info on these editor-selected items, click to visit the seller's site. Things you buy may earn us a commission.
Anne's Trevis Winter Boots Outfit #2
For info on these editor-selected items, click to visit the seller's site. Things you buy may earn us a commission.
Anne's Trevis Winter Boots Outfit #3
For info on these editor-selected items, click to visit the seller's site. Things you buy may earn us a commission.
Anne's Trevis Winter Boots Outfit #4
For info on these editor-selected items, click to visit the seller's site. Things you buy may earn us a commission.
Anne's Trevis Winter Boots Outfit #5
For info on these editor-selected items, click to visit the seller's site. Things you buy may earn us a commission.
Related Stories
All products have been hand-picked by our writers and editors. Items purchased through links may earn us a commission.