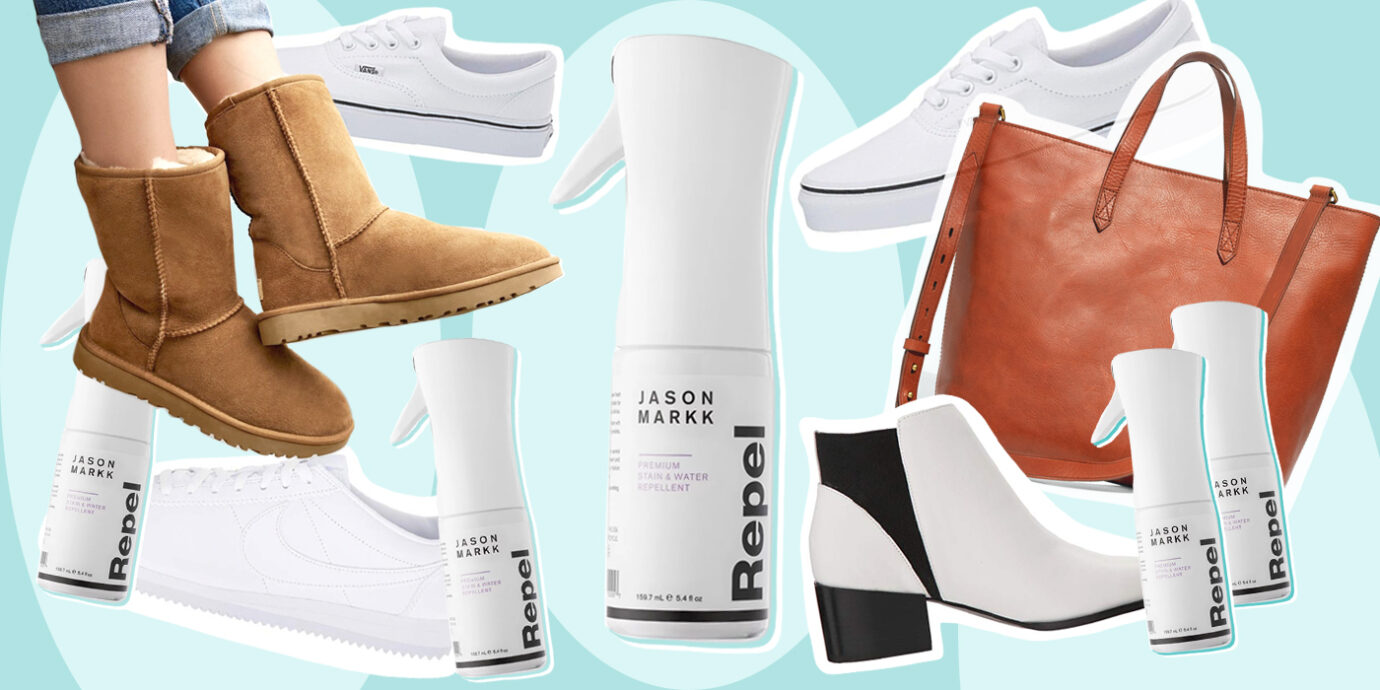 Shop
The Only Stain and Water Repellent Shoe Spray I Trust on Everything from Celine to Vans
Spritz, spritz! That's the sound of me getting a new pair of shoes or a handbag. I walk or bike to work through the notoriously grubby streets of Manhattan—a truly terrible combination because I get extreme anxiety over spots and stains on my shoes (especially shoes that cost over $50). White sneakers? Forget about it. Ten percent chance of rain? I'm in tears. I'd eyed a few water and stain repeller shoe sprays at various stores over the years, but worried the repellents would actually stain my shoes or simply be a waste of money. Then, I got wise to Jason Markk Repel Spray. Without any exaggeration, it changed my life. My shoes and I have never been happier—or cleaner. Here's the lowdown on the stain and water repellent spray I spritz on all my shoes and purses (from Uggs to Celine to Vans) to repel stains, salt, and water damage. Seriously, this stuff is a shoe miracle in a bottle.
I'm very hard on my shoes. And I'm also a neat freak. Every fall I drag my favorite boots and sneakers to the neighborhood cobbler for a cleaning and any necessary repairs, but after multiple seasons of muddy rain, sloppy puddles, and salty sidewalks—oh god, the salt—I knew I had to start taking preventative measures to protect my precious footwear from the elements. I wanted to find a stain and water repellent shoe spray that would…
1.) Actually repel dirt and salt stains.
2.) Be completely invisible and not leave spray mark stains on leather and suede.
3.) Keep my white sneakers white.
4.) Not cost more than a new pair of shoes.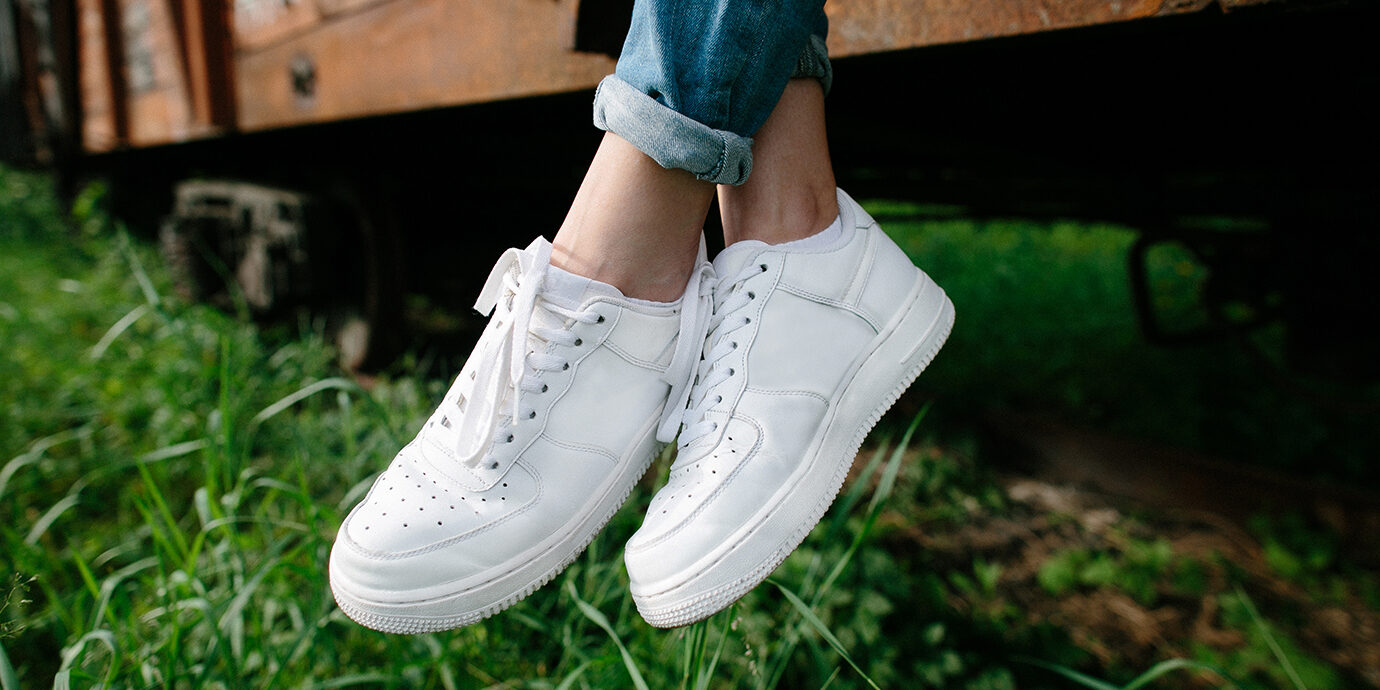 This seemed like a very big ask for one little spray bottle. Still, I was hopeful. I turned to the internet and found Jason Markk Repel Spray. Sneakerheads, fashionistas, and moms were all singing its praises. I eyed my clean (for the moment) black Uggs and the weather forecast of rain turning to ice. With images of the dreaded and impossible-to-remove salt-stained toe (yuck, is there anything uglier?) on my beloved boots, I clicked the buy button on Jason Markk Repel Spray.
Thanks to dedicated internet research, I was ready for the Jason Markk Repel Spray when it arrived. I started the experiment with a brand-new pair of white leather Nike Cortez sneakers. The spray bottle took a few pumps to get going, but it distributed an even mist of scentless product over the shoes. I gave each shoe a thorough misting and then dabbed at any puddling with a clean paper towel. Then came the hard part: You have to let the shoes dry for 24 hours, and then reapply with a second coat that will also dry for 24 hours, before you wear them. So long, wearing new shoes straight out of the box. After 48 hours, I was ready to take them to the streets.
My first test was a big one. I wore the Repel-treated Nike Cortez sneakers on a New Jersey hike through the woods. My friend eyed my bright white sneaks and warned me that the trails would be muddy. Knowing that she'd have to deal with any stained-shoe-related tantrums, she asked if I had other shoes to wear. I assured her that my Nikes were treated with Jason Markk Repel Spray and she looked doubtful. We tromped through the muddy woods for an hour. My shoes looked out-of-the-box-brand-new when we emerged from the trail head. I had found my ticket to clean shoes paradise.
Back home, I pulled all my canvas, leather, and suede shoes, boots, sneakers, and handbags out of the closet and lined them up on brown paper grocery bags. Since these shoes and bags were all worn (i.e. kind of dirty), I did have to do some minor spot cleaning prep work. Once that was out of the way, I repeated the double spray process on black suede Stuart Weitzman knee high boots, a Madewell leather transport bag, white Vans canvas sneakers, and black Uggs. Praise the shoe gods, the Repel Spray didn't leave any stains or discoloration on my handbags or shoes. Goodbye salt-stained toes and dingy white shoes.
One thing to mention, the treatment won't last forever! You have to reapply every few months (more often if you wear the same pairs of shoes repeatedly). I just bought a pair of bright white Chinese Laundry Finn booties, right in time for impending winter weather. Am I a sadist? No. I have Jason Markk Repel Spray. I'll be spending far less time and money at the shoe cobbler. Spritz! Spritz!
Too Long, Didn't Read:

Jason Markk Repel Spray
Keeps white sneakers white FOR MONTHS
Affordably priced at under $20 a bottle (I've had the same bottle for over two years)
Repels water, oil, dirt, SALT, and stains
Odorless and colorless—won't damage shoes and bags
Lasts for multiple months before you need to reapply
Comes out as a mist for even application
Not an aerosol can—better for the earth
Made in the United States using globally sourced materials
Other Easy Ways to Clean Shoe Stains and Keep Shoes White
If you get a little lazy (guilty as charged) and go too long between Repel Spray applications, these are the shoe cleaning options I swear by. Nothing, and I mean nothing, cleans up black scuff marks on white canvas and leather footwear faster than Mr. Clean Magic Erasers. You barely have to put any elbow grease in to lifting out stains. If you're dealing with actual dirt, reach for Jason Markk Quick Wipes (but please, don't use these on suede) to safely remove mud and general city grime. When did I step on old gum? If you have a permanent stain, call in the big guns: Clorox Bleach Gel Pens. Obviously, these are ONLY for use on white canvas shoes (never suede or colored fabric) and it also works very well on grimy white shoelaces. This cleaning arsenal will make old shoes look new again. You're welcome.
Related Stories
All products have been hand-picked by our writers and editors. Items purchased through links may earn us a commission.