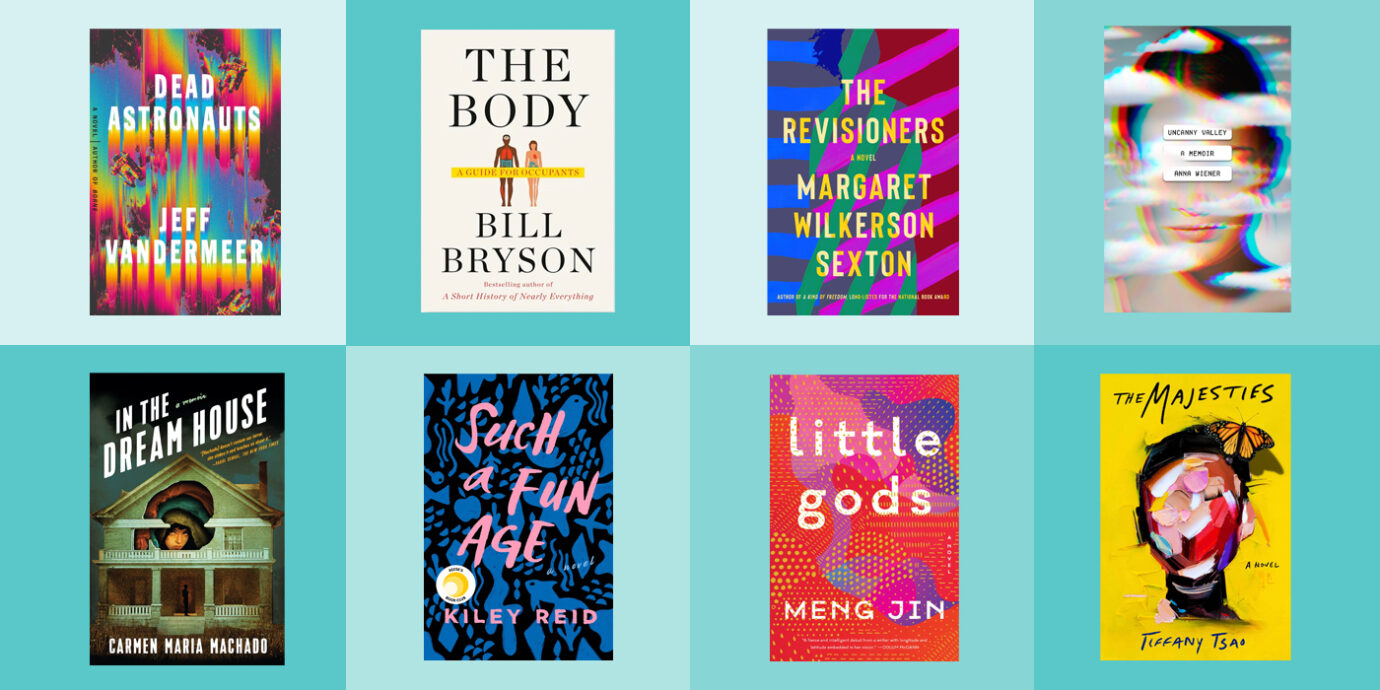 Shop
The Absolute Best New Books to Read This Winter
Cold weather and a new book go together like coffee and cream. It's chilly out, and isn't staying in and gobbling up a fresh read better than dealing with wind and ice? And if you're traveling this winter, why not speed up the wait time at the airport by getting wrapped up in a juicy memoir, a page-turning thriller, or a mind-bending sci-fi/horror story? Ahead, nine books perfect for all your winter-reading needs, whether you're looking to cozy up at home or make the flight time fly by. Caffeine optional.
1
Meg & Jo
We're getting a heavy dose of Little Women this winter. If the star-studded movie version left you wanting more time with the March sisters, pick up Meg & Jo, a modern update to the classic novel. Follow the two eldest girls as they grow up in the present day, take up completely different life paths, and struggle to answer the question that transcends eras: how can we find happiness?
Buy Now
2
The Revisioners
Fusing the Colson Whitehead's magical realism with the suspense and twists of Jordan Peele's Get Out, this novel is a must-read for any winter book club meeting. Set in New Orleans, The Revisioners follows two women from different generations of one family. Josephine survived slavery and in the 1920s, proudly runs her own successful farm. Nearly 100 years into the future, her descendent Ava is a biracial single mother who decides to become a caregiver for her wealthy white grandmother. As both women come up against white privilege and struggle with prejudice, we're left to consider: how much of the past is behind us and how much have things stayed the same?
Buy Now
3
Dead Astronauts
For readers needing their apocalyptic fix this season, Dead Astronauts will deliver. Author Jeff VanderMeer has been called the "King of Weird Fiction" and critics are saying his newest novel might be his weirdest, most horrifying yet. The story is set in a post-climate-change future, in which a corrupt Company harms and demoralizes not only the present world but also—and this is trippy!—alternate versions of it. Three astronauts journey across these rotating and disturbing realms in an attempt to save the planet.
Buy Now
4
The Majesties
If shows like Succession and Keeping up with the Kardashians tell us anything, it's that drama centered around upper-crust families is hard not to watch! For the book version, turn to The Majesties, which has been dubbed "the darker side of Crazy Rich Asians." Gwendolyn and Estella are two sisters from a wealthy Chinese-Indonesian family who wrestle with secrets, deception, and harsh new realities after one of them poisons the entire clan.
Buy Now
5
In the Dream House
Carmen Maria Machado stunned us with her poignant debut of short stories, Her Body and Other Parties. In her second book and memoir, she opens up about a personal trauma: an abusive relationship with a former girlfriend. It's not the easiest read on this list, but Machado's memoir underscores how violence in queer relationships is still silenced and covered up.
Buy Now
6
Such a Fun Age
This debut novel is another shoo-in for book clubs. Such a Fun Age centers around the bond between a black babysitter, Emira, and her well-off white employer. When Emira is accused of kidnapping the toddler she sits and the two women unearth a surprising connection between them, they're forced to confront the complex dynamics of race, privilege, and transactional relationships. This may be Kiley Reid's first book but it's already caught Hollywood's eye—Lena Waithe bought the film and TV rights before the novel was even published.
Buy Now
7
Little Gods
While Little Gods isn't a mystery in the traditional sense—no magnifying-glass-yielding detectives here—the story does touch on an enigma of a different sort: how little we actually know about the people who are closest to us. When Liya's mother dies, she takes her ashes to their native China where the image and assumptions she has of her mother's life are shattered.
Buy Now
8
Uncanny Valley
In her early 20s, Anna Weiner left an NYC publishing job to work at a data startup in Silicon Valley. In this sharply written memoir, she reveals the excesses of the booming tech world as she climbs the ladder from customer service rep to middle management: the lavish company parties, billion-dollar salaries made overnight, and hidden agendas that dominate the young, male-centric startup world. This insider account is both juicy and cringe-y—and it's another book on this list that's been picked up to be a movie.
Buy Now
9
The Body: A Guide for Occupants
Bill Bryson's 19th (!) book dives into a topic we're all familiar with: the human body. Laying out the science behind this incredible workshop of ours—but not without plenty of anecdotes and jokes—Bryson explains all the fascinating, unusual, miraculous and definitely gross things our bodies do, how they respond to invaders and disease, and why sometimes things go awry. Even with all the detail, The Body won't put you to sleep like your high school textbooks: Bryson has a knack for transforming dry and complex subjects into page turners.
Buy Now
Related Stories
All products have been hand-picked by our writers and editors. Items purchased through links may earn us a commission.