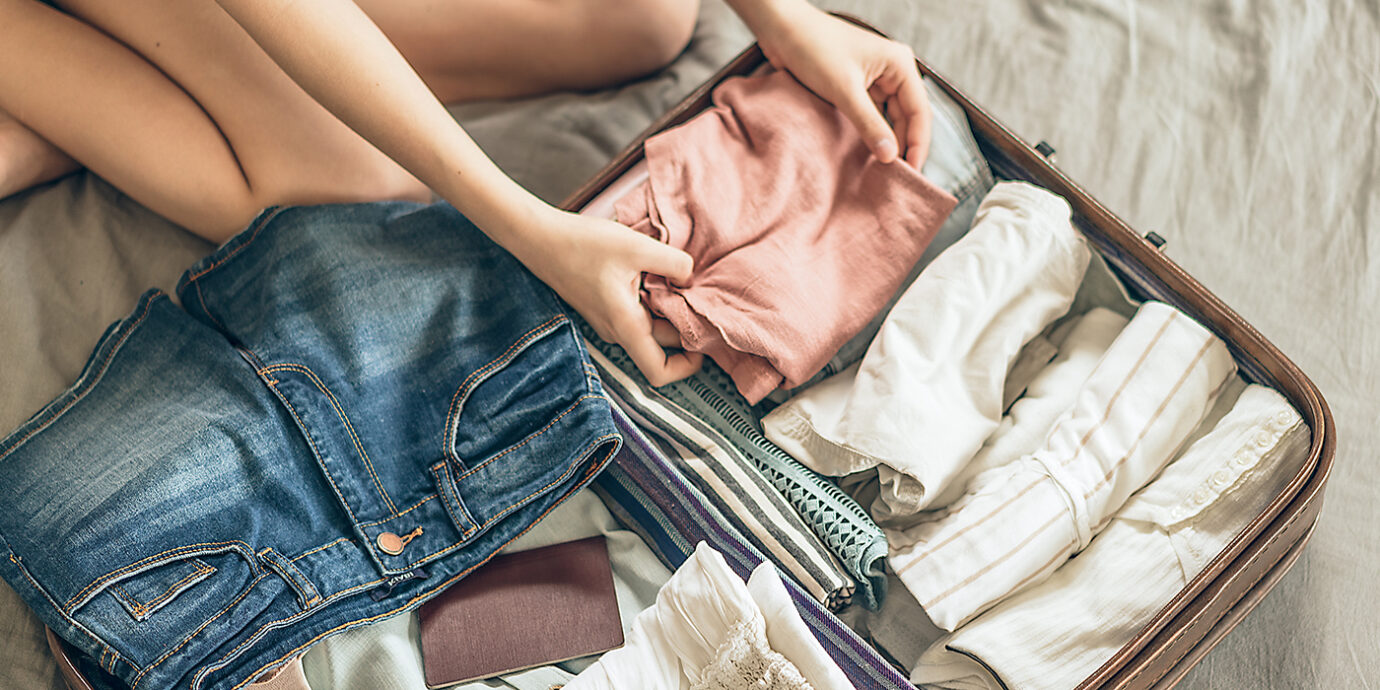 Shop
The Best Wrinkle-Free Travel Clothes
Jet lag. Flight delays. The crying infant two rows back. None of these setbacks outweigh the magic of getting away, but travel sure can come with some inconveniences. Another pet peeve of travelers everywhere? Wrinkled clothes that send you scrambling for a fix. Ever attempted to "iron" pants with a hair straightener or a steamy shower? Been there. Or spent precious travel time using the hotel ironing equipment when you could be out exploring? Been there, too. There is a better way: choosing items that are specifically designed to resist wrinkles, made from fabric that holds its shape even after its been subject to hours squirming in an airplane seat or days spent balled up in a carry-on. Ahead, we spotlight garments that won't crumble under pressure. No steamers, irons, or packing wizardry necessary.
The Best Wrinkle-Free Travel Clothes for Women
1
Best Wrinkle-Free Dress

Synthetic or semi-synthetic fabrics like Tencel, polyester, and Lycra tend to hold their shape better than natural fibers like cotton and linen. Reformation's Ari dress is mostly made from Tencel lyocell, a type of rayon that's derived from eucalyptus trees. The result—an eco-friendly dress that feels as soft as cotton, but won't crinkle. Stretchy, stylish, and comfy, this is the pick that you can sport on long-haul flights without long-term creases.
Shop Now
2
Best Wrinkle-Free Women's Pants

Remember how we said that natural fabrics tend to be more susceptible to wrinkles? Well, these pull-on Everlane pants are an exception. The fabric is spun with a special wrinkle-resistant Italian wool, so they naturally ward off creases and seamlessly transition from day to night.
Shop Now
3
Best Wrinkle-Free Blouse

As much as we love the look and feel of silk, its proneness to wrinkling makes it a high-maintenance travel companion. Fortunately, Ministry of Supply's Juno shirt is an excellent dupe. It's made out of a polyester that's devised to imitate silk, but minus the wrinkles and tendency to trap sweat. Bonus: unlike its natural doppelganger, this material is happy to be washed, dried, and ironed.                                                                                                                                                 
Shop Now
4
Best Wrinkle-Free Skirt

This pull-on sweater skirt by Spanish brand Aldomartins is made from a wool-cotton blend woven with a hefty dose of acrylic and viscose for stretch and wrinkle-resistance. Translation: even after being crushed in a carry on for hours, it'll retain its shape (if a crease does sneak in, the skirt's delightful zig-zag print will conceal it).
Shop Now
5
Best Wrinkle-Free Women's Blazer

Frame's Velvet blazer blends cotton with a touch of wrinkle-fighting lyocell, making this a travel staple that you can throw in a suitcase and wear to a meeting or dinner out when you get to your destination. 
Shop Now
6
Best Wrinkle-Free Evening Dress

Sometimes the best way to fight wrinkles it to embrace them. MM La Fleur's Oak Dress comes in a crepe-like texture, so leaving it in your suitcase for hours (or days!) won't do anything to disrupt its elegance. 
Shop Now
The Best Wrinkle-Free Travel Clothes for Men
7
Best Wrinkle-Free Men's Shirt

You know when you put on a freshly ironed shirt only to find it crinkled a few hours later? The frustration is real. Made from wrinkle-resistant fabric, Orvis's Cotton Twill Shirt is engineered to shed creases throughout the day.
Shop Now
8
Best Wrinkle-Free Men's Pants

Made from a nylon-spandex blend, Public Rec's All Day Every Day pants are a traveler's dream. Not only are they practically immune to wrinkles, their versatile style pulls double duty, either as polished trousers for work or relaxed lounge pants for sightseeing.
Shop Now
9
Best Wrinkle-Free Blazer for Men

This slim-fit blazer by Nordstrom's Men's Shop is almost entirely made from wool, a fabric that's naturally resistant to wrinkles. A jot of spandex is woven in for stretch. 
Shop Now
10
Best Wrinkle-Free Full Suit

Wouldn't it be nice to toss a tailored suit in your carry on and not spend precious time ironing it out on arrival? Now you can. Ministry of Supply's Kinetic blazer and pants make traveling with formal wear hassle-free, since they're made out of a special Japanese polyester that uses your own body heat to relax wrinkles throughout the day.
Shop Now
Related Stories