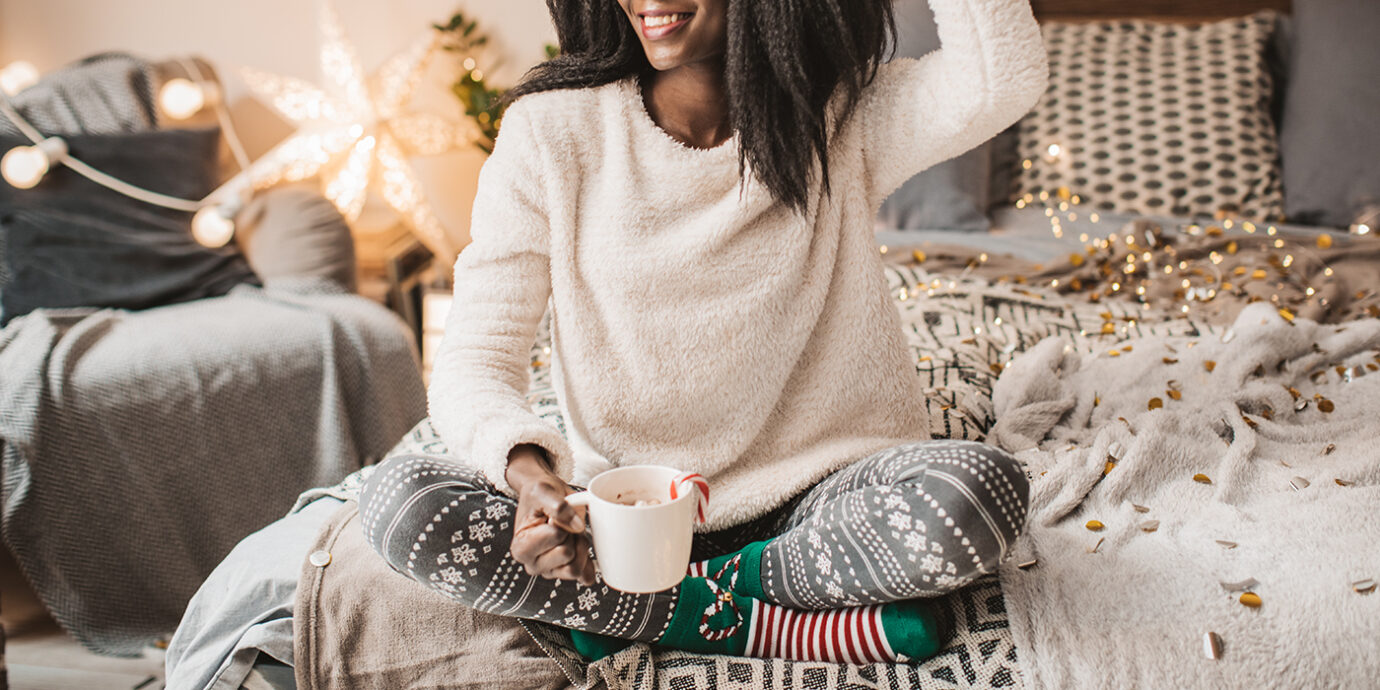 Shop
The Ultimate Christmas Pajamas for the Entire Family
Three musts apply to the week between Christmas and the New Year: 1. Quality time with loved ones. 2. Ignoring all emails and Slack channels 3. Spending as much time as possible lounging in festive pajamas. Whether you're seeking matching sets for cute family photos or want the perfect flannel jammies for an evening of Christmas movie binge-watching and takeout, we've sussed out the cutest, softest, and most appealing Christmas pajamas of the holiday season. Also, packing a favorite PJ set is practically the equivalent of a security blanket for any potential holiday travel headaches—unexpected hotel stays due to cancelled flights and too much time with in-laws included.
Best Christmas Pajamas for Adults
Best Christmas Pajamas for Women
This flannel brushed cotton pajama set from Ugg comes in holiday-ready windowpane red, and begs to be worn in front of a crackling fireplace with a cup of marshmallow dotted hot cocoa in hand. There's a tiny patch pocket on the button-down shirt and the elastic-waistband bottoms has a drawstring, done in the same satiny-black as the piping that's used to trim edges. These Christmas pajamas are best paired with Ugg slippers, obviously.
Best Christmas Pajamas for Men
Guys who are fans of the cult classic A Christmas Story will love this pajama set. A black-and-white image of the movie's beloved main character, Ralphie Parker, is plastered all over the top and bottoms, done in red and green plaid and finished with red satin piping. Red Ryder BB gun not included.
Best Matching Pajamas for Couples
If spending Christmas morning wearing matching reindeer onesies isn't your jam, we bet you'll love these super cute, but subdued flannel pajamas. The vintagey print, with snowmen and gifts tied with perfect bows, is set against a jet-black background, so it isn't too busy. The button-down top is cut long for comfortable lounging, and the material is all-cotton, so you'll stay cool while snuggling. The only thing that could make this couple's scene even cuter is a new puppy.
Best Plus-Size Christmas Pajamas for Women
These Christmas pajamas from Asos are a stylish standout, thanks to a bright and cheery Fair Isle print and a snazzy neon-orange drawstring. They're also extra warm, due to the high crew neck, fitted cuffs on the top and bottom, and the polyester fabric, which has a hint of spandex to prevent the dreaded and unflattering saggy butt. You could even wear the top with a pair of jeans to keep it comfy at Christmas dinner.
Best Plus-Size Christmas Pajamas for Men
Santa might want to swap out his reindeer for llamas. Fa la la la la la llama yourself to sleep in this two-piece cotton-polyester blend men's plus-size pajama set, with red-and-green tartan flannel bottoms and a coordinating long-sleeve t-shirt. They run up to size 4x and are pretty dang cute.
Best Funny Christmas Pajamas for Adults
These adorable adult onesies get high marks across the board for quality, comfort, and humor. The fitted, all-cotton long johns are preshrunk and made of a no-fade fabric, so they'll look great for holiday seasons to come. And who can resist a holiday giggle over a button-up "bear bum" bootie flap—which is functional to boot!
Best Christmas Pajamas for Kids and Babies
Best Christmas Pajamas for Kids (Girl)
PJs with pretty pink pants? Check. No-itch tag? Check. Glow-in-the-dark? Triple check! Your kid will gleefully open these adorable Lands' End pajamas on Christmas morning, and likely will want to put them on immediately and sit in the dark closet to watch the reindeer antlers light up. Bonus points for the all-elastic waistband for no fuss dressing at bedtime. These will be a hit all winter long.
Best Christmas Pajamas for Kids (Boy)
Get the camera ready. These cheerful Christmas pajamas with an all-over, bright rainbow-colored print featuring Santa, gnomes, candy canes, and Christmas trees against a navy background, are a strong candidate for a holiday card photo outfit. They're made from 100% ribbed cotton for easy wear and washing. Cuteness overload!
Best Christmas Pajamas for Siblings
Two siblings, two personalities, two different styles. These Christmas pajamas are the answer to getting your little elves in matching PJs for photos. There's one pair for your mischievous offspring ("Dear Santa, I can explain") and another for the kid who has an answer for everything ("Dear Santa, let's negotiate"). The striped bottoms are super cute, and the sky blue color is a nice change from the typical holiday red and green.
Best PatPat Christmas Pajamas (Girl)
This appealing nightgown and pajamas set are a sweet way for little and big girls alike to drift off to dreamland. With a gray and pink color combo and soft pastel details, these will be the jammies that get pulled out of the dresser drawer first. It may be cold outside, but kids will stay warm in these. They're part of a family set, but are sold separately if you aren't into matching.
Best PatPat Christmas Pajamas (Boy)
You can't go wrong with these eye catching Christmas pajamas from the much-loved retailer PatPat. Boys of all ages will look sharp in the contrasting green and black plaid pants and baseball-style shirt, with a whimsical Christmas tree topped by a golden star. They're part of a family set, but are sold separately if you aren't into matching.
Best Burt's Bees Baby Christmas Pajamas (Girl)
For jammies made from organic cotton, look no further than Burt's Bees Baby to find quality sleepwear for your little ones. This snug-fitting set has an adorable handpainted watercolor Fair Isle mitten print. Ribbed bands at the ankles and wrists prevent them from riding up during the night. Better get crackin' if you want to order matching sets for the family—there's a three-week wait for shipping. These are definitely worth the wait.
Best Burt's Bees Baby Christmas Pajamas (Boy)
The same three week shipping sitch applies to these Burt's Bees Christmas pajamas as it does in our girls' pick above. This two-piece set is also made from organic cotton, so it's breathable and safe for sensitive skin. The PJs feature a handpainted Fair Isle print with super cute red reindeer and snowflakes. All the jammies in this design family get a five-star rating, with softness and the high quality as major plusses.
Best Christmas Pajamas for Babies (Girl)
This fleecy footie onesie will keep your little lady toasty warm—and the darling all-over Santa print and soft pink and red colors make it irresistibly adorable. The onesie is made from 100% cotton, and zips up the front for easy changing, with a button tab over the top to prevent chin scratches. You can't beat the price, either.
Best Christmas Pajamas for Babies (Boy)
Your tiny baby boy will look candy-cane sweet in this yard-dyed onesie, from Carter's. Made from ribbed cotton with a touch of stretch, it snaps up the side from ankle to chin, with a Santa applique and embroidered pocket. The grips on the footies will put the kabash on playing slip-and-slide across the kitchen floor. These jammies are as sweet as he is.
Best Christmas Pajamas for Families
Best Family Pajama Set
These soft flannel PJs are sure to please the whole family, with brushed cotton inside and out, and several styles from nightshirts to pajama pants, from which to choose. The holiday version is trimmed in contrast red piping, and the print—yes, those are tiny cows grazing in a field of evergreen trees—drums up the ultimate cozy country Christmas vibe. There's even a matching bandana for the dog if you want the entire family to match.
Best Plus-Size Family Christmas Pajamas
These festive teal-green jersey cotton jammies add sparkle to the holiday season for the whole family—even your pup can join the pajama party! Get the entire crew to put on star-studded long-sleeved t-shirts and coordinating wide-leg fleece pants, and break out the Polaroid for snaps to stick on the fridge that you'll enjoy all year long. Feliz Navidad!
Best Grinch Family Pajamas
The littlest Who in Whoville won't feel left out of family fun, as these Dr. Seuss holiday classic PJ sets come in sizes from infant to adult. The crew neck raglan long-sleeved jersey top screen-printed with a grinning Grinch, and coordinating warm flannel pants are are cozy as they are cute. Adult sets are all-cotton, and kids jammies are made from 100% polyester. Don't forget to pair these PJs with a family movie viewing of How the Grinch Stole Christmas.
Best Disney Family Christmas Pajamas
You're never too old to love Mickey Mouse, and with these comfy PJs, you can proudly sport your mouse ears this holiday season—in red and green, of course. The jammies are made from soft organic cotton, with ribbed crew necks and cuffs, and the print is available in an A-line nightgown or top-and-bottom set. Dressing the whole family in matching Mickey pajamas is the second best thing to celebrating Christmas at Disney World. But who says you can't do both?
Best Family Christmas Onesies
Get that bowl of popcorn ready! The whole family can suit up in these penguin-inspired footie PJs for a holiday classic movie marathon or on Christmas morning. They're teddy bear-soft, made from plush polyester fleece. Adult sizes have a drawstring hood, pockets, and detachable feet, and they all come with no-slip treads. On second thought, get the popcorn and the camera ready!
Related Stories