Shop
These Comfy Airplane Outfits Are Like Flying in Pajamas
Turbulence, zero leg room, the dreaded middle seat—flying is uncomfortable enough. That's why we insist on maximizing the coziness of our travel outfit. Cocooning yourself in something nice and soft for a long-haul flight is just one less thing to stress about on your trip. While we'd stop short of traveling in actual pajamas, there are still plenty of stylish, relaxed options out there that are so comfy, you'll barely know the difference. We've put together a variety of chic, plush, and all-around cuddly outfits that are sure to bring warmth and ease to your travels, from takeoff to landing.
Women's Comfortable Travel Outfits
The Best Chic Jeans-and-a-T-Shirt Outfit
If you're looking for casual comfort and style, trade in your skinny jeans for a wide-leg cropped pair that will allow for ease of movement. Paired with a cotton striped T-shirt in a relaxed shape and stretchy slip-ons, this outfit has a monochromatic, casually French vibe that's très chic.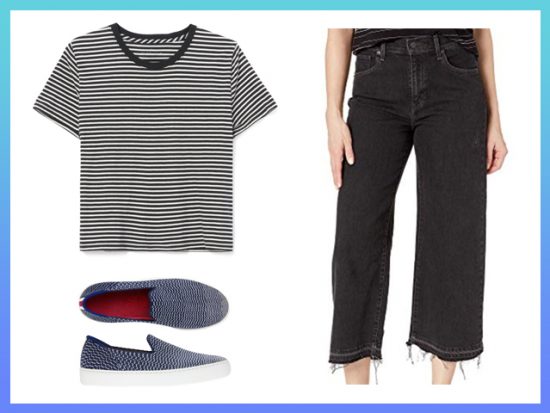 Everlane Box-Cut T-Shirt | Levi's Wide-Leg Jeans | Rothy's Maritime Sneakers
The Best "Pajama" Dress Outfit
Few garments are as foolproof as a T-shirt dress: Throw one over your head and you're done. American Eagle's Easy dress is blessedly free of pesky zippers and made of a soft viscose that's designed for maximum toss-it-on ease. Top this off with a charming leopard print cardigan and a tried-and-true pair of Vans slip-ons.


T-Shirt Dress | Leopard-Print Cardigan | Vans Slip-Ons
The Best Athleisure/Leggings Outfit
Stealthy leggings-as-pants looks are basically made for airplane travel. This pair from Athleta has a floral pattern that's way too cute to confine to the gym. Pair them with a long, slouchy thermal top and light mesh Nikes for a look that's equal parts sporty and effortlessly stylish.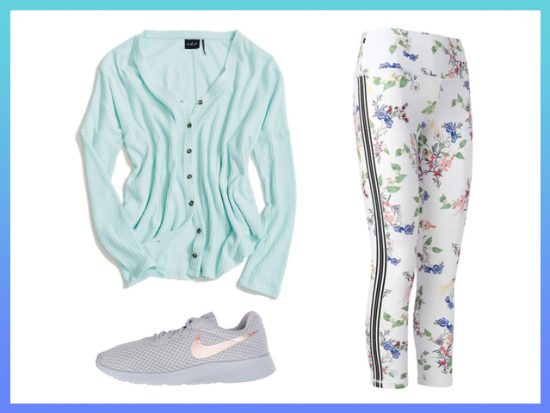 Oversized Thermal Top | Floral-Print Leggings | Mesh Sneakers
The Best "Looks First Class, But Feels Like Sweatpants" Outfit

Want to wear something that's easy to throw on and runway ready? This wrap-top black jumpsuit has you covered. A jumpsuit has one-and-done appeal, and once you add a bold pair of sunglasses and bright cheery flats you'll look so put together you can go straight to a swanky dinner as soon as you land.


Black Jumpsuit | Statement Sunglasses | Red Flats
The Best Outfit to Combat Airplane Cabin Chill

If you run cold, then the airplane cabin is a one-way ticket to goose bumps. This cashmere duster cardigan is the closest you can get to wearing a Snuggie in public. Try an all-purpose heather gray one over a cheery floral T-shirt and stretchy jeggings with classic leather ankle boots. It's a simple but cute outfit that will swaddle you in peak warmth.


Long Cashmere Cardigan | Floral T-Shirt | Jeggings | Ankle Boots
Men's Comfortable Travel Outfits
The Best Stylish Jeans-and-a-T-Shirt Outfit
Leave it to Uniqlo to create these EZY Jeans, with crazy-soft fabric and a hidden drawstring. Basically, they're covert sweatpants faking it as blue jeans, and as the name suggests, they're super easy to wear. Throw them on with a simple loose fitting T-shirt and classic kicks for a travel outfit that's just as casually comfy as it is subtly stylish.


Classic T-Shirt | EZY Jeans | Nike Sneakers
The Best Athleisure/Hoodie Outfit
Hoodies are a straight-up travel staple that can go from the airplane cabin to the hotel room to the streets without missing a beat. Pair this one with some lightweight Adidas jogger pants in goes-with-everything black, so you can stretch out your legs. (Well, as much as the cabin will allow.) And finish it off with a pair of comfy, versatile sneakers that don't require lacing up again after the TSA checkpoint.


Fleece Hoodie | Pocket T-Shirt | Fleece Joggers | Lightweight Slip-Ons
The Best "Looks First Class, But Feels Like Sweatpants" Outfit
A button down that feels like a T-shirt? Check. Stretchy, tailored dress pants that feel like sweatpants? Check. Elegant wingtips that feel like sneakers? Check. With this outfit, you've got everything you need to look completely decked out from the outside, but secretly super comfy on the inside.


Button-Down T-Shirt | Dress Pants | Comfortable Oxford Shoes
The Best Outfit to Combat Airplane Cabin Chill
When you're battling airplane cabin chill, it's smart to consider outdoor gear—the stuff that can stand up to frosty mountain hikes. This simple North Face fleece fits the bill. For added warmth, consider a pair of fleece-lined jeans in a dark wash. (These are way more stylish than yesterday's stonewashed "dad pants.") Bungee closure sneakers give a finishing touch of easy on/off comfort, too.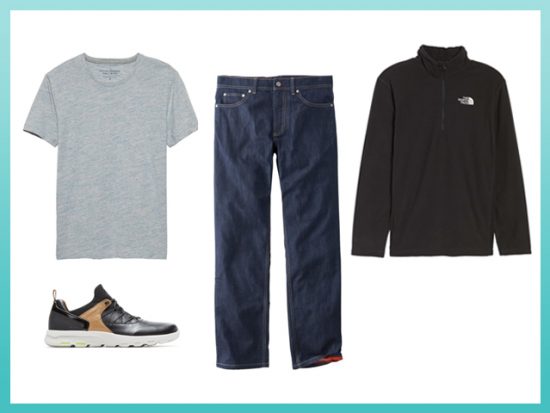 Fleece Pullover | Soft Wash T-Shirt | Fleece-Lined Jeans | Bungee Sneakers
Related Stories
All products have been hand-picked by our writers and editors. Items purchased through links may earn us a commission.