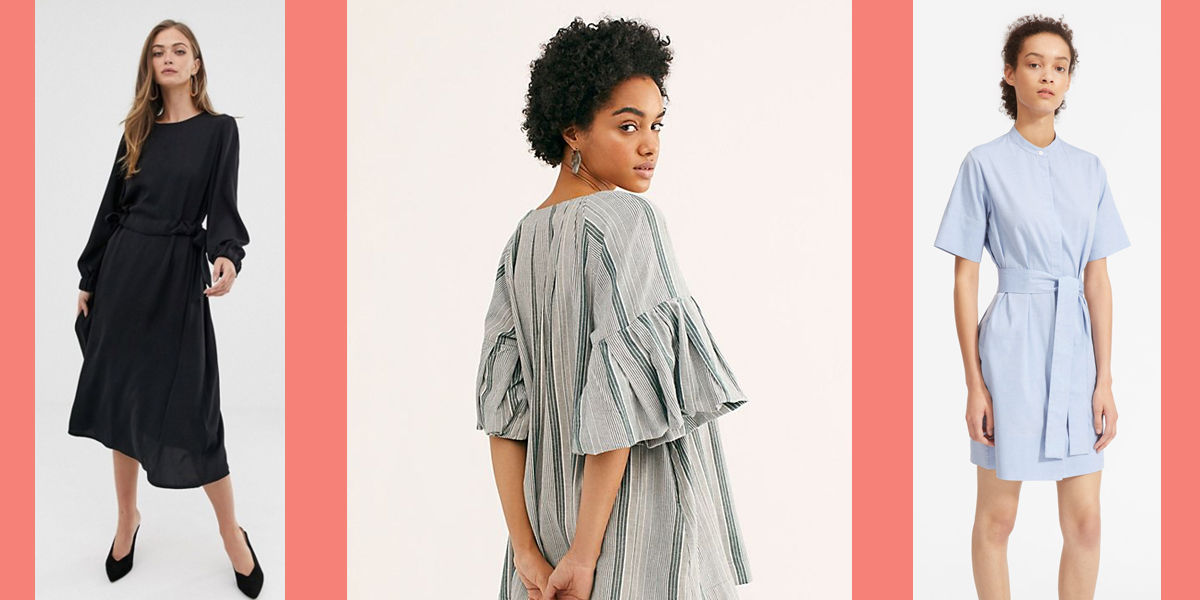 Shop
The 10 Best Travel Dresses Under $100
Common wisdom says that separates work best when you're traveling, but we're big fans of dresses. A single garment means no need to fuss with coordinating pieces—and when you're in that aircraft bathroom with the inevitably wet floor, you'll be glad you're lifting up rather than pulling down your clothing! With that all-too-familiar travel scenario in mind, here are 10 travel-friendly dresses that'll take you from concourse to curb in style. The best part? They're all less than 100 bucks.
1
Everlane Cotton Collarless Belted Shirtdress, $75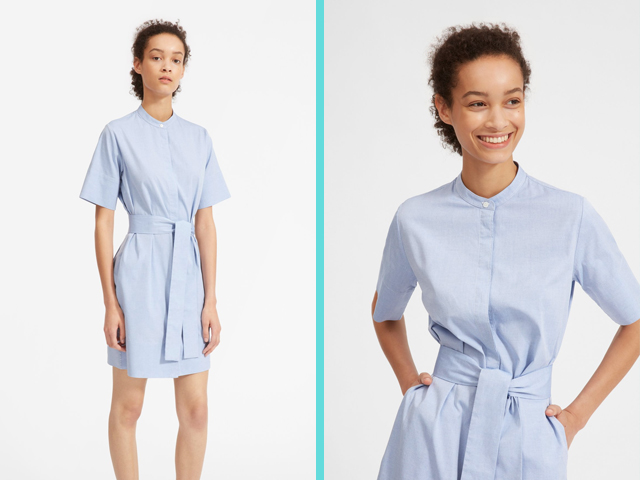 If you balk at the idea of wearing dresses because they seem too girly or fussy, check out this baby out. Available in light blue, black, and navy-and-white stripes, this is a streamlined, no-nonsense one-piece with details (a banded collar, wide belt, and concealed pockets among them) that stylishly distinguish it from the ordinary shirtdress. Plus, the light oxford fabric is naturally resistant to wrinkles, and great in warm destinations. June Cleaver would be jealous.
$75 at Everlane
2
Free People Aleida Mini Dress, $78
If you're jetting off to the beach and want to go straight from the arrivals lobby to the sand...may as well dress for it, right? This flowy shift nails the beachy bohemian aesthetic with its lightweight cotton fabric, loose shape, and a mid-thigh length. Plus, it has pockets at the hips for all those pieces of beach glass you plan to collect (or just your paper boarding pass).
$78 at Free People
RELATED: 8 Sarongs to Bring on Your Next Vacation
3
New York & Company Twofer Sheath Dress, $89.95
Going nonstop from airport to meeting? This tailored-looking dress is the answer to that tricky sartorial situation. Combining the simplicity of one-and-done dressing with the professional look of a crisp two-piece, the sheath has a knit bodice that's comfy enough for long flights and a shirt collar that's all business at the conference table. And who doesn't love polka dots?!
$89.95 at New York & Company
4
Everlane Japanese Go Weave Tank Wrap Dress, $60
We're crushing on the vibrant hue of this striking drapey dress, but that's not the only reason for our love. The tank dress layers effortlessly under a cardigan, jacket, or pashmina, or even over a solid-colored tee. The wrap styling is flattering on every figure and the machine-washable, wrinkle-resistant fabric is a no-brainer for travel. Sold!
From $60 at Everlane
5
New York & Company Red Side-Stripe Sheath Dress, $74.95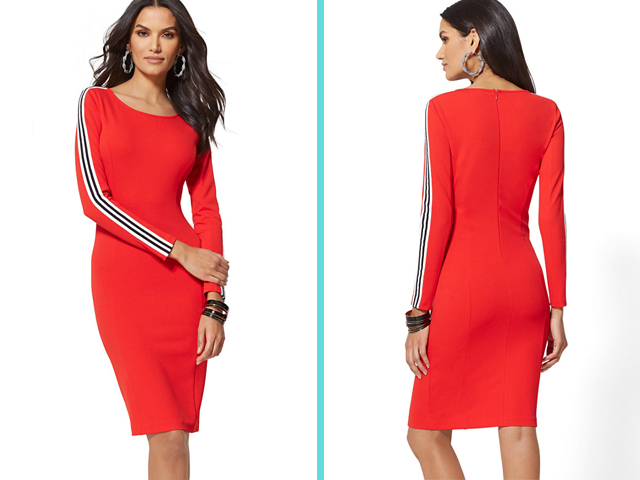 Athleisure fans will be all over this fun, form-fitting sheath, which is somehow sporty and sophisticated at the same time. We dig the red-orange hue (you'll be a cinch to spot at baggage claim), the slenderizing princess seams, and the wrinkle-resistant knit fabric that means we can wear it more than once on a trip, and it'll look fresh-out-of-the-closet every time.
$74.95 at New York & Company
6
Who What Wear For Target Sweater Dress, $39.99
Early-morning flight? Slip into this toasty sweater dress and you'll feel like you're back in bed—but you'll look like you're going places. The midi-length is elongating and the stripes are classic (as long as you buy the correct size, they won't widen you). The lightweight knit makes it perfect for layering underneath a jacket, another sweater, or even a maxi skirt. Do the right thing and get it in black, too.
$39.99 at Target
7
ASOS Design Ruched Chuck On Midi Dress, $48
Proving that simple can be stunning, this loose-fitting, long-sleeve midi is as comfy as a nightgown but way more chic. On the plane, keep it simple with ballet flats and an oversized cardigan on top. And once you land, a change of footwear plus dangly earrings are all you need to be dinner party-ready. Even after hours of travel, the woven polyester fabric will keep wrinkles at bay.
$48 at ASOS
RELATED: The 9 Best Ballet Flats for Travel
8
Free People Luella Maxi Dress, $88
With bold stripes reminiscent of beach towels and parasols, this oversized cotton tank dress is our pick for travel to a beachy destination. Layer it under a sweater for the flight out, then ditch the knit, slip into flip-flops, and look instantly resort-ready for touch down. We give it bonus points for the on-seam pockets.
$88 at Free People
9
Athleta Central Dress, $89
Looking for an LBTD (little black travel dress)? Your search is over. This fitted, scoop-neck number is doubly layered to ensure opacity (no panty lines, thank you) and ruched at the sides to artfully mask any in-flight bloating (yeah, we overdo it on the peanuts and pretzels, too). Pair it with sneakers and a track jacket for a casual daytime look, or slip on some heels and dangly earrings for a fancy dinner. This dress is so versatile, you'll probably want the white one, too. 
10
Tularosa Hamptons Dress in Lavender Stripe, $51
There's nothing like a slouchy sweater dress for curling up in your window seat, then navigating to your hotel. A banded hem and cuffs give the shapeless silhouette just a bit of structure, and the acrylic fabric has natural resistance to wrinkles. Pair it with black tights and flats for a gamine look, or rock it 70s-style with stacked-heel boots and a faux-fur vest.
$51 at Revolve
And Don't Forget the Shoes
Related Stories
All products have been hand-picked by our writers and editors. Items purchased through links may earn us a commission.