Shop
The Best Down Jackets That Pack Down to Nothing
Warm down jackets are essential for winter travel, but damn if they don't take up half of your suitcase. Thankfully, clothing companies have caught on to the fact that when it comes to heat-trapping cold-weather parkas, compressibility is almost as important as warmth, insulation, and rain resistance. With that said, here are the best—and most packable—down jackets we've come across. These picks will keep you toasty when you're face to face with a cold front (and its single-digit wind chills, brrr!), yet they'll take up practically no suitcase space when the mercury starts to soar on the same trip.
Women's
1
The ReNew Lightweight Puffer by Everlane
Part of Everlane's eco-friendly ReNew line, this minimalist mock-neck jacket is made from 100 percent recycled fabric and fill. Fold it down and toss it your duffle, because this is one compact design that works for snow or shine. Plus, we have to hand it to Everlane for offering the style in light pink, purple, and cream—nice alternatives to your usual down-coat colors of black, navy, and army green.
$88 at Everlane
2
The PrimaLoft Packaway Coat by L.L.Bean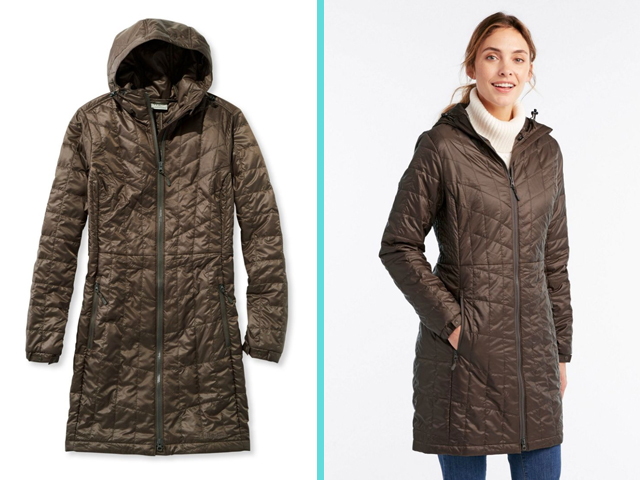 This fitted jacket packs away so well, L.L. Bean calls the fact out right in the name. Resistant to wind and water, the compact thigh-length coat is made with breathable synthetic insulation that gives it the same compressibility as down, but with even more wet-weather protection, and NASA-developed Aerogel technology, meaning you get maximum warmth without any extra weight. (Astronauts know a thing or two about staying warm, right?)
$199 at L.L.Bean
3
The Pack It Down Again Jacket by Lululemon
What's in a name? Lots, actually, in the case of this lightweight Lululemon coat. When on, the rain-resistant garment is cozy as all get out, especially when the detachable hood is zipped on for extra warmth. (On the goose-down fill power spectrum, this coat hits a high 700. That's a lot of heat-retaining fluff!) When not in use, the Pack It Down squishes into a stuff sack the size of a clutch.
RELATED: What to Wear to Iceland's Top Attractions
4
The Ultra Light Down Compact Coat by Uniqlo
If there was ever a brand that "gets" minimalism, it's Uniqlo. Wallet-friendly and utilitarian, this water-resistant down coat definitely fits into the Uniqlo universe. The versatile jacket can be styled as a V-neck or crewneck, and, when not needed, can be rolled up and packed away in its own little storage bag.
$79.90 at Uniqlo
Men's
5
The Cerium SL Hoody by Arc'Teryx
Whether you're mountaineering in Germany or visiting Chicago in December, Arc'Teryx's wind-resistant, down-insulated jacket is the piece to pack. That's because it delivers more warmth than seems possible from something that weighs only 10 ounces—even the zippers are designed to minimize bulk—and it stores away into its own case.
$349 at Arc'Teryx
6
The Evolution Reversible Puffer by Outerknown
Our very most favorite thing about Outerknown's Evolution Reversible Puffer is that it's made of 100 perfect organic cotton filled with 100 percent recycled polyester. The cool work-shirt-like cut and reversible design (i.e. two coats in one) are close seconds. Really, the only downside we can think of is the fact that this coat will eventually sell out.
$245 at Outerknown
7
The Core Down Hooded Jacket by Superdry
Can a puffer be cool? Answer: yes (look up). Superdry's insulated jacket comes in a bronze-y khaki that speaks to this season's love of metallics, while the minimal design keeps it lightweight and easy to store. Just the thing to have on hand when the weather turns stormy, but you still want to look fly as hell. 
$69.75 at Superdry
RELATED: Top 10 Winter Packing Tips
8
The Himalaya Down Hooded Jacket by Ayacucho
Ayacucho's denim-looking down jacket is filled with sustainable and wet-resistant goose down that will keep you warm and cozy in even the drizzliest, nippiest of conditions. An adjustable hood and cinch-cord hem allow you to customize the fit as needed. Extra points because it folds down to a compact, easy-to-stuff-away size.
$66 at Cotswold Outdoor
Related Stories
All products have been hand-picked by our writers and editors. Items purchased through links may earn us a commission.