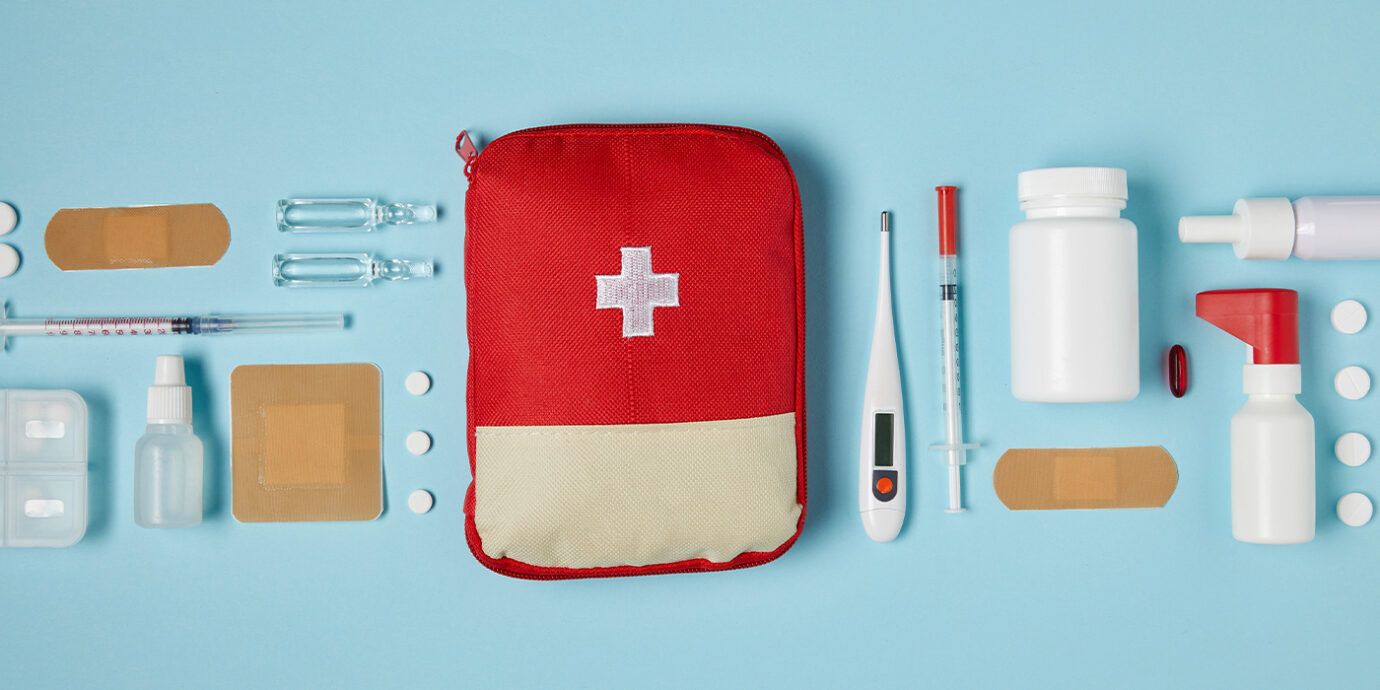 Shop
Everything to Stock in a Portable First Aid Kit: A Complete Checklist
A first-aid kit is a must-have in every household, and keeping it portable means it can easily come along on future trips, too. A well-stocked kit keeps you prepared for all the adventures that lie ahead—and all the potential snags that may just come with them, from bug bites and blisters to headaches and heartburn. Check out our checklist to build your own portable first-aid kit, and stock up on everything you need to stay healthy, safe, and prepared. 
Medications
Acetaminophen reduces fever and relieves minor aches and pains of all sorts…head, tooth, and muscle.
Opt for a pack with both day- and nighttime caplets that target sore or itchy throat; cough; runny nose; sneezing; fever; headache; muscle ache; and nasal, sinus, and chest congestion.
Because diarrhea is never cute.
If heartburn is something you regularly deal with, be sure to pack an acid reducer in your kit.
Keep annoying reactions to everything from asthma to eczema at arm's length.
Mosquito bites, poison ivy, healing cuts…Nix the urgent need to scratch with classic itch-stopping calamine lotion, hydrocortisone cream, or cooling gel.
Natural aloe vera soothes sunburn, blisters, itchy skin, and more.
Back-up supply of your prescription medications
It's always a good idea to keep extra Rx medications in your first-aid kit; stash to two weeks' worth here, if possible. Talk to your doctor in advance.
Supplies
A washable face mask helps you keep germs to yourself and keep others safe.
A bandanna is an all-around useful thing: It can come in handy when you need to apply pressure to a wound, keep the sun off your neck, or cover your mouth.
Face it: every screen you swipe, door you open, and faucet you turn on is a hotbed of bacteria. Always keep sanitizer on hand—literally.
Latex-free gloves allow for full dexterity while shielding you and whatever you're coming in contact with, whether it's a wound or a germy grocery cart at the supermarket.
A fresh cotton round or ball can stop a wound from bleeding, while a clean cotton-tipped swab can be used to apply antibiotic treatment gel (like Neosporin).
Clean up cuts and scrapes with an individually wrapped alcohol prep pad before treating and bandaging up.
This medicine-cabinet essential prevents small nicks or lesions from getting infected.
If you're allergic to Neosporin and aren't looking to have a chic bout of contact dermatitis, go for pure petroleum jelly instead.
Turn down the heat out of a burn with a gelatin-based salve. We like Medihoney, made primarily from New Zealand honey.
Fact: bee stings suck just as much now as they did when you were eight. At least now you can remove the sting from the equation with antiseptic wipes designed specifically for insect bites.
If you graze your leg on the trail (or worse), an absorbent sterile pad will stop the bleeding.
We recommend stocking a full set. Flexible, fingertip, fabric, butterfly, waterproof, kid-friendly Disney characters…the gang's all here.
Keep blisters and bunions at bay with soft padding that can be cut to whatever shape you need.
Easy to tear, latex-free, and breathable, cloth tape helps with swelling and is an excellent (and more versatile) alternative for anyone allergic to traditional bandages.
Rolled self-adhering gauze can work wonders on areas that are hard to bandage.
Wash and irrigate injuries safely.
Make sure you can measure body temperature, one of the human body's most vital signs.
Squeeze-activated "ice" cuts down on swelling and discomfort.
Fight dehydration with portioned-out powder that's rich in essential vitamins and minerals.
If you're going into tall grassy areas, these will help you deal with unwanted hitchhikers.
Single-use transparent masks for performing CPR without the transfer of germs.
Pick one with multiple functions, including scissors and tweezers, which can be used to remove glass shards, wood splinters, and other debris.
Emergency Info
Medical history and consent forms
List of phone numbers, preferably as a laminated printout and on a dedicated note in your smartphone
This should include contact information for your family healthcare provider, your medical insurance provider (note your member ID/policy number, or make a copy of your medical insurance card), your debit/credit card provider (note your card information, or make copies), local fire and police departments, local EMS, poison control, animal control, and AAA.
Boxes and Bags To Carry It All In
Related Stories
All products have been hand-picked by our writers and editors. Items purchased through links may earn us a commission.