Camping
The Ultimate Camping Packing List
There's nothing like leaving the world of screens and stress behind for the wild realm of the great outdoors. Fresh air and nights under the stars are an absolute tonic for modern life. But while camping is all about getting back to basics and disconnecting from the daily grind, prepping for the trip is deceptively complicated. There's gear to pack, routes to map, meals to prep, and campsites to book. (Popular ones like Bright Angel Campground on the floor of the Grand Canyon and Blackwoods Campground on the edge of Acadia National Park often fill up months in advance). Claiming tent sites and planning daily itineraries—hikes, swimming holes, overlooks, waterfalls—are all you, but we can help with the packing part. Below, you'll find camping packing checklists, tent and footwear recommendations, outdoor clothing ideas for every season, and more. 
YOUR CAMPING PACKING CHECKLIST
*Keep these items on your person
Gear to Pack
Sleeping pad or air mattress

Stuff sack/compression sack
Lighter
Lighter Fluid

Paper towels

Toilet paper

Laundry bag

Trash bags

Extra stakes

/guy lines

Pocket knife

/multi-use tool
Duct tape

Wallet (credit/debit cards/ID/cash for permits and emergencies)*

Keys*

Medical insurance card*

Water bottle

Maps and guidebooks*

Phone/charger*

Pack of cards

Extra batteries
Whistle
Camera
Binoculars
Cookware to Pack
Camping Cooking Resources
Clothes/Accessories to Pack
Underwear

Bras/camis/undershirts

Socks (plus at least one extra pair)

PJs

Trail pants

Long-sleeve shirts

T-shirts

Shorts

Rain jacket

Rain pants

Fleece jacket

Hats*

Gloves

Bandana
Shoes to Pack
Cross-trainers

Hiking boots

Slip-on camp shoes

Shower sandals
Toiletries to Pack
Toothbrush/t

oothpaste/dental floss

Body wash/soap

Deodorant

Face wash

Shampoo

Brush/comb

Earplugs/eye mask

Hair elastics

Tampons/pads*

Birth control/condoms*

Hand sanitizer*

Bug spray*

Medications/vitamins*
Helpful Printouts/Navigation Aids
Map and map case*
Camping/hiking guidebook*
Compass*
GPS*
Personal location beacon*

Emergency contacts*

Campsite reservation printouts and permits*

Maps/directions*

Bank/credit card contact info*
CAMPING IN ALL CONDITIONS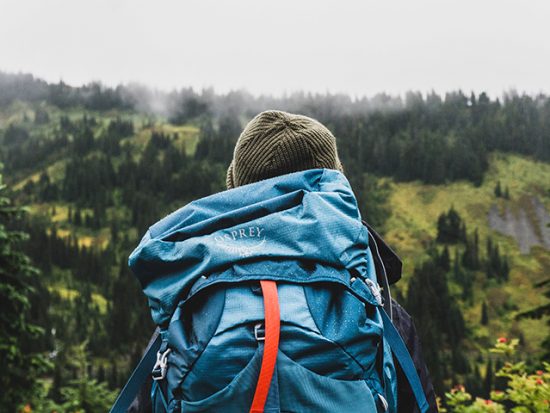 While the above packing lists will get you through almost any car camping or backpacking trip in spring, summer, or fall, there are items you'll need to swap out for extremely cold conditions, and a few to consider packing for backcountry camping.
What to Pack for Cold-Weather Camping
Thermal base layers
Insulated jacket/vest
Insulated pants
Heavy socks

Winter slip-on boots

Insulated hat

Neck warmer

Goggles

Snowshoes
Skis
Crampons
What to Pack for Backcountry Camping
ADD/SUBTRACT THESE ITEMS FOR LONGER/SHORTER CAMPING TRIPS
Long Weekend Camping Trip
Underwear: 4 pairs
Bras/camis/undershirts: 2 pairs
Socks: 4 pairs
T-shirts: 3 pairs
Pants: 2 pairs
One-Week Camping Trip
Underwear: 8 pairs
Bras/camis/undershirts: 3 or 4
Socks: 8 pairs
T-shirts: 5 or 6
Pants: 4 pairs
THE PERFECT TENT FOR YOUR CAMPING TRIP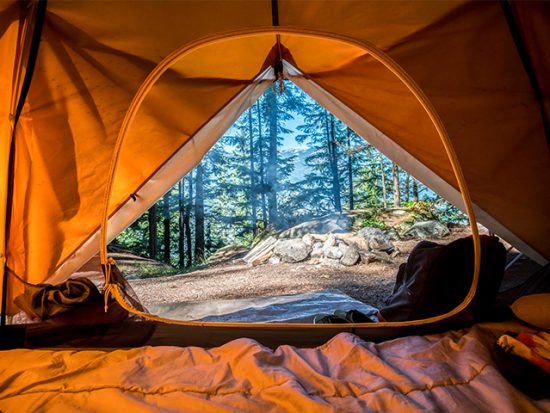 A successful camping trip requires—above all else!—effective shelter. The type of camping and number of people on your trip will determine the type of tent you'll need. When we invest in a tent, we look for low-volume three-season tents made with durable materials, like aluminum poles and breathable polyester walls. For solo backpacking, we like Marmot's one-person Tungsten UL Tent for its fully-sealed waterproof floor and rain fly, and added vestibule for boot and pack storage to keep it tidy. If you're backpacking with a partner, save on pack space by taking a two-person tent and switching off the responsibility of carrying the tent or the kitchen gear day to day. We like compact double-door options, like Mountainsmith's Celestial Tent, for duo backpacking treks. Both featured tents will get you through years of trips and trails, as long as you're not planning for any serious mountain climbing or cold-weather camping. For that, you'll need a four-season tent, like Marmot's Thor model, with a sturdy six-pole design to keep your tent grounded in harsh winds and protect against heavy snowfall that would weigh down the roof of a two or three-season tent.
Because car camping offers the added luxury of locked storage, and often a trunk and backseat for transporting a bigger tent, packing overnight shelter for these trips is a little more relaxed than for backpacking. A roomy four- or six-person tent, like these options from Kelty and Big Agnes, are perfect for families and large groups looking to bunk together. We especially love their large panel mesh ventilation and extra in-tent storage—just don't pack either for a winter weather vacay! You'll need a large four-season option, like Marmot's Lair Tent, for any mountain trips. And to best utilize limited space in your vehicle while car camping, we love large console organizers, both open and insulated, to keep equipment safely stashed and easy to access.
The Perfect Tent for Solo Camping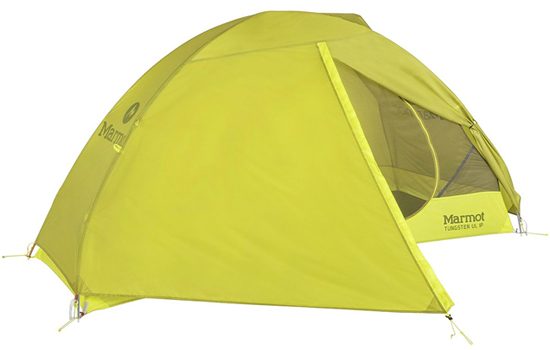 Marmot Tungsten UL Tent: 1-Person, 3-Season


The Perfect Tent for Two-Person Camping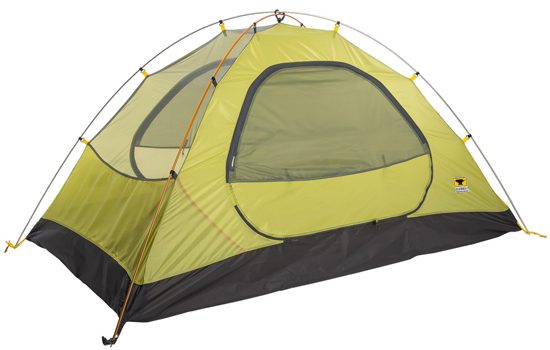 Mountainsmith Celestial Tent: 2-Person, 3-Season
$119.99 at Sierra Trading Post

The Perfect All-Season Tent for Two-Person Camping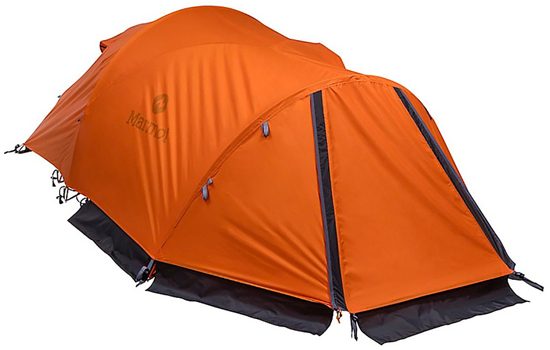 Marmot Thor Tent: 2-Person, 4-Season

The Perfect Four-Person Tent for Car Camping

Kelty Trail Ridge 4 Tent with Footprint: 4-Person, 3-Season
$199.99 at Sierra Trading Post

The Perfect Six-Person Tent for Car Camping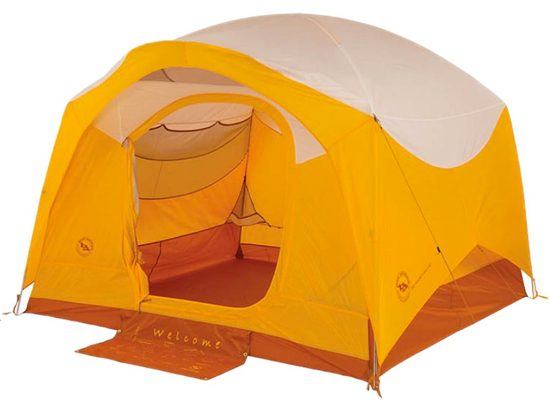 Big Agnes Big House Deluxe Tent: 6-Person, 3-Season

The Perfect All-Season, Group Tent for Car Camping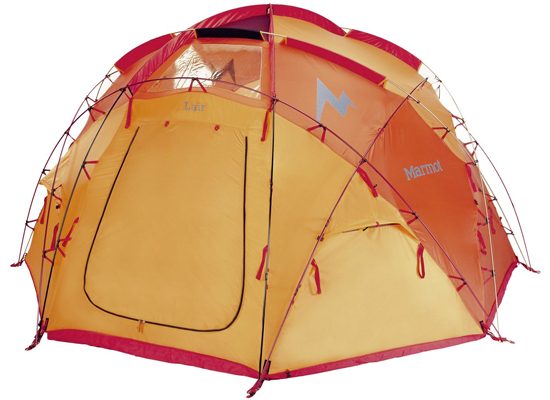 Marmot Lair Tent: 8-Person, 4-Season
THE 3 PAIRS OF SHOES YOU'LL NEED FOR A CAMPING TRIP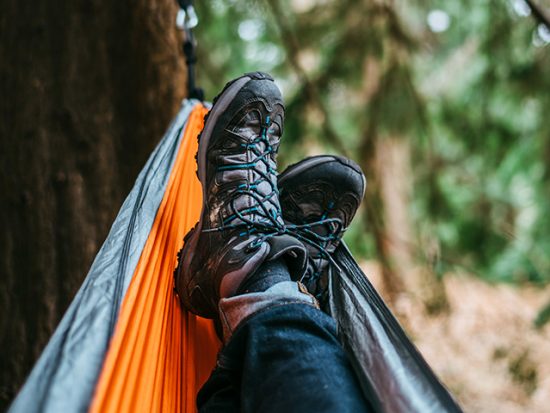 Most camping trips only really require two pairs of shoes: a sturdy pair of boots to cover your daytime adventures, and a waterproof pair of slip-ons or sandals for showering, popping in and out of your tent, and walks to nearby lakes or beaches. If you have extra room in your pack, add a little luxury to your trip by packing three pairs of shoes—boots, flip flops, and waterproof slip-ons. That way you can save your sandals for the shower, and have cozy, clean shoes for evenings around the campfire.
Women's Camping Shoes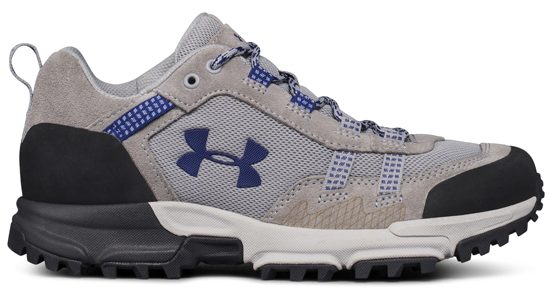 Hiking Boots

Under Armour Post Canyon Low Hiking Boot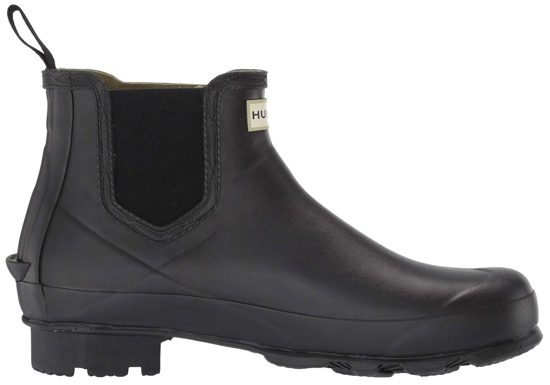 Shoes to Wear Around the Campsite

Hunter Norris Chelsea Boot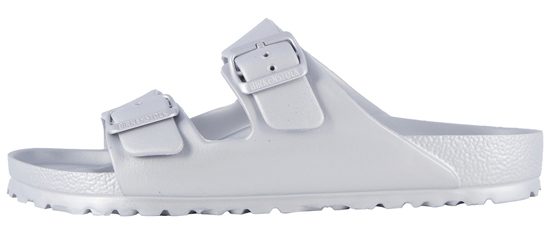 Shoes for Showering/Swimming

Birkenstock Arizona EVA Sandal
Men's Camping Shoes
Hiking Boots

Timberland White Ledge Mid Waterproof Boot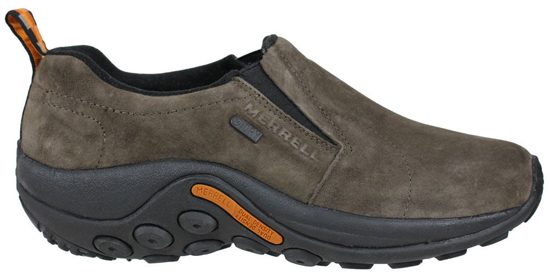 Shoes to Wear Around the Campsite

Merrell Waterproof Slip-On Shoe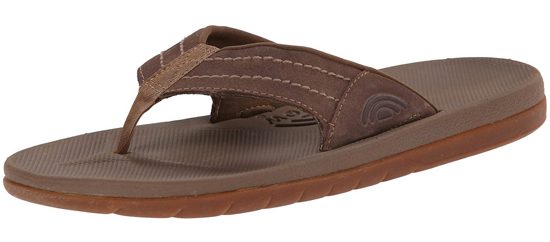 Shoes for Showering/Swimming

Rainbow East Cape Molded Rubber Sandal
WHAT NOT TO PACK FOR A CAMPING TRIP
Just say no to excess! Makeup, different outfits for every day, impractical shoes, hardback books, brass instruments—leave it all at home. Such items will do no more than take up valuable real estate in your car or on your back. While parks often have visitor centers and park stores with some essentials, it's not like you'll be able to just run around the corner and pick up something vital that didn't make the cut due to packing your entire wardrobe. The point of camping is to enjoy the great outdoor and to exist off of just what you need. You'll feel truly renewed when you return home to your laptop and skin-care routine if you can manage to forget about them for a few days. And while it's fun to bring a guitar, board game, or book along, don't bring too many. One of each will likely be more than you'll use. If you're solo backpacking and want to bring a book for company, tear the pages out as you read and recycle them when you can or use them for campfire fuel to keep your pack light.
THE *ONE THING* WTP EDITORS ALWAYS BRING ON A CAMPING TRIP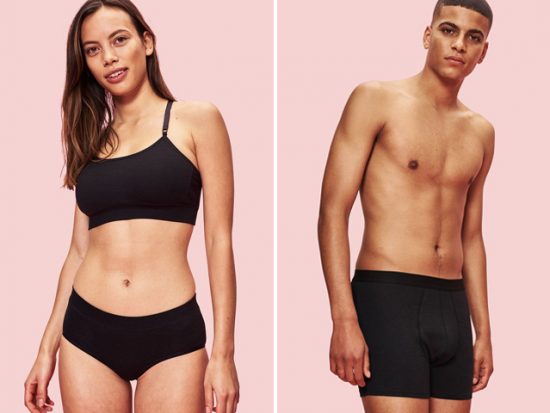 We're not being the least bit extra when we say that a pair of Organic Basics underwear is life-changing. They're snug, secure, and would never dream of riding up, falling down, or turning into a sweaty swampfest—even after miles on the trail in the dead of summer. They're made with super-strong organic cotton threaded with antimicrobial silver, meaning a single pair can be worn more than one time between washes. —WTP Editors
PACKING FOR CAMPING IN MAJOR NATIONAL PARKS
Before you can set off for the country's remote, majestic parkland, take a look at our breakdown of what to expect and what to bring to some of the most popular national parks.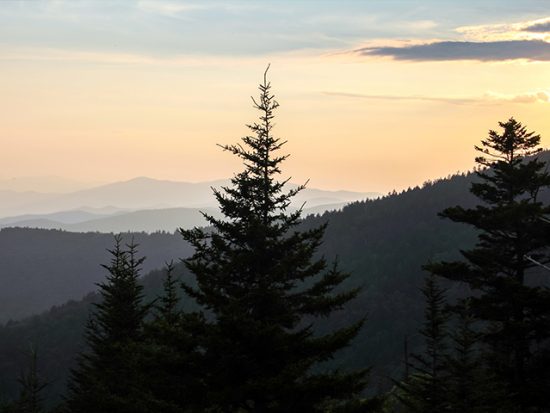 GREAT SMOKY MOUNTAINS NATIONAL PARK
A UNESCO World Heritage Site, Great Smoky Mountains National Park is famous for its clear streams and waterfalls, incredible wild- and birdlife, and 850 miles of hiking trails. Fishing, rafting, horseback-riding, skiing—or simply taking in the gorgeous views—are other popular pastimes in the Smokies. The park's Cades Cove is one of the National Park Service's most sought-out car camping spots in all 50 states for its expansive views and easy access to landmarks, like Rocky Top and Abrams Falls. To take your car camping trip to the next level, we recommend packing a few extra accessories, like an air mattress, your own campsite water station, a large cooler, a camp stove and coffee press, and maybe a uke and tin whistle for an evening jam around the campfire.
GLACIER NATIONAL PARK
Many nature lovers cite the one-million-acre Glacier National Park as their absolute favorite vacation spot. The park's vast terrain, open all 365 days a year, includes beautiful lodges on all sides, like Many Glacier Hotel—with easy access to stunning Grinnell Glacier—and Lake McDonald Lodge, which looks out onto the park's largest, deepest lake. (The Ice Age glacial lake is three times deeper than the Statue of Liberty is tall.) If you choose to camp at one of the park's 13 unique campgrounds, make sure to pack a few additional items for backcountry camping in wilder terrain, like a bear-resistant food keg, bear spray, and wasp spray.
YOSEMITE NATIONAL PARK
Famous for its awe-inspiring granite cliffs, towering sequoia trees, stunning canyons, sky-high waterfalls, and dozens of hikes leading to sweeping views of the valley, Yosemite National Park lures millions of visitors of visitors every year. The UNESCO World Heritage Site is home to summits El Capitan and Half Dome—two of the most most popular sites within Yosemite's nearly 750,000 acres. The Majestic Yosemite Hotel is a coveted reservation, especially during the snowy holiday season, but many visitors prefer to rough it at the park's 13 campgrounds (some offer reservations, others are first-come, first-serve). Especially adventurous spirits looking to tackle Half Dome—a 16-mile round-trip hike with a 4,800-foot elevation gain!—must pack at least one one-liter Camelbak for each person hiking, as well as a headlamp, spare batteries, and a pair of climbing gloves for the infamous 400-foot stretch of cables to the hike's summit. Looking for slightly less intense ways to explore Yosemite? Biking, skiing, snowshoeing, river rafting, horseback-riding, and rock climbing are all popular activities.
GRAND CANYON NATIONAL PARK
For experienced backpackers looking for a challenging trip, there's nothing quite like hiking the 47 miles of trail around the Grand Canyon, from rim to rim to rim! For long backpacking trips with many days spent directly in the elements, we recommend packing extra necessities in your bag, like water purification tablets, in case you have to set up camp wherever you land, and extra compression bags to help maintain your limited pack space as you unpack and repack your essentials like your stove kit and fuel, silverware, and dishware day after day.
ZION NATIONAL PARK
A summer trip through Zion National Park offers memorable views of the park's unique geography, like the canyon's iconic steep red cliffs, and the cavernous Subway hiking route complete with emerald pools. The most popular warm-weather attraction is without a doubt a trek through The Narrows, a section of the Virgin River that flows through the narrowest section of Zion Canyon. If you choose to do the full hike (which we highly recommend!) arrive prepared to wade through the river by packing a pair of boots made specifically for water hikes, like Merrell's Waterpro Maipo Water Shoe, and a quick-drying outfit, like this SPF 50+ athleisure dress from Nuu Muu.
JOSHUA TREE NATIONAL PARK
If a Coachella-inspired vacay is more your speed, try a desert glamping getaway beneath the peaceful open skies of Joshua Tree at Jumbo Rocks or Hidden Valley Campground. Unlike backpacking, glamping tips the scales of excess when it comes to taking what you can carry. As long as you can fit it in your car, feel free to bring any of life's luxuries into the outdoors with you on your glamping excursion, like a full canvas tent, wood-burning stove, portable hot shower—even inflatable pull-out sofa. If you desire something truly extra for your high-end yurt lifestyle, consider adding an inflatable hot tub to your packing list. And don't forget the canopy lights!
YELLOWSTONE NATIONAL PARK
From Mammoth Hot Springs to Old Faithful to Grand Prismatic Spring, there are so many beautiful sights to take in year round at Yellowstone, the first National Park in the U.S. While most of the park's annual three million guests are families visiting in the spring and summer, devoted outdoor adventurers love Yellowstone for its winter backcountry camping—when temps can plunge to 30 below zero and conditions include snow and even avalanches. Needless to say, if you're packing for such a trip, you absolutely must carry the proper equipment. In addition to your cold-weather camping outfit, make sure to bring waterproof utility snow boots, an insulated hat, neck warmer, goggles, winter gloves, and ear warmers. Also necessary are a zero-degree sleeping bag, ice axe, trekking poles, and snowshoes. While an overnight trip in Yellowstone's winter backcountry is a serious undertaking, it would no doubt be a once-in-a-lifetime experience.
FIVE FOOLPROOF OUTFITS FOR A CAMPING TRIP
1. WHAT TO WEAR FOR HIKING IN THE SPRING AND SUMMER
Women's Spring/Summer Hiking Outfit


SilverTech Tee | Stretch Shorts (in Black) | Low Socks | Low Hiking Shoes | SilverTech Bra and Underwear
Men's Spring/Summer Hiking Outfit

Cooling Tee | Hiking Shorts | Waterproof Hiking Boots | Socks | SilverTech Underwear
2. WHAT TO WEAR FOR HIKING IN THE FALL
Women's Fall Hiking Outfit


Trail Pants | Merino Base Layer | Long-Sleeve Shirt | Merino Socks | Hiking Boots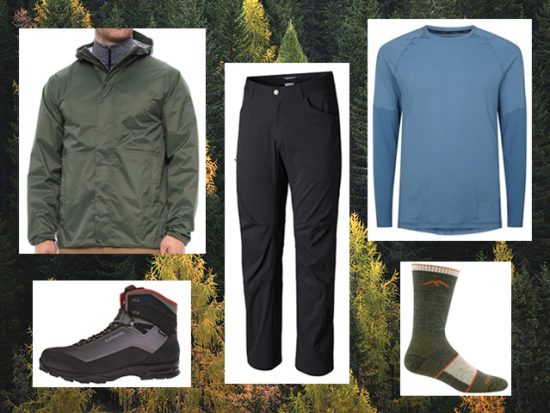 Men's Fall Hiking Outfit

Thermal Long-Sleeve Shirt | Waterproof Jacket | Stretch Pants | Wool Socks | Hiking Boots
3. WHAT TO WEAR FOR A COLD-WEATHER CAMPING TRIP
Women's Cold-Weather Camping Outfit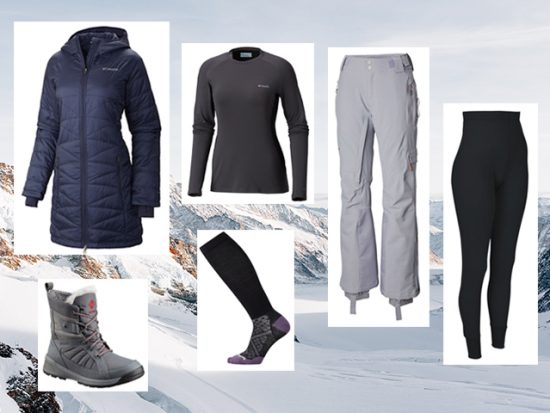 Thermal Base Layer | Long Silk Underwear | Thermal Snow Pants | Down Jacket | Wool Socks | Winter Boots
Men's Cold-Weather Camping Outfit

Base Layer Top | Base Layer Pants | Snow Pants | Down Jacket | Wool Socks | Snow Boots
4. WHAT TO WEAR ON A GLAMPING TRIP
Women's Glamping Outfit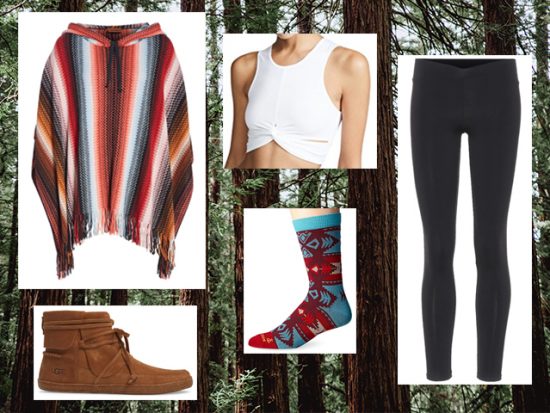 Jersey Leggings | Cropped Tank | Poncho | Lace-Up Boots | Socks
Men's Glamping Outfit

Board Shorts | Tank Top | Hoodie | Slip-Ons | Joggers
5. WHAT TO WEAR SWIMMING
Women's Outfit for Camping/Swimming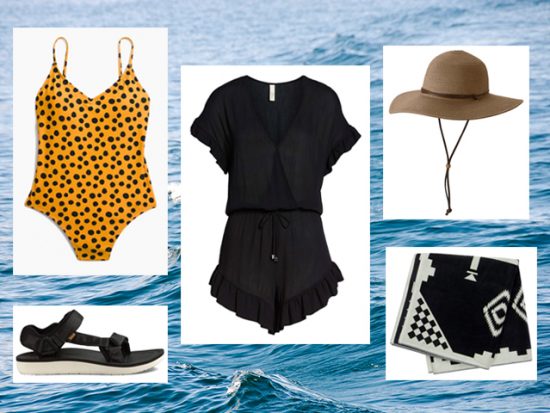 One-Piece | Cover-Up | Oversized Towel | UPF 50 Hat | Sport Sandals
Men's Outfit for Camping/Swimming
Board Shorts | Sun Shirt | Water Shoes | Hat | Organic Cotton Towel
CAMPING FREQUENTLY ASKED QUESTIONS (FAQ'S)

How do you shower when camping?
Good question! Many campgrounds offer showers, with no real guarantee of how frequently they're cleaned. If your trip is over a weekend, you can probably skip the shower. If you'll be camping for a number of days, however, prepare to brave the public facilities. Always remember to pack shower sandals in your bag, and organize your toiletries in a way that allows you to carry and hang them in the shower while you use them. Pack a few quarters in your bag, too, in case the showers are coin-operated. If your campground does not offer showers and you plan on staying awhile, you can always bring your own. All you need is a few gallons of water and the perfectly positioned tree branch.
How do you start a campfire?
The absolute easiest way to start a campfire is to use newspaper, twigs, wood, lighter fluid, and a match. Place a few pieces of firewood inside your site fire pit. Gather twigs from around your campsite and arrange them in a pyramid shape around the wood. Using torn and crumpled newspaper for starter at the base of the pyramid, squirt lighter fluid onto the paper and twigs and light it with a match. The paper and twigs will burn first, but flames from the pyramid should catch on the wood, starting your actual campfire, which will burn through the night simply by adding logs as needed.
What do you do if it starts to rain while you're camping?
Many seasoned campers will tell you that it's best to just assume that it will rain on your camping trip—that way, you're either prepared for rain or pleasantly surprised when it doesn't come. Always remember to pack your tarp, and cover your tent with its rainfly when you've finished setting up camp. Bring a waterproof jacket or hooded poncho, and invest in a solid pair of waterproof hiking boots. If you prefer to pack on the extra-safe side, an extra tarp or two, and a handful of bungee cords or zip ties, are your best bet for keeping yourself and your belongings dry if rain starts to fall.
How much water and firewood should I bring camping?
Most campers subscribe to the rule that you'll need one gallon of water per person for each day of your trip to cover all drinking, cooking, and cleaning needs. Many campsites have their own water pumps with stations for refilling water bottles and containers. It's best to pack five or more gallons to start off your trip, and refill every water container as you go.
Likewise, it's best not to assume the camp host or ranger station will have firewood waiting upon your arrival. Pack at least one or two bundles from your local grocery store or gas station in the back of your car before you leave town, and buy more at the site as needed to keep your stash stocked enough to burn one to two bundles a day for the duration of your trip.
How do you prevent blisters when hiking?
Whether you're backpacking or car camping, chances are your trip will include time on the trails. The best way to avoid blisters as you rack up mileage on foot is to size up at least a half or even a full size when you buy your hiking boots. Many outdoor enthusiasts find their feet swell after an hour or more of consistent hiking, so your shoes may feel loose when you start your trip, but will likely feel snug by the end of the day. If your feet have a tenancy to blister in the common spots (back of heel, ball of foot, little toe, big toe) regardless of shoe size, wear blister tape as a preventative measure. Band-Aid's blister cushions are the best product for quickly healing a blister once one has formed.
Related Stories
All products have been hand-picked by our writers and editors. Items purchased through links may earn us a commission.