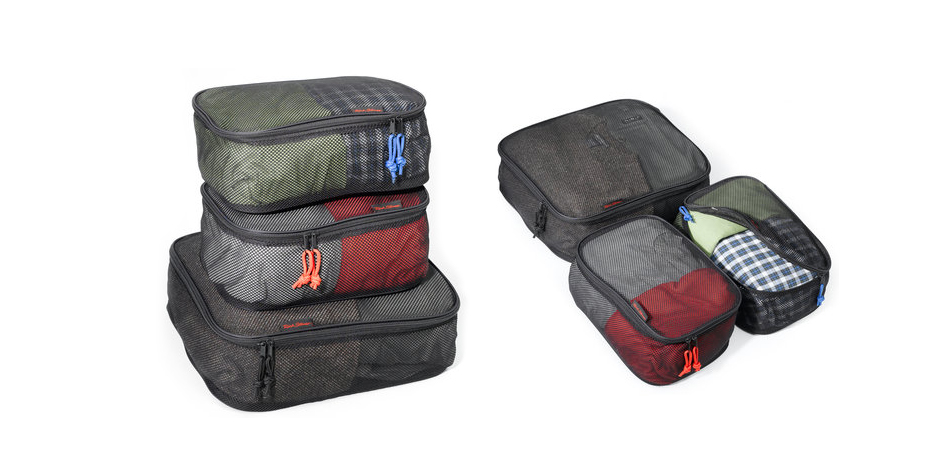 Shop
Product Review: Rick Steves' Packing Cube Set
What Is It
Rick Steves' Packing Cube Set (collapsible mesh cubes to help organize your luggage).
Price and Where to Buy
It's $17.99 to $21.99 at Rick Steves' website.
Pros
I confess, I love separating everything in my bag for easy access when I travel, but I'd previously been using overstuffed zip-lock bags. These packing cubes serve the same purpose, but are bigger, reusable, and stay zipped even when packed to the brim. They're lightweight and don't take up much extra space. Plus, each zipper has a different color tie, so you can easily identify which bag you need to pull out. The different sizes (two small, one large) are perfect for socks/underwear or shirts/pants. The cubes are structured enough that they will prevent your carefully rolled or folded clothes from becoming bunched up and wrinkled, but not so stiff that they don't collapse flat.
Cons
The environmentally unfriendly upside to zip-top bags is that you can just toss them when done. These packing cubes, however, are reusable and need to be washed after transporting dirty clothing home. They don't seem like they would do well in a washing machine, but you could probably hand-wash and air-dry to keep everything clean. For some reason, only three sides of the cubes are mesh—the fourth side is not see through, which can be annoying if a cube is solid-side up and you can't remember what's in it.
How It Rates
Usefulness: 7/10. The cubes are invaluable when you've got a ton of stuff packed in a small bag—no more having to dig through every single item of clothing just to find one single sock. If you're a light packer, though, this might not be necessary for you.
Portability: 8/10. Lightweight and collapsible, these cubes take up less space than a folded shirt.
Value: 6/10. The price point is about the same as other packing cube systems, but of course a zip-lock bag can do a similar job for less.
Durability: 7/10. The mesh and zippers are sturdy, but the solid backs of the cubes are fairly flimsy. (However, the cubes have stood up fine in testing so far.)
Cool Factor: 6/10. You'll feel cool moving from hotel to hotel without having to unpack and repack your entire suitcase.
Final Verdict
Worth it if you are a somewhat disorganized packer to begin with—the cubes will save time and frustration by keeping all your clothes separated and neatly organized in your bag.
Related Stories
All products have been hand-picked by our writers and editors. Items purchased through links may earn us a commission.