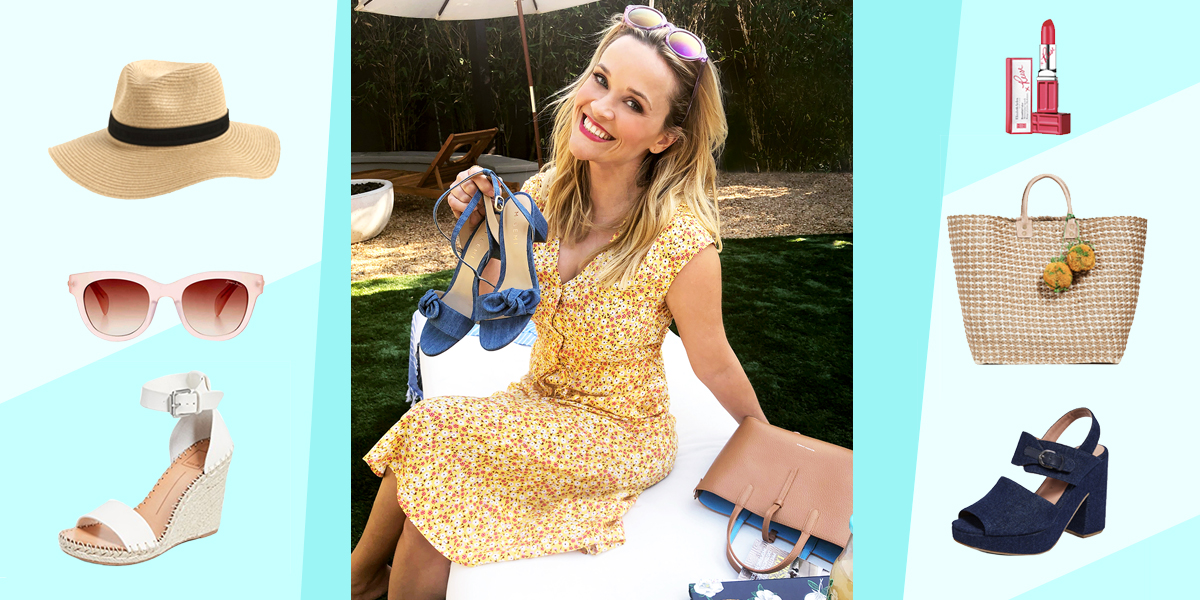 Celebrity
Reese Witherspoon's Iconic Travel Style—and How to Recreate It for Yourself
It's hard to look at Reese Witherspoon and not crack a smile. The actress, producer, activist, and advocate exudes sunshine-y energy everywhere she goes—from business meetings in L.A. to book events in Nashville to yoga classes in New Zealand. And whatever the destination, Witherspoon brings a little bit of the South with her—thanks to a bright, happy, Southern belle-worthy wardrobe of colorful and polished dresses, skirts, blouses, pants, and sweaters. Want in on Witherspoon's pretty, peppy style? It may look high-maintenance but is actually very low-key, and easier to achieve than you think. Read on...and get ready to give your black clothing the boot. 
Where Does Reese Witherspoon Travel?
The better question: Where doesn't Reese Witherspoon travel? The multi-hyphenate superstar is literally always on the go—jetting off to film locations, photo shoots, and glamorous industry events on the regular. When she's not on set or heading up her media company (Hello Sunshine) and clothing line (Draper James), Witherspoon makes plenty of room for (far-flung) quality time with friends and family. It's no surprise that the Oscar-winning powerhouse plays as hard as she works; recent getaways include visiting London and Rome with daughter Ava, hiking and kayaking in the Canadian wilderness with son Deacon, swimming with pigs in the Bahamas with her family, and yachting it up in the Hamptons with girlfriends. (No one does a #girlstrip like Reese Witherspoon.) The backdrop may change, but one thing's for certain—Reese Witherspoon looks pretty damn perfect at all times, whether she's rolling her (Louis Vuitton) suitcase through LAX or commanding hundreds of photographers on the red carpet.
Reese Witherspoon's Travel Style
The first thing you should know about Witherspoon's personal style is…no black! Going-out looks are the exception to this rule, but in general, Witherspoon prefers clothing in cheery, fun-loving colors and patterns. (You won't find anything in black on her Draper James website either.) The all-American entrepreneur and philanthropist isn't one to embrace the latest wild street-style trend; she never comes across as severe, unapproachable, or wacky. Instead, she looks radiant and upbeat, staying true to her Southern roots by opting for classic silhouettes—A-line skirts, wrap dresses, fit-and-flares, button-down shirts, peplum tops—paired with cute sunglasses and totes. The result? Playful, perky, but always polished outfits that would look right at home on a picnic blanket or in a front-porch rocking chair with a glass of sweet tea.
Three Words to Describe Reese Witherspoon's Travel Style
Casual-Chic: Reese Witherspoon isn't someone who lets her polish go out the window just because she's on vacation. You won't see her in fraying cutoffs, a threadbare T-shirt, or an old hoodie—maybe ever.

Yes, she keeps things easy-going and comfy, but her look is still cute and camera-ready at pretty much all times. Some of her fool-proof clothing combos? Floral sundresses under jean jackets, shirt-dresses with wedges or platforms, and skinny jeans with chunky sweaters and flats.

Colorful: No wallflowers here. Witherspoon wholeheartedly embraces fun colors, patterns, and details. Poppy red, polka dots, lace, ruffles, florals galore—you name it, she's worn it (and rocked it). And just about any gleeful print—strawberries, hearts, cherries, umbrellas, pineapples—is on the table.
Ladylike: No doubt about it, Reese Witherspoon has serious Southern belle vibes. She always spotlights her Southern pride, whether its spotlighting Southern writers like Delia Owens (author of "Where the Crawdads Sing") in her book club or whipping up fried chicken and biscuits in her kitchen. But where her Southern heritage really shines is through her wardrobe of well-fitting, preppy pieces with girly details, such as belted dresses, lacy blouses and sheaths, ruffly tops, crisp collars, tie-front button-downs, neat A-line skirts, and monogrammed bags.
Three Fabrics and Patterns That Reese Witherspoon Rocks
Chambray/Denim: It's safe to say that chambray and denim are Witherspoon's favorite go-to materials, both for her personal style and for her Draper James designs. She wears the neutral fabrics regularly, perhaps in the form of a denim over-shirt, a button-front shirtdress, or classic jeans paired with a plaid shirt. Which brings us to another Reese favorite…
Gingham/Plaid: If "picnic chic" were a style, Witherspoon would be the poster girl. She often opts for darling dresses, skirts, blouses, rompers, shorts, in the charmingly throwback gingham print—she even launched a shoe collaboration with Italian brand M.Gemi that includes a navy-and-white gingham strappy block-heel sandal. (Noted: we'll never wear anything but gingham for scooping up beignets from Cafe du Monde in New Orleans ever again.) Come fall and winter, she swaps summery ginghams for cozy plaids—and not just shirts. Witherspoon's love of plaid extends to sheath dresses and vintage-style capes.
Stripes: Witherspoon loves classic blue and white (or black and white) stripes as much as the next person. (Relatable!) She announced her May book club pick ("From Scratch," by Tembi Locke) wearing a crewneck sweater in the nautical pattern, posted a pic of her reading scripts and drinking coffee in a striped T-shirt dress, and is often seen zipping around L.A. in a striped tee and jeans. Like chambray and gingham, stripes is a popular look over at Witherspoon's Draper James.
How to Replicate Reese Witherspoon's Travel Style in Three Outfits
Reese Witherspoon's Vacation Outfit
Witherspoon never lets vacation be an excuse to look anything other than perfectly put together. Her plan may be to tour European capitals, unwind in the tropics, or cozy up at a snowy ski resort, but she always shows up with a travel wardrobe to die for. To replicate her vacation style, we zeroed in on what seems to be her favorite kind of trip: relaxing beach getaways. For these, Witherspoon's perfectly packed suitcase unfailingly includes an army of easy A-lines, embroidered halters, cute-as-heck sunglasses, straw totes, and sun hats. (P.S. this looks exceptionally good at sunset with a rummy drink in hand.)
How to Dress Like Reese Witherspoon on Vacation
For info on these editor-selected items, click to visit the seller's site. Things you buy may earn us a commission.
Reese Witherspoon's Airplane Outfit
Even for celebrity standards, Witherspoon has flawless airplane style. She regularly rolls through the airports of the world looking neat and composed, never sloppy or scattered. Her go-to airport look almost always involves nice jeans, a solid or striped T-shirt, a pullover or button-up sweater, a leather tote bag, and either clean white sneakers, black pumps, or pointy flats. To really dial up the Reese factor, roll a Louis Vuitton carry-on behind you and leave longing admirers in your wake.
How to Dress Like Reese Witherspoon on the Airplane
For info on these editor-selected items, click to visit the seller's site. Things you buy may earn us a commission.
Reese Witherspoon's Going-Out Outfit
The person who knows how to craft the perfect outfit for pumpkin-picking or walking the dog certainly knows how to pull together a spot-on nightlife look. Witherspoon's love for dresses with a bit of structure really comes out to play when she is dressing up for a special event. She tends to favor shorter styles with long sleeves, high necklines, and cinched or belted waistlines, then pair them with classic black pumps and simple jewelry and makeup, like this pink lipstick with 100 percent of the proceeds going to UN Women. (Elle Woods would be so proud.) Of course, there's always room for quirky embellishments and a hint of sparkle.
How to Dress Like Reese Witherspoon When Going Out
For info on these editor-selected items, click to visit the seller's site. Things you buy may earn us a commission.
Three Reese Witherspoon-Inspired Accessories to Amp up Any Outfit
Related Stories
All products have been hand-picked by our writers and editors. Items purchased through links may earn us a commission.