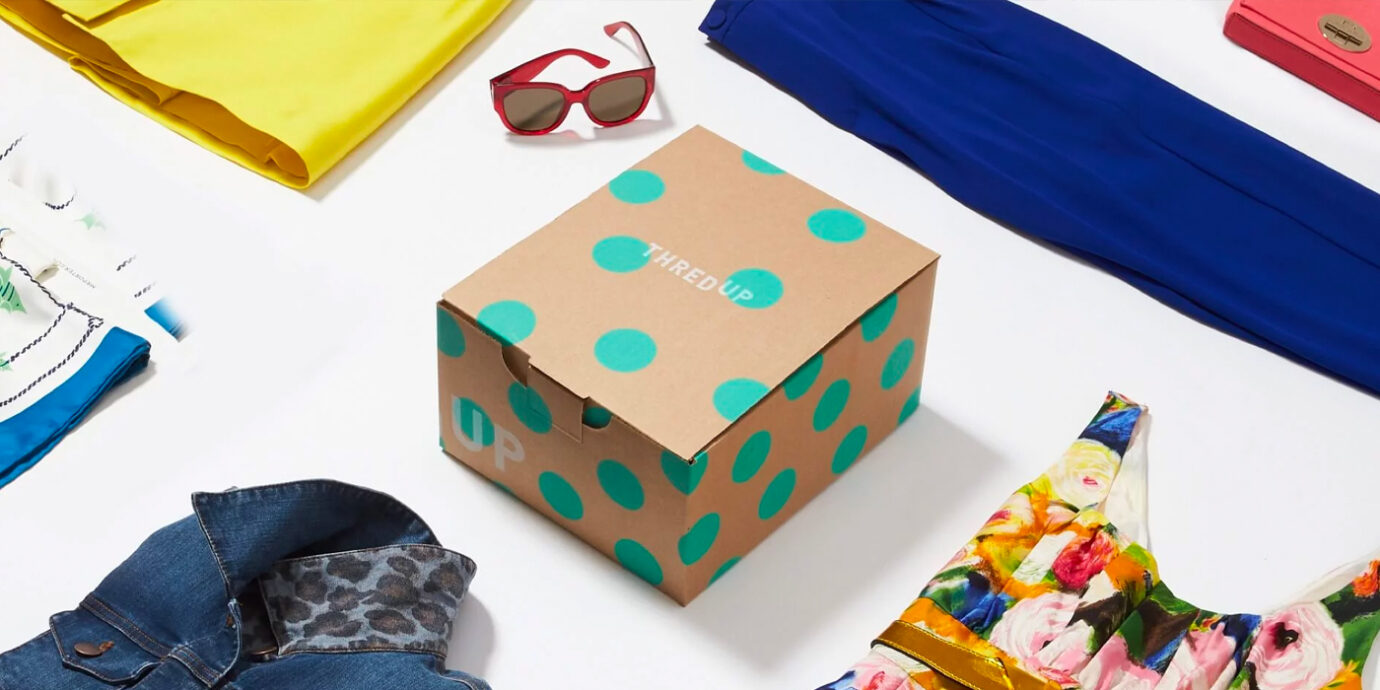 Shop
How To Shop For Your Next Trip Using ThredUp
First comes the plane ticket, then comes fantasizing about the ideal vacation wardrobe for your trip. When it's time to make affordable and eco-friendly choices for vacation shopping, consider doing it secondhand—and online. ThredUp offers smart shoppers an A-list wardrobe for up to 90% off regular retail, with more than 3 million pieces in stock from top names and designers in company-approved great condition. You can both purchase new-to-you clothing and sell your gently used pieces once you're done with them. But back to your vacation outfit shopping—we've done a deep dive into ThredUp and spoken with travel-savvy ThredUp customers, as well as the brand itself. Read on for our ThredUp review.
ThredUp Review: What Are the Pros and Cons of ThredUp?
ThredUp Pros
Sells almost everything you'd need for a vacation wardrobe upgrade, from shoes to handbags to dresses
Sells more than 35,000 brands, from well-known names to more obscure labels and designers
Women's dress sizes range from 00 to 32; women's shoes range from 4 to 12
Professional buyers evaluate consigned clothing to ensure top quality
Deep discounts for new users on their first purchase—sometimes up to 50% off!
Upcycling is more sustainable than buying a completely new wardrobe
ThredUp has six of its own brick-and-mortar stores, plus more than 120 locations at partner stores, like Madewell
Filters get really detailed with criteria like sleeve style and skirt length, making it easy to sort
Shoppers can opt in for email alerts on super-specific searches, like "J.Crew red sandals in a size 7," so they're notified the minute they're in stock
"Goody Box" stylists curate 10 pieces with pre-set themes like "Tropical Getaway," easy to top up your wardrobe before a trip
"Clean Out Kit" to mail in your old clothes for consignment—you don't have to list items yourself
You can also consign your own clothes for cold hard cash or store credit
Clothing not accepted for consignment is either responsibly recycled or returned to sender (for an additional fee)
Free shipping for orders over $79.99 and expedited shipping is available at $11.99
ThredUp Cons
Some items are non-returnable (especially clearance items during sales)
If you do make a return, items are subject to a $1.99 restocking fee
As with any pre-owned clothing, items may have stretched or shrunk—impacting the fit
Low cash returns on consigned items
Two-week wait to cash out money (earnings can be instantly used on ThredUp purchases in the meantime)
No men's section—only women and kids
Customer service has been slow to respond in the past
Shipping can take up to 10 days in the U.S., expedited shipping charged at $11.99
ThredUp Review: Pre-Vacation Shopping—Using ThredUp for Travel
Clicking on to ThredUp has all the excitement of walking into your favorite secondhand store, minus the headache of sorting through out-of-date styles or sizes you don't need. The online shopping experience is crazy easy to navigate for everything from tops, shorts, and dresses to shoes, handbags, and jewelry. At the time of publishing, you could score a red Opening Ceremony red minidress for nights out in Barcelona for $88 instead of $495 regular retail price; a Theory cardigan perfect for evening breezes on the beach for $25 instead of $275 retail; or a day-to-night Diane von Furstenberg black jumpsuit to take you from sightseeing to drinks in Biarritz for $124, instead of $528 retail.
According to ThredUp's "resale report," 56 million women bought secondhand clothing in 2018. That's up from 44 million in 2017—part of a trend that's seen resale grow 21 times faster than regular retail over the past three years. And given that 74% of millennials and Gen Zs prefer to buy from sustainably conscious brands, we have a feeling that this trend will become more and more mainstream.
ThredUp is fantastic for when you need to fill up your suitcase with items you might not wear much back home, and it's also more sustainable than heading to fast-fashion stores for a cheap sundress or tank top, since you're not buying new. (The site also sells kids' clothing if you're looking to pick up a few things for your family, too.) With more than 3 million pieces in stock, being able to get to what you want quickly is important. Need a carry on full of colorful sundresses for a Caribbean vacation? ThredUp is the place to find them affordably, easily, and without directly contributing to fast fashion. Buying secondhand is far better for the environment. The fashion industry creates more carbon emissions than the aviation industry and the textile industry is on track to make up 25% of the global carbon budget by 2050. The more that can be done to extend the wear of perfectly good clothing and keep it away from landfills, the better.
ThredUp is also a little-known shopping secret for travel pros. "For me, heading into a vintage store is super overwhelming, so I like the idea of being able to filter/sort/etc to get closer to what I want," says Eileen Cho, a travel writer and photographer based in Paris. She used ThredUp to get some great deals before traveling. "I am obsessed with shopping secondhand, always have been," she says. "I only shop for super-cool one-of-a-kind vintage pieces, secondhand designer, or new-with-tag items I missed."
There are other ways to sort on ThredUp, too: by discount, brand, trending categories, influencer picks, and curated collections like, "The Temp Drop Shop," and "Luxe Loves." Or leave it in a stylist's hands and select from one of the company's Goody Boxes, which (for a $10 deposit) curate clothes per your size and tastes around specific themes, like "Tropical Getaway"—making a vacation wardrobe top-up as simple as can be. You can also save your favorite pieces in the "dressing room," making it easy to see how different pieces will combine into outfits (and makes packing a bit more efficient).
Safe to say, it's way easier to find something that you want online than it is to stare down racks on racks of jumbled clothing (some, perhaps, of dubious quality) at a thrift store. "My favorite parts [of shopping ThredUp] are the overall prices of clothes and the ease of searching for different categories—specifically, brand, price range, clothing, type, and sizes," says Helen Long, a PhD student at the University of Memphis. "I primarily like to search within my favorite brands only, and can narrow down items from there." Plus, using toggle-on features like "My Sizes" lets you always display results that feature only clothing in your size—making it easy to see what's available as soon as the page loads—and Cho likes being able to set alerts, which send notifications when styles or designers you're looking for in your size come in.
For Long, who shops at ThredUp almost exclusively, the site has another huge advantage: "Honestly, the pricing," she says. "As a PhD student and part-time speech pathologist who needs business casual clothes on a very meager income while I'm in school, my money stretches really far for high-quality, good brand items with ThredUp versus anywhere else."
One tip for vacation shopping? Make your purchases with plenty of time to spare—it's not ideal for a last-minute shop unless you pay for expedited shipping. The website states that fulfillment and shipping to the continental US can take up to 10 days from the order being placed; beyond that, it can take up to six weeks. There's also the option to purchase two-day expedited shipping for $11.99. If you only have little bits of time to do your vacation shopping, you can also use their "Buy & Bundle" feature to send multiple orders over a seven-day period in one shipment, which makes it easier to hit the $79 free-shipping mark and reduces your footprint by shipping once instead of a few times.
Cho used ThredUp to purchase Yohji Yamamoto and Jacquemus dresses for an upcoming vacation, and she says the order took over a week to show up, arriving the day before her flight to Hawaii. Cho's order on ThredUp came right before a vacation, but it wasn't quite a success. The sizing on both pieces didn't work out, so Cho wound up passing the clothes on to her mom— because, she says she had a frustrating time getting a response from customer service and eventually gave up on returning the dresses. When her experiences were brought to ThredUp's attention, a representative for the company told What to Pack that ThredUp is updating their customer service practices.
ThredUp Review: A Word on ThredUp Sizing
Any woman who's ever shopped knows that sizing discrepancies between designers can make finding the right size online as easy as a blindfolded game of darts. And while ThredUp has built-in tools and filters aimed at making finding the right size more probable, you're never going to know until you actually try it on. Long says she's usually one of two sizes and tends to stick with Ann Taylor brands, where she's sure of her sizing. So far, she's found a jean jacket and blazer that "both fit perfectly", as well as brand-new dresses for work and some cozy sweaters. "I usually "bulk" order once or twice a year so I can get the free shipping over $79," she says. "I can get over 10 items for around $80 for quality brands."
But pay attention if you're ordering an item that's marked as non-returnable—sometimes found in the clearance sections of sales. "Shopping the clearance section during a sale can get me a ton of clothes for a small price, but most aren't returnable so I'm stuck with what I ordered," Long says. "Like I said, since I'm usually only ordering from brands I know exactly what size I am, it's rarely an issue. I know the risks when I'm ordering something I'm really attracted to but don't know the brand."
Of course, this isn't just ThredUp—plenty of online retailers, like Shopbop and Need Supply, tend to put mega markdowns on final sale. But if you're confident of your size in a given brand, it can be a great way to get an incredible deal on a top or dress you'll only wear on vacation.
ThredUp Review: After the Vacay, Consigning on ThredUp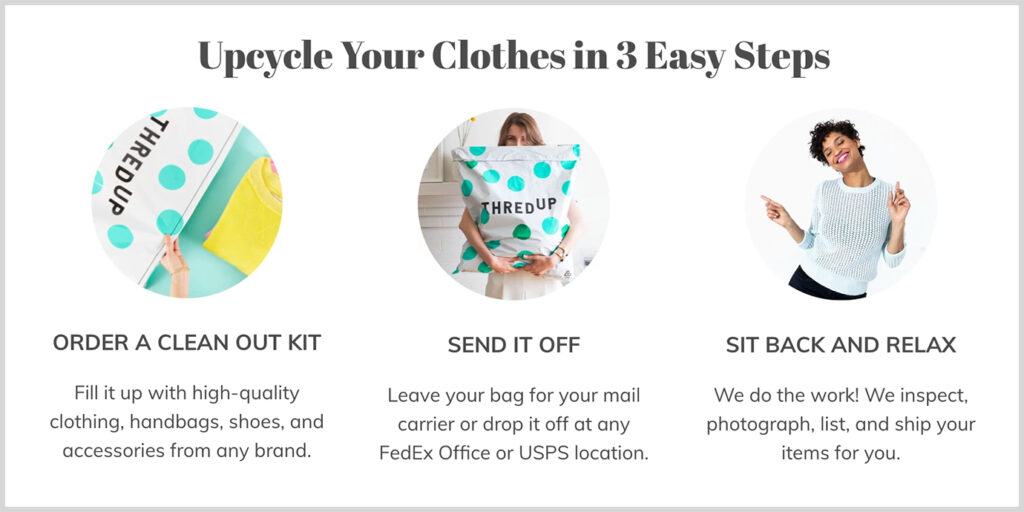 After the vacation, consider selling back some pieces you might not wear again, and earn money for your next vacation (or shopping spree). ThredUp has upcycled more than 100 million pieces to date and sees itself as a way to help people with clothing rotation in their closets instead of a way for people to accumulate clothing they might not necessarily need. Consigning with ThredUp is super easy. The company sends out a "Clean Out Box" that you simply fill up and mail back in. Once the kit arrives at HQ, ThredUp takes care of photographing the contents, listing each item, and handling the transaction. However, like other consigners (think Plato's Closet or Buffalo Exchange), the payout can be much smaller than you might expect—and there's no guarantee that they'll take everything you send in. In fact, ThredUp typically accepts less than 40% of the items sent in.
Once an item is listed on the site, the seller (you) has a 12-hour editing window to adjust the price on their item before it's open for bidding for 12 hours, during which time the price can't be changed. After that, depending on the brand of the item, there's either 60 days (for mall brands) or 90 days (for designer items) for it to be sold. If an item is rejected for listing from the start, the seller (again: you) have to pay an additional fee to have it returned to you. Exception: high-end "luxe" items are returned for free. According to ThredUp, items sent in without the Return Assurance that are in good condition but not suitable for the site are either sold to third-party sellers or included in the Rescue boxes part of the site. Anything not in good condition is passed to textile recycling partners.
A piece that lists on the site between $20 and $49.99 pays out between 15% and 30% of the final selling price. The pricier the item, the more of a payout you get. Per the payout table, a pair of Old Navy jeans listed at $11 might pay out at 55 cents (5% of the listing price). Meanwhile, a Gucci handbag that lists at $358.55 might pay out $286.84, or 80% of the listed price.
Sellers can also choose a partner business, like Reformation, to convert earnings from consignment into store credit to use while you shop there instead. So if you're saving up for a just-out-of-reach item at a pricier store, like a Reformation dress for a destination wedding, you can use your ThredUp consignment earnings to chip away at its price tag.
ThredUp accepts more than 35,000 brands; check out the site's "Brands We Accept" page for a full list by name. One FAQ page recommends that sellers should send in pieces that are on-trend and "fitting for the current and upcoming seasons." Other ways to increase the chances of selling? Make sure items are new or in like-new condition and freshly laundered. However, what can be a pain for sellers—the strict quality standards and low payouts—are part of what making buying on ThredUp such a good experience for the buyer, something Long's happy to admit. "I'd rather they only have high-quality items to offer when I'm shopping than have to sift through a lot of crap."
Finally: Is ThredUp Worth It?
If you're looking for fun new items for your Instagram #vacaypics (gotta keep it fresh!) without spending a bundle, ThredUp is a great and eco-friendly shopping option. Likewise, if you're ready to purge your closet, ThredUp's consignment feature is an excellent way to go, though the return amount might not be as high as you'd like. It's definitely worth checking out pre-trip if you have a decent amount of time before you take off—chances are your perfect vacation piece is already on the site.
Related Stories
All products have been hand-picked by our writers and editors. Items purchased through links may earn us a commission.