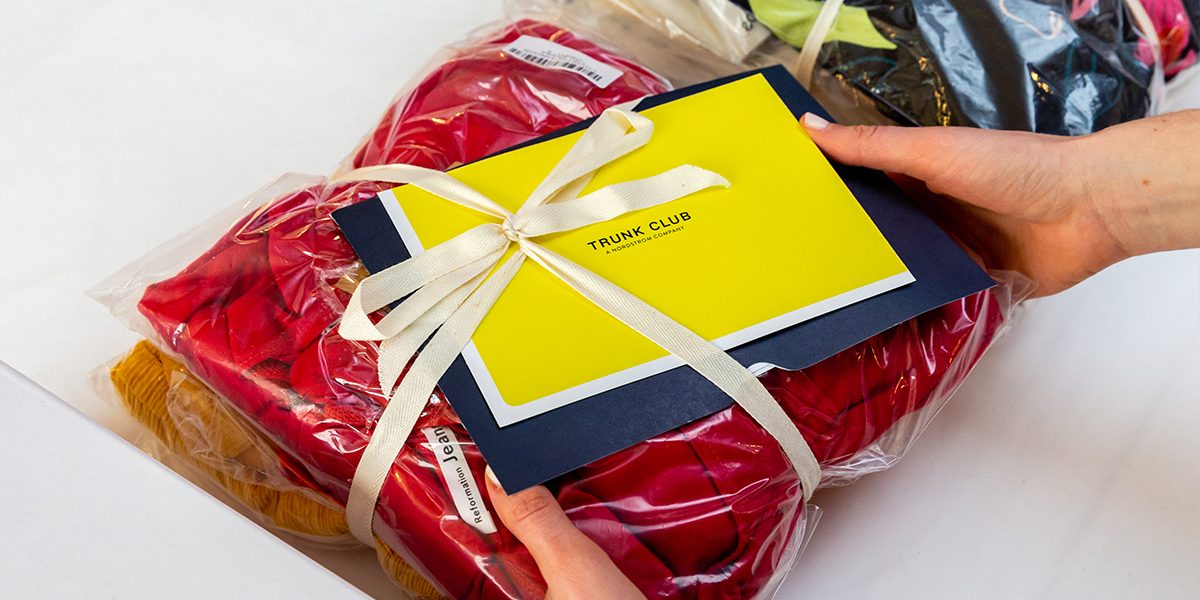 Shop
How to Shop for Your Next Trip Using Trunk Club
Your flight is confirmed. Your hotel is booked. Your Google Maps app is loaded with pins for places to eat, drink, shop, and see. You're going on vacation! Now is the time to consider buying a few new items so you don't look like a total tourist in London. Or maybe you want some fun, bright new pieces—perfect for your #wanderlust Instagram posts—for that getaway to Punta Cana. Enter: Trunk Club, a personalized styling service backed by Nordstrom that sends boxes ("trunks") filled with clothes, shoes, and accessories straight to your home. What you like, you keep; what you don't like, you send back. It's billed as an easy, hands-off way to up your vacation style or revamp your existing wardrobe. Here's what happened when one editor ordered a trunk and put it to the test. 
—————————————
What's Covered
—————————————
Trunk Club Review: What Are the Pros and Cons of Trunk Club?

Trunk Club Pros
Enormous range of clothing, shoe, jewelry, and accessory inventory (powered by Nordstrom)

Both one-off and recurring trunks are available on request

No sign-up fee,

free shipping and returns (including free pick-ups), and free alterations at Nordstrom stores

Free to switch stylists, or to pause or deactivate your account at any time

Top brands, like Madewell, Theory, Splendid, Rag & Bone, and J.Crew

Easy communication between stylist and client (via online messaging or phone)

Great for discovering new brands you may never try otherwise

Specific items can be requested (e.g. event outfits)

Stylists send you a fun preview email before sending your trunk

Store locations in NYC, Dallas, Chicago, Boston, D.C., and L.A., with free in-person consultations (and drinks!)
Trunk Club Cons
Items tend to be on the pricier side; trunks add up quick

Lots of plastic packaging (typical for online orders)

Trunk Club Clubhouses are only in certain cities, and its on-site inventory is pricey (items generally start at $175)

No function for submitting photo of yourself, no exact measurements taken

Limited maternity inventory; no styling service for kids

In women's trunks, two-piece swimsuits count as two items

Inconsistent sizing can be an issue (in part, due to sizing differences between brands or cuts)
Frequently Asked Questions About Trunk Club
What Is Trunk Club?
Trunk Club is a styling service that sends wardrobe "trunks" to your home—typically six to 10 pieces for men, up to 15 for women. Once you've tried everything on and thought it through, you simply keep what you want—you don't have to keep everything in the trunk. Pop the items you don't want back in the box, and arrange to have it picked up for free. You can also drop your trunk off at any UPS location or Nordstrom store.
It's great for new ideas and brand discovery. I initially signed up because I was getting bored by my own picks, and impatient with myself for ordering the same things (skinny jeans, chunky sweaters) over and over again. Shopping IRL felt like a drag and I was in a style rut.
Trunk Club Pricing: How Much Is Trunk Club?
Trunk Club is free to sign up for, and each trunk comes with a $25 styling fee (the fee is waived for Nordstrom credit card holders). However, that amount is credited back to you if you end up keeping something.
As for the clothes themselves, when you initially sign up, you take a questionnaire that includes your budget. You select a price range for how much you typically spend on items like shoes, tops, handbags, etc. Because Trunk Club is pulling from Nordstrom inventory, the items tend to be a little more high-end than what you'll find in a Stitch Fix box. With that said, I've been sent everything from a $68 pair of plaid pants by Wit & Wisdom (a brand I'd never heard of) to a $498 Madewell moto jacket (pass). You can always adjust your budget along the way, and make it clear in your feedback that something was too expensive. Still, expect items to be on the pricier side. Trunk Club isn't the place to find deals.
Trunk Club offers a $50 credit if you make a referral and the person you referred makes a purchase greater than $50.
How Do You Cancel Trunk Club?
You can cancel your account anytime—just deactivate it on the site or app. You can also change the frequency of your trunks anytime, or adjust the delivery schedule—which is great if you're planning a trip and need the items before you leave.
Is Men's Trunk Club Available? What About Kids?
Trunk Club actually began as a personalized styling service for men, and didn't launch their service for women until six years later, after being acquired by Nordstrom in 2014. Popular Trunk Club men's brands include The Rail, Levi's, Mizzen+Main, Theory, and Bonobos. Unlike Stitch Fix, Trunk Club does not offer styling service for kids.
Does Trunk Club Have Maternity Clothes?
Trunk Club offers themed trunks, such as "The Manager Trunk" and the somewhat awkwardly named "The Activewear Refresh Trunk," so "The Maternity Box" seems like a no-brainer. However, the service does not currently offer a dedicated maternity trunk due to stock issues, but stylists will send "maternity-friendly" items if requested.
What's the Size Range?
For regular sizing, shirts are available between XXS and XXXL, pants and dresses between 00 and 20, and jeans up to size 34. For petite sizing, tops are available between XXS and XXL, pants and dresses between 00P and 16P, and jeans up to size 32P. For plus-sizes, tops are available up to size 4X and pants and dresses between 12W and 28W.
How Does Trunk Club Work?
Trunk Club works by asking new members a series of questions—how do you dress on a typical weekday? What colors or patterns do you dislike? What brands do you typically shop?—to give a sense of your style. You're then paired with a stylist, who will reach out over Trunk Club's messaging platform (free phone calls are also available) to ask about any personal concerns you may have or if you're looking for something specific. For example, I made it clear over text that I don't like anything too clingy, and that I was on a mission to find a leather or faux-leather jacket with minimal hardware bells and whistles (like this Joie jacket, the one that got away).
People in certain cities have the option of visiting Trunk Club "Clubhouses" (brick-and-mortar locations), but most opt to have a trunk filled with stylist-selected items sent to their home. When the trunk arrives, you try on all the pieces at home—truly a huge pro over trying stuff on in a small dressing room. Plus, you can see how items work with your preexisting wardrobe. (Our suggestion: crank David Bowie's "Fashion" and make it a party.) Keep what you want, and put returns back into the trunk. When you're ready, you digitally check out, get charged for the items you're keeping (Trunk Club will email your receipt), and arrange to return the trunk. This can be done by a free pickup or by dropping the trunk off at a UPS or Nordstrom location; trunks have useful handles on top, so carrying them isn't super-awkward.
It's a similar concept to Stitch Fix, but one key difference is you can get a one-time box (versus an ongoing subscription). You can also have them delivered every one, two, or three months. You can easily change the delivery window based on your schedule. For example, if you book a last-minute trip to the Caribbean, you can have the trunk delivered and picked up before you take off—now, with a new swimsuit and straw sun hat in tow.
Is There a Sign-Up Fee for Trunk Club?
No. There is no sign-up fee, and shipping (delivery and returns), appointments with real-life stylists (in certain cities), and basic alterations at Nordstrom stores are all free. Each trunk comes with a $25 styling fee, but that's credited back to you if you make a purchase from the trunk.
How Do You Take the "Style Quiz"?
Upon signing up, the site launches a style quiz to better understand your preferences and taste. The questionnaire starts with a slideshow of outfit ideas—Coachella-ready bohemian, legal-firm-appropriate workwear—and asks "Do you like this style?" By answering yes or no, you're giving the stylist an idea of what you like and what you're looking for. It continues with more detailed questions: "What jewelry tones do you prefer to wear?" and "Are there any body parts you like to conceal?" (Good question! We wish they'd also asked, "Are there any body parts you like to show off?"). Your budget range, favorite brands, sizing (pants, shirts, dresses, shoes, bra band/cup for women), weight, height, and age range are all covered.
How Do You Request a Trunk?
At the end of the quiz, you can specify how often you want the trunks sent to you—one time, or every one, two, or three months (you can also decide or adjust your frequency later). Then you provide your name, zip code, mobile phone number, and email, and create a Trunk Club password. You're in! From there, your stylist will message you to find out if you want anything specific. Or you can message your stylist whenever you're ready for your first trunk, and the stylist will take it from there.
How Does the Stylist Curate Your Trunk and How Long Does It Take?
The stylist reviews your quiz and any special requests you have made—e.g. "I've been looking for the perfect jean jacket for forever," "I'm going to Barcelona for five days and don't want to look like a tourist." You can also give your stylist access to your Pinterest boards to help him or her understand what you like. Once your assigned stylist has gone through your quiz, talked to you about any special requests, and/or perused your Pinterest, he or she pulls together a curated collection of clothes (and possibly shoes and accessories) to be sent to your door.
Will I Know What's In the Trunk?
You'll see an email from your stylist previewing every item in your trunk, along with its price. If something doesn't seem like it'll work out, you can request an alternate size or color, or remove the item altogether. If you mark an item as "Don't send," you can either have a new option replace it or just have the trunk sent out with one item less. (You can also leave specific feedback about these picks at this time.) Note: You must preview and confirm your trunk within 48 hours or it won't ship out.
When Is Your Trunk Delivered?
After you've reviewed your preview email, made any changes, and confirmed, trunks usually ship out within two days. You'll receive a "Your trunk has shipped" email with a tracking number. The shipment typically takes five days; upon delivery, you'll get a "Your trunk has arrived" email where you can see outfit suggestions from the stylist (if only this looked as cool as Cher's software on "Clueless"), give feedback, start the checkout process, and schedule your at-home or office pickup. You can also see all of this in the app or on trunkclub.com.
What Happens Once the Trunk Is Delivered?
Try everything on—if you're new to the world of online styling services (like me), you'll be amazed at how wonderful it is to try on clothes at home. You're moving at your own pace, in your own space. Not being confined to a dressing room means you can really move around in the clothes (sitting, crossing your legs, doing a runway walk) and pairing it with clothes you already own to see how it will actually work as part of your wardrobe. Plus, no people waiting to go in after you or godawful florescent lighting. A big downside though is that every item is individually wrapped in plastic. Trunks include an itemized list detailing the brand, style name, size, color, and price of everything inside—but there is no grand total (sneaky, sneaky).
How Do You Check Out and Send Things Back?
You get five days to try on everything inside the trunk. Once you've determined what, if anything, you want to keep, simply hold on to it and pack everything else back in the trunk. Seal the box with two pieces of tape and apply the return label to the top (both the tape and the return label are provided). Start the digital checkout process on the website or app (you can also pull up your "Your trunk has arrived" email and start the checkout process there). You'll go through your list of trunk pieces—checking to see if any prices have dropped—and mark each as "Keep," "Return," or "Exchange." If returning, tell the stylist why so he or she can incorporate that feedback in future trunks.
Once you submit the checkout form, your card will be charged. Now's the time to schedule your free pickup, again either through the app, site, or "Your trunk has arrived" email. UPS will come to your home or office between 10 a.m.-6 p.m. on a day of your choosing. Alternatively, bring the trunk to a UPS or Nordstrom.
Can You Exchange Sizes on Trunk Club?
If you find a winner but want it in a different size or color, tap "Exchange" in the checkout form. Pack the item in the trunk and your stylist will send you another one in the correct size or shade.
Can You Return Trunks to Nordstrom Rack locations?
While you can drop off your trunk with a UPS or Nordstrom store, you cannot return it to a Nordstrom Rack.
Trunk Club vs. Stitch Fix: How Do These Compare?
The big difference between Stitch Fix and Trunk Club is that with the latter, you can sign up for a one-off trunk—say before a bachelor/bachelorette weekend in Miami, a wedding in the Catskills, or a week in Playa del Carmen. But you can also sign up for recurring trunks that are sent to you every one to three months (or some other cadence). You can adjust the frequency, pause, or cancel your account at any point.
It's worth noting, too, that Stitch Fix offers kids' boxes and maternity clothes, but Trunk Club does not.
Another key difference is the brands on hand. While Stitch Fix sends mid-range, boutique-y brands, Trunk Club pulls from Nordstrom's vast inventory and focuses on high-end brands like 7 For All Mankind, Barbour, and Treasure & Bond (Nordstrom's house brand). Slightly more affordable brands could include Row A, Free People, BP., and All in Favor, however it's worth mentioning that Trunk Club is generally more expensive than Stitch Fix. This goes double for Trunk Club's brick-and-mortar clubhouses, where pieces usually start at around $175. And while these shops are expensive and only in certain cities, they're another feature that sets Trunk Club apart from Stitch Fix, which doesn't have a storefront element.
Finally, Trunk Club items are all individually wrapped in plastic, while Stitch Fix items are bundled in paper.
What Are the Trunk Club Clubhouses Like?
Trunk Club has store locations in New York City, Dallas, Chicago, Boston, Washington, D.C., and Los Angeles, where you can schedule in-person consultations with a stylist for free. I went to the one in New York, located within the Lotte New York Palace Hotel in Midtown East. My stylist led me to our private fitting room, which was actually an enormous suite on the third floor, overlooking Madison Avenue and St. Patrick's Cathedral. This being the Palace Hotel, the room was fitted with parquet floors, picture-paneled walls, and a marble fireplace. Each fitting room was styled by a different brand; I was in the Zachary Prell, which had a very masculine vibe with black walls, a smoked-glass chandelier, and club seating. It felt like a place for bespoke suit fittings.
After talking about my clothing needs, the stylist went off to gather selections from their inventory and returned with a rolling rack filled with dresses, tops, pants, shoes, bags, and a hat. (I was borderline offended by the $645 poppy red Reiss blazer, which was laughably outside of my budget, which we had just discussed.) The try-on experience was a little awkward but also kind of ritzy, with piped-in Phantagram and TC employees checking in to see if I needed a drink. And I did discover some great stuff. As much as I wanted to take home the Rag & Bone ankle pants and FRAME raw-hem jeans (total: $545), I left with a Free People striped tee that seems perfect for my April trips to San Francisco and Sicily.
Our Trunk Club Review for Travel
How I Made My Request
To test out how Trunk Club works for vacation prep, I requested a trunk (via the app) for a one-week trip to Cancun. That very day, my stylist (let's call her Erin) sent me a preview email detailing her 12 picks. I looked over the lineup, made a few product swaps, and the trunk was delivered five days later. And I have to say, she pretty much killed it with the picks for Cancun…
What Came in My Trunk

BP. Linen Blend Camisole Top, $35
This button-up cami was a shoo-in. I can picture it with drawstring linen shorts and a straw hat when exploring the Chichen Itza ruins or taking a catamaran to Isla Mujeres. And back in my normal NYC life, I can pair it with black jeans for a night in a bar's back garden or with a cream-colored cable-knit cardigan come fall.

All in Favor Textured Jumpsuit, $55
Erin really nailed a one-and-done, made-for-Mexico look with this marigold-hued jumpsuit. This piece is vibrant, versatile, and can go from day to night. And the price is right! I could see wearing it on the beach as a cover-up or while trinket-shopping at Mercado Coral Negro. For sunset cocktails by the pool, I'd add dangly woven earrings and sexy wedge platforms. Hitting Cancun's salsa clubs? I'd top it off with some deep red lipstick and gold bangles.

Joe's Ozzie Cutoff Denim Shorts, $98
Cute! And this is coming from someone who hasn't worn a pair of shorts in, oh, years. Since I kept a pair of Joe's Jeans in the same size from a previous trunk, I assumed that these would fit just as well. Instead, they were too big in the waist by more than an inch. This is a Joe's problem, not a Trunk Club problem, but still. In theory, though, these would work for the trip.

French Connection Whisper Light Sheath Minidress, $148
This one felt like a miss on many counts: It was ill-fitting and far from the personal style I've tried to establish with Erin. Plus, its prim material and cut don't exactly scream "Cancun." I can't think of a single Cancun activity that this dress would work for.

L Space Rebel Bikini Top, $88
A home run. Had the bottoms fit and were both pieces priced a little lower, my eternal Search for the Perfect Swimsuit would have come to a close at long last.

L Space Cali High Waist Bikini Bottoms, $99
I honestly loved this pair of bikini bottoms—the high cut, the retro tropical print, and the dreamy colors—but it was way too tight on my butt.

CAARA Presna Wide Leg Jumpsuit, $148
Kudos to Erin for sending a white jumpsuit three weeks before Wyatt Mitchell walked onto the Apple stage as a design executive and walked off a fashion legend. Out of the box, this looked like a big, square dud. I totally changed my tune though once I put it on. The belted waist pulled the outfit together, and the overall look was surprisingly flattering and comfy. The thick material felt sturdy enough to merit the $148 price tag, but also a tad too heavy for the tropics.

Elan Crochet Insert Cover-Up Dress, $54
Whether you're going to Cancun, Thailand, or the Jersey Shore, this is what you'd call a "sure thing." I love the crochet peek-a-boo panels and the white, light, linen-like fabric. I returned it, but I'm sort of regretting that decision.

Billabong Marbella Dreams Ruffle Bodysuit, $34.95
Considering my Trunk Club style profile and order history, this thong-ish bodysuit was definitely the wild card of the bunch. I was dismissive of it at first, but I tried it on with the white shorts, and I must say it made one hell of a sassy boardwalk outfit. I couldn't get past the thong, but it did inspire me to order a more practical black bodysuit that I can wear year round here in NYC.

REFORMATION Lou Midi Dress, $118
This is beautiful in pictures but kind of a mess in reality. The material is an incredibly thick and heavy jersey, which, combined with the long sleeves and high back, made me feel swampy and uncomfortable just thinking about wearing it in sweltering Cancun. It was almost unbearable to try on in NYC in March. Plus the swingy midi skirt totally overpowered my 5'2" frame.

Leith Floral Print Maxi Dress, $79
Like the REFORMATION dress, this was a lot of look for my 5'2" self: long sleeves, maxi skirt, dramatic print. That aside, how perfect is this for a beach dinner at sunset?

Rebecca Minkoff Calanthe Slide Sandals, $157.95
Obsessed. These are more comfortable than any slide-on strappy sandal has a right to be (thank you, block heel and weirdly grippy straps). Seriously, I could wear these all over Cancun or New York and it would feel like wearing years-old Birkenstock's. I didn't keep them because the price tag felt high for a white shoe that I would inevitably destroy, but let me tell you—that was a mistake. They're now on my Nordstrom wish list, where I check in on them daily (hourly, if I'm being honest). The second they go on sale, they're mine.
What Did I Keep and What Did I Send Back?

More worked for me in this trunk than didn't; the only thing that held me back from keeping everything I liked was my budget. The blue button-front camisole and yellow jumpsuit made the cut, mostly because I could easily incorporate them into my non-vacation wardrobe.
Merchandise total: $90
Credit (styling fee): $25
My total: $65
Finally: Is Trunk Club Worth It?

All in all, I think Trunk Club is 100 percent worth it—especially if you're using it to shop for an upcoming trip. There's already so much that goes into vacation planning—destination research, pre-paying bills, arranging for pet care or a housesitter—the list is long; so using a styling service like Trunk Club is a slam-dunk way to streamline the prep process. It could be a shortcut to finding a new pair of polarized sunglasses or comfortable walking shoes for sightseeing. And if you're sent a few items that shake up or improve your day-to-day wardrobe, that's just icing on the cake.
Related Stories
All products have been hand-picked by our writers and editors. Items purchased through links may earn us a commission.