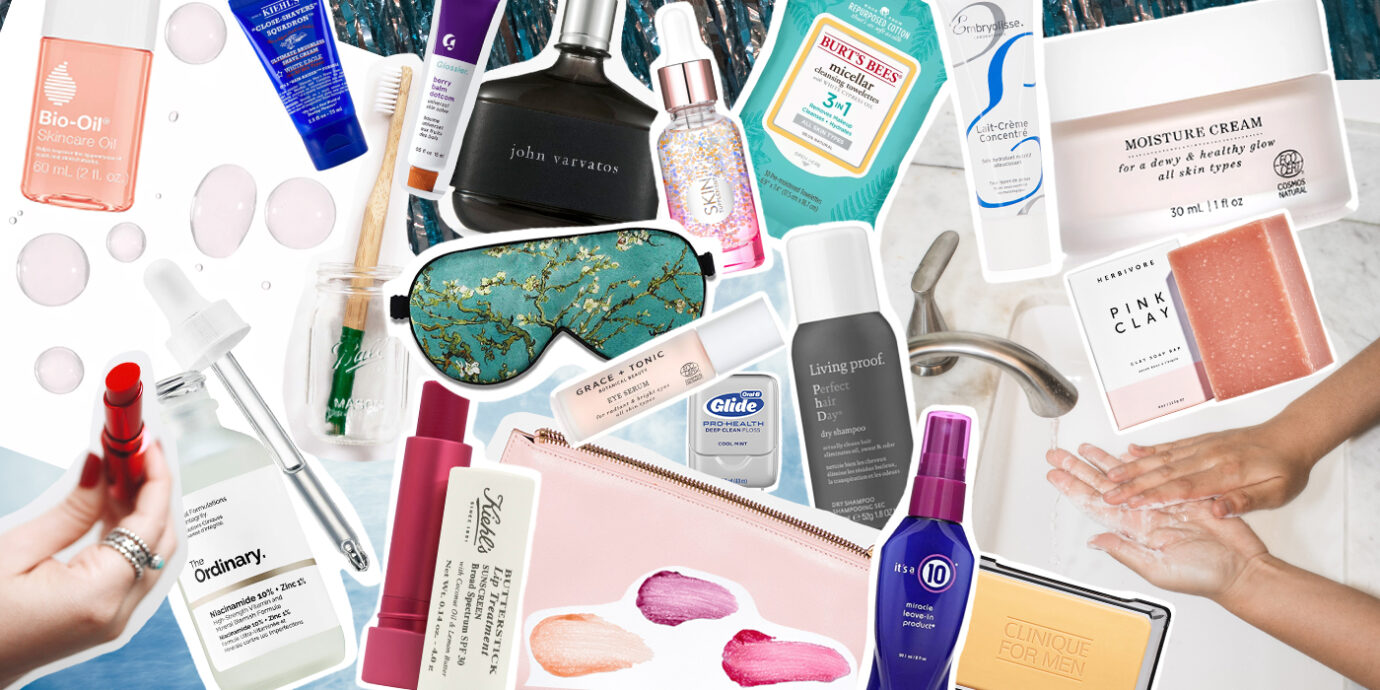 Shop
The Very Best Toiletries and Beauty Items, According to Travel Editors
Whittling down your entire medicine cabinet to one quart-sized toiletry bag can be painful. All your lotions and potions get pulled out and evaluated with several questions in mind: Is this a must-have item? Will this travel well? For some of us, this process can take even longer than sorting through our clothes or gear. That's why it can help to take inspiration from travel experts who hit the road on the regular and have this process down to a science. They know the tried-and-true essentials, and they can eyeball all the serums, the dry shampoos, the face mists and know immediately what's worth packing and what's dopp-kit clutter. Read on for their essentials to add to your own toiletry game-plan.
Megan Wood, Editor at What to Pack
"My toiletry kit needs to be practical, since I pack light and rarely check a bag. Clean teeth are a must, so I love Quip's toothbrush, which is designed for travel (no wires, no charging base). I've tried dozens of dry shampoos, and Living Proof Perfect Hair Day Dry Shampoo is the only one that lets me skip hair washing—it's a time-saver in a bottle. Traditional hand sanitizers can be drying, so I always pack lavender-scented EO Hand Sanitizer Spray, which is made from essential oils, so it feels good and smells even better. I sing Colorescience Sunforgettable's praises every chance I get. There's nothing else on the market with the same level of sun protection and portability. For face wash, I pack Burt's Bees Micellar Cleansing Towelettes. And Wet Brush Minis are small enough to fit in my purse, and dependable enough that I don't need to pack additional brushes or combs."
Tyler Schoeber, Production Specialist at What to Pack
"I'm a minimalist when it comes to travel—aside from a few key items. I always have to bring along my The Body Shop Tea Tree Face Wash and The Ordinary Niacinamide 10% to keep breakouts at bay. I pride myself on smelling good even on the road, so I keep Old Spice Fiji deodorant and some of my favorite cologne in my backpack. (Fun fact: Regular sized deodorant is under 3.4 oz, so you're good to go with whatever is stocked in your medicine cabinet.) I also tend to spend one of my nights exploring the local club/bar scene on my travels, but I never want to ruin the next day with a hangover. Advil liquid gels (they have to be the liquid gels) are my go-to after a night of fun along with a dot of Tiger Balm. This combo gets me out of the hotel the next morning and back to exploring."
Liz Allocca, Senior Photo Editor at What to Pack
"My skin is extremely finicky, so I try to maintain my normal skincare routine on the road. Hydration is key, and Embryolisse Lait-Crème Concentre combined with a few drops of Bio-Oil is the best solution I've found. The lait-crème feels much more expensive than it is, and the Bio-Oil adds an extra moisture boost. For makeup, I keep it simple with W3LL People's Bio Tint Multi-Action Moisturizer, which provides light, dewy coverage. Plus, it comes with SPF 30. To take it all off at the end of the day, I use Herbivore Pink Clay Soap along with Desert Essence Tea Tree Oil Cleaning Pads, which are gentle but effective. A sleep mask is also a must-have for me—beauty sleep is a real thing! This mask from Alaska Bear has become my go-to because it's soft, comfortable, and super affordable."
Kyle Valenta, Executive Editor at Oyster.com
"While I like to consider myself low maintenance, I do have some essential toiletries that come with me on every trip. I tend to breakout with products that are too perfumed, so I always pack my own face wash, like Clinique for Men's Face Soap. But I'm not completely averse to scents, and my John Varvatos cologne is conveniently sized for the TSA. It's a rare hotel that provides shaving cream, so it's crucial to add that to your toiletry bag, too. I like this travel-size one by Kiehl's. Other than that, I go back to the basics: mouthwash and toothpaste for freshening up before long-haul flights land, Zicam to ward off germs from the sneezing and coughing passengers on board, and Howard Leight foam earplugs in case my hotel room (or the plane) is less than quiet."
Anne Olivia Bauso, Editor at What to Pack
"When I'm at home, I mix and match Skin Inc.'s collagen, hyaluronic, and vitamin C serums, but on the road, I'll pack the brand's multitasking (and beautiful!) Uplift serum, which combines all three, plus extra antioxidants. Lately, I've been blown away by the green beauty products at Target, where I couldn't resist this roll-on eye serum by Grace + Tonic. When I travel, I put it in the hotel mini-fridge so it's extra soothing on my puffy, jet-lagged eyes. The brand's moisture cream is now one of my winter regulars, too. I top everything off with this amazing Biore sunscreen that I found in Japan (don't worry, it's on Amazon!), which has has an airy, jelly texture. This tinted Kiehl's Butterstick Lip Treatment also provides some UV lip protection that I can put on without a mirror. Finally, I keep my vacation blowouts fresh as long as possible with Amika's non-chalky Perk Up dry shampoo, which leaves my hair yummy-smelling and soft."
Maria Teresa Hart, Executive Editor at What to Pack
"Allow me to preach the gospel of sunscreen. I'm religious about wearing it in all destinations—sunny, rainy, Disney. I swear by Purito sunscreen, which has advanced UV blockers from Asia. I'll layer Paula's Choice vitamin C Super Booster under that for extra free-radical protection. And I use this gentle CeraVe Cleanser to wash it all away. Getting off my sunscreen soapbox, lip balm is a must for me, since airplanes are so dry, and Glossier's Balm Dotcom keeps me from suffering through chapped, cracked lips. I'm also devoted to this leave-in conditioner, It's a 10, that helps my hair hold up to the brutal heat of hotel hairdryers. And I'm a snob about dental floss, only the ribbon-kind will do. I always pack Glide by Oral B. Hey, anything that gets you to floss deserves space in your suitcase!"
Related Stories
All products have been hand-picked by our writers and editors. Items purchased through links may earn us a commission.