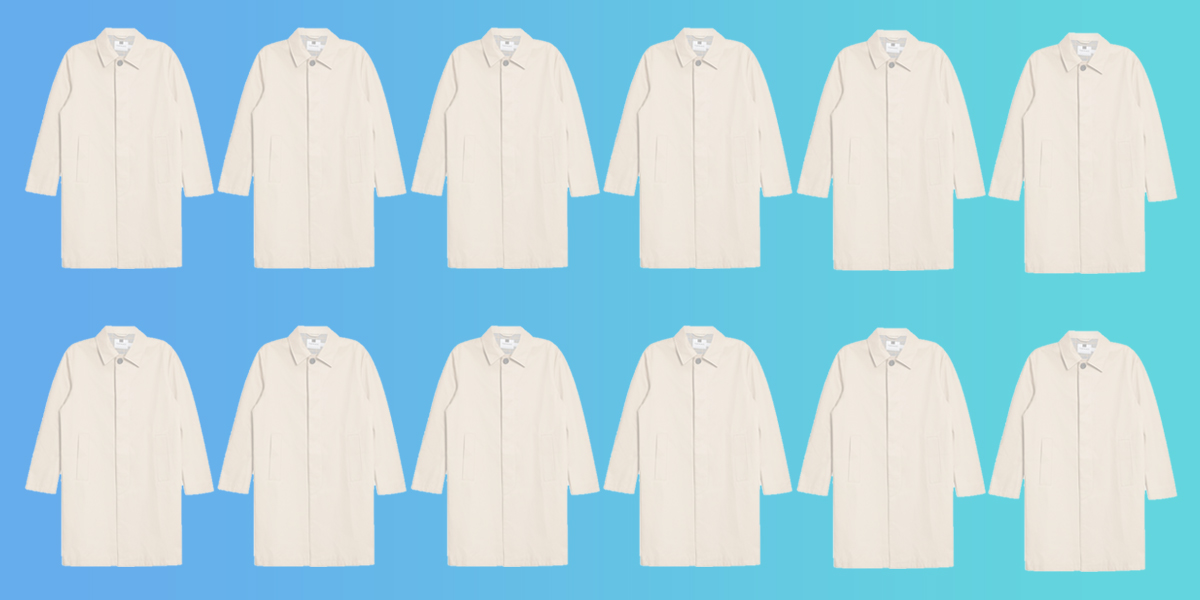 Shop
The Ultimate Coat Glossary
Nothing—we repeat, nothing—pulls together an outfit like a coat. From tailored blazers and crisp trenches to edgy leather bombers and Kendall Jenner-worthy puffers, a coat adds the final layer of polish to any ensemble. No matter what you've got going on underneath—jeans and a tee, leggings and your eighth-grade soccer jersey—the right coat can make the whole thing come together in an instant. Of course, one way to justify a closet-bursting collection is to know the best time to put each to use. Below, our guide to every coat you could possibly own—and how to wear them.
Bomber

The bomber jacket—or flight jacket—has its origins in military apparel (picture Tom Cruise in "Top Gun"). Nowadays, you can spot them on just about every street corner. After being co-opted by counterculture groups throughout the '70s, '80s, and '90s, the style took a turn toward the universally trendy thanks to Kanye West and other popular hip-hop artists who sported them in the mid-aughts. The trademarks of the design are typically a zippered front, elastic waistband, and cuffed wrists. While they were originally made of leather, you can now find varieties in just about any material including wool, satin, fleece, polyester, and nylon. Pair it with a T-shirt, jeans, and stylish sneakers for an elevated casual look.
Our Women's Pick: Everlane The Bomber Jacket
Our Men's Pick: Alpha Industries Slim-Fit Bomber
Teddy Coat

Teddy coats aren't everyone's cup of tea, but they're basically office-appropriate bathrobes, so we're 100 percent on board. Not quite faux shearling but also not faux fur, teddy coats really do take after the bears for which they're named. Though they came about in post-war Britain, they've really just started to take over catwalks—Max Mara, Chloe, Isabel Marant—in the last five years. Of course, more accessible brands have made their own versions of the high-fashion trend so you can pick one up without tanking your checking account (always a plus).
Our Women's Pick: Kensie Faux Shearling Coat
Our Men's Pick: Uniqlo Fluffy Yarn Fleece Full-Zip Jacket
Blazer


Though they were originally worn by members of boating and rowing clubs, blazers can today be seen on working professionals (and private school kids) everywhere. More casual than a suit jacket but slightly dressier than a sports coat, the blazer is extremely versatile: Throw it on over a dress, couple it with leather pants, or just layer it on top of a tee for a two-second pulled-together look. Blazers are typically tailored, waist-length, and single-breasted. Notched lapels and button fronts are common features. Though they used to come exclusively in dark solids like navy blue, they're now made in a variety of bold colors and patterns—floral-print crepe, gingham check—so if super-buttoned-up isn't your aesthetic, you'll have no problem finding something a little more casual.
Our Women's Pick: J.Crew Parke Blazer
Our Men's Pick: Bonobos Unconstructed Italian Wool Blazer
Trench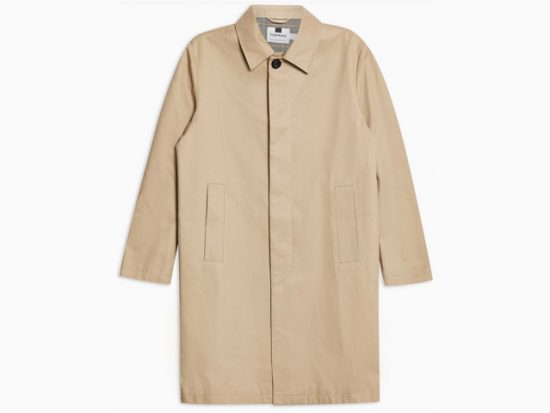 Like other coats on our list, the trench style came out of the First and Second World Wars, where they were worn by high-ranking British, French, and American army officers who worked "in the trenches." While the exact origins of the trench are contested, there are two main designers who claim to have invented the garment—Burberry and Aquascutum. Both make killer, splurge-worthy coats to this day. Modern trenches feature many of the same aspects as their O.G. predecessors, including a double-breasted, shin- to knee-length design. They typically have 10 buttons, raglan sleeves, cuff straps, and a belt. Traditionally, they come in solid neutral colors like tan, khaki, and beige. Post-war, the trench rose to civilian popularity after being seen on the likes of silver screen stars like Humphrey Bogart and Audrey Hepburn. Though they're not the warmest of coats, trenches are great at blocking out rain and wind. Layer it over a crisp white tee and faded jeans for an airy spring look, or throw it on over a dress for a sultry night out.
Our Women's Pick: Banana Republic Water-Resistant Classic Trench Coat
Our Men's Pick: Topman Stone Single-Breasted Trench Coat
Puffer

Open TMZ and scroll through some paparazzi shots and you're bound to see Kendall Jenner, Rihanna, and Hailey Baldwin (err, Bieber) in the season's most au courant coats. Though it is currently enjoying uber-trendy celeb-approved status, the puffer was born of function, not fashion. In 1936, Eddie Bauer introduced his inaugural design, the Skyliner, after he nearly died of a bout of hypothermia on a fishing trip. Not long after his quilted, down-filled coat was invented, however, other designers took off with the puffer silhouette. Today, the jacket has taken street style by storm, with looks from luxury fashion houses like Balenciaga, Moncler, and Prada. Of course, you can find puffers at every price point, so the only question is: how many can you squish into your hall closet?
Our Women's Pick: Madewell Travel Buddy Packable Puffer Jacket
Our Men's Pick: The North Face Nuptse 1996 Packable Quilted Down Jacket
RELATED: The Best Down Jackets That Pack Down to Nothing
Peacoat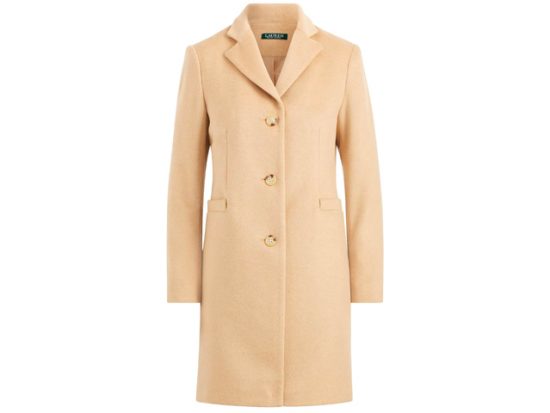 Built to withstand wind, rain, and extreme temperatures, peacoats were popularized by Dutch and British naval officers way back in the 1700s. The coat quickly became popular civilian wear, as Camplin (the official supplier of the British Royal Navy) began mass producing them in 1857. But we really have '60s hippies to thank for its staying power. In a show of anti-war sentiment, they donned military surplus style to stick it to the man. Modern-day peacoats are constructed nearly the same way, with coarse wool, broad lapels, side vents, anchor-imprinted buttons, and double-breasted fronts. Though they've fallen a little out of millennial favor lately, it's still hard to go wrong with the classic design.
Our Women's Pick: Lauren Ralph Lauren Wool Blend Reefer Coat
Our Men's Pick: Pendleton Maritime Wool Blend Peacoat
Leather Jacket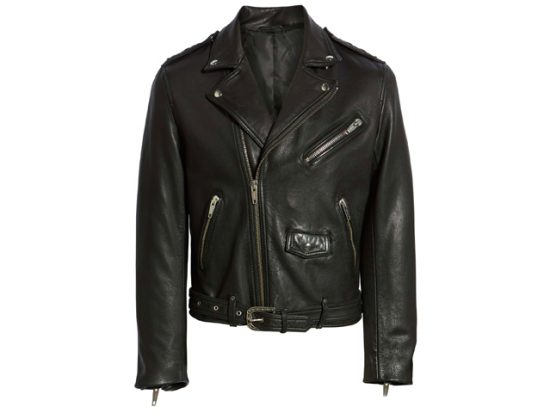 The leather jacket is actually an offshoot of the bomber worn by W.W. II aviators. They only transformed into the design we know today after Irving Schott (the U.S. navy's peacoat supplier) invented the very first moto jacket in 1928 and sold it at a Harley Davidson near NYC. Since then, history has given us many leather jacket-clad icons, including bad boys James Dean, Marlon Brando, and Danny Zuko (John Travolta's "Grease" character—but we'll assume you knew that). While price tags on today's designs are a far cry from Schott's original $5.50, that hasn't stopped anyone from buying them. The leather jacket is a closet staple and can add instant edge to any outfit, even joggers and a hoodie. Finding the right one for you simply means choosing between authentic or faux leather. From there, you'll find a million other details—collars, linings, lapels, pockets, waist buckles—that may take a little longer to whittle down. But once you find your fit, you'll be in for years of wear.
Our Women's Pick: Allsaints Balfern Leather Biker Jacket
Our Men's Pick: The Kooples Leather Biker Jacket
Denim Jacket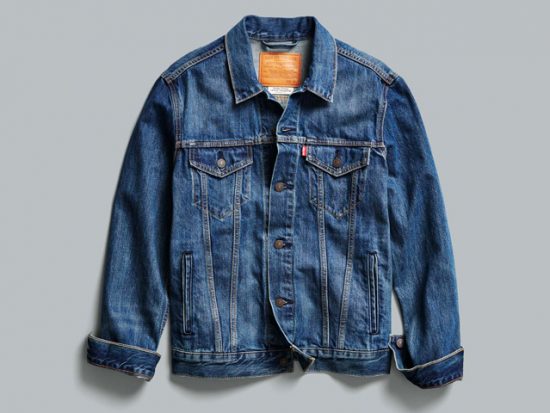 The denim jacket is perhaps the most iconic American-made garment. Levi Strauss—the inventor of jeans and a champion of work-friendly wear for blue-collar professionals—debuted the design in 1880. From there, it exploded, becoming a wardrobe staple in the Western world. Today, Levi's, along with other denim-heavy brands like Calvin Klein and Wrangler, lead the pack in terms of must-have designs. The best part about a denim jacket is you can wear it with literally (and we mean literally) anything.
Our Women's Pick: Madewell Denim Jacket
Our Men's Pick: Levi's Trucker Denim Jacket
Top Coat

Well-constructed, typically knee-length, and always en vogue, top coats can instantly take any outfit from underwhelming to polished. Whether you're heading to Europe or just talking a trip to the grocery store, wearing a top coat is a surefire way to look like you put real effort into your look. You can go with something classic, like solid navy or black, or opt for something attention-grabbing like plaid or herringbone. With so many different details on each—collars, lapels, number of buttons, pockets, et cetera—you really can't have too many in your closet.
Our Women's Pick: & Other Stories A-Line Wool Blend Belted Coat
Our Men's Pick: Lands' End Men's Wool Top Coat
Parka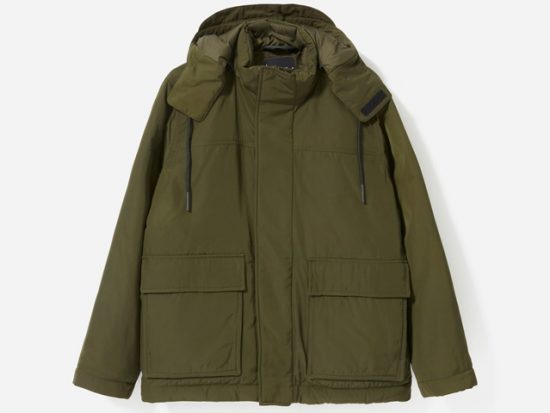 There's not much that separates a parka from a puffer, other than a hood, a typically longer silhouette, and sometimes a faux-fur liner. The exceptionally warm outerwear was devised by the Caribou Inuit (in way-way-north Canada) for defense against the elements when hunting, fishing, and kayaking. Nowadays, the duvet-like coat is a blessing for city-slickers and travelers the world over. When buying a parka, your main considerations should be warmth (is it down-filled or quilted?), fit (are there adjustable straps?), and water-repellency.
Our Women's Pick: Patagonia 'Down with It' Water Repellent Parka
Our Men's Pick: Everlane ReNew Short Parka
Raincoat

Anorak. Slicker. Waterproof poncho. Call it what you want, they all serve the same simple objective: keeping you dry. The circa-1820s design has evolved from basically a rubber tarp to high-tech outerwear made from lab-engineered fabrics like Gore-Tex, Tyvek, and high-density polyester. Modern-day raincoats are water-repellant, but also breathable, allowing vapor molecules (sweat—yes, that's a fancy way of saying sweat) to escape. You can also pick up super-packable versions that fold up into their own pocket, making them the ideal travel companion.
Our Women's Pick: Rains Long Rain Jacket
Our Men's Pick: L.L. Bean Signature Fisherman's Cove Coat
Related Stories
All products have been hand-picked by our writers and editors. Items purchased through links may earn us a commission.