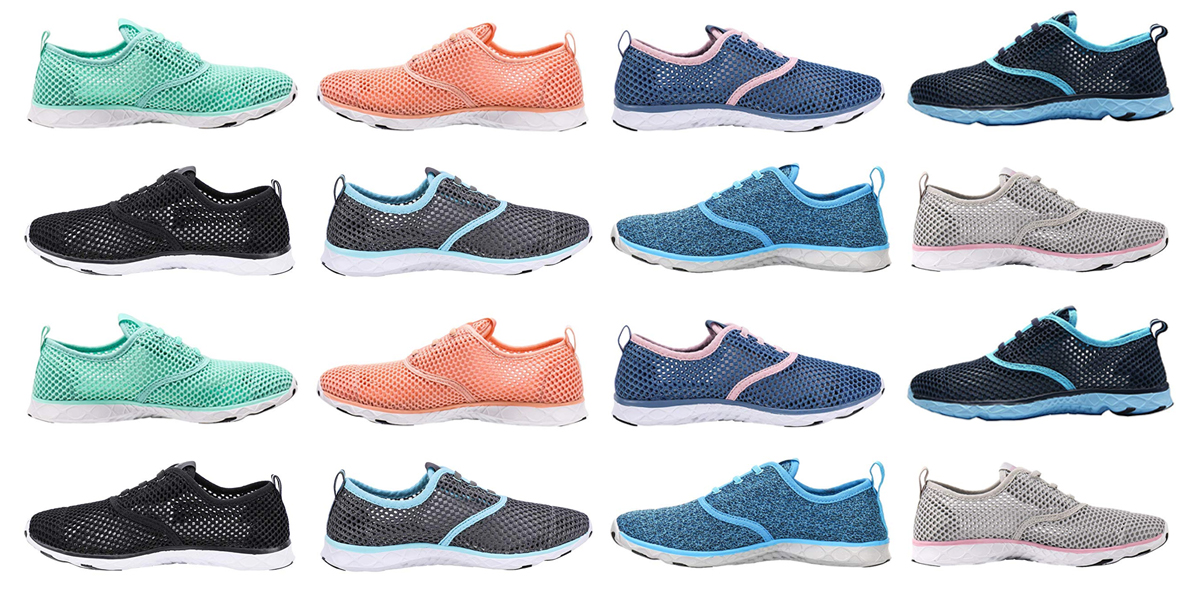 Shop
The Best Water Shoes for the Whole Family
Water shoes have come a long way since their neon neoprene debut. Today, most water shoes (or swim shoes) look and perform like regular sandals or sneakers—upgraded with advanced technology and the versatility of wearing them comfortably both in the water or on dry land. The best water shoes are quick drying (no more squish, squish as you walk) and provide excellent traction for safety. If you're planning on canoeing, waterfall trekking, or visiting a lake area with sharp zebra mussels or rocky beaches, water shoes could mean the difference between having a good time with protected feet or ending up in the ER with an injury. Keep scrolling for a list of the best water shoes to shop right now for the whole family. Make your feet happy.
Our Favorite Water Shoes for 2019:
Women's Water Shoe Picks
1
Best Water Shoes with Laces for Women
If fashion isn't at the front of your mind when you picture a pair of water shoes, this pair by Adidas Outdoor is about to change that. Not only do they look cool, but they're also environmentally friendly—the knit upper is made from yarn spun from recycled ocean plastic. The lace-up design means you can adjust how snugly they fit and the Climacool fabric together with the drainage system will make sure your feet stay dry and cool. These shoes would be the perfect thing at a rainy music festival or campground. And lastly, the lug soles deliver great traction on slippery terrains so you can go hiking in these kicks as well.
$100 at Adidas
2
Best Water Shoe Without Laces for Women
The slip-on design of Speedo's Surf Knit Water Shoes makes putting on and taking off these water shoes a breeze—not an easy feat, just ask anyone who has tried to put a wet sneaker on. Thanks to the stretchy mesh upper, they fit like a glove and provide maximum support and ventilation. Another good feature of the hydrophobic knit fabric is that it drains and dries fast. If you love water sports, these shoes are the perfect choice, thanks to their rubber outsoles that provide great traction and slip resistance. We're not mad at the 10 design options available—our favorite is the frost gray. 
From $20.99 to $58.46 at Amazon
3
Best Toe-Shoe Style Water Shoe for Women
Admit it, the first time you ever saw a Vibram FiveFingers shoe, you probably rolled your eyes. But the truth is that once you put a pair of these glove-styled shoes on, you'll realize what all the fuss is about. The idea behind toe-style shoes is that they allow your feet and tendons to move naturally without having your toes squished together. The toes get all the attention, but the real stars of the shoe are the soles, which is what Vibram is actually famous for. The lightly padded EVA insole is covered by a thin, yet sturdy, outsole which delivers excellent traction on wet and dry surfaces. The shoes also feature reinforced toes for added protection. Go ahead, try a pair. 
$90 at Zappos
4
Best Aqua Sock Style Water Shoe for Women
Beach volleyball is fun, but you know what's not fun at all? Having the hot sand scorch your feet while playing beach volleyball. If this sounds all too familiar, then you need Seavenger Seavees beach socks. They reach just above the ankles for maximum protection from sand and sunburns and feature an adjustable fastener for a custom and secure fit. The socks are made from stretchy fabric that those with wider feet will appreciate. They dry fast and are also perfect for water sports, like stand-up paddleboarding and surfing, because of their anti-slip soles. Available in 16 fun patterns and colors, you can buy a pair of  to match each one of your swimsuits. 
$9.95 to $21.95 at Amazon
5
Best Water Shoe for Dual Use for Women
When a pair of water shoes has well over 3,000 reviews on Amazon and most of them are five stars, you know you're getting excellent quality for your money. Here are a few examples of the in-and-out-of-water activities Amazon customers have used Aleader water shoes for: aqua Zumba, climbing ladders, crossing rivers, hiking, and walking on the beach. These shoes are truly the best of two worlds, and they come at a price that you really can't beat. They sport decorative laces and a mesh upper that keep feet well ventilated. The lightweight soles have draining holes in them, so whether you stepped in a puddle or went for a swim, your feet will be dry in no time. And last but not least—they come in 25 shade options. 
$24.99 to $79.36 at Amazon
Men's Water Shoe Picks
6
Best Water Shoe With Laces for Men
While Zhuanglin water shoes don't have traditional shoelaces, they feature elasticized draw cords that do the trick perfectly when you want to adjust the fit. And speaking of the fit, the upper sports sock-like design is made from durable mesh which means that the shoes will be securely attached to your feet, no annoying heel slippage that could lead to injuries. Another good thing about that mesh upper is, of course, its breathability (no more sweaty feet) and the fact that it dries super fast. The outsole is actually made from soft foam, as opposed to rubber, which makes the shoes float easily (in case you happen to take one off mid-swim) and weigh a lot less than a regular sneaker. If you need to swim with your shoes on, choose the Zhuanglin water shoes. 
$19.98 to $49.99 at Amazon
7
Best Water Shoe Without Laces for Men
As one of the leading Californian surf equipment manufacturers that work with professional athletes, O'Neill knows exactly what goes into a good water shoe. The Superfreak Tropical RT boot has all the elements that will make it your go-to shoe whenever you hit the beach. The ankle cinch cord together with the self-adjusting Velcro strap guarantees a perfect and secure fit. The thin rubber soles will protect your feet but won't mess your balance on the board. And finally, the upper is made from strong fluid foam neoprene that dries fast and resists compression. If these boots are good enough for some of the best surfers in the world, they're good enough for us. 
$48.95 at Zappos
8
Best Toe Shoe-Style Water Shoe for Men
Thanks to their sturdy soles, you can wear Body Glove 3T Barefoot Max water shoes in and out of the water. They have a comfortable three-toe design, which allows your feet to move more naturally in them, and takes less getting used to than the five-toe design. The upper is made from a stretchy fabric so even if you have wider feet, you'll find that these water shoes fit like a glove. And speaking of fit, the adjustable Velcro strap and shock lace at the back will make sure these water shoes feel like they were custom-made for you. Pro tip: wash these shoes with Body Glove's wetsuit wash to eliminate odors. 
$36.95 to $116.22 at Amazon
9
Best Aqua Sock-Style Water Shoe for Men
These Simari aqua socks will make you feel like you're walking barefoot on the beach—minus the sand scorching your poor tootsies. The soles are made from extremely flexible and sturdy material, which makes the shoes travel-friendly as you can carry them folded in your suitcase. The slip-on design makes them perfect for any kind of sport but especially activities such as beach volleyball, oceanside yoga, or snorkeling. And with more than 20 colors and patterns to choose from, we're pretty sure anyone can find a pair that matches their style. 
$9.98 to $13.98 at Amazon
10
Best Water Shoe for Dual Use for Men
Whether you're a mountain-type of guy, you prefer the ocean, or love both natural backdrops—these Adidas Outdoor Terrex CC Voyager aqua shoes have you, and your feet, covered. Swimming, kayaking, surfing, portaging rivers with a canoe…there's nothing these water shoes won't get you through (or across). The lace-up design guarantees a secure and comfortable fit while the mesh upper keeps your feet cool and dry. The cushioned midsole also features a drainage system that easily lets water out. Add to that, the anti-slip outsole and the re-enforced toe area for extra protection and you get a fuller picture of what makes these water shoes best sellers on Zappos. 
$89.95 at Zappos
Kids' Water Shoe Picks
11
Best Mesh Water Shoes for Kids
Pack these cute Dadawen water shoes for a day at the beach or by the pool and never worry about your kids hurting their feet or complaining about hot pavement. The shoes are easy to put on and take off (very important when it comes to squirming toddlers) and have an adjustable strap for a custom and secure fit. They have super flexible rubber soles that deliver a very good grip on wet surfaces. The soft mesh upper dries fast so your little one's feet will be dry in no time. The best thing about these water shoes? They're machine washable. Just throw them in the washing machine at the end of the day and they'll be ready (both the shoes and your kids) for more water action by the next morning. 
$9.99 to $14.99 at Amazon
12
Best Beach Water Shoes for Kids
If you're taking the kids to the beach, pool, water park, or river—stock up on Native's Unisex Jefferson slip-on sneakers. The cute sneaker-inspired water shoes come in many vacation-ready color options and your kids will love them because they're easy enough to slip into without mom or dad's help. Your little ones can run around the pool or on the beach all day in them—they are odor resistant and have excellent traction on wet surfaces. The rubber construction means they dry out pretty much momentarily and they are easy to keep clean—simply wash them with some soap and water. And when your kids grow out of the shoes, send them back to Native and the shoes will be recycled into community playground materials. 
$40 at Amazon
Related Stories
All products have been hand-picked by our writers and editors. Items purchased through links may earn us a commission.