By Destination
The 10 Key Items to Pack for Ocean City, Maryland
With 10 miles of Atlantic Ocean beaches and three miles of scenic boardwalk, it's easy to see why sun-loving vacationers flock every summer to the seaside resort of Ocean City, Maryland. Packing should focus on summertime dressing and beach staples. High-season summer temps hit the low- to mid-80s, while overnight lows are usually in the 60s, so bring layers for the evening. No reason to pack anything too fancy—casual ensembles are the norm. While the majority of boardwalk establishments accept credit cards, consider carrying a little cash, too. Blue boxes dot the beach to rent out essentials, but you'll save major dough if you BYOC (bring your own chair). Here are 10 things we'd have in tow for an easy breezy beach vacation in Ocean City.
1
Swimsuit: Summersalt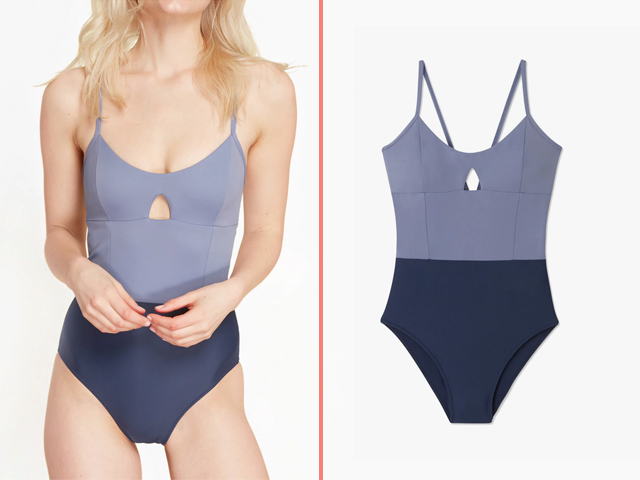 Summersalt made a splash as a retailer that pairs designer details with functional flair, all at a decent price point. This one-piece swimsuit delivers with on-trend color-blocking, a playful peek-a-boo accent, great coverage, a built-in bralette, and UV sun protection. Double straps mean it'll stay put while chasing the waves (or kids) down the beach or boardwalk.
$95 at Madewell
2
Beach Bag: SoHo Collection
A functional (not to mention cute) beach bag is an OCMD essential. This pick features a bazillion useful pockets for water bottles, sunglasses, flip-flops, and more, plus a large central compartment that can carry towels for the whole family. It also comes with a pouch that fits at the bottom of the bag, ideal for stashing money and credit cards. It's waterproof and made of mesh, so the sand sifts right through—much better than bringing the beach back to your hotel room.
$16.99 at Amazon
3
Beach Towel: Lands' End
This generously sized beach towel (it's 6.5 feet long!) is ideal for laying out, drying off, or wrapping up. It's made from soft and absorbent 100-cotton with low-pile loops that won't snag. It also offers UV protection and bright stripes won't fade after multiple washes. The monogramed option is great for families, and would look especially cute if you bought one for every member of your crew—no more fighting about who is sitting on whose towel. 
$17.97 at Lands' End
4
Packable Straw Hat: J. Crew
Keep the summer sun out of your eyes in style. This fedora-style straw hat is a more polished alternative to a baseball hat. More importantly, it almost magically holds it shape even after you jammed it in your carry-on suitcase. And—a real boon for those of us sans standard-sized heads (whatever that is)—it's available in three different sizes for the perfect fit.
$49.50 at J. Crew
5
Flip-Flops: FitFlop
With three miles of boardwalk and all those sandy beaches, you're gonna want need a comfortable flip-flop. This ergonomic pair from FitFlop has a biomechanically engineered foot bed, which means they're designed to be structurally sound and offer solid, yet lightweight, arch support that you don't usually find in a pair of flops. They also come in a variety of neutral colors (to match all swimsuits), including pairs with studded straps. Available in sizes 5-11.
$31.95 at Zappos
6
Versatile Sundress: Eileen Fisher
Ocean City-style tends towards the casual end of the spectrum, so your regularly scheduled shorts and tees will be accepted most places you're dropping in for blue crabs. However, if you're planning to eat at a pricier restaurant or hit the dance floor, you might consider a more dressed-up look. This versatile LBD fits the bill, looking just as good over a bikini as it will with your favorite statement necklace. Customers say it's super soft, flattering, and doesn't wrinkle (thanks, jersey knit fabric!). Sizes XXS-XL, with petite sizes also available. Size down for best fit.
$198 at Nordstrom
7
Classic Cardigan: H&M
Don't forget to bring a versatile layer for cool evenings and strong air-conditioning. This lightweight knit cardigan is an insanely good price and available in about a zillion different colors—go ahead and buy your three favorite colors. A ribbed hem and cuffs helps it stay put while a button-up front lets you wear it opened or closed. The classic cut is easy to coordinate with everything from shorts and a tee to your favorite sundress.
$12.99 at H&M
8
Jellyfish Treatment: Sting Away
Jellyfish: These translucent sea creatures might look like squishy playmates, but they're the bête noir (that's bane of existence in French) of beachgoers everywhere, especially in Ocean City where they can flock to the bay side. If you do get stung, DO NOT PEE ON IT, no matter how many times you watched the jellyfish episode of Friends. Instead, pack a bottle of Sting Away in your beach bag. Hopefully you won't have to use it, but if you do, it will quickly help ease the burn, neutralize the toxin, and reduce swelling. Triple yay!
$10.95 at Amazon
9
Camera: Olympus TG-5 Waterproof Camera
The Olympus Waterproof Camera is a splurge to be sure, but for both beach shots and boardwalk shots, you'll notice the difference big time from your standard smartphone pics. The Olympus takes crisp pictures in low light, underwater, and when people are on the move, all with easy point-and-shoot options. More good things: it takes 4K video and you can transfer photos to your phone over Wi-Fi. Perhaps best of all, the camera is so durable you don't have to worry about throwing it in your beach bag. If you go to nearby Assateague (it's just a 20-minute drive from Ocean City—seriously, go), you might just get the money shot of the island's gorgeous wild horses.
$449 at Amazon
10
Beach Umbrella: Sport-Brella
If you're hitting the beach everyday, save money by bringing your own umbrella instead of renting one from a vendor. This versatile umbrella doubles as a shelter with windowed-side flaps, wind vents, UV protection, and ground steaks. Plus, it all breaks down into the included travel bag. If you're not sure about making the commitment, just ask the over 3,000 reviewers on amazon who've given it 4.4 out of five stars.
$38.99 at Amazon
Related Stories
All products have been hand-picked by our writers and editors. Items purchased through links may earn us a commission.