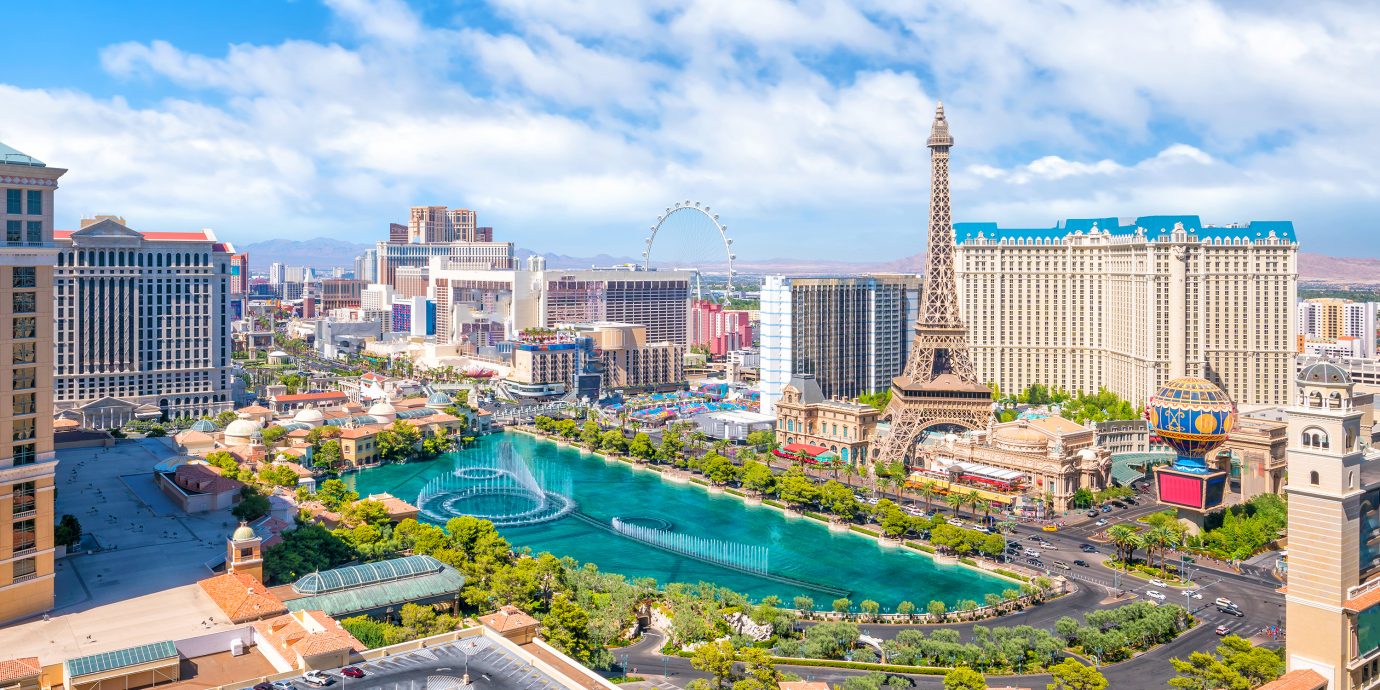 By Destination
The One Foolproof Outfit for Men to Pack for Las Vegas
Want to get into Las Vegas nightclubs? You have to nail their dress code rules. Here we curate, from head to toe, the one foolproof outfit that should get you past any bouncer in Sin City.
Men's Las Vegas Packing List
1
Dress Shoes
We're starting with the most critical item on this list: shoes. Clubs have very explicit rules about which types of shoes are permissible. Wear dress shoes or loafers. If you're not sure what to buy, look up what shoes your favorite athlete rocks with a suit. Sneakers, sandals, work boots, and boat shoes are fine for walking around the Strip, but not inside many formal establishments.
Shop Now
2
Dark Jeans or Dress Pants
Next up, pants. Keep it simple. There are two safe options: dark jeans and dark dress pants. Avoid ripped jeans, baggy jeans, or any sort of embellished denim. Sweatpants and shorts are out of the question unless you recently released a smash hip-hop album.
Shop Now
3
A Belt
Wear a belt, preferably one that matches your shoes. Aside from stylish dress socks or a pocket square, you should avoid additional accessories. Leave your hat and sunglasses at the hotel.
Shop Now
4
Button-Down Shirt
A tucked-in button-down is generally the status quo, so definitely wear something with a collar. Depending on the material of the shirt, you may want to throw on an undershirt as well. And if there was ever a time to break out that hotel room iron, this is it. You want your shirt to look crisp and fresh.
Shop Now
5
Sports Jacket
While jackets aren't required, adding one will wordlessly communicate to the bouncer or promoter that A) you tried, and B) you respect their establishment. This is a great opportunity to work a little style into your look and separate yourself from the sea of other dudes in business-casual apparel. If you're up for it, go for something with a little texture or color.
Shop Now
6
Wallet
You're going to be pulling out your wallet a lot in Sin City—and you might just put some money back into it if you play your cards right at the poker table. Regardless, make sure you aren't stuffing bills into a worn, rumpled wallet. We dig this money clip/card holder featuring part of a TPC-played golf ball.
Shop Now
Other Vegas-Approved Mens Outfits
For info on these editor-selected items, click to visit the seller's site. Things you buy may earn us a commission.
Related Stories
All products have been hand-picked by our writers and editors. Items purchased through links may earn us a commission.