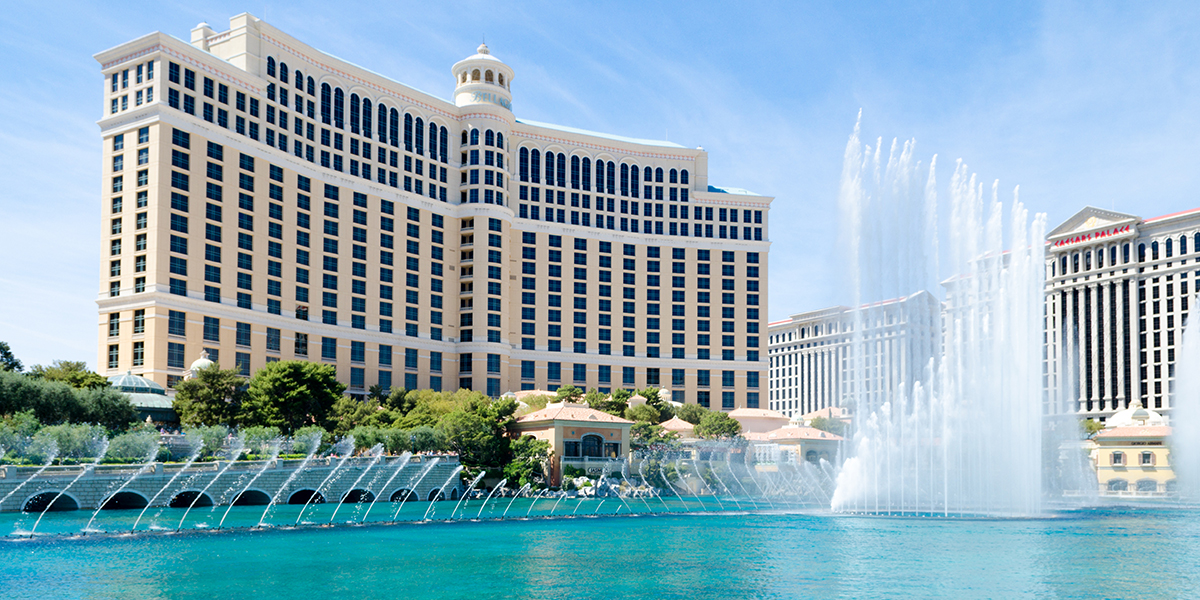 By Destination
The Ultimate Las Vegas Packing List
Anything goes in Las Vegas—and that also covers style. Las Vegas gets over 42 million visitors a year, and almost everyone is in Sin City for fun (even if playtime doesn't start until after the conference). That means that a visit to Las Vegas is the time to show off your sparkles, wild prints, and bold colors. Casual and polished daywear for sightseeing on the Las Vegas Strip turns to fun evening looks for nightlife at Hakkasan, gambling at the best Las Vegas casinos, and taking in over-the-top shows and restaurants. If you're traveling to Vegas for a convention or hoping to make a splash at the famed Las Vegas pool parties, there are even more ensembles to plan. Here, we have wardrobe tips, weather information, and packing lists at the ready so you don't have to think twice about what to pack for Las Vegas. Go ahead and focus your energies on other important decisions, like whether to book a Vegas hotel room at the Venetian or the Palazzo. And remember, what happens in Vegas, stays in Vegas—so now's the time to take some style risks.
Your suitcase packing checklist
Click items to view travel editor-approved options
THE PERFECT LUGGAGE
The three S's of Las Vegas luggage: smart, spacious, and stylish. These luggage picks are curated with Sin City packing in mind, featuring special spots for shoes or evening wear and lots of compartments for keeping accessories organized. The Samsonite Convertible Weekend Duffel features a special bottom compartment just for shoes. The Delsey Chatelet Carry-On offers a slew of clever details including a removable hanger, shoe bag, laundry bag, and mesh dividers. For longer trips, the Briggs & Riley Expandable Spinner is a traveler's dream with a cavernous main compartment and a special garment folder specially designed for carrying formal wear, like suits, wrinkle-free. For those traveling sans garment folders, consider packing formal wear in AWAY's garment bag.
THE 3 PAIRS OF SHOES YOU'LL NEED FOR EXPLORING LAS VEGAS
Women's Shoes
Men's Shoes
Do we have your complete attention? Our number one packing recommendation for a Las Vegas vacation—echoed by message board users internet-wide and many a limping traveler: COMFORTABLE SHOES. The Las Vegas Strip is a whopping four-miles long, and even if you take an Uber every time you go out, you're likely to be trekking through labyrinthine Las Vegas hotels and casinos any way you slice it. But that doesn't mean you have to sacrifice style for comfort. These three pairs are versatile, stylish, and can stand-up to long hours on your feet, whether you're in line for the High Roller at the LINQ, strolling through the shops at Caesars Palace, or lounging poolside at Flamingo Las Vegas.
LAS VEGAS FASHION
As Elvis proved, Vegas is the place to rock a sequin jumpsuit. If you enjoy getting dressed up or wearing something flashy, now is the time to do it—but it's not essential. Most people are in Vegas for pleasure. In fact, there are only about 640,000 citizens and about 42 million visitors per year, so almost everyone is dressed for vacation. And though the desert gets scorchingly hot during the day, evenings cool down and casinos constantly blast the air-conditioning. A smart Las Vegas packer knows how to combine edgy layers that can carry you from day to evening. The biggest tip-off that you're a tourist? Carrying high heels or other uncomfortable shoes down the strip in the middle of the day. Instead of day-time stilettos, go for fashionably comfortable footwear. For the pool, pack sandals or flip-flops and a cover-up (or a top to coordinate with board shorts) so you can walk through the hotel. Not everyone goes full-glam in the evening, but if getting dressed up is part of your fun, you'll fit in wearing everything from a sundress to a cocktail dress to full sequins in the evening. If a high-end restaurant or nightclub is on your itinerary (and it should be) check out the individual venue's dress code, as these can be specific and highly enforced, especially for men.
FIVE FOOLPROOF OUTFITS FOR LAS VEGAS
1. WHAT TO WEAR FOR DINNER AND A SHOW IN LAS VEGAS
Sure, you can wear your go-to dress to dinner at Jean-Georges Steakhouse and Mystere Cirque du Soleil, but why play it safe? This black jumpsuit offers a fun and fashionable take on the LBD, while a metallic-on-metallic heel/clutch combo adds a popping contrast.
Dining out in Vegas doesn't usually require a jacket. This ensemble takes a casual staple—dark wash skinny jeans—and elevates the look with a playfully subtle dotted button-down and black loafers that pay homage to Hugh Hefner's famous smoking shoes, without going completely over the top.
2. WHAT TO WEAR TO A CLUB OR A BACHELOR/BACHELORETTE PARTY IN LAS VEGAS
A night out in Las Vegas is the time to go all out, and that includes a bold red lip. This elegant black dress offers a dash of flash with a thigh-high split, while the sling-back heels are sexy but secretly pretty comfortable. It's an ideal look for a night of dancing at 1OAK or XS Las Vegas.
Nightclub dress codes are usually geared towards men, and sandals, baggy jeans, and hats are big no-nos. This ensemble puts together all the best bets—chinos, a patterned button-down, a suit jacket, and dress shoes—for a smart, stylish look that's likely to get you in the door (though, to be safe, check out individual nightclubs' dress codes in advance).
3. WHAT TO WEAR FOR A CONFERENCE IN LAS VEGAS
While conference-wear standards vary by trade, a pencil skirt and a blouse with subtle Victorian flair is a vogue take on professional style and will look chic for late night happy hours with coworkers. Wedge sandals offer a little more support than the standard heel—get them in basic black if your event is conservative or dial up the drama with gold if the vibe allows.
Conference style varies by industry, so dress according to any pre-ordained standards. If your company doesn't require a tie, consider a suit with a button-down shirt to maintain a professional look—you can always take off the jacket if you feel overdressed. And we love this Tissot wristwatch, definitely a high-end Vegas touch. What's more classically Vegas than a sharply dressed man?
4. WHAT TO WEAR WHILE WALKING THE STRIP OR EXPLORING OLD VEGAS
Sightseeing ensembles should focus on polished comfort, coolness, and sun protection. This outfit pairs classic denim shorts with a playful tee (which offers more sun coverage than a tank) and easy accessories, but the star of the show is the versatile leather sandal with a molded footbed ready to take on a full day or night of walking the Las Vegas strip or Old Vegas.
Shorts, tees, and sneakers make for an easy sightseeing ensemble for men, while the hat is a stylish accessory designed to beat the heat. The slim wallet, which can slide easily into a front pocket, is less obvious bait for pickpockets and provides a clean line.
5. WHAT TO WEAR WHILE GAMBLING IN THE CASINOS IN LAS VEGAS
While daytime attire in Las Vegas casinos can be pretty casual, especially at low limit slots, lots of women doll up in the evening to play table games like craps. For the best of both worlds, pair skinny jeans with a classy high-neck halter, strappy heels, and a sparkly purse.
Style-wise, it's hard for men to go wrong in a Las Vegas casino. Daytime is generally casual, though in the evening plenty of people trade in their comfy clothes for more dressed up options. Slim pants in a neutral hue and a crisp white polo create an elevated put-together look, while chukkas and a leather bracelet add a dash of on-trend style for Las Vegas gaming nights.
WHAT NOT TO PACK FOR LAS VEGAS
Las Vegas is in the Mojave Desert so, while it can get chilly in the winter (especially at night), it's a safe bet to leave your heavy-hitting snow gear at home—though you may want to bring a coat, or even a pair of gloves, in December and January. And you probably don't need to pack an umbrella or raincoat either—the city only gets four inches a year. Las Vegas doesn't have a big insect issue, so it's safe to leave the bug spray at home. Finally, since resort pools provide towels, you don't have to waste precious luggage space on these, unless you're very picky about your pile.
THE *ONE THING* WTP EDITORS ALWAYS BRING TO LAS VEGAS
Vegas is the kind of city where you can definitely up your sex appeal. And Tom Ford's Soleil Blanc Shimmering Body Oil basically defines bombshell status. With just a hint of gold leaf shimmer and a fragrant bouquet of white florals and sandalwood, the only thing that pairs better with a slight suntan is a bikini. Dab the oil along your collarbone for a hint of sparkle or go full-body by the Wynn's European Pool. Either way, the body oil is worth the splurge. —WTP Editors
LAS VEGAS' WEATHER AND SEASONS
Las Vegas summers are long, hot, and dry. If you're looking to basically live it up at the Wet Republic Ultra Pool party or wander the Las Vegas Strip in a t-shirt and shorts, May through September are ideal months. The hottest months are June, July, and August—where you can expect at least 90-degree heat every day. This means packing the standard summer apparel for checking out the iconic Welcome to Las Vegas sign, along with plenty of sunscreen, water, a swimsuit, and a cover-up. For the evenings in particular, consider a wrap or cardigan for cooler venues, like casinos, which are known for cranking up the AC. No matter the season, men should bring a pair of dressier pants for the evening, especially if you hope to satisfy nightclub dress codes. As for the winter, the day-to-night temperature differences can feel particularly vast in the colder months (think: 60 by day, 40 by night), so packing layers is a good bet to accommodate chilly evenings and mornings. In December and January, winter coats are not uncalled for. You'll also want plenty of lip balm and moisturizer to combat the dry dessert air year-round.
Note: Below is a packing forecast, not a traditional forecast. A packing forecast focuses on how cold it's likely to be in the early mornings and evenings based on historical data. We recommend using this together with a traditional forecast as you get closer to your departure date. This data comes from our friends at Weather Underground.
JANUARY
Plan for day temps between 53° F and 61° F
Temps will drop near 44° F at night and into the early mornings
Expect 0.04 inches of precipitation in January
What to Wear in Las Vegas in January: Day to night temperatures differences can be vast in the winter, so pack layers for daily fluctuations—and don't forget a jacket or coat.
Recommendations: Men's sweater jacket, women's lightweight puffer, oversized scarf
February
Plan for day temps between 53° F and 65° F
Temps will drop near 41° F at night and into the early mornings
Expect 0 inches of precipitation in February
What to Wear in Las Vegas in February: It's still be chilly in February, especially in the evenings, so think in layers, and throw a hydrating mask in your bag to protect skin from the dry air.
Recommendations: Men's cashmere crew, women's cashmere crew, hydrating mask 
March
Plan for day temps between 59° F and 72° F
Temps will drop near 50° F at night and into the early mornings
Expect 0.01 inches of precipitation in March
What to Wear in Las Vegas in March: Spring is in the air, but it's still solidly in the mid-60s and gets cooler at night, so consider packing a combination of pants and shorts. And you're going to be happy you upgraded to a lip balm with vitamin E.
Recommendations: SPF lip balm, women's cheerful lightweight cardigan, women's velvet pants
April
Plan for day temps between 71° F and 82° F
Temps will drop near 59° F at night and into the early mornings
Expect 0 inches of precipitation in April
What to Wear in Las Vegas in April: In early April, it's a good bet to pack a lightweight jacket or wrap for those 50-degree nights, but by the end of the month it tends to heat up, so it's time to break out the open-toed shoes and maxi dresses.
Recommendations: Printed scarf, slide sandals, maxi dress 
May
Plan for day temps between 78° F and 88° F
Temps will drop near 60° F at night and into the early mornings
Expect 0.01 inches of precipitation in May
What to Wear in Las Vegas in May: It's officially summer in Vegas and the weather is heating up, so in addition to shorts and tee shirts, it's safe to pack some tank tops and a swimsuit for 90-degree days that will definitely be scorching by the end of the month.
Recommendations: Men's board shorts, women's one-piece swimsuit, daily sunscreen 
June
Plan for day temps between 90° F and 97° F
Temps will drop near 81° F at night and into the early mornings
Expect 0 inches of precipitation in June
What to Wear in Las Vegas in June: With temperatures solidly in the 90s, you'll want to pack your standard summer accouterments, like statement sunnies, functional and fashionable hats, and lots of sunscreen. And if you're hitting the clubs, it's not a bad idea to toss a few hydration packets into your carry-on bag—desert hangovers can be brutal.
Recommendations: Statement sunglasses, women's straw hat, hydration packets
July
Plan for day temps between 94° F and 102° F
Temps will drop near 86° F at night and into the early mornings
Expect 0 inches of precipitation in July
What to Wear in Las Vegas in July: Along with your regularly-scheduled flip-flops and other summer essentials, remember sun protection, which includes everything from hats and sunscreen to lip balm. And you'll need extra water to keep you hydrated. Consider packing a collapsible container—bottled water is pricey on Las Vegas Strip. And you'll need a cute tote bag to carry everything.
Recommendations: Collapsible water bottle, woven tote bag, baseball hat
August
Plan for day temps between 93° F and 99° F
Temps will drop near 86° F at night and into the early mornings
Expect 0 inches of precipitation in August
What to Wear in Las Vegas in August: As summer pool parties hit a crescendo, you'll need a stylish swimsuit (or two) along with chic sandals and a cover-up so you can trek comfortably through indoor hotel areas. Add a bottle of cool down spray with aloe to keep yourself refreshed poolside.
Recommendations: Swim cover-up, chic flip-flops, cool down spray
September
Plan for day temps between 86° F and 93° F
Temps will drop near 81° F at night and into the early mornings
Expect 0 inches of precipitation in September
What to Wear in Las Vegas in September: It's not fall yet in Vegas—temperatures are still hovering in the 90s most days, so it's safe to pack tailored shorts and flattering lightweight tees.
Recommendations: Women's shorts, women's t-shirt, men's t-shirt 
October
Plan for day temps between 69° F and 81° F
Temps will drop near 60° F at night and into the early mornings
Expect 0.01 inches of precipitation in October
What to Wear in Las Vegas in October: At the beginning of the month, you can still bank on the upper 80s—which means it's still swimsuit season!—but by the end of the month the temperatures can drop into the lower 50s at night, so bring layers and a cardigan or lightweight jacket.
Recommendations: Lightweight cardigan, men's relaxed blazer, floral midi-dress
November
Plan for day temps between 56° F and 69° F
Temps will drop near 48° F at night and into the early mornings
Expect 0.01 inches of precipitation in November
What to Wear in Las Vegas in November: Consider packing pants for the 60-degrees days and layers for the nights, which can drop into the lower 40s by the end of the month. Consider a versatile jumpsuit that's easily worn with a jacket or open-toed shoes, depending on the temps.
Recommendations: Versatile jumpsuit, men's classic pants, men's denim jacket
December
Plan for day temps between 49° F and 55° F
Temps will drop near 40° F at night and into the early mornings
Expect 0.01 inches of precipitation in December
What to Wear in Las Vegas in December: This is Vegas' coolest month with mid-50 days and temps that can occasionally drop to freezing at night, so consider bundling up. And since rain isn't likely, now is the time to break out the sexy suede boots.
Recommendations: Women's sweater dress, over-the-knee boots, men's Chelsea boots
FREQUENTLY ASKED QUESTIONS ABOUT PACKING FOR LAS VEGAS
What should I wear to a nightclub? Can I wear jeans?
For men, a nightclub ensemble includes nice jeans or pants, a button-down shirt, a sports/suit jacket or blazer, and dress shoes. You can play it safe in traditional solids and stripes, or get a little Las Vegas wild with fun patterns and prints you might not wear at home. While you should look up individual nightclub dress codes if you want to be sure to get in at a particular place, many nightclubs do allow jeans and lots of men wear them out. But not all denim styles are acceptable. Make sure the jeans aren't cut-offs, ripped, or overly baggy—a slim fit and dark wash are a good bet. As for women, the rules are much more flexible. Sexy cocktail dresses, skinny jeans and a cute top, and stylish jumpsuits all tend to be fair game. Heels or wedges are a good bet, along with a smaller-sized purse or clutch to carry the essentials and a bright red lipstick. You can even add a tiara to your ensemble if you'd like.
What's the dress code in a Vegas casino?
Vegas casinos have an almost anything-goes dress-code. You'll find gamblers wearing everything from suits to shorts and tees to athleisure while playing slots and throwing bets around the roulette wheel. Swimwear is about the only genre that's not acceptable. The safe bet for travelers who want to fit in? Opt for something polished and casual during the day, and amp it up in the evening. For men, this means business casual. For women, a range of "going out" attire is entirely appropriate and part of the fun.
What's the temperature inside casinos?
Not packing an extra layer for notoriously chilly casinos is a rookie mistake for first time Sin City travelers. With the addition of powerful AC to lure tourists out of the desert sun and indoors to spend cash, casinos, hotels, restaurants, and malls tend to be downright chilly. While it's unlikely to feel like the Arctic, we recommend that you bring a wrap, cardigan, blazer, or the like.
Should I pack sunscreen or buy it there?
Since you're definitely going to need sunscreen, we recommend packing it with you. While you'll be able to find sunscreen for sale on the Las Vegas Strip, plenty of venues jack up the price. Pack a TSA-approved travel size if you've only got a carry-on bag, but if you have space in your checked luggage, opt to bring a whole bottle. And, while you'll probably be more covered up in colder weather, Vegas still gets plenty of sun year-round, so a face-stick, bare minimum, is in the cards for winter trips, too.
I'm going to Vegas in the winter—should I pack a swimsuit?
It's a requirement to pack a swimsuit in May through October, when the thermometer hits the 80s, but after that it might not be necessary. Most Vegas hotels don't have indoor pools (though there are some in spas) and while some hotels have heated outdoor pools or whirlpools, many of them have either limited hours or limited service. As for the famed pool parties, they're a warm-weather-only event.
Related Stories