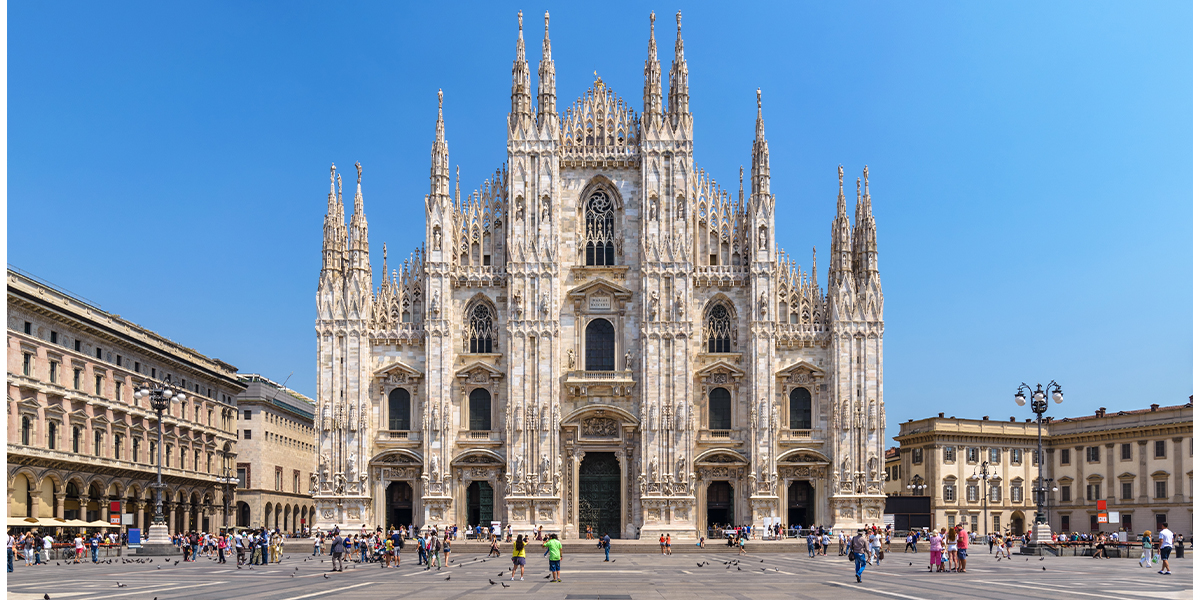 By Destination
The Ultimate Milan Packing List
A ticket to Milan is an invitation to pack the clothes, shoes, and other accessories that you might "save" for special occasions—and wear them with gusto! That luxurious cashmere sweater? Yup. Those impractical but gorgeous heels? Absolutely. Your best leather bag? Si si! As Italy's fashion capital, Milan's sidewalks are essentially runways, where going all-out on outfits everyday is the norm. Milanese are strong proponents of wearing what suits them and saving euros for the best pieces they can afford. Translation: That plane ticket is also an excuse to finally splurge on a few coveted designer items. Want help getting together primo looks and figuring out where to fill in the blanks? This guide to packing for Milan is your roadmap.
Your Milan suitcase packing checklist
Click items to view travel editor-approved options
THE PERFECT LUGGAGE
Think chic and streamlined when choosing luggage for Milan. This silver carry-on with leather detailing outside and a jacquard lining from luxury brand Montblanc is a stunner. There's plenty of room inside, including zipped compartments for organizing and a small easy-access pocket for business cards. For a long weekend, we can't recommend Italian luggage brand Bric's highly enough for its quality and lightweight design. The company, based just outside Milan, has been around since 1952. This 21-inch hardshell weighs only 5.9 pounds. It has a cool interlocking groove design outside, four spinner wheels, and a three-stop telescoping handle. Inside, there's an attractive patterned lining and a zippered divider section and pocket, plus it comes with a TSA-approved lock. The handy USB port is a nice extra. Victorinox makes a 32-inch hardshell that's worth a look if you're taking a longer trip. It's also made from durable polycarbonate, with spinner wheels and corner guards to withstand a beating. There's also a zippered mesh divider inside, plus a TSA-approved lock and telescoping handle. It weighs just over 10 pounds and comes with a 10-year warranty, too.
THE THREE PAIRS OF SHOES YOU'LL NEED FOR EXPLORING MILAN
Walking shoes in Milan should be nothing short of a stylish addition to your outfit. For women, espadrilles are the perfect choice for comfort and versatility. This attractive pair is a standout for its tie on top, and it comes in navy and tan. Anything animal print plays well in Milan, and these low-heel block mules are great for everything from strolling through the Galleria Vittorio Emanuele II to a night out at La Scala. If there's one city to rock your stilettos, Milan is it. You'll also want a killer pair—the highest you can handle—like these kickass heels from Tamara Mellon. Guys can also go for espadrilles, and the cognac leather detailing on this pair elevates an otherwise casual look. These "sneakers" from Nisolo can double as a comfortable, smart-looking walking shoe, ideal for going from sightseeing to an evening out without having to stop back at the hotel. Leather driving loafers for dressing up at night are ideal, as they look polished and are easy to pack.
Women's Shoes
Men's Shoes
STYLE FOR MILAN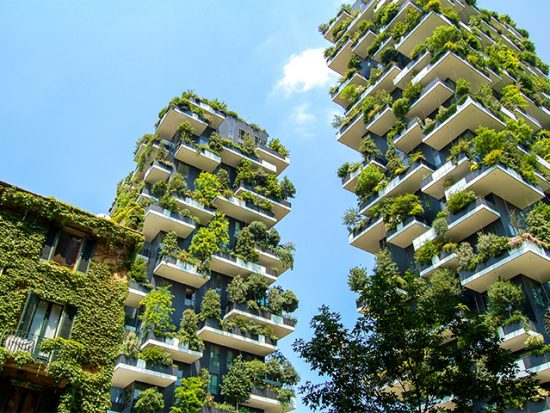 When it comes to style in Milan, men have the edge. Impeccably dressed—always—they're detail-focused down to cufflinks and socks. Nothing is more important than quality of fabric and cut. Peek into the average Milanese man's closet and you'll likely find a gorgeous cashmere coat. Expertly cut trousers, custom-tailored shirts, and fine leather accessories are standard everyday wear. So are suits, which aren't the boring, corporate boardroom variety, but rather sharp and fashionable. Men's wardrobes tend toward neutrals and visual interest comes into play with a mix of texture and subtle patterns with little contrast. Linen and wool are mixed with sleek manmade fabrics. If men wear jeans they're usually black (yep, even in summer) paired with a fitted white (designer) t-shirt. That's about as casual as it gets. Shorts are practically sacrilege.
Women always dress to impress and never compromise on style. Athleisurewear? Also sacrilege. Classic style is favored over anything of-the-moment, and clothes are on-trend but not ultra-trendy. Looks can be over-the-top, but it's more luxe than edgy. Neutral outfits are accented with a bright pop of color—usually a bag or shoes. If rocking a pair of stilettos is your jam, Milan is your city. Expect to see lots of dresses and skirts, and slim-cut jeans often paired with pumps and a tucked-in shirt or sweater, plus a blazer. Looking for inspiration? Grab a magazine and flip through ads of established Italian brands. For womenswear, check out Dolce & Gabana and, for weekend wear, Max Mara. Guys can turn to Ermenegildo Zenga and Canali.
Women's Street Style for Milan
Men's Street Style for Milan
FIVE FOOLPROOF OUTFITS FOR MILAN
1. WHAT TO WEAR TO SAN SIRO AND ARENA CIVICA STADIUMS TO SEE INTER MILAN AND AC MILAN GAMES
Get your game on in style at this stadium to see Milan's two football (soccer) clubs show their stuff. Look sporty and put together in white jeans with a summery black-and-white-striped shirt paired with red Soludos espadrilles. Finish off the outfit with an eye-catching red mini cross-body. Guys can go for black jeans, a fitted white t-shirt, and a denim jacket that mimics a sporty track jacket. Italian shades are a requirement.
Women's Soccer Stadium Outfit
Men's Soccer Stadium Outfit
2. WHAT TO WEAR SHOPPING IN MILAN
Whether you're taking a stroll through the Galleria Vittorio Emanuele II or a day trip to the not-to-be-missed massive Serravelle outlet, (home to Gucci, Prada, and Fendi) shopping in Milan is an occasion to pull out all the stops with your outfit. Wearing this red ruffle skirt and snakeskin ankle-strap heels will make you feel like you just stepped off a fashion photo shoot. A pair of slim trousers with a fitted shirt and oxfords works for men. Essentially, the idea is look like you're wearing clothing that were bought in Milan.
3. WHAT TO WEAR TO VISIT SITES LIKE SFORZA CASTLE, DUOMO DI MILANO, AND THE LEONARDO DA VINCI MUSEUM

Being comfortable while sightseeing in Milan is no excuse to slouch. Choose an easy-to-wear skirt, like this chic cargo one from Theory, a simple white cotton shirt, and attractive rubber-sole flats. Ditto for men, swapping in a pair of lightweight cotton pants. You're going to be taking selfies, so you need to look good for the 'gram.
4. WHAT TO WEAR TO VISIT SANTA MARIA DELLE GRAZIE
Leonardo da Vinci's "The Last Supper" is housed inside this church, a UNESCO World Heritage Site. It isn't required, but it's polite to dress modestly. A long white linen skirt and blouse is the perfect combo for women. Guys can opt for a linen shirt as well, with chinos and comfortable but stylish walking shoes.
Women's Outfit for Santa Maria Delle Grazie
Men's Outfit for Santa Maria Delle Grazie
5. WHAT TO WEAR TO DINNER AT LA SCALA RESTAURANT
Dress to impress at this famous restaurant — officially, Ristorante Teatro alla Scala "Il Marchesino," — inside Milan's opera house. Summon your best Italian siren of the screen when choosing a dress. This sleek slip dress is a head-turner, and calls for a pair of strappy stilettos. Men should absolutely wear a blazer with a dress shirt.
Women's La Scala Dinner Outfit
Men's La Scala Dinner Outfit
WHAT NOT TO PACK FOR MILAN
Athleisure just isn't a thing in Milan. If you're planning to work out, then by all means bring your exercise clothes, but otherwise, skip the leggings and hoodies. Sneakers are fine as long as they're on-trend and clean. If you're visiting Milan during one of the rainier months (November and May) don't pack shoes or clothes that'll ruin easily in rain conditions. So long, suede.
THE *ONE THING* WTP EDITORS ALWAYS PACK FOR MILAN
Italian designer labels are a must in Milan. Valentino sunglasses, Gucci bags, Moschino dresses, and Prada shoes are seemingly everywhere you look. After all, Milan is known as Italy's fashion capital and Italian design houses and shops are as visited as the Duomo. To participate in the luxe fashion lifestyle without spending in the triple digits, pack a tube of Giorgio Armani's Rouge dArmani matte lipstick. Armani is one of the only respected Italian fashion houses with an equally respected makeup line. The ultra flattering red shade looks gorgeous on a variety of skin tones and the nondrying formula lasts a full eight hours. Imagine pulling out the sophisticated black tube with a bold red G, and doing a table-side touchup after a glass of prosecco at La Scala. Ciao, bella!
MILAN'S WEATHER AND SEASONS 
On the whole, it's true that Milan's weather isn't its main draw. It's humid year-round, with hot, muggy summers and bone-chilling rain and fog in fall and winter. Temperatures in July and August reach into the high 80s, though it can easily feel 10 degrees hotter and sticky. Summer temperatures often stick around through mid-September, but by the end of the month the heat relents and temps ease into the 70s, making it a pleasant time of year to visit. It's a short window, however, because rain sweeps in around mid-October and peaks in November, when a chilly mist settles in and there are frequent, near-freezing downpours. Thankfully, it's drier by the time Christmas rolls around, and it isn't uncommon for light snow to blanket the city. January is chilly, but the thermometer doesn't typically plunge below 30 degrees. Spring is temperate, with highs in the 50s to mid-60s, but it can be rainy, particularly in May.
Note: This data comes from our friends at Weather.com. We recommend using this together with a traditional forecast as you get closer to your departure date.
JANUARY
Plan for day temps between 28 and 40
Expect 2.5 inches of precipitation
What to Wear in Milan in January: It's often dreary and cold in January—Milan's coldest month. A warm winter coat like a puffer, jeans or warm pants, and boots is the way to go for both ladies and gents.
Women's Recommendations: Puffer coat, high-waisted black jeans, Moschino winter boots
Men's Recommendations: Hooded parka, Chelsea boots, twill pants
FEBRUARY
Plan for day temps between 32 and 46
Expect 2.5 inches of precipitation
What to Wear in Milan in February: February is cold but not as freezing. Still, go for a warm wool coat and pants or jeans, or long wool skirt with opaque tights to keep you cozy while running around the city.
Women's Recommendations: Red wool coat, straight jeans, slouch boots
Men's Recommendations: Tweed car coat, black skinny jeans, brogue shoes
MARCH
Plan for day temps between 37 and 55
Expect 3.2 inches of precipitation
What to Wear in Milan in March: Winter starts to relent in March, though the rain starts to pick up. Choose a lighter weight coat or trench and throw on a warm sweater underneath.
Women's Recommendations: Straight crop jeans, lace-up boots, lightweight down jacket
Men's Recommendations: Black trench coat, wool blend trousers, crewneck sweater
APRIL
Plan for day temps between 44 and 63
Expect 3.2 inches of precipitation
What to Wear in Milan in April: It can be hard to dress in April, as temperatures quickly bounce from the 40s to the 60s. You'll definitely still want a coat, though layering isn't as essential. A chunky-knit sweater paired with a long skirt or pants will do the trick.
Women's Recommendations: Cozy pullover, vegan maxi skirt, black knee-high boots
Men's Recommendations: Khaki coat, chelsea boots, camel corduroys  
MAY
Plan for day temps between 52 and 71
Expect 3.8 inches of precipitation
What to Wear in Milan in May: Spring kicks off in May, as temps warm up considerably in comparison to March. It's okay to leave your warmest clothes and boots at home, but don't skip the jacket just yet. It's also rainy, so leave anything suede behind.
Women's Recommendations: Tie neck maxi dress, round toe pumps, soft trench coat
Men's Recommendations: Winter sky pants, crew neck sweater, hip sneakers
JUNE
Plan for day temps between 59 and 79
Expect 2.6 inches of precipitation
What to Wear in Milan in June: June is perhaps the loveliest month in Milan, when temps reach high into the 70s and there's plenty of sun. Dressing is easy. Shrug off the coat to show off an eye-catching outfit and pumps or relax in neat jeans and a fitted t-shirt.
Women's Recommendations: Ankle pants, sleeveless button-down shirt, skimmer flats
Men's Recommendations: Slim fit jeans, soft-washed crew-neck tee, wrapped loafer
JULY
Plan for day temps between 63 and 84
Expect 2.7 inches of precipitation
What to Wear in Milan in July: While the temps aren't much higher than in June, it can feel much hotter because summer's humidity sets in. Stay cool in a breezy maxi dress and strappy gladiator sandals, or anything linen.
Women's Recommendations: Maxi dress, gladiator sandals, soft wrap 
Men's Recommendations: Khaki slacks, navy sports shirt, white oxfords
AUGUST
Plan for day temps between 62 and 81
Expect 3.7 inches of precipitation
What to Wear in Milan in August: The city empties out in August, which can be brutally hot and muggy. Go for sleeveless shirts and short skirts or lightweight pants and a polo shirt and enjoy having the place to yourself.
Women's Recommendations: Polka dot skirt, silk shell, Kate Spade sandals
Men's Recommendations: Striped pants, black sandals, button-down shirt
SEPTEMBER
Plan for day temps between 56 and 75
Expect 2.7 inches of precipitation
What to Wear in Milan in September: The city cools off slightly in September, but summer isn't quite over yet. It can still be hot and humid through the end of the month. Stick with the warm weather wardrobe, like a sleeveless shift dress paired with pointy-toe flats. Bring a lightweight sweater or jacket for evening.
Women's Recommendations: Sleeveless dress, silver oxfords, open front cardigan 
Men's Recommendations: Everlane chinos, slim white shirt, woven loafers
OCTOBER
Plan for day temps between 47 and 64
Expect 3.9 inches of precipitation
What to Wear in Milan in October: Fall fully sweeps in by October—and with it comes more rain, which can make it feel downright cold. A medium-weight jacket is essential. If wearing a skirt or dress, bring along knit tights. Jeans or light wool pants and a sweater works just as well.
Women's Recommendations: Dark wash jeans, patchwork sweater, leather sneakers
Men's Recommendations: Skinny trousers, white leather sneakers, relaxed shirt
NOVEMBER
Plan for day temps between 38 and 50
Expect 4 inches of precipitation
What to Wear in Milan in November: November is the rainiest month in Milan, and with temps dipping into the 40s during the day you'll need a wool coat or parka and shoes that can withstand downpours. Also, don't forget a sturdy umbrella.
Women's Recommendations: Gray skinny jeans, knee-high boots, long parka
Men's Recommendations: Slim fit jeans, leather high-tops, lined trench coat
DECEMBER
Plan for day temps between 30 and 41
Expect 2.4 inches of precipitation
What to Wear in Milan in December: December is considerably dryer than November, but it isn't uncommon for a light snow to blanket the city a few times during the month. True winter boots are nice to have but not essential, but a very warm coat and layers of wool are necessities.
Women's Recommendations: Belted wool coat, knee-high mahogany boots, suede wrap skirt
Men's Recommendations: Black parka, argyle sweater, suede chelsea boots
FREQUENTLY ASKED QUESTIONS ABOUT MILAN

What is there to see in Milan for tourists?
Art lovers will be in heaven in Milan, as there are a bevy of museums to visit—many occupying noteworthy historical buildings. Start off in the city center and check out the Duomo di Milano and for a stroll through the Galleria Vittorio Emanuele II to shop and take in its elegant 19th-century iron-and-glass vaulted arcades. A short walk away is Castello Sforzesco (Sforza Castle), a renovated fortress that now contains Milan's Civic Museums, along with the Galleria d'Arte Moderna and La Triennale for modern art and design. Nearby, the church of Santa Maria Delle Grazie (a UNESCO World Heritage Site) is where Leonardo da Vinci's "The Last Supper" is housed. See the master's inventions at the National Museum of Science and Technology Leonardo da Vinci, a few minutes south of the church. It's well worth the 30-minute metro ride out to Fondazione Hangar Bicocca, a rotating exhibition space where Anselm Kiefer's site-specific "Seven Heavenly Bodies" is on permanent display. Fondazione Prada is another must, with a new Rem Koolhaas-designed tower added in 2018, as is Armani/Silos to see the designer's body of work. Architecture buffs won't want to skip the Villa Necchi Campiglio, the stunning Italian Modernist mansion where Luca Guadagnino's visually stunning "I Am Love" was filmed.
When is Milan Fashion Week?
Milan Fashion Week (Settimana della moda in Italian) is in the fall, where designers' spring and summer collections are show. The date for 2019 is September 17-23. Spring shows, which are less of a big deal, are in February or March, where winter and fall collections are shown.
Where is there affordable shopping in Milan?
Several designer outfits—including Serravalle Designer Outlet, one of Europe's largest outlets—are within an hour's drive of the city about 60 minutes away. The closest is Scalo Milano outlet, about 15 minutes by car. There's also Vicolungo The Style Outlets, roughly a half-hour from the city center. Consignment stores are another option. Locals hit up Bivio, which has a few boutiques in the center of the city.
Are shops open in Milan on Sundays?
Many of the shops and smaller boutiques outside the city center will be closed, but expect chains and department stores, particularly near cathedral square, to stay opened through the weekend. That said, if you're visiting for a long weekend, save the shopping for Saturday. Sunday is the day to relax and linger over a meal during the day, either brunch or Sunday dinner, which typically starts early and lasts late into the evening.
Related Stories