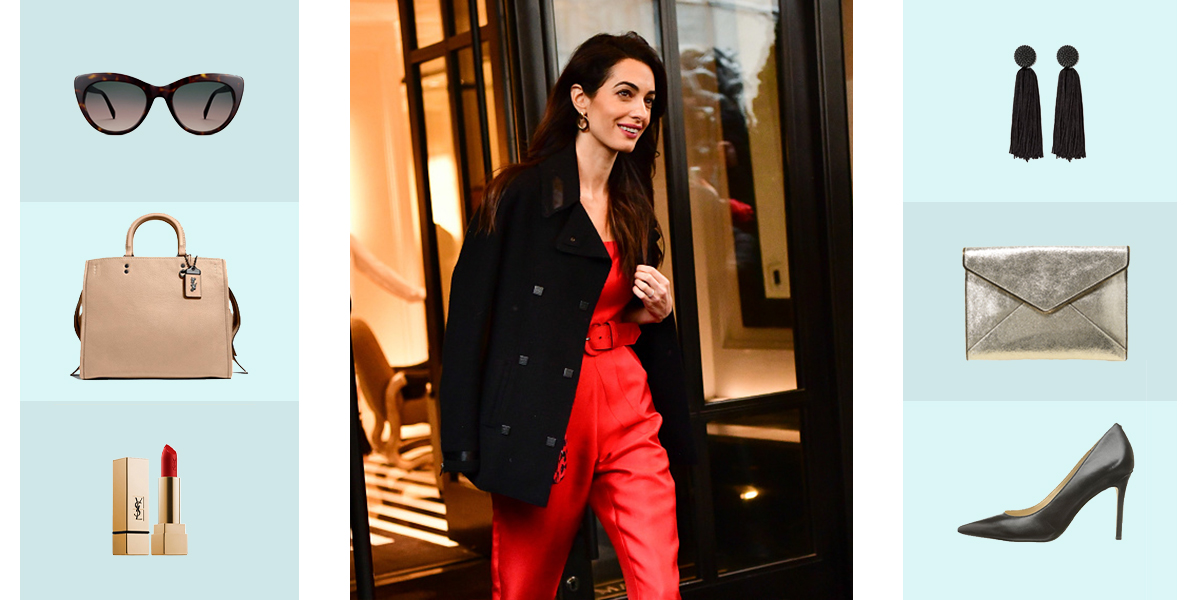 Shop
Amal Clooney's Iconic Travel Style—and How to Recreate It for Yourself
Amal Clooney is the thinking woman's fashionista. Her dramatic gowns, metallic miniskirts, and stilettos for days are the stuff of red-carpet dreams, yet she's more likely to jet off to the U.N. in New York City than she is to Ibiza. And her work as an international human rights lawyer makes her intellect as admirable as her wardrobe. For the latter, Amal has a knack for looking polished and presentable despite her whirlwind life, with jewel-tone dresses, tailored neutrals, and structured handbags. While it's near-impossible to mimic her career path or her Hollywood spouse, her travel wardrobe is actually attainable. See our picks below, and get ready to embrace glamour on a global scale.
Where Does Amal Clooney Travel?
As one part of a power couple, Amal is forever heading to the airport. She'll attend various Hollywood events to support her husband, but even as a plus-one she's never upstaged. (As Tina Fey joked at the Golden Globes: "Amal… worked on the Enron case, was an advisor to Kofi Annan regarding Syria, and was selected for a three-person U.N. commission investigating rules of war violations in the Gaza Strip—so tonight her husband is getting a lifetime achievement award!") And with her own work, she's frequently in New York City at the United Nations or even in Norway attending the Nobel Peace Prize events. Despite all this work, the couple still make time for romantic trips to Italy and Ibiza, and family getaways to Ireland with their twins. They're also fond of getting out on the open water via boat, as they did with the Obamas on Lake Como. And naturally as Amal is a Brit, they're known to hop over to England, notably when a certain royal wedding took place. Amal's lemon-yellow dress and matching hat were nearly as discussed as Meghan Markle's gown.
Amal Clooney's Travel Style
Nothing gets ruled out when it comes to Amal Clooney's closet. It's a riot of bright primary colors and big, bold prints (Stripes! Polka dots! Cheetah!)—yet she'll still rock a little black dress, a white shift, or a camel coat. If there's a through line, it's that her entire travel wardrobe is decidedly feminine, even when she's at work—or should we say especially when she's at work. Amal will pick tailored dresses and pencil skirts over pantsuits. On the occasions she wears jeans or pants, she tends to pair them with breezy floral tops and towering pumps or sandals. And she'll pack separates or outerwear in an eye-opening primary color to shake up her basics. Despite her love of dresses, heels, and skirts, Amal never goes for cutesy or girlie. She always looks like a full-grown woman. Her strong, tailored outfits only reinforce that. In terms of accessories, Amal always packs sunglasses, a structured bag, and a little bit of jewelry (earrings only—no necklaces). And while espadrilles will come out for walks around town, the heels are never left at home, and Amal is willing to walk all over town in them, even jumping onto a boat in stilettos, top deck be damned.
Three Words to Describe Amal Clooney's Travel Style
Dramatic. Amal Clooney is never one to shy away from bright, megawatt colors. She's perfectly at home wearing a bold red dress in the middle of a sea of navy business suits or a canary yellow coat in NYC's crowd of black puffer jackets. Flashy metallic dresses or leather pants are also fair game. One trick to her glamour is that she's unafraid to don a single in-your-face color without toning it down. This trick can even work with neutrals. Head-to-toe white jumpsuit topped off with a giant white hat? No problem.
Polished. Amal is a working woman, and her wardrobe reflects that. In that capacity, she's got an army of put-together shift dresses, pencil skirts, and buttoned jackets that she pairs with structured, '50s-style handbags or a tidy clutch. Classic peacoats and trench coats tie a whole look together and keep it uniform, whether in traditional camel or ruby red. And Amal will take this approach on the red carpet as well, preferring draped silhouettes in a single color over a pile on of big diamonds and froufrou embellishments.
Fashion-Forward. Most Hollywood starlets are styled to the nth degree making very "safe" choices, but what makes Amal memorable is that she's still willing to take a few risks and play with her fashion, pushing the envelope forward. Big bold polka dots? Sure! Ombre feathers? Yes, please! Flapper fringe? Why not! Because she's fluent in fashion, she's able to be a touch experimental, such as the dress she wore to the "Hail, Caesar!" premiere, a white mini bursting with red floral applique. And she's totally in her element wearing a big, showstopping hat.
Three Colors That Amal Clooney Rocks
Bold Yellow. Following the royal wedding, this could be the color that's most closely associated with Amal Clooney. But even before those royal nuptials, this was quite clearly one of Amal's signature colors, and she loves it in its full range, from a mustard-colored shift and matching coat to a soft, buttercup-yellow Grecian gown. She'll also top off an outfit with a bumble-bee colored coat, adding a bolt of electric energy to an outfit of neutrals.
Ruby Red. While yellow is the first color that comes to mind for Amal, a quick survey of her wardrobe proves that red is far and away the favorite, especially at work. Commanding and strong, red is the hue Amal seems to favor on business trips, where it throws her in relief against the masses in gray and black. A favorite outfit is head-to-toe separates in the same fiery shade, although she's also a fan of a belted or buttoned dress in this color in a '50s silhouette. And she's worn this color to various events and red carpets, whether it's a cherry-red jumpsuit or a tiered Bordeaux-colored gown.
Shimmery Metallics. Now is when the fun starts! Like Amal Clooney herself, her wardrobe works hard and plays hard. And after-hours is when the shimmery metallics join the party, which could mean a slinky copper number that's burning with disco fever or a silvery halter and matching capris. Her drop-waisted pleated minidress in copper feels a bit more ladylike, but her most stunning metallic look has to be her halter gown in liquid gold, an iridescent waterfall that cascades down from her shoulders to her hips that's the ultimate scene-stealer—to the point that even her husband was indicating to the paparazzi they should aim their cameras away from him to the real star.
How to Replicate Amal Clooney's Travel Style in Three Outfits
AMAL CLOONEY'S BUSINESS TRIP OUTFIT
Amal Clooney isn't going to sit in the back row of a conference—she's going to own the room. And that means busting out a crimson dress. Amal likes to soften her sit-up-and-take-notice red with a fitted ladylike silhouette and regal accessories. To duplicate her style, we went with this tailored shift that looks elegant and expensive. However, hidden pockets and machine-washable, anti-odor fabric means it's super practical for anyone on the road. A structured tote and nude heels also stand up to breakfast meet-and-greets and post-conference cocktails.
Amal's Business Trip Outfit
For info on these editor-selected items, click to visit the seller's site. Things you buy may earn us a commission.
AMAL CLOONEY'S SIGHTSEEING OUTFIT
Amal Clooney never misses a moment for a fluttery yellow dress, one that's as carefree as vacation itself. To adopt this feminine look, try this retro number. A trio of top buttons keep the neckline tailored and demure, and the color brings its own sunshine to any travel photos. This could also get pulled into duty for any garden wedding. Do as Amal would do and top it off with a dramatic hat and sunglasses. BYO gelato.
Amal's Sightseeing Outfit
For info on these editor-selected items, click to visit the seller's site. Things you buy may earn us a commission.
AMAL CLOONEY'S NIGHTLIFE OUTFIT
Amal knows how to get the party started with sparkly metallics that shine brighter than a disco ball. And she pulls off the impossible: Making iridescent fabrics look tasteful and elegant, while still sexy as all get-out. The key is to go for something that drapes the body (versus something that's suction-cupped to every curve). This charming '90s throwback is just the ticket, with spaghetti straps and a daring miniskirt hemline, plus a draped fit through the torso. Black tassel earrings—just like the ones Amal paired with her own golden minidress—avoid fighting for attention. Finish it off with a metallic clutch and a pair of black pumps.
Amal's Nightlife Outfit
For info on these editor-selected items, click to visit the seller's site. Things you buy may earn us a commission.
Three Amal Clooney-Inspired Accessories to Amp Up Any Outfit
Related Stories
All products have been hand-picked by our writers and editors. Items purchased through links may earn us a commission.