By Destination
What to Wear to Look Chic and Feel Comfortable in Paris at Any Age
Paris might be the official City of Love, but it's also the unofficial fashion capital of the world. From its range of high-end clothing designers, to inspirational street style bloggers, to that effortlessly chic je ne sais quoi virtually every French person possess, Paris radiates style. Another thing we love about Paris is how it celebrates women of all ages. Age shaming? Excusez-moi! It's possible for every body at any age to look chic and feel confident in Paris—yes, even you! Below, we're breaking down stylish—and wearable—Paris outfits for every age. Oui oui!
What to Remember When Planning Paris Outfits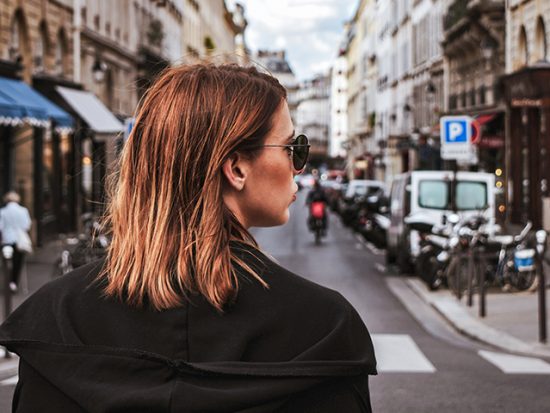 Want to nail Parisian style? The key is to strike a balance between elegant and effortless. The French folk are all about simple silhouettes, quality fabrics, and a neutral color palette. You're not going to see Parisians roaming down Champs-Elysées in their wrinkled workout clothes.
If you want to dress to impress in Paris, go ahead and pack your favorite dresses, silk blouses, and tailored pants. You want to take your look up a couple notches—but not too much. As the legendary (French!) Coco Chanel once said, "Before you leave the house, look in the mirror and take one thing off." Be like Coco and level up your wardrobe by accessorizing strategically and playing around with textures and silhouettes. And a bold dash of lipstick never hurt anyone.
Some Considerations for Shoes With Paris Outfits
Of course, no Paris outfit is complete without the right pair of shoes. When it comes to your feet in France, keep comfort and style in mind. While comfortable sneakers, practical boots, and walkable flats are ideal for long days spent touring Versailles, you'll want to throw in a pair of dressier kicks for that five-star dinner of Champagne and escargot. If you're trying to pack lightly, bring one pair of dressy shoes that can do double duty for light walking and another pair that's comfortable enough to really roam the 1st arrondissement.
Dressing for the Weather in Paris
Regardless of your Paris itinerary, it's important to keep the weather in mind. While Paris has four distinct seasons, it rarely gets too hot or cold so it's always a good idea to pack layers. Rain—on the other hand—is inevitable, so you'll want to pack a chic rain jacket and umbrella. Winter tends to be quite cold and damp, with snow only falling rarely. Spring temps can be chilly and rainy, but June is warm enough to start enjoying picnics by the Seine. Summer tends to scorch, and not all restaurants and hotels have air-conditioning. Fall is the most pleasant time to visit Paris and autumnal colors are in full swing. We think anytime is the perfect time to visit Paris, just dress for the weather and swoon at how the light changes.
Paris Outfits for Every Age and Season 
Everyone wants to look and dress their best when traveling to Paris, regardless of the time of year or your age. To help, we're sharing outfit ideas for every age in summer and winter. Good style isn't restricted by your birth year, and these on point Paris outfits will help streamline the packing process. Psst… for more Paris packing tips, check out our full checklist here.
SUMMER PARIS OUTFIT FOR 20-SOMETHING WOMEN
There's something inexplicably Parisian about mixing and matching stripes and florals to create an outfit that projects cool. A denim skirt feels fun when paired with a Parisian-inspired striped tee and pink loafer mules. A pair of sunnies and floral bandana will complete the look and provide a youthful edge. This is the outfit you'll reach for when dressing for a street cafe in Montmartre.
Summer Paris Outfit in Your 20s
WINTER PARIS OUTFIT FOR 20-SOMETHING WOMEN
Everywhere you look in Paris—street style is all the rage. So why not channel your inner trendsetter and embrace the phenomenon? Trade in your usual leggings for a pair of high-rise and slouchy jeans and swap the hoodie for a refined crewneck sweater. A pair of fresh white sneakers adds to this outfit's curb-side appeal and a wrap-style coat looks effortlessly chic and cozy. French-based Longchamp's crossbody bag is a sportier alternative to their popular tote.
Winter Paris Outfit in Your 20s
SUMMER PARIS OUTFIT FOR 30-SOMETHING WOMEN
Parisians are always keeping tabs on the latest trends, so visiting the City of Love is a great opportunity to rock a trend you might've been too nervous to embrace back home. Not only are animal-print midi skirts having a fashion moment, but they also look more polished than a miniskirt. Keep this look cool and casual by adding bright white sneakers, a cotton camp shirt, and a barrette—they're back in a big way.
Summer Paris Outfit in Your 30s
WINTER PARIS OUTFIT FOR 30-SOMETHING WOMEN
Isabel Marant basically reinvented French fashion for women, so pay appropriate homage (and stay warm) in a wool and cashmere blend pink jacket that looks straight off her runway. This jacket packs a pink punch, so keep the rest of your look streamlined with black skinny jeans and a mockneck sweater. Jeffrey Campbell Chelsea Boots do undercover double duty as stylish winter boots that are also rainproof. Isabel would be proud.
Winter Paris Outfit in Your 30s
SUMMER PARIS OUTFIT FOR 40-SOMETHING WOMEN
Whether you're schlepping your kids from the Louvre to Musée d'Orsay or indulging in a solo shopping spree right before a dinner of steak frites, it's important to have an outfit that's easy to style, looks great, and can seamlessly take you from day to night. A flattering, cropped jumpsuit, like this one from Banana Republic, is a great blank canvas. It looks good on its own and even better with fun accessories. Go ahead and add a fabulous straw hat, rattan circle bag, and some rose quartz earrings—the love gemstones are a nice homage to the City of Love.
Summer Paris Outfit in Your 40s
WINTER PARIS OUTFIT FOR 40-SOMETHING WOMEN
If you spent your 20s and 30s experimenting with the latest trends, going for classic French style might come as a breath of fresh air. While a striped shirt feels undeniably Parisian, it can run the risk of looking, well, expected. Give this classic top a sophisticated twist in sweater form, and pair it with a timeless trench coat, Coach riding boots, and a market tote to fill with pastries, silk scarves, and bottles of Burgundy. Ooh la la!
Winter Paris Outfit in Your 40s
SUMMER PARIS OUTFIT FOR 50-SOMETHING WOMEN
A classic wrap dress in a soft green color palette will keep you cool and elicit plenty of compliments. Keep the accessories classic too, but turn them up with unexpected touches like pearl hoop earrings, a structured transparent tote, and sexy slingbacks you can actually walk in. Tie this mini silk scarf in your hair, or around your neck or handbag and you'll look like a French class act.
Summer Paris Outfit in Your 50s
WINTER PARIS OUTFIT FOR 50-SOMETHING WOMEN
Just because it's cold outside doesn't mean you need to sacrifice your sense of style. They key to making an outfit cold weather friendly is by pairing one statement piece with cozy pieces. An a-line skirt is a great option year-round. But when paired with a black wool coat, a white cashmere sweater, tights, and unexpectedly sophisticated white boots, the whole look was made for a wintry urban wonderland. A steaming cup of chocolat is highly suggested—beverages can be accessories, right?
Winter Paris Outfit in Your 50s
SUMMER PARIS OUTFIT FOR 60-SOMETHING WOMEN
Sure, Parisians are known for their effortlessly simple style, but Paris is also a city where you can embrace your inner maximalist. This bold, polka dot dress packs a punch without having a costume-like effect. And when you pair this special find with sleek accessories like a set of hoops earrings and can't-go-wrong cat eye sunglasses—you'll feel like the envy of the Champs-Élysées.
Summer Paris Outfit in Your 60s
WINTER PARIS OUTFIT FOR 60-SOMETHING WOMEN
Want an age-appropriate Paris outfit that feels chic, not clichéd? Opt for a pussybow blouse. This style is decidedly French—and a cinch to pull off. A blush pink silk pussybow blouse speaks for itself, so keep the rest of the look simple with slim ankle pants and a pair of Everlane's most walkable heels. Top it with a twill coat and a black beret. After all, when in Paris!
Winter Paris Outfit in Your 60s
SUMMER PARIS OUTFIT FOR 70-SOMETHING AND OLDER WOMEN
Once you hit your seventies, you know you have good taste and aren't afraid to show it. Keep your Parisian look vacation-ready by pairing a relaxed linen shirt tucked into a comfy, but trendy, pair of wide-leg cropped pants. Add cute black flats, a pendant necklace with your initial, and a polished shoulder bag—you'll be ready to see the sights until well after the Eiffel Tower lights turn on.
Summer Paris Outfit in Your 70s
WINTER PARIS OUTFIT FOR 70-SOMETHING AND OLDER WOMEN
For many, the key to acing Parisian style is building feminine layers with clean lines. Come winter, you can lean into the same unapologetic style by rocking an oversized leopard-print blouse and tailored leggings. Stud earrings and black flats add interest without competing for attention, while a black cashmere scarf adds a dash of glamour and warmth. This style will turn heads everywhere from sunrise at the Trocadero to after dinner macarons at Laduree.
Winter Paris Outfit in Your 70s
Related Stories