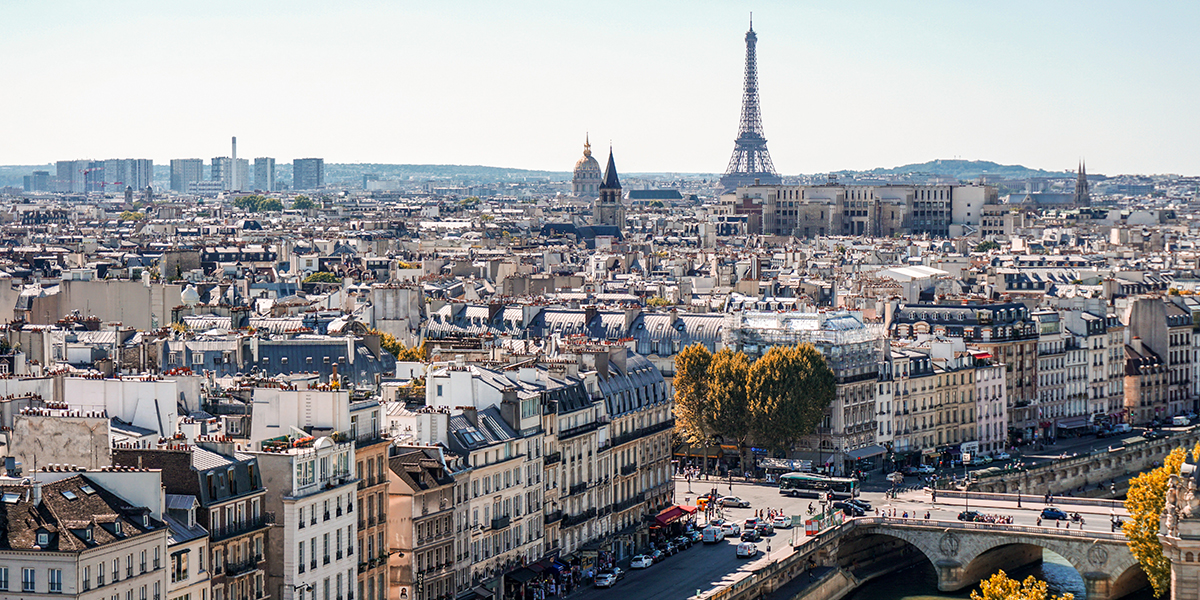 By Destination
The Ultimate Paris Packing List
A crisp sweater and trench coat? Oui! Striped T-shirt and ballet flats? Bien sur! Parisian men and women rely heavily on these classics, and so should you when packing for the City of Light. Follow the cardinal rule of dressing like a French person—quality over quantity, less is more—and not only will you fit in, you'll also have extra room in your suitcase to bring home finds from Le Bon Marche in the Marais or the famous Parisian flea markets. Below you'll find our top tips on what to bring for Paris and what to wear there, including fail-safe outfits to take you from a café au lait and croissant to an evening boat ride on the River Seine to catch a prime view of the Eiffel Tower sparkling on the hour.
THE LUGGAGE
When it comes to packing, it's all about the right bag for the right job. If you've been making do with a beat up old duffle or an ancient carry-on with a sticky wheel, you'll be amazed at how a new bag makes travel so effortless. Every smart traveler should have three key pieces of luggage: a weekender bag for quickie getaways, a carry-on suitcase for week-long trips, and a larger suitcase for longer stays or travelers that overdo it on souvenirs. (Guilty!) For a weekender, we're fans of the Away Everywhere bag. This little dynamo has separate pockets for your laptop, pens, reading materials, and phone, plus a waterproof umbrella compartment—genius when you visit a rainy destination. For a one-week trip, it's hard to beat Away's Carry-On—it changed the suitcase game with an ejectable battery for phone charging, smooth spinner wheels, and a lifetime warranty. And for any trips lasting two weeks or longer, go for the Travelpro Platinum Elite. There's a reason flight crews swear by this luggage brand. This checked bag has gliding spinner wheels, a telescoped handle, and two-inches of zippered expansion. Consider yourself packed.
THE PACKING GEAR
Every packing hurdle is made easier with this trio of travel gear. Got a hotel room or cruise ship cabin with little counter space? This hanging toiletry bag will give you elbow room at the sink plus provide dedicated pockets for all your creams, gels, and sprays. Hang it on the bathroom door or over the towel rack to keep everything upright, protected, and in place. If you have an issue with overpacking—who doesn't?—then packing cubes are a game-changer. This four-piece set will keep all your things, from underpants to electronics, organized and condensed, saving you precious suitcase space. And rather than depend on the freebie toiletries at the hotel (that harsh hotel soap will zap all the moisture from your skin), bring your own tried-and-true toiletries in these TSA-approved squeeze bottles.
THE IN-FLIGHT ESSENTIALS
Only travel amateurs get on a flight without bringing the essentials. A sleep mask not only blocks out cabin lights—it provides the privacy you need to get some Zs. The Trtl travel pillow is a travel editors' favorite for keeping your neck and head comfortable as you nod off. And Comrad compression socks' moisture-wicking technology keeps feet comfy and protects you from deep vein thrombosis. (Yikes!) Fly like a pro with these packing essentials.
PARIS OUTFIT INSPIRATION
Looking polished and pulled together no matter what is de rigueur. Parisians dress presentably—and often fashionably—to go to the supermarket, and you'll want to follow suit. Look like you made an effort, whether you're heading to Telescope cafe (near Palais Royal) for an aeropress coffee or exploring the magical little rooms of Shakespeare and Company Bookstore. Locals choose well-fitting (often impeccably so), high-quality clothing, and avoid overly manufactured looks. Instead of over-accessorizing, Parisians tend to let one bold item make the statement, like a persimmon purse with an all-black outfit. Paris isn't the place for matchy-matchy outfits. Mixing it up with an unexpected detail, like poppy-red pumps, a subtle jacquard print, or playful peekaboo hearts, is just more interesting for everyone.
French men and women are brilliant at layering—think cashmere and tailored pants under crisp blazers and overcoats. Also, they're not shy to wear navy and black, a pairing that Americans tend to avoid for fear of "clashing." Parisian men aren't afraid to wear bold colors, and, more often than not, spend time cultivating a fully finished look. Extras such as a brimmed hat, scarf, and cufflinks are added to everyday wear for a trip to the boulangerie or out shopping rather than reserved exclusively for an evening out.
Women's Outfits
Men's Outfits
THE 3 PAIRS OF SHOES YOU'LL NEED FOR EXPLORING PARIS
That old line about not wearing sneakers in Europe if you don't want to look like a tourist is outdated advice. Comfy footwear is completely in vogue, thanks to brands like Saint Laurent and Versace turning out luxe versions in their collections. Pack a pair that adds pizazz to a neutral outfit (think glittery or metallic sneakers) or a classic pair of Chucks or Vans. Ballet flats or smoking slippers are a must for ladies, and guys and gals alike will want to bring leather boots that can be dressed up or down.
Women's Shoes
Men's Shoes
What to Pack for Paris
Click items to view travel editor-approved options
WHAT NOT TO PACK FOR PARIS
Although Parisians have embraced athleisurewear to a degree, this isn't New York or L.A.—you'll look and feel out place if you spend the day in your Lulus. So unless you're planning to work out, leave gym sneakers and attire at home (plus, some hotels now have loaner workout gear as an amenity). Pack toiletries you absolutely need, but then hit a French pharmacy to browse beautifully packaged products that aren't available in the U.S. Keep your shoe wardrobe to three pairs, if possible, and unless you're prepared to handle cobblestone streets in high heels, leave the stilettos at home.
THE *ONE THING* WTP EDITORS ALWAYS PACK FOR PARIS
In Paris, living out of a suitcase is no excuse for looking disheveled in crinkled, static-clingy, or less-than-fresh clothing. This on-the-go laundry kit from The Laundress is a godsend for travelers trying to fit in among impeccably pulled-together Parisians. The kit's sprays, towelettes, and spot-treatment soap nix odors, static cling, wrinkles, and stains—even a big splash of Beaujolais you dropped on your slacks. —WTP Editors
PARIS' WEATHER AND SEASONS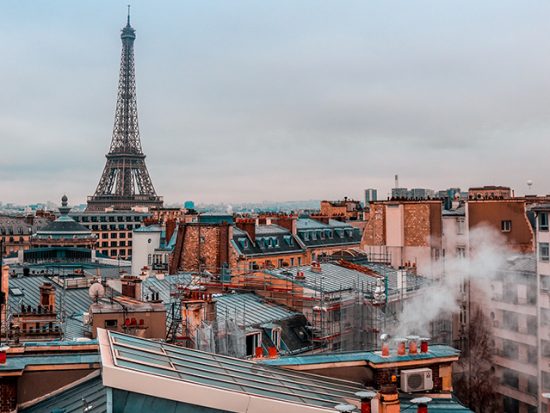 Ella Fitzgerald was spot-on about Paris weather in her love letter to the City of Light: winter drizzles, summer sizzles. January and February are gray, damp, and raw—the kind of weather that chills the bones, when the comfort of a warm bistro beckons. Snow might fall once or twice, though sometimes not at all. As for spring, March and April can be cold and rainy—dreary or romantic, depending on your perspective. But by June it's warm enough to claim a bench in the Place des Vosges or spread a blanket on the grass in the Luxembourg Gardens. Like other major European cities in recent summers, Paris has dealt with brutal heat waves (don't expect to find AC at every restaurant or hotel, by the way). Fall is typically in full swing by the middle of September, and if summer wasn't too wet, the city is awash in brilliant autumnal colors.
Note: Below is a packing forecast, not a traditional forecast. A packing forecast focuses on how cold it's likely to be in the early mornings and evenings based on historical data. We recommend using this together with a traditional forecast as you get closer to your departure date. This data comes from our friends at Weather Underground.
JANUARY
Plan for day temps between 30° F and 39° F
Temps will drop near 24° F at night and into the early mornings
Expect 0.03 inches of precipitation in January
What to Wear in Paris in January: January is typically ultra-gray, and while snow is rare, it does get bitterly cold. Plan on a puffer coat, boots, and a warm hat.
FEBRUARY
Plan for day temps between 34°F and 45° F
Temps will drop near 28° F at night and into the early mornings
Expect 0.03 inches of precipitation in February
What to Wear in Paris in February: February is as raw as January, and you'll need warm outerwear, like a wool cocoon coat and rubber-soled boots.
MARCH
Plan for day temps between 30° F and 45° F
Temps will drop near 23° F at night and into the early mornings
Expect 0.08 inches of precipitation in March
What to Wear in Paris in March: March is damp and still fairly cold. In addition to a heavy pea coat and thick jeans, do as the Parisians do and wrap up in a big cozy scarf.
APRIL
Plan for day temps between 42° F and 56° F
Temps will drop near 36° F at night and into the early mornings
Expect 0.04 inches of precipitation in April
What to Wear in Paris in April: April in Paris means rain, though it does warm up quite a bit from March. Plan to wear lighter-weight wool clothes underneath a raincoat with a liner—and don't forget an umbrella.
MAY
Plan for day temps between 48° F and 61° F
Temps will drop near 37° F at night and into the early mornings
Expect 0.06 inches of precipitation in May
What to Wear in Paris in May: By the end of May, Paris is in full bloom. It might be chilly at night in the beginning of the month, so you definitely want to bring a lightweight jacket (go for denim), but chances are you'll be able to skip tights if you're wearing a skirt.
JUNE
Plan for day temps between 57° F and 66° F
Temps will drop near 46° F at night and into the early mornings
Expect 0.05 inches of precipitation in June
What to Wear in Paris in June: June is one of the loveliest months in Paris. It isn't hot, and while most days are warm enough to go out without a jacket, you might want to bring one for evening.
JULY
Plan for day temps between 63° F and 73° F
Temps will drop near 55° F at night and into the early mornings
Expect 0.02 inches of precipitation in July
What to Wear in Paris in July: It's full-on summer by July, so throw on a breezy dress and espadrilles, and don't forget a hat and sunscreen.
AUGUST
Plan for day temps between 60° F and 67° F
Temps will drop near 45° F at night and into the early mornings
Expect 0.04 inches of precipitation in August
What to Wear in Paris in August: Paris sizzles in August. Lightweight cotton frocks, strappy sandals, and tanks are all you'll need (though a cardigan or sweater in your bag for chilly museums and restaurants is a good idea).
SEPTEMBER
Plan for day temps between 50° F and 62° F
Temps will drop near 37° F at night and into the early mornings
Expect 0.02 inches of precipitation in September
What to Wear in Paris in September: September can be as hot as August, but it does start to cool off, so you'll need a jacket during the day. Transition from summer clothes to pants and a long-sleeved shirt.
OCTOBER
Plan for day temps between 40° F and 57° F
Temps will drop near 35°F at night and into the early mornings
Expect 0.01 inches of precipitation in October
What to Wear in Paris in October: October can get downright chilly and a mid-weight coat, such as a leather jacket, is essential. Wear a fleecy sweatshirt or thin sweater underneath. If you're wearing a skirt or dress, you'll need tights.
NOVEMBER
Plan for day temps between 34° F and 46° F
Temps will drop near 26° F at night and into the early mornings
Expect 0.06 inches of precipitation in November
What to Wear in Paris in November: Winter kicks off in November, requiring a warm coat and heavier wool sweaters. Women may even want to bring an extra pair of tights to wear under jeans.
DECEMBER
Plan for day temps between 31° F and 44° F
Temps will drop near 27° F at night and into the early mornings
Expect 0.04 inches of precipitation in December
What to Wear in Paris in December: Break out a long wool coat, boots, and your warmest winter clothes for holiday season in Paris. It doesn't typically snow (and if it does, it usually melts by the next day), so it's OK to leave the heavy-duty winter boots at home.
FREQUENTLY ASKED QUESTIONS ABOUT PACKING FOR PARIS

What should I wear in Paris for dinner?
It depends where you're going. You might not want to wear jeans and a sweater to Le Jules Verne or Le Grand Vefour (err on the side of dressy there), but most bistros, brasseries, and cafes are totally casual. If you're having Neapolitan pies and wine at Pizzeria Popolare, scallops and beef tartare at Vaganende Brasserie, or Japanese tapas and ramen at Ito Izakaya (and we recommend that you do), whatever you wore during the day will likely be fine for dinner. Getting dressed for an evening out in Paris can be as simple as switching shoes and handbags and adding lipstick for women.
Are leggings/jeans okay to wear in Paris?
Jeans, yes; leggings, not so much—unless you dress them up with, say, boots and a chic oversized sweater. It's rare to see Parisian women walking around in yoga pants or leggings and sneakers like they just came from the gym (even if they have).
What do locals wear in Paris?
Women wear jeans a lot, but also favor casual skirts and dresses. Parisian men, however, definitely step it up in comparison to their American counterparts. You'll see men in trousers, button-downs with cufflinks, blazers, scarves, and hats.
What do I wear in Paris if it rains?
A trench coat is ideal as an outer layer with a lightweight but warm sweater underneath. We also recommend a raincoat by Danish brand, Rains—their flattering styles for men and women are waterproof, breathable, and available in solid neutrals or pretty pastels.
I'm visiting Paris in the winter; what is the best stylish travel jacket to bundle up?
Go for a sporty look in a short puffer (we love the Petra Puffer by Mackage) or a full parka with faux fur-lined hood (like Schott's water-resistant down parka). It can get very cold in Paris in the winter, but temperatures typically stay above freezing and it doesn't snow that often, so you won't need heavy-duty winter boots or an ankle-length down coat.
FIVE FOOLPROOF OUTFITS FOR YOUR TRIP TO PARIS
1. What to wear museum-hopping to the Louvre, the Musee d'Orsay, or Musee Rodin
Choose an outfit that's easy to wear but polished, like a flowy skirt and blouse. (You don't want to look like a slouch walking through gorgeous, grand buildings!) For footwear, sleek sneakers or shoes with sturdy soles are a smart pick, and don't forget to throw a wrap or sweater in your bag.
Start with lightweight, stretchy jeans with a tailored cut. Add a classic crewneck tee (may we recommend in navy and white stripes?) and a printed bandana for a dash of Parisian flair.
2. What to wear on a night out in Paris, maybe swinging by the Moulin Rouge
Most bistros, cafes, and brasseries are casual enough for jeans, but for a night out that includes the theater or a cabaret, Parisians step it up. Go for something fun and colorful, like a sleeveless light turtleneck tucked into a rainbow striped midi skirt.
Parisian clubs and cabarets require a look that's dressy, but never stuffy or overdone. Swap out traditional pleated slacks for a modern, slim-cut version that hits the ankle, and formal dress shirts for a whimsical button-down.
3. What to wear shopping in Paris, hitting Printemps or Galeries Lafayette Paris
It's fine to hit the mall in lounge pants and a hoodie, but shopping in Paris is definitely a dressier affair. We aren't talking a sheath dress and heels here, just something smart-casual, similar to an outfit you might wear to brunch, like white jeans and a chambray shirt.
For guys, fitted chinos with a hint of stretch and a bomber jacket is a no-fail look for a shopping outing in Paris. Classic canvas kicks and polarized shades keep things cool and comfy.
4. What to wear sightseeing in Paris, visiting Palais Garnier, the Arc de Triomphe, and the Eiffel Tower
Go for something sporty, or for something similar to what you might wear on a movie date, like jeans and a sweater coat with metallic sneakers.
Be comfortable, but look smart. As long as everything's neat, even a hoodie and old-school sneakers will work.
5. What to wear to Disneyland Paris with the family
Parisians dress equally well at the opera as they do at an amusement park, so don't skimp on style when you're visiting Walt Disney's Parisian outpost. (And if you're traveling with kids, no worries. Everything here is machine washable when that Mickey sundae ends up in your lap!)
Take jeans-and-a-tee to the next level with a corduroy-lined, workwear-inspired jacket with zippered and interior pockets for smartphone-safekeeping on rides (or extra space to hold all the kids' doodads and toys while they ride around!).
Related Stories
All products have been hand-picked by our writers and editors. Items purchased through links may earn us a commission.