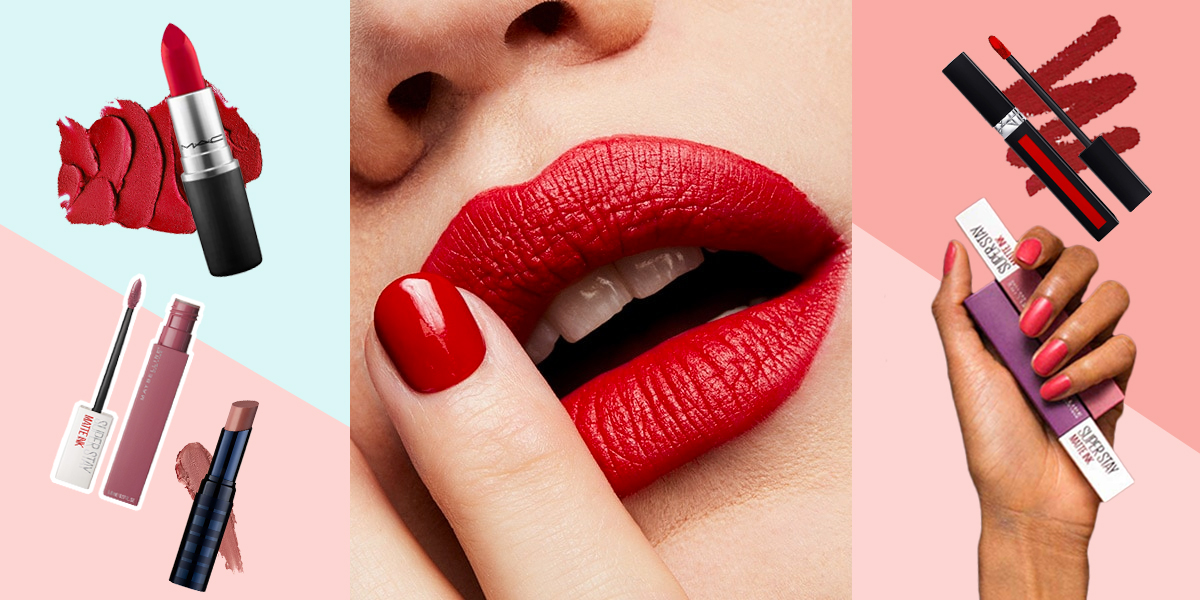 Shop
The Best Stay-On Lipsticks That Can Survive a Transatlantic Flight
Looking glam on the go is tricky. Hectic travel days all too easily have their way with your carefully applied makeup, allowing no time for touchups. The solution? A long-wear lipstick with serious staying power—one that looks fresh even after a long-haul flight, with no threat of fading on the horizon. So whether you're running straight from the airport to a meeting, snapping an in-the-air selfie, or simply want your look to last through a "welcome home" kiss, these stay-on lipsticks pack the pigment punch you need to crisscross time zones in a single application.
1
Best Matte Long-Lasting Lipstick

MAC Cosmetics Retro Matte Lipstick
For a timeless lip that defies the clock, this cult-favorite MAC product delivers a soft, suede-y texture and dynamic color that lasts and lasts. An infusion of kaolin clay (the same ingredient in many mattifying clay face masks) spares you from even a hint of glint. That ingredient also locks down pigment to prevent drift and feathering around the perimeter of lips for up to eight hours. 
$18.50 at MAC Cosmetics
2
Best Creamy Long-Lasting Lipstick

Bite Beauty Matte Creme Lip Crayon
In an effort to keep your shade in place, some long-wearing lipsticks can end up leaving lips feeling drier than the Sahara—a problem made all the worse by long hours on a dry plane. Not so with these creamy-yet-matte Bite Beauty crayons, which use intense pigments to keep your pout looking perfectly made up. Beeswax and orange peel wax form a water-resistant barrier, so your lip's natural moisture (amped up by the formula's shea butter and vitamin E) stays locked in. Just a few swipes, and that drink-cart beverage won't wash your color away.
$24 at Sephora
3
Best Red Long-Lasting Lipstick

Dior Rouge Dior Liquid Lip Stain in 999 Matte
According to beauty lore, Dior's 999 shade was the signature lip color of Christian Dior's first runway show in 1947. Today, the shade is essentially required wearing for a trip to Paris. A revamp of the original lipstick bullet formula, this liquid lipstick—a first for Dior—glides on silky and offers intense staying power so your pout looks perfect from morning croissant to evening stroll along the Seine, with not so much as a petit touch-up along the way. Because French-girl cool is all about effortless elegance.
$37 at Nordstrom
4
Best Long-Lasting Lip Stain

Yves Saint Laurent Tatouage Couture Liquid Matte Lip Stain
For those who don't like the heavy feel of a traditional lipstick but want six-hour-flight-to-St. Lucia staying power, this potently pigmented, whisper-light lip stain is a travel MVP. The angled doe-foot applicator makes getting sharp, clean lines around your Cupid's bow a breeze and the color (more than 25 matte and metallic shades) just won't quit. Even so, the Allure Best of Beauty 2018 winner feels weightless and comes across semi-sheer, as if you're blessed with naturally juicy, vibrant lips.
$37 at Saks Fifth Avenue
5
Best Berry Long-Lasting Lipstick

Kat Von D Everlasting Liquid Lipstick in Bauhau5
Kat Von D started out her career as a tattoo artist, and while her rich, raspberry-colored Bauhau5 might not be needle-and-ink permanent, it can withstand hours of shuffling between trains, planes, and automobiles—no touch-ups necessary. The cool-toned plum shade brightens teeth and the dense, velvety texture keeps lips looking lush for hours. As an added bonus, the vitamin E- and sunflower-seed-wax-based formula is vegan and cruelty-free.
$20 at Sephora
6
Best Longwear Drugstore Lipstick

Maybelline SuperStay Matte Ink Liquid Lipstick
They say that time is money, but that doesn't mean you have to lay out a lot of cash for a lip color that will get you through the 15 hours from L.A. to Sydney. In fact, this drugstore favorite claims 16-hour wear, though fans claim it can hang on even longer. (Maybelline created a special remover just to help clear this stuff away.) Available in 30 shades, this lipstick can handle anything your travels throw at it—from wine-tasting tours to chowing down in Chinatown—all for under $10.
$6.99 at Amazon
7
Best Longwear Lipstick Pencil

Urban Decay 24/7 Glide-On Lip Pencil
Perfectionists take note: for flawlessly precise lines that simply refuse to budge, this creamy lip pencil lives up to the 24 hours promise in its name. With jojoba oil, cottonseed oil, and vitamin E, this pencil goes on smooth—not like its chalky brethren of yore. Once on, it blends easily for pigment-rich, waterproof coverage all over lips. Bonus: all 30-plus shades can act as a primer under a more fade-prone lipstick.
$21 at Sephora
8
Best Natural Long-Lasting Lipstick

Beautycounter Color Intense Lipstick
Crafting a long-lasting lip color with a natural formula is famously tricky—most long-wear lipsticks rely on special synthetic polymers for hours-long hold. This long-wear option from clean beauty brand Beautycounter conquers that issue with luscious pigments and a blend of natural oils and waxes that help the color lock in place so it's not melted away by the time you finish your morning cup of coffee. The colors feel balmy as you swipe them on, and a hint of peppermint oil adds a nice bit of pep.
$28.90 at Beautycounter
9
Best Kiss-Proof Lipstick for Long Goodbyes

Stila Stay All Day Liquid Lipstick
Whether you're headed off for two weeks or 24 hours, there are times when a quick goodbye peck on the cheek just won't do. For those emotional moments, this 12-hour liquid lipstick won't leave either party in need of a facial wet wipe. The 20 shades apply like a silky gloss, then set to a flawless matte finish; avocado oil in the formula keeps your lips feeling as kissable as they look.
$22 at Ulta
10
Best Luxury Longwear Lipstick

Giorgio Armani Beauty Lip Magnet Liquid Lipstick
Bringing Armani-level luxury to your wardrobe is a big investment. But bringing Armani-level luxury to your beauty bag? That's a little more attainable. In the case of the brand's swipe-on liquid lipstick, the elegant glass packaging and bold red cap are swoon-worthy in their own right. But the real opulence comes from the feel of it on your lips. The thin formula feels almost like an oil going on and dries to a second-skin, barely there texture that still imparts a hefty color payoff and locked-in eight-hour wear.
$38 at Sephora
Related Stories
All products have been hand-picked by our writers and editors. Items purchased through links may earn us a commission.