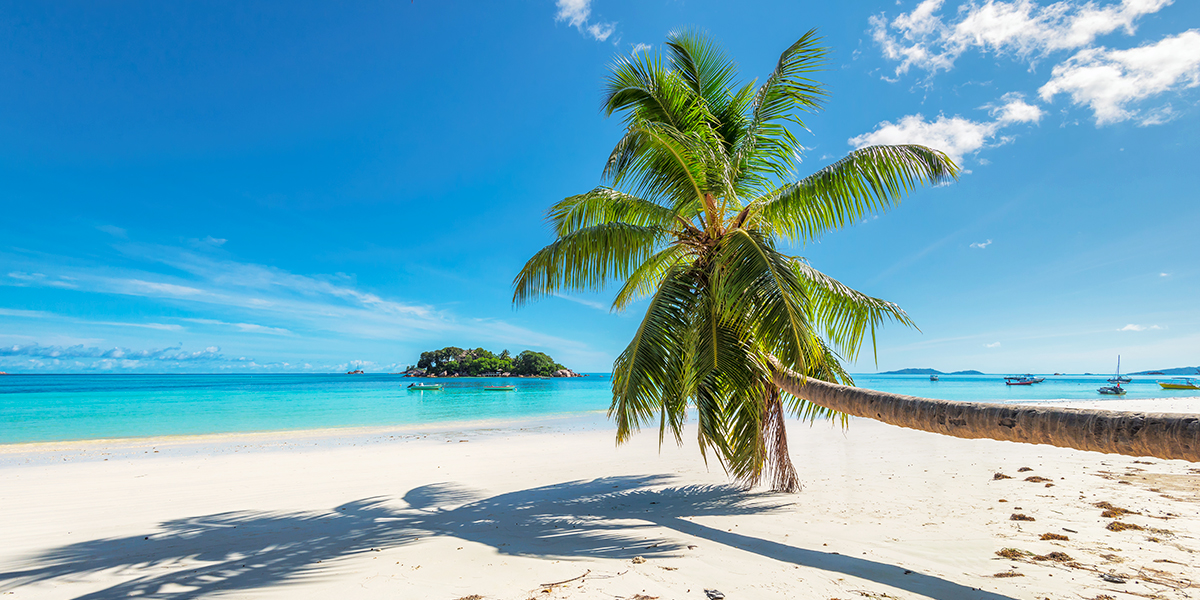 By Destination
The Ultimate Cancun Packing List
Your swimsuit, strong sunscreen, and a straw hat—yes, that classic beach trifecta is coming with you to Cancun. But your packing duties don't begin and end with a glorified beach bag. After all, Cancun is so much more than an indulgent beach getaway: Mexico's southeastern-most point is part wild party town, part archaeological wonderland, part postcard-perfect beach escape with water sports galore. So you'll want your suitcase to contain the right gear for Cancun's multiple personalities. If your trip falls during wet season—between May and October—pack for rain, though be aware that even heavy showers are often followed by a sapphire sky, and they'll rarely mean your day is a total wash. Below, you'll find a detailed breakdown of our must-takes items, including great outfit ideas for your Mexico vacation, a month-by-month breakdown of what to pack for Cancun, and more. De nada!
Your suitcase packing checklist
Click items to view travel editor-approved options
THE PERFECT LUGGAGE
Determining the best luggage for your trip depends on the length of your stay. If you're going for a full week or longer, you'll probably want to go the way of the checked suitcase. We love the tropical print (so on theme) of American Tourister's Belle Voyage Spinner 28, whose multi-directional wheels make it a breeze to steer—though chances are you'll opt for a private transfer from Cancun International Airport to your resort, and won't be hauling your own bags. Shorter trips can get away with an expandable carry-on option, like Delsey's Carry-On Spinner (those two inches of additional packing space will really come in handy for all those hand-painted margarita glasses you buy as souvenirs). And just a duffel should do for a long weekend; we love this Kenneth Cole travel duffel for its reasonable price tag and thoughtful features, like RFID pockets and a shoe garage. This will help keep the rest of your bag clean, even after you stuff it with the grubby shoes you wore to scale the area's ancient ruins.
THE 3 PAIRS OF SHOES YOU'LL NEED FOR EXPLORING CANCUN
Women's Shoes
Men's Shoes
Sure, it's tempting to grab a pair of flip-flops and call it a day. But to face Cancun's many sides—party paradise, seaside sanctuary, open-air Mayan museum—you'll need a versatile mix of footwear that can handle everything from hot sand to even hotter nightclubs. We've zeroed in on three key styles, including a boat shoe that does double-duty, a much-loved wedge that's as comfortable as it is flattering, and sneakers that can handle spur-of-the-moment kayaking trips and jungle trails leading to cenotes—or the occasional cloudburst.

CANCUN FASHION
Vibrant and versatile day-to-night looks—wide-leg palazzos and patterned maxi dresses for the gals, linen pants and hot-climate-friendly guayaberas (feather-light summer shirts popular in the tropics) for the guys—are the way to go in this coastal resort town. Locals proudly don embroidery and ruffles, so don't be afraid to pay tribute to the regional style with bold, bright colors. Because you're going to spend a hefty chunk of your time in the sun, bring extra bathing suits (we recommend at least two to three for a week-long jaunt). And be aware that specialty restaurants at Cancun resorts often enforce dress codes, so be sure to scope out the scene in advance.
FIVE FOOLPROOF OUTFITS FOR CANCUN
1. WHAT TO WEAR FOR A DAY AT THE BEACH OR POOL
A boldly hued one-piece (don't forget a flowy boho dress to go with) is just as great for refreshing ocean dips as it is for laying out by the pool. Combine it with some leopard-print sunnies with 100 percent UV protection and a floppy hat, and you're armed for the blazing sun—and a killer selfie.
You won't need much more than a pair of quick-drying board-shorts that take color cues from the Caribbean Sea itself. Throw on a breathable tank and cushioned flip-flops for trips to the pool bar, and a hat and shades for long strolls along the beach.
2. WHAT TO WEAR TO THE CHICHEN ITZA RUINS
Comfort is key when exploring this UNESCO World Heritage Site. For navigating the grounds, crowds, and craft stalls in the heat, we suggest a pair of well-ventilated linen shorts, a breathable top and cover-up, and cotton kicks.
Though El Castillo and its 364 steps have been roped off for years, you'll still want to wear a pair of sturdy sandals for exploring the archeological wonder. Don't forget a hat to ward off the rays—we love this soft-washed, vintage-inspired baseball cap.
3. WHAT TO WEAR TO DANCING
Nothing says bailamos like a fluttery floral frock and strappy stacked heels. Cancun's salsa clubs and confetti-filled dance floors are great places to have fun with bold lipstick and statement-making accessories.
Reserve the cut-offs and tees for the beach. For a night on the town, stick to dapper staples like slim-fit chinos, short-sleeve button-downs, and casual suede shoes.
Opt for a pair of longer denim shorts for your slide down the wire, in addition to a top that can be tucked in—we're partial to this creased cotton cover-up, which you can throw over a bathing suit for a spontaneous cenote swim.
A classic crewneck tee is just the right base. Pair it with some drawstring shorts and canvas low-tops, and you're ready for a flight through the forest.
5. WHAT TO WEAR ON A SNORKEL DAY TRIP
Of course you'll need a swimsuit for exploring your underwater surroundings, but don't forget a slip-on cotton caftan and floppy hat for the boat ride there. (The rope detail on this straw topper will help keep it in place while you're speeding over the waves.) Toss additional gear like sunscreen, sunglasses, and your smartphone into a straw tote for safekeeping.
Dive into your aquatic adventure with these fool-proof, mid-length swim shorts; back on the boat, sport a beachy cotton tee—fittingly, a portion of profits from this particular collection are donated to the Surfrider Foundation, an organization committed to safeguarding our oceans.
WHAT NOT TO PACK FOR CANCUN
Cancun is hot and tropical year round, so you'll never need a puffer coat, bulky sweaters, or even a pair of jeans, really. (That's not to say you can't bring a pair of pants—you should, especially if you're a man who wants to sample Cancun's legendary nightlife. Just make sure they're made of lightweight material, like linen or pure cotton.) Temps may dip a bit after dark during the winter months, but even then, a lightweight cover-up should do the trick. Fellow tourists tend to dress casually and colorfully, so even if you're hitting up CoCo Bongo, a flowy party dress or 100 percent cotton, short-sleeve button-down should do. And word to the wise: Leave the pricey jewelry at home. Pick-pocketing is not uncommon outside the Hotel Zone, and you shouldn't announce yourself as a well-to-do tourist.
THE *ONE THING* WTP EDITORS ALWAYS BRING TO CANCUN
We love sun-soaked days on the sand (bonus points if there's an icy pina colada involved), but not without full sun-protecting regalia—including lip balm with SPF. That one may be less obvious—you already knew about the strong sunscreen and wide-brim hat—but it's important for preventing painful, throbbing sunburnt lips (and free-radical damage and an increased risk of melanoma). Throw a tube of Coola Liplux SPF 30 in your beach tote and do quick touch-ups throughout the day. Not only does it provide broad-spectrum protection against UV rays, but its organic beeswax and aloe vera-based formula conditions and cools. Plus, it's unscented, so all you'll taste is that sweet, rummy coconut drink. —WTP Editors
CANCUN'S WEATHER AND SEASONS
While sunshine is almost always on the agenda here—the peninsula boasts about 340 cloudless days a year—temperatures can range from the mid-50s (December, January) to the low-90s (July, August). Rainy season stretches from May to October, but all that really means is fleeting showers and thunderstorms. Pack light layers for the cooler PM hours, and plenty of sunscreen and cover-up options to avoid sunburn. June through November is hurricane season, but note that Cancun is very rarely hit by significant storms. Our advice? If you're booking this time of year, spring on trip insurance, just in case.
Note: Below is a packing forecast, not a traditional forecast. A packing forecast focuses on how cold it's likely to be in the early mornings and evenings based on historical data. We recommend using this together with a traditional forecast as you get closer to your departure date. This data comes from our friends at Weather Underground.
JANUARY
Plan for day temps between 71° F and 78° F
Temps will drop near 53° F at night and into the early mornings
Expect 0.06 inches of precipitation in January
What to Wear in Cancun in January: Layer up for the Yucatan's chilliest month—relatively speaking, of course—with lightweight layers.
Recommendations: Open cardigan, women's chambray overshirt, women's linen joggers.
FEBRUARY
Plan for day temps between 68°F and 77° F
Temps will drop near 57° F at night and into the early mornings
Expect 0.02 inches of precipitation in February
What to Wear in Cancun in February: Prepare for heaps of sunshine—February is considered the peninsula's driest month, so take your pool and beach time to the next level with water-friendly gear accessories.
Recommendations: Scalloped one-piece, linen caftan, woven straw hat.
MARCH
Plan for day temps between 68° F and 75° F
Temps will drop near 59° F at night and into the early mornings
Expect 0.16 inches of precipitation in March
What to Wear in Cancun in March: Hello, spring equinox. March makes for something of a sweet spot, with temps averaging in the low 70s and hardly any rain at all. Whether you're exploring Isla Mujeres or heading down to Chichen Itza to see the "serpent" dancing down the steps of the ancient temple, be sure to wear light knits and cotton.
Recommendations: Maxi dress, men's slim-fit shorts, men's pocket tee.
APRIL
Plan for day temps between 70° F and 78° F
Temps will drop near 60° F at night and into the early mornings
Expect 0.04 inches of precipitation in April
What to Wear in Cancun in April: It's not the heat, it's the humidity—April can be especially muggy across Quintana Roo (Cancun's home state). Stay comfortable with loose-fitting clothing and heat-busting accessories, like a travel fan and an insulated water bottle.
Recommendations: Women's linen-blend pants, handheld folding fan, stainless-steel water bottle.
MAY
Plan for day temps between 75° F and 79° F
Temps will drop near 64° F at night and into the early mornings
Expect 0.13 inches of precipitation in May
What to Wear in Cancun in May: May brings the kickoff of rainy season and steadily increasing daytime temps. Keep your face and body safe from UV radiation with sunscreen, sunglasses, and a floppy straw hat.
Recommendations: Reef-safe sunscreen, polarized sunglasses, women's wide-brim hat.
JUNE
Plan for day temps between 76° F and 81° F
Temps will drop near 71° F at night and into the early mornings
Expect 0.10 inches of precipitation in June
What to Wear in Cancun in June: The sea is especially calm this time of year; it also happens to be when whale sharks and manta rays stop by the area's reefs to fuel up on plankton. Bring along snorkeling accessories to make your underwater excursion extra memorable.
Recommendations: Women's rashguard, underwater camcorder, reef-safe sunscreen.
JULY
Plan for day temps between 78° F and 82° F
Temps will drop near 71° F at night and into the early mornings
Expect 0.15 inches of precipitation in July
What to Wear in Cancun in July: It's a scorcher. Though you'll likely just be shuttling between the pool and your hotel room, stay covered with breezy caftans, loose thin pants, and cotton tees to stave off an accidental sunshine overdose.
Recommendations: Fringed caftan, polarized sunglasses, women's beach pants.
AUGUST
Plan for day temps between 80° F and 82° F
Temps will drop near 73° F at night and into the early mornings
Expect 0.10 inches of precipitation in August
What to Wear in Cancun in August: The sun continues to work overtime. The good news? The water is a balmy 90 degrees, so count on quality beach lounging—our swimsuit picks will get you seaside ready.
Recommendations: Crocheted one-piece, men's board shorts, ombre resort towel.
SEPTEMBER
Plan for day temps between 76° F and 81° F
Temps will drop near 71° F at night and into the early mornings
Expect 0.13 inches of precipitation in September
What to Wear in Cancun in September: Increasingly wetter weather comes with a swell in creepy crawlies—stay dry and bite-free with a travel umbrella and plenty of repellent. On the clothing front, stay cool with loose-fitting, breathable garments.
Recommendations: Mosquito-repellent bracelets, compact umbrella, light women's jumpsuit.
OCTOBER
Plan for day temps between 76° F and 80° F
Temps will drop near 68° F at night and into the early mornings
Expect 0.28 inches of precipitation in October
What to Wear in Cancun in October: October may be the area's wettest month, but with the right gear in tow, even a downpour won't dampen your plans.
Recommendations: Rain ponchos, waterproof phone case, women's water-friendly sandals.
NOVEMBER
Plan for day temps between 70° F and 77° F
Temps will drop near 64° F at night and into the early mornings
Expect 0.04 inches of precipitation in November
What to Wear in Cancun in November: Come November, the slightly cooler air brings relief from summer's scorch and fall's intense humidity. It's still wet season in Cancun, but the raininess tapers off this time of year.
Recommendations: Breezy jumpsuit, kimono wrap, men's long-sleeve tee.
DECEMBER
Plan for day temps between 78° F and 82° F
Temps will drop near 71° F at night and into the early mornings
Expect 0.15 inches of precipitation in December
What to Wear in Cancun in December: Cooler daytime temps and very little chance of rain make for optimal hiking conditions—explore the area's inland jungles and caves with these outdoor essentials.
Recommendations: Board shorts, men's pocket tee, men's running shoes.
FREQUENTLY ASKED QUESTIONS ABOUT PACKING FOR CANCUN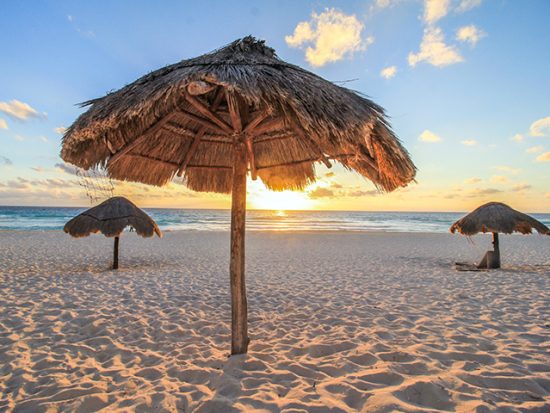 Do I need to bring a travel plug adapter?
The standard voltage in Mexico is 127V with a frequency of 60HZ. As long as your device has a two-pronged cord, you won't need an adaptor. But devices with three-pronged cords (like laptops) may require an adapter. Many of the area's higher-end resorts are outfitted with three-hole outlets; some properties will also let you rent adapters. But it's always advisable to bring your own.
Can I bring medications?
No. According to the U.S. Embassy & Consulates in Mexico website, travelers are prohibited from bringing certain over-the-counter medicines and devices—like inhalers and some sinus/allergy medications—into Mexico. If you need Sudafed or Vicks, you'll have to purchase it from a pharmacy in Cancun.
Can I drink the water in Cancun?
No. Stick to bottled and filtered water if you want to bypass tummy troubles. If you're staying at a large resort, pack a stainless steel water bottle to fill with filtered water from the buffet restaurant or water stations throughout the grounds. SteriPen, a battery-powered device that kills bacteria with UV light, is a good option for purifying water. If your hotel room has an electric kettle, you can use it to boil tap water for brushing your teeth.
What travel documents do I need to travel to Cancun?
If you're a U.S. citizen, you won't require a special visa to travel to Mexico (as long as your trip length doesn't exceed six months). But be sure your passport has at least six months of validity when traveling internationally, or else you may be denied entry.
Related Stories