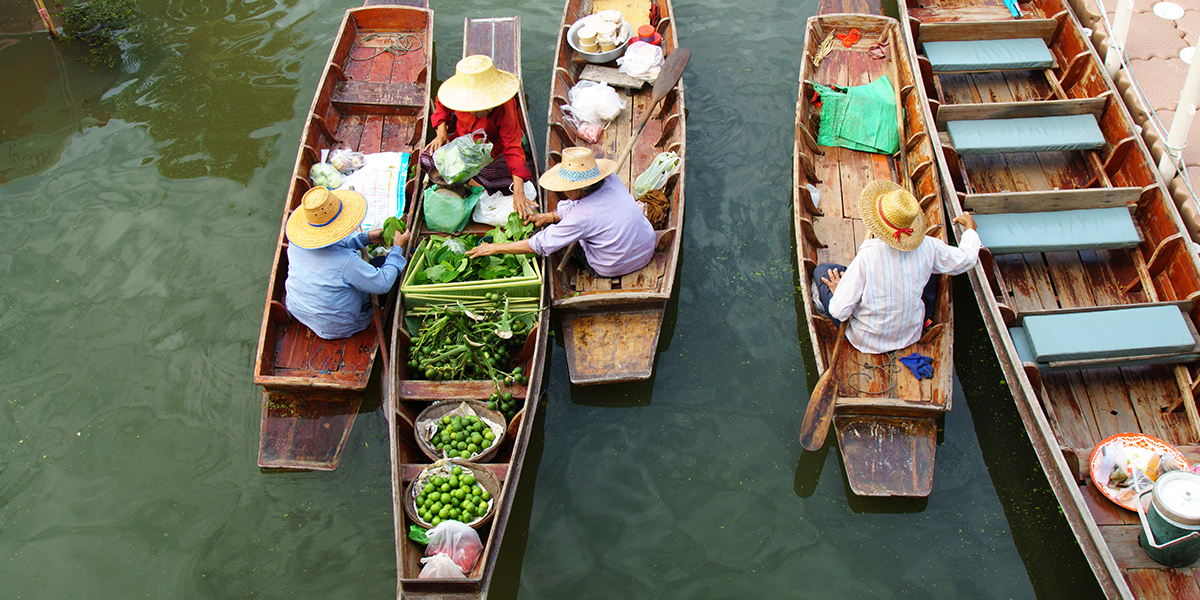 By Destination
The Ultimate Bangkok Packing List
Bangkok is a true feast for the senses. From whip-fast tuk-tuks and mouth-watering street food to sparkling Buddhist temples and vibrant street markets, it's impossible to be bored. Packing for a Bangkok getaway requires a few special considerations, though. With a tropical monsoon climate, BKK is an intense bundle of heat and rain—but cut-off short shorts and low-cut tank tops just won't cut it, culturally speaking. Since Bangkok—and Thailand as a whole—is a highly religious destination, it's better to lean into modest dress out of respect for local customs. This means lots of long skirts, shirts that cover your shoulders, and carrying a scarf on you at all times should you need it to enter a temple. Below, we take a look at each month's weather in detail and itemize exactly what you'll need on your trip to Thailand's multifaceted capital of Bangkok.
THE LUGGAGE
TheWhen it comes to packing, it's all about the right bag for the right job. If you've been making due with a beat up old duffle or an ancient carry-on with a sticky wheel, you'll be amazed at how a new bag makes travel so effortless. Every smart traveler should have three key pieces of luggage: a weekender bag for quickie getaways, a carry-on suitcase for week-long trips, and a larger suitcase for longer stays or travelers that overdo it on souvenirs. (Guilty!) For a weekender, we're fans of the Away Everywhere bag. This little dynamo has separate pockets for your laptop, pens, reading materials, and phone, plus a waterproof umbrella compartment—genius when you visit a rainy destination. For a one-week trip, it's hard to beat Away's Carry-On—it changed the suitcase game with an ejectable battery for phone charging, smooth spinner wheels, and a lifetime warranty. And for any trips lasting two weeks or longer, go for the Travelpro Platinum Elite. There's a reason flight crews swear by this luggage brand. This checked bag has gliding spinner wheels, a telescoped handle, and two-inches of zippered expansion. Consider yourself packed.
THE PACKING GEAR
Every packing hurdle is made easier with this trio of travel gear. Got a hotel room or cruise ship cabin with little counter space? This hanging toiletry bag will give you elbow room at the sink plus provide dedicated pockets for all your creams, gels, and sprays. Hang it on the bathroom door or over the towel rack to keep everything upright, protected, and in place. If you have an issue with overpacking—who doesn't?—then packing cubes are a game-changer. This four-piece set will keep all your things, from underpants to electronics, organized and condensed, saving you precious suitcase space. And rather than depend on the freebie toiletries at the hotel (that harsh hotel soap will zap all the moisture from your skin), bring your own tried-and-true toiletries in these TSA-approved squeeze bottles.
THE IN-FLIGHT ESSENTIALS
Only travel amateurs get on a flight without bringing the essentials. A sleep mask not only blocks out cabin lights—it provides the privacy you need to get some Zs. The Trtl travel pillow is a travel editors' favorite for keeping your neck and head comfortable as you nod off. And Comrad compression socks' moisture-wicking technology keeps feet comfy and protects you from deep vein thrombosis. (Yikes!) Fly like a pro with these packing essentials.
BANGKOK OUTFIT INSPIRATION

As Thailand's most populous city, you will see all sorts of street fashion, including Western-influenced trends. Because the capital (and the country) is nearly 92 percent Buddhist, however, style is more conservative as a whole. To respect locals and their landmarks, follow suit and opt for more modest outfits with long pants (go for linen since it's light), skirts, and tops that adequately cover the shoulders, midriff, and chest. At night, should you hit a more touristy section of town for dinner or drinks, you can shed your buttoned-up look for something a little more casual.
Women's Outfits
For info on these editor-selected items, click to visit the seller's site. Things you buy may earn us a commission.
Men's Outfits
For info on these editor-selected items, click to visit the seller's site. Things you buy may earn us a commission.
THE 3 PAIRS OF SHOES YOU'LL NEED FOR EXPLORING BANGKOK
Oh, shoes…it's all too easy to overpack them when you have the *perfect* pair for every outfit in your bag. That said, it's essential to prioritize your most tried-and-true pair of comfy walking shoes when packing for Bangkok. These will serve you well on long days (and nights) spent at the city's markets and for more adventurous pursuits outside of town—maybe a reputable elephant sanctuary? After that, slip-ons are key for both gals and guys. Many local temple attractions, like Wat Pho and Wat Arun, require you take your shoes off at the door, so if you're hitting a few temples in one day, unlacing sneakers and re-finagling gladiator sandals will get old quick. For this, we suggest packing two types of shoe: an easy to slide on/off closed-toe option like Toms' Baja, and a buckle-free (hopefully blister-free) sandal like Boardwalks from Madewell.
Women's Shoes
Men's Shoes
Your suitcase packing checklist
Click items to view travel editor-approved options
WHAT NOT TO PACK FOR BANGKOK
Bangkok's weather is scorching year-round, but when it comes to packing, leave your booty shorts, bandeau crop tops, and sky-high heels at home. With a population that's 92 percent Buddhist, the capital is rather conservative in dress. While nights out in more touristy corners of town (Khao San Road, for example) may be a little more lax about dress codes, if your itinerary includes day trips to temples and other cultural attractions, you'll want to avoid shoulder (and cleavage) baring tops and opt for higher-cut tees and blouses. Because it rains a ton and you'll also likely sweat through a few shirts, it's wise to bring quick-drying materials and pieces you can easily hand wash and re-wear.
THE ONE THING THING WTP EDITORS PUT IN OUR SUITCASE FOR BANGKOK
A Universal Travel Adapter isn't the sexiest item to pack, but it is something that you'll likely use multiple times a day in Bangkok. Bangkok's outlets commonly feature two-prong round or flat sockets that are useless for American gadgets which generally have two flat parallel pins and a round grounding pin. If you want to charge your phone or digital camera in Bangkok, you need an adapter. While there are seemingly unlimited adapter options out there, we love Flight 001's color coded adapter that's like a small puzzle with four labeled pieces, making it easy to find which piece you need to plug in your laptop or phone. The adapter fits into outlets in over 150 countries (meaning you can bring it with you to Bangkok and beyond.—WTP Editors
BANGKOK'S WEATHER AND SEASONS
Despite the fact that Bangkok maintains 80+ degree temperatures year-round, the city technically has three seasons: hot (March through June), rainy (July through October), and cool (November through February). With a tropical monsoon climate, the destination is also no stranger to precipitation or humidity, with nearly 56 inches of rain per year, and an annual humidity average of 78 percent. One key consideration to keep in mind when packing for a trip to Bangkok is that temperatures don't fall dramatically at night, so you can leave your layers at home. All weather conditions considered, the most popular time to visit Bangkok is from November to March, when daytime temperatures and humidity are more tolerable and rain all but hibernates till the start of summer.
Note: This data comes from our friends at Weather.com. We recommend using this together with a traditional forecast as you get closer to your departure date.
JANUARY
Plan for day temps between 71 and 89 temps
Expect 0.40 inches of precipitation in January
What to Wear in Bangkok in January: January is toasty in Bangkok, but the weather is still pretty pleasant compared to the rest of the year. Adhere to the city's modest dress code with lightweight and conservative staples like cropped linen pants, comfy dresses, and ruffled t-shirts.
FEBRUARY
Plan for day temps between 75 and 90 temps
Expect 1.1 inches of precipitation in February
What to Wear in Bangkok in February: A few additional degrees is really all that separates January's weather from February's. Stick with longer shorts, linen shirts, and espadrilles that are easy to slip on and off for fast entry to Bangkok's cultural attractions.
MARCH
Plan for day temps between 78 and 92 temps
Expect 1.2 inches of precipitation in March
What to Wear in Bangkok in March: If you thought February was hot, wait till you see what March has in store! With daytime temps soaring to the low 90s, it's imperative that you carry sunscreen, sunglasses, and a water bottle. While temples do require more conservative dress, you can get away with a sleeveless sundress or jumpsuit as long as you bring a scarf to cover your shoulders. Men can consider super lightweight jeans.
APRIL
Plan for day temps between 80 and 94 temps
Expect 2.8 inches of precipitation in April
What to Wear in Bangkok in April: This month is Bangkok's hottest, with temperatures that get close to 100 degrees. There's really not much you can do—outfit-wise—to contend with such searing temperatures and sky-high humidity, so make sure you drink plenty of water and dip into places with air conditioning whenever you can.
MAY
Plan for day temps between 80 and 92 temps
Expect 7.5 inches of precipitation in May
What to Wear in Bangkok in May: May is the start of Bangkok's rainy season—and it's not playing. With nearly 20 days of precipitation throughout the month, travelers should always consider that there's a 60-percent chance of rain when they get dressed and ready. For this reason, make sure you carry a small umbrella and maybe avoid all-white outfits.
JUNE
Plan for day temps between 80 and 91 temps
Expect 6 inches of precipitation in June
What to Wear in Bangkok in June: Bangkok's rain streak continues through June with another nearly 20 days of rain. Temperatures fall between the 80s and 90s, and humidity is also through the roof at 73 percent. Make sure you wear a sunhat and sunscreen and take ample breaks when needed.
JULY
Plan for day temps between 78 and 90 temps
Expect 6.2 inches of precipitation in July
What to Wear in Bangkok in July: July is just as sweltering, sticky, and rainy as June, so pack a lot of lightweight options in breathable fabrics like linen. If your hotel has a pool, make sure you pack a suit so you can take dips as often as possible.
AUGUST
Plan for day temps between 78 and 90 temps
Expect 7.4 inches of precipitation in August
What to Wear in Bangkok in August: This month's weather is pretty similar to June and July's with temperatures settling in the high 80s and low 90s. Pack a lot of flowy, breathable options like midi skirts, linen pants, and sundresses and keep your umbrella close.
SEPTEMBER
Plan for day temps between 77 and 89 temps
Expect 12.6 inches of precipitation in September
What to Wear in Bangkok in September: Autumn may be fast approaching but given Bangkok's weather, you wouldn't know it. Summer clothes including button-up shirts are still key in September, as is an umbrella—thanks to a whopping 22 plus days of rain.
OCTOBER
Plan for day temps between 77 and 89 temps
Expect 9.1 inches of precipitation in October
What to Wear in Bangkok in October: In October, Bangkok begins to see the light at the end of the rainy season tunnel. While it's far from total sunshine, the rain much more manageable and temperatures also begin to drop. Pack your conservative-leaning summer clothes and comfy walking sandals and you'll be good to go.
NOVEMBER
Plan for day temps between 74 and 88 temps
Expect 2.3 inches of precipitation in November
What to Wear in Bangkok in November: Bangkok finally reigns in the precipitation come November. With just a little over two inches of rain throughout the month and a full eight hours of sunshine each day, visitors can pack their itineraries full of outdoor exploits. Temperatures also dip into the 70s, offering a much welcome respite from the near 100-degree summer months. Pack the usual: sunscreen, water bottle, cap, breathable pieces, and November's weather will treat you just right.
DECEMBER
Plan for day temps between 70 and 87 temps
Expect 0.4 inches of precipitation in December
What to Wear in Bangkok in December: December may be Bangkok's coldest month, but don't go reaching for a sweater. Cold is a relative term, of course, as the city's temperature still hovers in the 70s and mid 80s. Like the rest of the year, summer clothes will suit you just fine.
Recommendations: Men's Champion tee, tortoiseshell glasses, linen relaxed shirt
FREQUENTLY ASKED QUESTIONS ABOUT TRAVELING TO BANGKOK

What is the cheapest season to travel to Bangkok?
If you're looking for bargains in terms of airfare and hotels, you'll find deals in April, May, and June, as well as September and October. Just keep in mind that the first months fall in Bangkok's hottest season and the latter months are rainy season (a toss-up if you're planning lots of outdoor activities). Another thing to consider: Bangkok is already an inexpensive destination with favorable exchange rates and generally low prices, so if you can't stand the heat or sudden downpours, it may be worth it to go during peak season when the weather is more favorable.
Do I need a visa to visit Bangkok?
According to the U.S. Embassy & Consulate in Thailand, Americans with a valid U.S. passport and airline ticket proving they'll be leaving the country after their trip do not need a visa to enter Bangkok. That said, you'll need to make sure your passport is valid for at least another six months post-the date of your trip (if not, renew it beforehand). When you land in Bangkok, Thai immigration officials will stamp your passport, permitting you 30 days in Thailand. If you wish to exceed 30 days, you can pay a fee to have your time extended. Travelers from other countries should check with their embassies to confirm whether or not they need a visa.
Is Bangkok safe to travel for single women?
Bangkok is a safe destination for solo female travelers. You'll see this sentiment echoed on blogs and by embassies on the ground. The city has a well-worn tourist trail and with over 20.5 million visitors each year, there's surprisingly little in the way of violent crimes. While you should use common sense when out at night or in a less-frequented part of town, you shouldn't have any issues as a single traveler. In its travel advisories, the U.S. Embassy lists Thailand at a Level 1: Exercise Normal Precautions.
What is appropriate to wear in Bangkok Thai temples?
Dressing for a visit to a Thai temple isn't all that hard. In short: Ladies should wear either long pants or a long skirt or dress. Additionally, it's essential that shoulders are covered, so if you're wearing a tank top, carry a scarf to cover up when you go inside. Men should also wear long pants and a shoulder-covering tee or button-up shirt. Easy to slip on/off shoes are also essential as you'll remove your shoes before entering most temples. Go with a slide sandal or something like a pair of Toms which take little effort to get on and off. Don't bring your Gucci loafers, either. Consider the fact that you'll be kicking your shoes off in a giant, unsupervised pile and more expensive pairs may "go missing."
Where is Bangkok's red light district?
What to Wear at the Temples:
Whether you're visiting the Reclining Buddha at Wat Pho or exploring Wat Phra Kaew and the greater Grand Palace complex, there are a few cultural considerations to make before you get dressed. Ladies should wear pants or a long skirt that passes the knees as well as a shirt that covers the shoulders. If you do happen to have tank top or more revealing dress on, carry a scarf so you can cover up before entering. You will not be allowed entry unless you bring your own scarf or—in some cases—you can rent a communal scarf at the door.
Pulling together a temple-appropriate outfit is a little easier for men, but you'll still want to dress respectfully. That means your shoulders should be covered (no muscle tanks allowed here) and pants are preferred. If it's super hot out and you can't stand the thought of jeans or lightweight chinos, opt for linen pants instead. If you don't want to wear sandals, at least loosen your sneakers' laces so they're easier to slip on and off at temple entrances.
What to Wear on a Tuk Tuk Ride or Bike Tour:
Tuk-tuks whip around at seemingly G-force speeds, so you won't want to be caught on one in a flowy sundress. Instead, go for linen pants and a long breathable tunic that will allow you to enjoy the breeze. Sneakers are important footwear if you're on a bike, and a mini backpack is the easiest bag to carry your gear.
Comfy sneakers and casual wear are really all you need for a tuk-tuk ride or bike tour. Unless you're dropping by a temple, men can get away with (longer) shorts. And even if a temple is next on your list, you can always stow some easy-to-throw-on pants in your backpack.
What to Wear Shopping:
Whether you're hitting the tourist-friendly Asiatique: The Riverfront mall on the Chao Phraya waterfront or the traditional Taling Chan Floating Market where locals pick up goods to stock their pantries, you'll still want to dress in modest clothing. Since you'll be outside, it's also smart to wear a sun hat to protect your face from harsh rays.
Like the ladies, men would also do well to dress modestly. That means long pants and tops that cover the shoulders. The Thai know a thing or two about style, so add a sharp watch to dress up an otherwise casual outfit. And since you're shopping, you're going to need a nice wallet.
What to Wear at an Elephant Sanctuary:
*Disclaimer: You'll want to really do your research before signing up for any elephant sanctuary tours. Many "sanctuaries" are unethical, allowing visitors to ride the elephants which is a major no-no that's been denounced by virtually every animal activist group. That said, there are sanctuaries where you can walk with the elephants and bathe them, and these are the most responsible ways to interact with the gentle giants.
Since you'll be doing a combination of walking, feeding, and bathing, it's best to pack substantial water-friendly shoes like Tevas. Everything else—your shorts or yoga pants, t-shirt, and baseball hat—you'll just want to make sure you're ok with getting dirty. Sunglasses are a good idea, too.
Guys should also plan to wear waterproof sandals. Longer swim trunks that dry quickly can double as regular shorts—so you can wear them to the next stop on your itinerary—are also a smart pick. Don't forget a hat and sunglasses.
What to Wear for a Night Out on Khao San Road:
Khao San Road is a well-known and popular tourist district lined with lively bars, cheap eateries, and hostels. Because it's a traveler-heavy neighborhood, the dress code isn't quite as modest. Ladies can break out their above-the-knee skirts and a bold camisole for a night out here.
Khao San Road may allow for bolder fashion, but that doesn't mean you should look sloppy. Men would do well to avoid shorts and tanks and opt for long pants, leather sneakers, and a linen shirt.
Related Stories