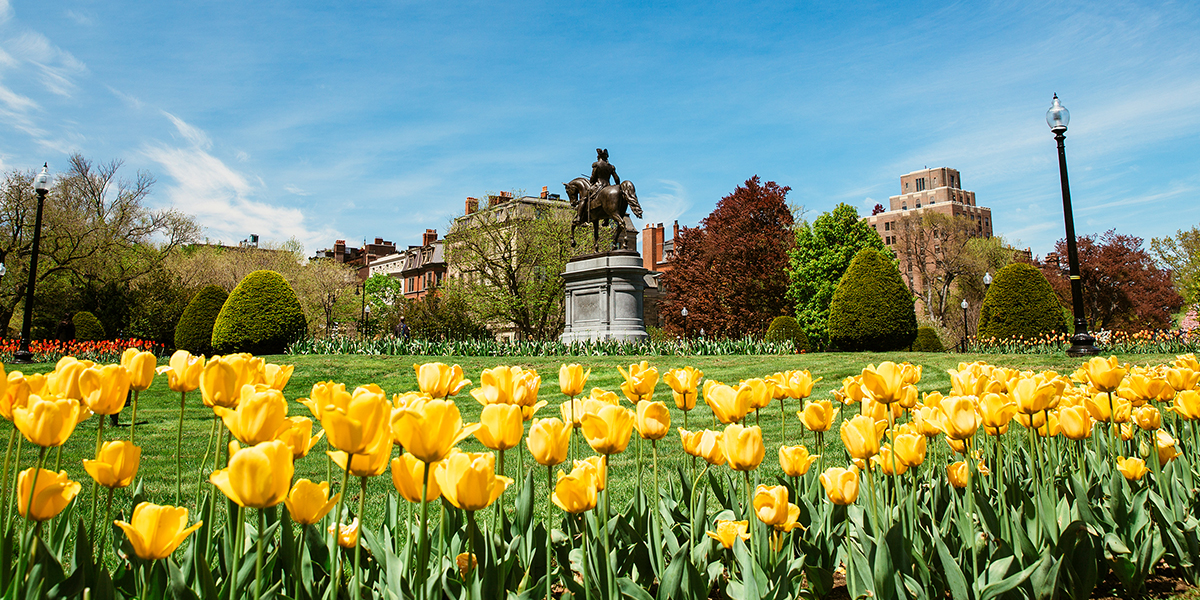 By Destination
The Ultimate Boston Packing List
As one of the oldest cities in the U.S., Boston has had a few centuries to develop into the showstopper it is today. If history is your thing, few towns can top it; after all, a little something called the Boston Tea Party took place here, and the Freedom Trail covers some of the "greatest hits" from that founding era. Of course, there's more to this New England capital than just revolutionary sites. From chic boutique hotels and seafood of every stripe to swan boat rides in the Common and super-champ sports teams—Boston knows how to bring it. The weather here can be unpredictable, but our month-by-month guide to packing and foolproof outfit ideas will prep you. Grab your suitcase, some Dunkin' Donuts (a mandatory pitstop), and hit the ground running.
YOUR SUITCASE PACKING CHECKLIST
*Keep these items in your carry-on
Clothes to Pack
Underwear/bras
Camis/undershirts/PJs
Socks/tights
T-shirts
Pull-on/button-up shirts
Shorts/skirts
Dresses/suits (for events)
Sweaters/sweatshirts
Swimsuit
Coats/jackets/raincoats
Shoes to Pack
Heels/dress shoes (for events)
Sandals
Boots
Accessories to Pack
Purse
Hats/gloves/scarves
Jewelry*
Belts
Ties
Toiletries to Pack
Toothbrush/toothpaste/dental floss
Body wash/soap
Deodorant
Face wash/makeup remover
Moisturizer
Contact lenses/solution
Razor/shaving cream
Shampoo/conditioner
Brush/comb
Earplugs/eye mask*
Tissues*
Hair-dryer/styling tools
Hair elastics/hair accessories
Tampons/pads*
Birth control/condoms*
Hand sanitizer*
Bandages
First-aid ointment
Bug spray
Medications/vitamins*
Stain remover
Tech to Pack
Phone/charger*
Portable battery charger
Laptop/tablet/e-reader*
Device chargers*
Power adapter (international travel)
Camera/video camera*
Memory card/film*
Other Essentials to Pack
Wallet (credit/debit cards/ID/cash)*
Passport/visa* (international travel)
Keys*
Medical insurance card*
Snacks/gum*
Books/magazines/guidebook*
Helpful Printouts to Pack
Emergency contacts*
Boarding pass/hotel and car rental reservations*
Maps/directions*
Bank/credit card contact info*
Copies of ID*
THE PERFECT LUGGAGE
Two- to three-day Boston trips call for your typical weekender-size bag. Mark & Graham's unisex Canvas and Leather Weekender fits the bill with a roomy interior compartment and a 60-inch strap that can sling over your shoulder or back. Pack lightly—just a pair of jeans or two, a few T-shirts, and essentials like toiletries and undergarments—and you'll have no problem toting it to your Airbnb in Beacon Hill or your hotel in Copley Square. If your trip is a week or longer, you may want to upgrade to a model with wheels. French luggage company Delsey produces some of the highest-quality suitcases on the market; their Helium Aero Spinner Hardside is made of lightweight yet highly resilient polycarbonate. The whole thing whirls around on four double spinner wheels, and expands an additional two inches if you go overboard souvenir-shopping at Quincy Market. A two-week-plus trip calls for a sizable checked bag. We love Samsonite's 30-inch Etude Spinner as it's high-capacity and easy on the eyes with a scratch-resistant polycarbonate shell that's available in black, navy, and a gray wood-grain print. Inside, tie-down straps help you organize your outfits (or split your and your travel partner's items if you're sharing one bag) and a removable hanging organizer makes transferring your things from suitcase to hotel closet as simple as can be.
THE THREE PAIRS OF SHOES YOU'LL NEED FOR EXPLORING BOSTON
Women's Shoes
Men's Shoes
Boston is a highly walkable city, but bring the wrong pair of shoes and you'll be racking up blisters left and right. No matter the season, a cushy, supportive pair of sneakers will suit you well. Since Boston's seasons are so extreme, the rest of your footwear collection will depend on the dates of your trip. Touching down in spring or summer? Flat (or nearly flat) sandals and boat shoes are the way to go. Heading into fall, ladies would do well with a pair of low- to mid-heeled booties for nights out and men will find rugged boots with serious traction will have them fitting right in with local gents. If you're one of the brave souls heading into the city in blizzard season, L.L. Bean's iconic Bean Boots are the only option. They'll keep your toes warm in negative-15-degree windchill and prevent slips and falls on New England's treacherous black ice.
STYLE FOR BOSTON
Like an "I Love New York" shirt in NYC, a Harvard sweatshirt is the telltale sign of a non-Bostonian. Listen, the city is chock-full of coeds, but that doesn't mean flip-flops and hoodies are the status quo. You never know what the weather holds in New England—a sunny, 60-degree day can turn into a spring snowstorm in no time—so it's smart to dress in layers. Follow the locals' lead and pack an array of short- and long-sleeve tees, light sweaters, and a mid-weight jacket so you can keep up with the weather. Ride the T or take a walk downtown and you'll find that Bostonians are fond of casual—but pulled-together—ensembles. Quality denim, comfortable footwear, and classic outwear will do the trick for women and men.
FIVE FOOLPROOF OUTFITS FOR BOSTON
1. WHAT TO WEAR TO WALK BOSTON'S FREEDOM TRAIL
The iconic 2.5-mile Freedom Trail encompasses some of Boston's most historic sites, from the 18th-century Old South Meeting House to the 221-foot-tall Bunker Hill Monument. Ensure you don't have to stop for Band-Aids along the way by opting for comfortable, sport-ready sneakers and a correspondingly casual outfit.
2. WHAT TO WEAR TO TOUR FANEUIL HALL
Faneuil Hall Marketplace is like the Times Square of Boston. Circus performances clog the marketplace's two main drags, and throngs of people flood in and out of Quincy Market with cupcakes, clam chowder, and Regina's pizza in hand. The last thing you want to worry about here is getting a heel stuck in the cobblestone lanes or catching your coat on a passing plate of pasta. Instead, women should opt for frayed skinny jeans, leather booties, and a denim jacket that can easily take you from Faneuil Hall to dinner. For men, a relaxed outfit consisting of a terry sweatshirt with a backpack (for new purchases and to-go desserts) should be just fine.
3. WHAT TO WEAR TO A GAME AT FENWAY PARK
Whether you're sitting atop the Green Monster or just rows behind first base, a cap will do wonders to shade you from the sun. Aside from Yankees gear, there isn't much we'd advise against wearing here. Jeans, a tee, sneakers, and a backpack (for stowing sunscreen and other essentials) is all you need.
4. WHAT TO WEAR FOR A BREWERY CRAWL AROUND BOSTON
From Baltic porter at Lamplighter and Kimchi Gose at Down the Road Beer Co. to Sam Adams and Harpoon, there are a lot of beers to be tasted in Boston. Prep for the day ahead with a casual jeans-and-tee outfit. Since you'll be walking around fermenters, glycol chillers, and other brewery equipment, it's smart to wear closed-toe shoes and bring a warm layer (which will also suit you well on late-night walks back from the bar).
5. WHAT TO WEAR TO STROLL AROUND BEACON HILL (IN SPRING OR SUMMER)
Just down the street from the Charles River Esplanade, Beacon Hill is one of Boston's most charming neighborhoods. Federal and Victorian-style brick row houses sit shoulder to shoulder with boutique clothing and decor shops, and you're never far from sweet treats like French pastries and homemade ice cream. If you're ready to depart from your typical jeans and tee get-up, now is the time. Women, go for a flowy midi dress, a classic denim jacket, and sandals with thick enough soles to handle the bumpy cobblestones of Acorn Street, one of the most photographed streets in the country. Men, this is a good time to break out your button-down—especially if you'll be grabbing brunch (try The Paramount for huevos rancheros and banana-caramel French toast).
WHAT NOT TO PACK FOR BOSTON
Boston is a bustling city with CVS and Walgreens locations on practically every corner. For this reason, you can skip the excess toiletries, first-aid kits, and emergency snacks, and pick them up on the ground if you really need them. The city is also pretty casual in dress, so you can leave your going-out get-ups at home and opt for regular ol' jeans and cobblestone-friendly footwear.
THE *ONE THING* WTP EDITORS ALWAYS PACK FOR BOSTON
Boston is a wonderfully pedestrian-friendly place—it's actually known as "America's Walking City," and very much lives up to the moniker. Really, the most important thing you can bring on a trip to Boston is a pair of excellent walking shoes, like this Adidas sneakers for men and women we spotlighted above. And if you want to show some local pride, rock the unisex Chuck Taylors from Boston-based Converse. Whether you're strolling the lovely green haven that is the Boston Public Garden, walking to key stops (like Federal Reserve and Russia Wharf) along HarborWalk, or going on a self-guided Italian bakery/salumeria/pizza tour of the charming North End neighborhood, these classic kicks are a reliable companion. And it certainly doesn't hurt that their O.G. color scheme matches the Red Sox team colors. —WTP Editors
BOSTON'S WEATHER AND SEASONS
Boston has four distinct seasons—a blessing or a curse depending on who you ask. Spring is temperate, with a cool sea breeze; summer is warm (if not hot) and balmy, with upwards of 80% humidity; fall is reasonably mild and sets the trees ablaze in fiery shades; and winter, ah winter, unleashes rain, snow, and ice storms that can shut the city down for days at a time. Because Boston's weather is so erratic—even day to day—it's key that you check (and recheck) the forecast just before your trip. Weather is often like a light switch here, so if you only pack for breezy spring days, you may be caught off guard when a last-second storm sneaks in. Heed our warning and pack layers or you may be scrambling to buy a new wardrobe when the seven-day forecast takes a sudden detour.
Note: This data comes from our friends at Weather.com. We recommend using this together with a traditional forecast as you get closer to your departure date.
JANUARY
Plan for day temps between 22 and 36
Expect 3.36 inches of precipitation
What to Wear in Boston in January: Snow is likely and icy temps are all but guaranteed. Don't leave home without your gloves, warm hat, scarf, and other essentials.
Recommendations: Norse Projects knit beanie, Asos extra-long scarf, Smartwool mittens
FEBRUARY
Plan for day temps between 25 and 39
Expect 3.38 inches of precipitation
What to Wear in Boston in February: Snowstorms and sunny blue skies don't seem like they'd go in hand, but unexpected weather patterns are February's bread and butter. This month can be Boston's snowiest, but it's also not as bitter as December or January. Pack a mid- to heavy-weight winter parka and all your usual cold weather accoutrements.
Recommendations: Lands' End Squall parka for men, L.L.Bean boots, Adidas knit beanie
MARCH
Plan for day temps between 31 and 45
Expect 4.32 inches of precipitation
What to Wear in Boston in March: Layers are the way to go in March. From whipping winds and the last of the year's snow flurries to balmy, spring-like days, you'll see it all. Pack a beanie, scarf, and layer-able sweaters, but don't go packing your Bean Boots until you've checked the forecast.
Recommendations: Waterproof Chelsea boots, Madewell pullover sweater for women, Columbia long hooded parka for women
APRIL
Plan for day temps between 41 and 56
Expect 3.74 inches of precipitation
What to Wear in Boston in April: Weather varies greatly in April—especially from the beginning to end of the month—but pack layers and you'll be fine. Sunglasses and a water bottle will also prove useful if you watch the Boston Marathon, hit the Patriots Day parade, or sit atop the Green Monster at a Red Sox game.
Recommendations: Warby Parker sunglasses with UV protection, Patagonia hooded jacket for men, Hydro Flask
MAY
Plan for day temps between 50 and 66
Expect 3.49 inches of precipitation
What to Wear in Boston in May: Temps in the upper 50s and 60s make May a beautiful time to visit Boston. Pack one lightweight jacket for early mornings and late nights but otherwise, spring attire will work just fine.
Recommendations: Levi's oversize denim jacket for women, Everlane short-sleeve button-down for women, Sperry canvas boat shoes for men
JUNE
Plan for day temps between 60 and 76
Expect 3.68 inches of precipitation
What to Wear in Boston in June: Temperatures rise well into the 70s come June, making it a lovely month to visit Boston. While early mornings and late nights are a little chillier, you likely won't see anything below 50 degrees. Pack typical early summer clothes—AKA breezy dresses, comfortable sandals, cropped jeans, and a light coat.
Recommendations: Old Navy twill pants for women, Free People semi-sheer tee, Target woven slide sandals
JULY
Plan for day temps between 65 and 82
Expect 3.43 inches of precipitation
What to Wear in Boston in July: Summer is in full swing in July, when temps jump into the 80s (and a few days usually even exceed 90!). Pack the usual: shorts, tanks, sandals, sunglasses, a water bottle, and—if your hotel has a pool—a bathing suit.
Recommendations: Men's breathable linen shirt, Vineyard Vines khaki shorts for men, Chuck Taylor All-Stars
AUGUST
Plan for day temps between 65 and 80
Expect 3.35 inches of precipitation
What to Wear in Boston in August: August weather is much like July; prepare for humid days in the 80s by packing light summer essentials like shorts, sundresses, and flowy skirts. Be sure to throw sunblock, sunglasses, and a water bottle in your bag.
Recommendations: Anthropologie gloral maxi dress, Nordstrom cushioned slide sandals for women, retro-style Ray-Bans
SEPTEMBER
Plan for day temps between 57 and 72
Expect 3.44 inches of precipitation
What to Wear in Boston in September: Temperatures can fluctuate in September, but for the most part, summer is still around. Pack a light jacket for mornings and nights, and add a few more layers to your bag if your trip falls at the end of the month.
Recommendations: Cotton baseball cap, hexagonal Ray-Bans, men's Urban Outfitters scoop-neck tee
OCTOBER
Plan for day temps between 47 and 61
Expect 3.94 inches of precipitation
What to Wear in Boston in October: With temps in the 50s and 60s and splashes of fall foliage across the Common and Public Garden, autumn is a pleasant time to touch down in Boston. Pack a midweight coat, sweaters, leather boots, and other layers that can be added or subtracted.
Recommendations: Madewell field jacket for men, Target long-sleeve tee for men, Clarks desert boots
NOVEMBER
Plan for day temps between 38 and 52
Expect 3.99 inches of precipitation
What to Wear in Boston in November: Fiery foliage and temperate conditions characterize the beginning of November. But, once the second half of the month hits, freezing rain, flurries, and even full-blown Nor'easters are known to occur. Winter apparel is likely the way to go, but check the forecast before you pack your suitcase.
Recommendations: L.L.Bean Irish lambswool scarf, Dr. Martens Chelsea boots, Everlane long puffer for women
DECEMBER
Plan for day temps between 28 and 41
Expect 3.78 inches of precipitation
What to Wear in Boston in December: New England winters are notorious for a reason. While midday weather may seem extreme, mornings are even more startling as temps can dip into the low teens. Pack all your heavy winter gear and make sure you have waterproof footwear as you'll be tromping through slush puddles when it snows.
Recommendations: Waterproof Sorel cold-weather boots, long down parka for women, Asos beanie
FREQUENTLY ASKED QUESTIONS ABOUT BOSTON

What is the best shopping in Boston?
Faneuil Hall may be on everyone's list, but you can do far better than an American Eagle and Newbury Comics filled with first-time visitors. Instead, opt for Back Bay's Newbury Street or Beacon Hill's Charles Street. The first, which runs eight blocks from the Public Garden to Massachusetts Avenue, offers big-name designers, high-end consignment shops, and trendy boutiques tucked into grand Victorian mansions. And the latter, which is right off of the Common, offers antique shops and chic boutiques lined up along gas-lamp-lit streets.
What are the cultural faux pas in Boston?
Without a doubt, the number-one thing you can do to tick off any Bostonian is spout off "Pahk the car in Hahvahd Yahd" in a "Good Will Hunting"-esque accent. To avoid further eye rolls, you should also leave the Yankees gear at home, walk single file—not three or four abreast—down crowded sidewalks, and let people get off the T before you try to shove on.
What time do bars/public transportation close in Boston?
Nightlife is a totally a thing in Boston, but the city's bars and clubs come to a screeching halt much earlier than most would expect. Technically, state law says alcohol service has to end by 2 a.m., but many bars close up shop at 1 a.m. Likewise, the T stops running at 1 a.m. and doesn't resume service until 5 a.m. If you're going to be out late, be prepared to call an Uber.
Where can I get the best seafood in Boston? What about the best lobster roll?
Picking the best seafood and lobster roll spots in Boston is like picking the best pizza joint in Chicago—it's an impossible (and highly scrutinized) job. There are quite a few options, depending on whether you want simple and straightforward or white tablecloth. Either way, it's worth checking out Atlantic Fish Company, Saltie Girl, Barking Crab, James Hook & Company, The Daily Catch, and—though admittedly touristy—Union Oyster House, the oldest continuously operating restaurant in the U.S.
Should I rent a car in Boston?
Unless you're planning on day-tripping to other New England cities, you won't need a car in Boston. Most tourist-frequented spots—like the Boston Common, Faneuil Hall, and Fenway Park—are reachable by foot or the T. Trust us, parking is expensive (on the street and in garages) and traffic is an absolute nightmare, so you'll save yourself money, time, and stress by forgoing a car.
Related Stories