By Destination
The Ultimate London Packing List
From chowing down on anything and everything at bustling Borough Market to expanding your definition of art (for free!) at the Tate Modern, you can do it all in London. England's capital is a melting pot of cultures and experiences just waiting to be explored, and its street style is legendary, from prim and proper (think collared shirts under sweaters—excuse us, jumpers—and classic field jackets) to plaid- and leather-heavy punk rock. So how do you pack for such a fashionable destination, one that has notoriously rainy weather? Luckily for you, we've got it sorted. Read on for everything you need to know about packing for a trip to jolly old London. We'll tell you what to wear so you don't look like a tourist, what shoes to bring, and more.
YOUR SUITCASE PACKING CHECKLIST
*Keep these items in your carry-on
Clothes to Pack
Bras/camis/undershirts
Socks/tights
PJs
T-shirts
Pull-on/button-up shirts
Shorts/skirts
Sweaters/sweatshirts
Swimsuit (if your hotel has a pool)
Blazer
Shoes to Pack
Accessories to Pack
Purse
Hats/scarves/gloves
Jewelry*
Belts
Ties
Clutch/evening bag
Toiletries to Pack
Toothbrush/toothpaste/dental floss
Body wash/soap
Deodorant
Face wash/makeup remover
Moisturizer
Contact lenses/solution
Razor/shaving cream
Shampoo/conditioner
Brush/comb
Earplugs/eye mask*
Tissues*
Styling tools
Hair elastics/hair accessories
Tampons/pads*
Birth control/condoms*
Hand sanitizer*
Bandages
Medications/vitamins*
Stain remover
Tech to Pack
Phone/charger*
Portable battery charger
Laptop/tablet/e-reader*
Device chargers*
Power adapter (international travel)
Camera/video camera*
Memory card/film*
Other Essentials
Wallet (credit/debit cards/ID/cash)*
Passport/visa*
Keys*
Medical insurance card*
Snacks/gum*
Books/magazines/guidebook*
Shoe brush (if you're planning day trips to the country)
Laundry bag
Helpful Printouts
Emergency contacts*
Boarding pass/hotel and car rental reservations*
Download Citymapper for access to underground maps and train times
Bank/credit card contact info*
Copies of passport/ID
ADD/SUBTRACT THESE ITEMS FOR LONGER/SHORTER TRIPS
TO LONDON
Long Weekend
Underwear: 5 pairs
Bras/camis/undershirts: 3 pairs
Socks/tights: 5 pairs
T-shirts: 3 pairs
Jeans/pants: 2 pairs
Two-Week Trip
Underwear: 9 pairs (more if you won't have laundry access)
Bras/camis/undershirts: 7 pairs
Socks/tights: 9 pairs (more if you won't have laundry access)
T-shirts: 10 pairs
Jeans/pants: 4 pairs
THE PERFECT LUGGAGE
Your packing list may be handled, but what about choosing the right luggage? If you're stealing away to London for a long weekend, then a canvas, nylon, or leather weekender bag is all you need. Want Les Essentials' spacious Hartsfield Weekender features durable canvas fabric and a leather base to withstand the wear and tear of overhead bins or under-the-seat storage. Plus, the adjustable strap means you can easily sling it over your shoulder or across the body—racing from the airport to the Tube to dinner with friends just got a lot simpler. Headed across the pond for a week? Try Calpak's Wandr 20" Spinner. The compact carry-on is lightweight, roomy, and even has a padded compartment at the front for easy laptop storage. For any trips lasting two weeks or longer, we'd take a larger case, such as Samsonite's Framelock 28″ Spinner. The scratch-resistant corrugated shell and aluminum frame protects it from even the most careless of baggage handlers, while the compartmentalized interior makes organizing your stuff a breeze.
Luggage for a Long Weekend in London
WANT Les Essentiels Hartsfield Canvas Weekender Tote
Luggage for a One-Week Trip in London
Calpak Luggage Wandr 20″ Carry-On Spinner
Luggage for a Two-Week Trip in London
Samsonite Framelock 28″ Spinner
THE 3 PAIRS OF SHOES YOU'LL NEED FOR
EXPLORING LONDON
In a dream world, airlines would allow for you and your 25 pairs of sneakers. Not to worry, though; when in London, you really only need three shoe options. If you're spending the day at the Natural History Museum (dinos! meteorites! cursed gemstones!) before taking the London Eye for a spin (pro tip: buy your tickets in advance!), then you'll want to keep those feet happy. Pounding Piccadilly and the rest of London's pavement calls for maximum comfort, breathability, and shock absorption. Evenings, however, are a chance to slip into something fancy—dress shoes will help you start your night on the right foot, whether you're seeing a West End show or splurging on one of the city's 70-plus Michelin-starred restaurants. As for your third pair, that's all you! Our choice is to pack a stylish (remember, London is known for its fashion scene) walking shoe to wear during the day. Here's our take on the perfect footwear triple threat for men and women.
Women's Shoes
Sightseeing


Superga 2750 COTU Classic Sneaker
Going Out


Rebecca Minkoff Capriana Sandal
Pub Crawl


All Black Slingback City Flats
Men's Shoes
Sightseeing


adidas Questar Flow
Going Out


Todd Snyder Sanders Navy Cap Toe Boot
Pub Crawl


Nike Blazer Mid '77 Vintage
WHAT NOT TO PACK FOR LONDON
Fun fact about London: even in summer, temperatures rarely exceed 70 degrees Fahrenheit, which means that this is one vacation where you can feel comfortable leaving your flip-flops at home. Other staples that can be omitted include a first aid kit and any other mishap-ready gear you typically pack. Flat irons and curling wands can come if you think you'll need them, but don't schlep your hairdryer—one will certainly be provided by your hotel or Airbnb. The brilliant thing about traveling to an urban locale is that it everything you may need is readily available. London is a big city and Boots, a popular drugstore chain, and other convenience stores are everywhere. All in all, packing for London is a great opportunity for practicing Marie Kondo-approved minimalism.
THE *ONE THING* WTP EDITORS ALWAYS BRING
TO LONDON
We'd be dead inside if we could resist bringing this darling silk scarf decorated with azaleas, carnations, and other sweet tiny flowers. We'll fasten it around our low ponytail when strolling Notting Hill, fashion it into a headband for picnics in Hyde Park, and wear it like a knotted necklace when touring the British Museum. For every minute in between, it'll prettify our purse straps in a tidy little bow. When we sashay into Fortnum & Mason or Claridge's for afternoon tea, we'll feel every bit the part. —WTP Editors
LONDON'S WEATHER AND SEASONS
Any Londoner will tell you that the key to being prepared in England is to always plan for rain. While it doesn't rain especially hard in the U.K., it does tend to rain often and as such having an umbrella (or brolly, as they say across the pond) or raincoat on hand is a must. Another important fact to remember is that mornings and evenings tend to be on the chilly side—even in the summer months—so layers are clutch. Not only are lightweight sweaters and cardigans a great way to double the length of an outfit, they protect you from the early morning and late night chill. Still feeling wary about packing for your trip? Not to worry! We've broken things down month by month to make sure you're fully prepared for all seasons and weather.
Note: Below is a packing forecast, not a traditional forecast. A packing forecast focuses on how cold it's likely to be in the early mornings and evenings based on historical data. We recommend using this together with a traditional forecast as you get closer to your departure date. This data comes from our friends at Weather Underground.
JANUARY
Plan for day temps between 35° F and 37° F
Temps will drop near 28° F at night and into the early mornings
Expect 3.50 inches of precipitation in January
What to Wear in London in January: This is typically the coldest month in London. As such, you and your outfit will want to plan for warmth! A water-repellent puffy will ward off rain and cold, and thick, soft socks will keep your toes toasty.
Recommendations: Women's ultra-light puffer coat, merino wool socks, tech-friendly gloves.
FEBRUARY
Plan for day temps between 22°F and 37° F
Temps will drop near 15° F at night and into the early mornings
Expect 2.00 inches of precipitation in February
What to Wear in London in February: Both rain and snow are likely in February, with temps dropping very low at night. Our advice: bring on the outerwear, scarves, and hats.
Recommendations: Men's parka, blanket scarf, knit beanie.
MARCH
Plan for day temps between 28° F and 42° F
Temps will drop near 24° F at night and into the early mornings
Expect 2.90 inches of precipitation in March
What to Wear in London in March: As with January and February, temperatures are still on the chilly side in March. Grab a raincoat and warm sweater to be prepared for anything.
Recommendations: Women's rib-knit sweater, women's anorak, short rain boots.
APRIL
Plan for day temps between 42° F and 51° F
Temps will drop near 39° F at night and into the early mornings
Expect 2.50 inches of precipitation in April
What to Wear in London in April: Things start to warm up in April. There will still be rain, however, so pack a travel-size umbrella along with your chic trench and sunglasses.
Recommendations: Men's navy trench, wayfarer sunglasses, travel umbrella.
MAY
Plan for day temps between 48° F and 57° F
Temps will drop near 37° F at night and into the early mornings
Expect 2.60 inches of precipitation in May
What to Wear in London in May: In addition to May showers, visitors will experience sunshine and chilly winds this month. Combat the elements with a lightweight windbreaker and cozy sweater.
Recommendations: Men's windbreaker with packable hood, men's fleece sweatshirt, wayfarer sunglasses.
JUNE
Plan for day temps between 54° F and 61° F
Temps will drop near 42° F at night and into the early mornings
Expect 2.75 inches of precipitation in June
What to Wear in London in June: June's sunny days are perfect for outdoor explorations. Grab a light jacket and your favorite walking shoes to wander along Regent's Canal; stop by Towpath Cafe if a coffee or hand-squeezed orange juice sounds like just the thing.
Recommendations: Women's windbreaker with hood, women's sneakers, belt bag.
JULY
Plan for day temps between 61° F and 68° F
Temps will drop near 51° F at night and into the early mornings
Expect 1.75 inches of precipitation in July
What to Wear in London in July: Take advantage of the warmest month of the year by breaking out your shorts and dresses. Rain is at an all-time low in July, but we'd still bring a travel umbrella to be safe.
Recommendations: Denim minidress, women's slip-on sandals, travel umbrella.
AUGUST
Plan for day temps between 55° F and 64° F
Temps will drop near 46° F at night and into the early mornings
Expect 2.75 inches of precipitation in August
What to Wear in London in August: Though warm during the day, temperatures cool significantly at night in August. Be ready for evening's chill with cozy shawls and layer-friendly dusters.
Recommendations: Gauzy scarf, patterned duster, cat-eye sunglasses.
SEPTEMBER
Plan for day temps between 48° F and 58° F
Temps will drop near 35° F at night and into the early mornings
Expect 3.10 inches of precipitation in September
What to Wear in London in September: The chance of rain starts to increase in September. Make sure to have a raincoat or small umbrella on hand at all times.
Recommendations: Men's wind-resistant raincoat, unisex denim jacket, travel umbrella.
OCTOBER
Plan for day temps between 42° F and 53° F
Temps will drop near 30° F at night and into the early mornings
Expect 3.25 inches of precipitation in October
What to Wear in London in October: London in October means gusty winds interspersed with some sun and random rainfall. A good pair of boots, plus a raincoat and cozy sweater will keep you covered through it all.
Recommendations: Women's anorak, open-front cardigan, women's combat boots.
NOVEMBER
Plan for day temps between 34° F and 47° F
Temps will drop near 26° F at night and into the early mornings
Expect 3.40 inches of precipitation in November
What to Wear in London in November: With temperatures only reaching a high of 47° F, staying warm is key in November. Make sure to have a cozy hat and a good pair of gloves on hand.
Recommendations: Men's parka, marled beanie, men's waterproof gloves.
DECEMBER
Plan for day temps between 38° F and 45° F
Temps will drop near 30° F at night and into the early mornings
Expect 3.50 inches of precipitation in December
What to Wear in London in December: Plan on packing winter-friendly gear when visiting London in December: puffer coats, mittens, and warm hats are all essential.
Recommendations: Hooded down coat, tech-friendly gloves, wool beanie.
LONDON FASHION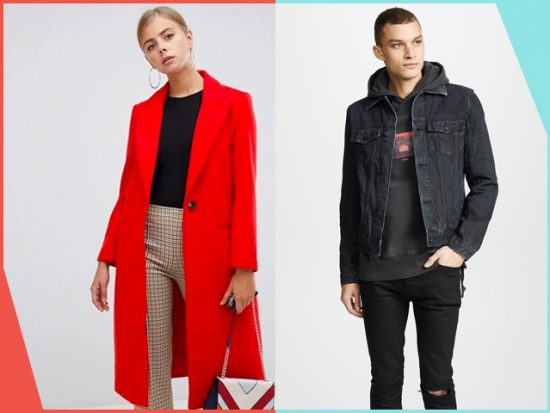 The great thing about being in London is that when it comes to fashion, anything goes. No really, the city is known for its super-eclectic style scene. Some people love to rock the English rose look with sophisticated midis and L.K. Bennett pumps (for an delightful twist, pair a floral tea dress with combat boots and safety pin earrings) while others go full grunge and others still stick to the preppy straight and narrow. This being London, you can never go wrong rocking tartans or plaids, faded denim, and a pair of Doc Martens. Or you can look dress like you're about to load up your Land Rover for a drive in the countryside with corduroys, tweeds, and army-green cotton field jackets. Though layering is key from a weather standpoint, the overall gist of dressing for London is to do what works for you. After all, the city is the birthplace of more global trends than we can count: punk fashion, the mod movement, all-white ensembles, trench coats…the list goes on. The Old Smoke (so named for the fog that pervaded the London sky during the 19th and early 20th centuries) celebrates creativity and isn't afraid to play with fashion. So no matter what your aesthetic is, you can rest assured that in London the only real rule is to be confident and rock that outfit with pride.
London Street Style for Women
Statement Coat | Faded Boyfriend Jeans | Ribbed Bodysuit | Pullover | Oxfords
London Street Style for Men
Skinny Jeans | Tee | Sweatshirt | Denim Jacket | Waterproof High-Tops
FIVE FOOLPROOF OUTFITS FOR LONDON
1. WHAT TO WEAR WHEN SIGHTSEEING
Women's
Straight-Leg Jeans | Short-Sleeve Shirt | Chunky Sweater | Oversized Jacket | Sneakers
When running around town, you can never go wrong layering lightweight shirts and jackets over a good pair of jeans. Not only will you feel relaxed as you head from a ride on the London Eye to tours of Big Ben and the ancient Tower of London, but you'll also look great. Cue selfies at each spot!
Men's
Tailored-Fit Jeans | Fleece Hoodie | Utility Jacket | Sneakers | Canvas Backpack
A cotton hoodie and a wool workwear-inspired jacket will keep you warm while you tour the Churchill War Rooms and walk across Tower Bridge. Should you go shop the stalls at Camden Market or Covent Garden, a fully zippable backpack can hold your souvenirs.
2. WHAT TO WEAR TO BUCKINGHAM PALACE
Women's
Floral Dress | Leather Motorcycle Jacket | Leather Booties | Jute Crossbody Bag | Gold Studs
While there's no formal dress code required for a general visit to Buckingham Palace—one of London's most iconic landmarks—this is one of those situations where it's preferable to be safe, rather than sorry. It's a perfect excuse to play up the English rose vibe with delicate florals. Don't forget to take a tour of the Royal Mews, the Queen's stables (hello, Her Majesty's carriage collection!).
Men's
Navy Chinos | Slim-Fit Shirt | Crewneck Sweater | Chukka Boots
You don't have to wear a bespoke suit handmade on Savile Row, but now is the time for a more tailored look. Straight chinos, a collared shirt (with just a hint of cheek), and a thick knit for around the shoulders should do the trick.
3. WHAT TO WEAR TO A LONDON THEATER SHOW
Women's
Plaid Dress | Blazer | Gold Earrings | Chelsea Boots | Nail Polish
You can be as casual or fancy as you like when going to see a show in London. If you go a little dressier, then you can pair the performance with a fantastic dinner—Michelin-starred Dinner by Heston Blumenthal is worth every pound if you're looking to splurge—or drinks afterwards. Summer months tend to be on the warmer side, so opt for something lightweight that doesn't cling.
Men's
Slim-Fit Trousers | Button-Down Shirt | Blazer | Derby Boots | Card Case
No need to break out a three-piece suit, but a night in the theater district is a great time to dress smartly. After all, where better in the world to look dapper than London? Pair twill pants and a slim button-up with a handsome pair of derbies, and you're ready for a night in Theatreland.
4. WHAT TO WEAR TO HARRY POTTER WORLD AT THE WARNER BROS. STUDIO LONDON
Women's
High-Waisted Leggings | Long-Sleeve Blouse | Bomber Jacket | Slip-On Sneakers | Mini Backpack
If you're spending the day touring the wizarding world of Harry Potter at Warner Bros. Studios, we suggest keeping things loose and relaxed. Our pick combines a casual bottom with a more tailored top for a look that reads both comfortable and chic. Added bonus? Stretchy leggings mean you can chow down on all the peppermint toads and chocolate frogs you like.
Men's
Joggers | Crewneck Tee | Pullover | Sneakers | Backpack
A Burberry scarf and a Pimm's Cup, a Barbour coat and a pint, a pair of joggers and a mug of butter beer. Okay that last one may not be the most classic of combos, but it certainly works in the land of Harry Potter. Pair your cozy pants with supportive shoes as you'll be wandering through the Great Hall, Diagon Alley, and the Forbidden Forest.
5. WHAT TO WEAR TO GO SHOPPING IN LONDON AROUND OXFORD AND BOND STREETS
Women's
Ribbed Skirt | Fitted Tee | Combat Boots | Oversized Jean Jacket | Rattan Mini Bag
Given London's trendsetting reputation, shopping is always a popular activity. This is your chance to play with your own style and draw inspiration from the many boutiques on Oxford Street—the busiest shopping street in Europe—and beyond. Bond and Carnaby streets are your best bet if you want to explore British heritage labels and high-end designers, while the Mayfair area is home to specialist shops such as Rigby & Peller, the former lingerie supplier to the royal household.
Men's
Slim Cotton Pants | Slub Tee | Crew Sweatshirt | Knit Sneakers | Sunglasses
Classic khakis and smoky matte shades will look right at home in this prosperous district. Subtly subvert the traditional look with knit sneakers and a dark pullover sweatshirt with just the wee-est nods to punk.
FREQUENTLY ASKED QUESTIONS ABOUT
PACKING FOR LONDON
Is it true it always rains in London? How can I be prepared?
While it doesn't always rain in London, it does rain often. In fact, you can pretty much expect some sort of rainfall any month that you visit. That being said, the best way to prepare to is carry a compact umbrella or a stowaway raincoat at all times. Something light that can easily fit into whatever bag you're using means you'll always be covered.
I don't want to look like a tourist; how do people dress in London?
As noted above, style in London is really what you make of it. The city is big on experimenting with fashion, so it is one of those destinations where the closet really is your oyster. The most important thing to remember is to be comfortable, have fun, and own your look.
I'm doing a private tour of Buckingham palace, what is the dress code?
The dress code for a private tour of Buckingham Palace is pretty simple: dress nicely, no shorts or flip-flops. Think midi dress and a cardigan for women, tailored trousers with a nice shirt for men. You can always add a heavier sweater or blazer if the weather turns cool.
What do I wear to the theater in London?
Happily the days of wearing gowns and top hats to the theater—or should we say the theatre—are long behind us. Though some people do enjoy getting dressed up for an evening show (ourselves included!), what you wear is entirely up to you. Our only tip would be to stick with light, comfortable clothing if attending a show during the summer months.
Related Stories