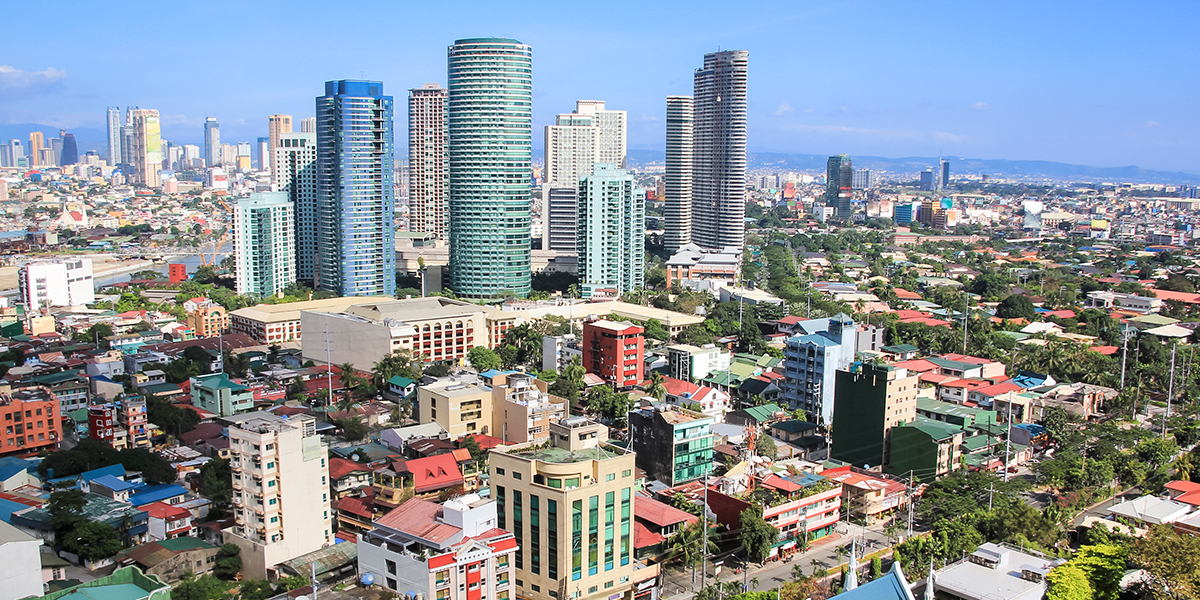 By Destination
The Ultimate Manila Packing List
Compared to other Southeast Asian destinations—beachy Bali, flashy Bangkok—Manila is often overlooked. But the Philippines' capital city is no wallflower. It offers plenty of treats for tourists: There's sightseeing in Intramuros, a walled city with beautiful colonial architecture, rebuilt after it was destroyed during World War II; food, teahouses, and markets in Binondo, the world's oldest Chinatown; upscale shopping in the sleek BGC; and a hopping nightlife scene featuring everything from speakeasy-style cocktail bars to craft beer, indie music to nightclubs. Packing should focus on sun-protection, comfortable footwear, and lightweight, breathable attire, since Manila is hot and humid year around. For those braving the rainy season, a lightweight rain jacket and other waterproofing supplies are a must. It's worth mentioning that the U.S. government has issued a travel advisory on certain parts of the Philippines, though not Manila. (If you're at all concerned about safety, see our FAQ below.)
Your suitcase packing checklist
Click items to view travel editor-approved options
THE PERFECT LUGGAGE
For a weekend trip, this classic duffel from Sweetbriar is roomy without being bulky. It gets high marks from reviewers for its durable construction (note the metal—not plastic—hardware) and functional details, like a padded shoulder strap and a dedicated shoe compartment for those all-important walking shoes and sandals. For a one-week trip, Away's ever-popular carry-on is a practical cult-classic that comes in a slew of colors. Standout features include a lightweight but durable shell, 360-degree wheels, specialized compartments for separating clothes and shoes, and a space-saving compression pad (in case you go a little souvenir-crazy at the markets or mall). There's even a TSA-approved lock and phone charger built right in. For a longer trip (or if you're packing with a partner), Samsonite's 28-inch spinner offers more space and many of the features of Away's popular suitcase for a similar price. It earns high marks from travelers for its lightweight, durable construction and spacious interior.
THE 3 PAIRS OF SHOES YOU'LL NEED FOR EXPLORING MANILA
Comfortable walking shoes and sandals are non-negotiables for Manila. For sandals, classic Teva's and leather Chacos fit the bill with adjustable straps, grippy outsoles, and EVA footbeds. On the sneaker front, Suavs' Zilker Gum shoes are a stylish, everyday staple for women. Not only are they machine washable, but they're made from breathable, sweat-wicking material—ideal for Manila's hot, humid climate and for those who love going sockless. For men, the Nike Free is lightweight, breathable, and loved by reviewers who say they stay comfy all day. And if you still have a little extra packing space, consider a dressy option for going out, like these stylish Lucky Brand wedge-heel espadrilles or comfortable Oxford-like kicks from TOMS.
Women
Men
WHAT NOT TO PACK FOR MANILA
Leave your miniskirts, crop tops, low-cut V-necks, and booty shorts at home. As a largely Catholic city, Manila veers toward the conservative, so stay respectful and ditch the revealing clothes. (Beaches and resorts do offer a bit of leeway if you're dying to rock those cut-off shorts and two-piece swimsuits, and nightclubs tend to be a bit more relaxed about showing a little skin, too.) Because it's so hot and humid, you're unlikely to need bulky layers (though a lightweight wrap or layer can be useful in blasting AC), and you'll generally want to avoid synthetic fabrics as their lack of breathability can leave you stewing in your own sweat. Definitely leave valuable jewelry at home, and before you pack an arsenal of makeup, consider what will realistically survive on your face in a tropical climate.
DON'T FORGET THESE 3 KEY ITEMS IN MANILA
BYOT. And by T, we mean toilet paper and tampons. Both can be difficult to find in Manila, so travelers should come toting their own. Another must-have in Manila: serious insect repellant. We're talking about something with DEET. The city's climate attracts lots of mosquitoes (especially during rainy season), and cases of dengue fever (though not malaria) have been reported. It's best to play it safe.
THE *ONE THING* WTP EDITORS ALWAYS BRING TO MANILA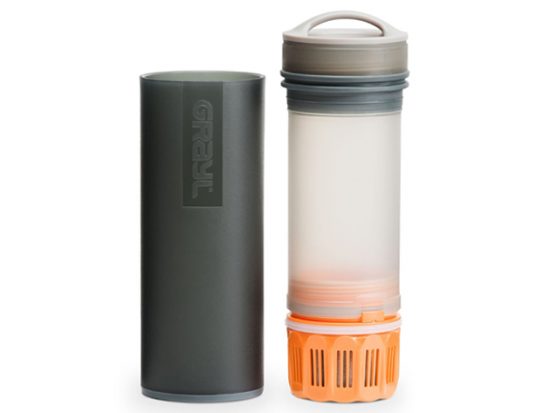 With all the heat and humidity going, you'll need to stay hydrated. But unless you're accustomed to it, you'll probably want to avoid the tap water in Manila. Our plan? Bring along a water bottle with a quality filter. A good one is worth the investment and can be brought into service for countless other trips, or even just a weekend yoga class when you're not jetsetting around. —WTP Editors
MANILA'S WEATHER AND SEASONS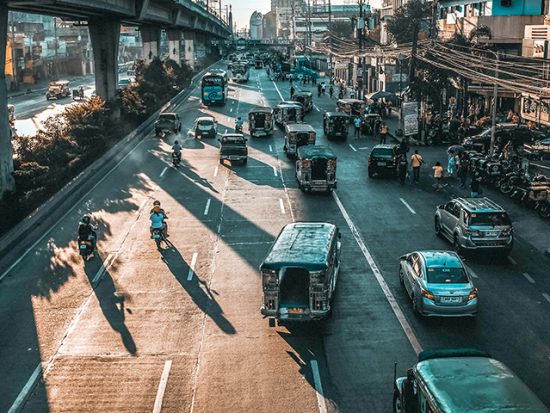 Hot and humid. That's Manila's weather in two words. April through June are the hottest months, with over 90-degree temperatures nearly every day, but even Manila's coolest months (December and January) hover in the mid-80s daily. The rainy season runs from May through October (June through September are rainiest), while dry season runs from November through April. Since the dry season also corresponds with slightly cooler temperatures, it's the city's peak tourist season (be aware of the especially hectic travel time around Easter's Holy Week). Visiting during the rainy season can have its perks, like less relentless sun and cheaper travel rates, just remember to pack a lightweight rain jacket, waterproof shoes, and quick-drying apparel. Year-round, packing should focus on sun-protection (sunscreen, a brimmed hat, and sunglasses) and insect repellant with DEET. You might consider a lightweight layer for air-conditioned venues or for cooler months (January and December) when temperatures can dip into the upper 60s at night. To beat the heat, clothes made from breathable, natural fabrics (cotton, linen) are king.
Note: This data comes from our friends at Weather.com. We recommend using this together with a traditional forecast as you get closer to your departure date.
JANUARY
Plan for day temps between 71 and 86 temps
Expect 0.8 inches of precipitation in January
What to Wear in Manila in January: It may be Manila's coolest month, but temps still hit the mid-80's everyday. Pack breathable daytime apparel and a lightweight layer for the evening, when temperatures can dip into the upper 60s.
Recommendations: Lightweight scarf, women's linen pants, women's slip-on walking shoe
FEBRUARY
Plan for day temps between 72 and 88 temps
Expect 0.4 inches of precipitation in February
What to Wear in Manila in February: By the end of February, the mercury rises into the 90s, meaning heat and sun protection should be a packing priority.
Recommendations: Breathable baseball cap, UPF 50+ packable straw fedora, durable polarized sunglasses
MARCH
Plan for day temps between 73 and 90 temps
Expect 0.6 inches of precipitation in March
What to Wear in Manila in March: As summer hits in earnest, your most important layer just might be your sunscreen. Consider a sweat-resistant brand as well as portable sticks for easy, on-the-go reapplication.
Recommendations: Sweat-resistant sunscreen, non-greasy sunscreen stick, travel-sized aloe vera gel
APRIL
Plan for day temps between 76 and 93 temps
Expect 1.2 inches of precipitation in April
What to Wear in Manila in April: Manila's sunniest month is also seriously hot, so wear breathable natural fabrics and be sure to pack items to help you stay cool and hydrated.
Recommendations: Filtered water bottle, cooling towel, portable fan
MAY
Plan for day temps between 77 and 93 temps
Expect 4.9 inches of precipitation in May
What to Wear in Manila in May: May is Manila's hottest month, so in addition to packing your usual warm-weather outfits, bring items that keep you feeling fresh, despite all the sweat.
Recommendations: Individual body wipes, travel-sized castile soap, portable washing bag
JUNE
Plan for day temps between 77 and 90 temps
Expect 10.3 inches of precipitation in June
What to Wear in Manila in June: It's hot and wet in June as rainy season ramps up. Priorities include staying dry and protecting yourself against mosquitos.
Recommendations: Travel-sized insect repellant, women's packable raincoat, men's waterproof jacket
JULY
Plan for day temps between 76 and 88 temps
Expect 15.9 inches of precipitation in July
What to Wear in Manila in July: In Manila's rainiest month, stay dry with water-resistant apparel and accessories, which can be more functional on busy city streets than large umbrellas.
Recommendations: Women's water-repellant pants, men's quick-dry shirt, women's water shoes
AUGUST
Plan for day temps between 75 and 87 temps
Expect 14.4 inches of precipitation in August
What to Wear in Manila in August: Smack-dab in the middle of rainy season, you'll want warm-weather clothing as well as raingear. Also consider waterproofing other accessories so they don't get damaged.
Recommendations: Waterproof phone case, waterproof mini backpack, insect-repellant wipes
SEPTEMBER
Plan for day temps between 75 and 88 temps
Expect 13.5 inches of precipitation in September
What to Wear in Manila in September: As with the proceeding months, September is warm and rainy. Focus on staying dry with your trusty raingear, as well as waterproof shoes with moisture-wicking socks.
Recommendations: Men's waterproof sneakers, moisture-wicking no-show socks, women's water shoes
OCTOBER
Plan for day temps between 75 and 87 temps
Expect 7.8 inches of precipitation in October
What to Wear in Manila in October: October is less rainy than the proceeding three months, but it's not dry yet. If you're on a budget, consider more affordable raingear options, like backpack covers and ponchos. Not the most photogenic, but they'll keep you and your gear dry. If you have a bit more funds, consider a fully waterproof backpack.
Recommendations: Packable poncho, waterproof backpack cover, waterproof backpack
NOVEMBER
Plan for day temps between 74 and 87 temps
Expect 5.3 inches of precipitation in November
What to Wear in Manila in November: As rainy season wraps up, focus on packing breathable, lightweight apparel for temperatures in the high 80s.
Recommendations: Women's wide-leg crop pant, men's linen button-down, comfortable walking shoes
DECEMBER
Plan for day temps between 72 and 86 temps
Expect 2.6 inches of precipitation in December
What to Wear in Manila in December: Though December is one of the city's coolest months, you still want to pack warm-weather outfits. Add a lightweight layer for slightly cooler nights, which tend to be in the low 70s.
Recommendations: Linen scarf, women's lightweight wrap, women's cotton crew neck
STYLE FOR MANILA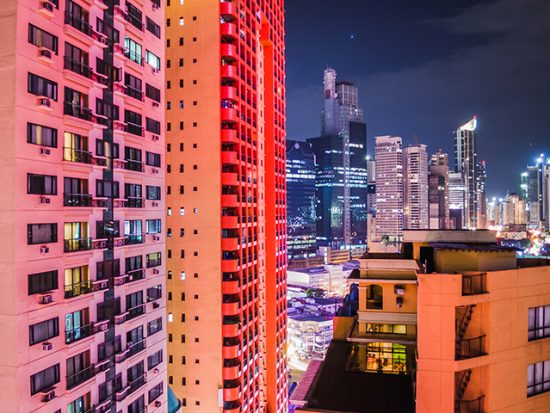 In part because Manila is so hot and humid year-round, style in the city tends to be casual, focusing on what's comfortable and convenient for protection from the sun, heat, and possibly rain. While warm-weather attire is recommended, don't pack clothing that's too revealing, as Manila tends to dress a bit more conservatively than the U.S. Aim for modest hemlines and necklines and generally avoid a bare midriff (unless you're at a beach). While shorts and tank tops are acceptable, breathable pants and T-shirts can actually offer more sun and mosquito protection. Comfortable walking shoes or sandals are a necessity—consider waterproof picks if you're traveling during the rainy season.
FIVE FOOLPROOF OUTFITS FOR MANILA
1. WHAT TO WEAR SIGHTSEEING
Whether you're sightseeing in the famous walled city of Intramuros or strolling through Rizal Park, a good sightseeing ensemble is one part style, two parts comfort for a day in the sun. For women, this breathable, all-linen outfit pairs bright, solid-colored staples with a funky floral backpack perfect for keeping essentials (like sunscreen and water) handy while your hands stay free. For men, you'll stay sweat-free (OK, as close sweet-free as possible) in these versatile cotton chinos and a go-anywhere cotton crewneck tee. Comfortable walking shoes with moisture-wicking socks and a hat are functional pieces that also finish off the look.
2. WHAT TO WEAR SHOPPING IN MANILA
From mega-malls to the many shopping opportunities of Bonifacio High Street, you really can shop until you drop in Manila. For women, pair a breezy tank dress with comfortable walking sandals for all-day comfort, adding a stylish straw hat for outdoor shopping and a lightweight chambray layer for air-conditioned malls. For all finds that won't fit in your purse, this lightweight backpack will do the ticket. For men, Chinos and a cotton polo are vacation workhorses that are easy to mix and match. Pair them together with breathable footwear and sunglasses for a stylish ensemble. And no matter where you're shopping, cash stays safer in a money belt.
3. WHAT TO WEAR TOURING LANDMARKS AND MUSEUMS
This women's ensemble is as functional as it is Instagram-ready (for all of those pictures at Manila Ocean Park). A flowing curry-colored sundress pairs perfectly with a summery straw carryall, while strappy leather walking sandals and a breezy linen cover-up (in case of AC) complete the look. For men, it's hard to go wrong with jeans and a T-shirt. While these Vans might not compete with what you'll find at the Marikina Shoe Museum, they'll certainly keep you comfortable while you're walking through it. And a classic Moleskin notebook will help you make note of any favorite exhibitions.
4. WHAT TO WEAR IN MANILA'S RAINY SEASON
It's actually possible to stay stylish while it's raining! Believe it or not, these chunk-strapped sandals for women are waterproof and this utility jacket is actually a raincoat (with underarm vents, no less!). They pair perfectly with cropped cotton cargos and a breezy tank top designed to beat the heat. For men, this lightweight Patagonia rain jacket is a wardrobe essential with tons of smart details, like an adjustable hood, draw cords that keep out raindrops, and the super-useful ability to pack it down into its own pocket. Waterproof sneakers and a waterproof daypack keep you and your essentials dry.
5. WHAT TO WEAR TO HIT UP THE NIGHTLIFE OF MANILA
For women, this graphic print dress pairs well with understated jewelry like wooden hoops and a thin bangle. A simple crossbody bag helps you keep essentials close, while wedges are a more foot-friendly option than standard heels. Men can pair blue chinos with a fun-loving palm-print button-down; it's a look that will play just as well in a nightclub as it will at a speakeasy. Stylish boat shoes and an accented leather belt are just the right details to elevate this dressed-up look.
FREQUENTLY ASKED QUESTIONS ABOUT TRAVELING TO MANILA

Do I need a visa to travel to Manila? Do I need to show health certificates of vaccinations?
If you're a U.S. citizen, you won't need a visa to travel to Manila as long as you're staying for 30 days or less. You also won't need to show any health certificates, though the CDC recommends routine vaccinations. As of this writing, there was a measles outbreak in Manila, so travels should ensure they have an MMR vaccine. While malaria hasn't been reported in Manila, dengue fever is still a worry, so pack an insect repellant with DEET.
What are the best beaches near Manila?
Many popular beaches are within a few hours drive of Manila, and there are usually buses that will take you to them from the city. Batangas offers a slew of pretty beaches within a two- to three-hour drive of the city, including the popular Laiya and Burot Beach, among many others. Zambales, a four- to five-hour trek from the city, is known for its beaches made gray by volcanic ash. Best bets here include Nagsasa Cove and Anawangin Cove, both in San Antonio. Quezon, also about a four- to five-hour drive from the city, is famous for its white-sand beaches. A highlight is Borawan, with its photo-ready cliffs, though its narrow beach can get crowded, particularly in high season months like April and May.
Manila is made up of several cities in one: Which cities are safest and which are best to avoid?
Manila's main tourist destinations are the safest, and most tourists choose to stay in Makati. BGC (also called The Fort, in Taguig) and Intramuros are also popular. Areas of Ermita and Malate (as well as Quezon City) are known for their nightlife, and can offer a slightly grittier but more authentic experience than the major tourist areas. As in all cities, stick to well-lit areas at night and consider researching particular neighborhoods before venturing into them. Most foreigners avoid the slums, in particular Tondo, which can be rough. Wherever you are, avoid crowded areas that always attract pickpockets and thieves, so keep your wallet close and don't make yourself a target by wearing expensive jewelry.
Traffic can be bad in Manila; what is the best way to get around?
If you visit Manila, you will probably end up sitting in its infamous gridlock. Though off-road public transit, like Light Rail Transit (LRT) and Metro Rail Transit (MRT), are options, the routes aren't particularly extensive, and should be avoided at rush hour when stations get incredibly packed. Buses are a more tenable options, as are Manila's famous jeepneys—brightly painted jeeps that essentially function like buses, seating around 20 passengers. For first-timers, they can be a little challenging to navigate, though. Much like the tuk-tuks found in Thailand and India, tricycles and E-trikes are also good options for quick trips. They work like a shared taxis, seating three to six people. You can also take a regular taxi, but be wary of getting scammed—make sure the meter is turned on so you don't get overcharged. Or, avoid the issue altogether by using the cab-hailing app Grab, the Uber of the Philippines. Renting a car is also an option.
Are U.S. Credit Cards accepted in Manila?
Big-name credit cards are accepted in Manila, but you'll likely only use them at establishments that cater to tourists or to withdraw local currency from ATMs (which are plentiful in Manila, unlike more rural areas of the country). You'll end up using cash for most of your daily purchases.
Related Stories