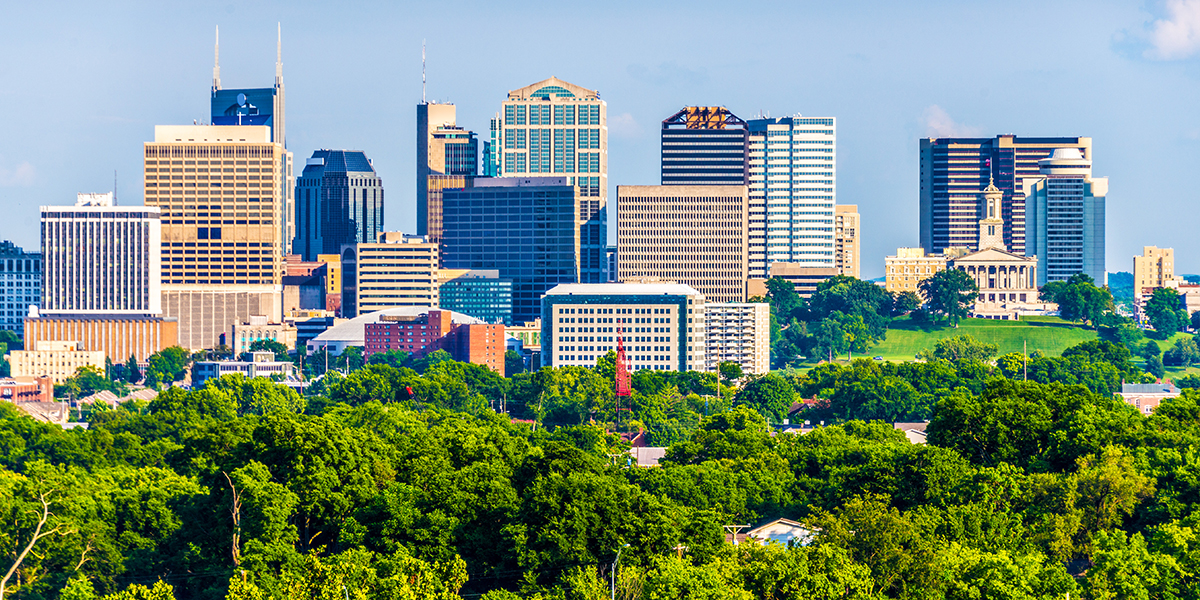 By Destination
The Ultimate Nashville Packing List
Looking for a healthy dose of honky tonk, hot chicken, and Southern hospitality? Then it's time to hop a plane to Nashville! Home to storied venues like the Grand Ole Opry, the multi-day CMA Music Festival, and a slew of past and present country crooners like Johnny Cash, Luke Bryan, and Lady Antebellum—Music City's country roots run deep. Of course, Nashville has a lot more diversions to offer; we're talking design-driven boutique hotels, indie retailers, and revolutionary restaurants that go beyond biscuits and barbecue (but don't worry—you can still find plenty of that). If you're planning daytime excursions to the Country Music Hall of Fame and Nashville Zoo or late nights on Honky Tonk Row, you'll need a wardrobe that can tackle it all. Below, we delve into what weather you can expect each month, the items you shouldn't be leaving home without, and the luggage that'll best accommodate your Nashville wardrobe. Pro-tip: Wear your cowboy boots on the plane.
Your suitcase packing checklist
Click items to view travel editor-approved options
THE PERFECT LUGGAGE
Perfecting your packing strategy for a trip to Nashville first requires finding the right bag. If you're going for a long weekend, you can't go wrong with Cuyana's Classic Weekender. The polished canvas bag is full of elevated features, from Italian leather handles and gold hardware to personalized monogramming on the shoulder strap. The roomy interior guarantees space for all your essentials. If your trip approaches the seven-day mark, you'll be better off with a small spinner like the 23-inch hardsider from Herschel Supply Co. A polycarbonate shell means it's both sleek and ready to take a beating at baggage claim. Aside from the company's signature striped lining, inside you'll also find a mesh divider and garment straps which make organizing your outfits a breeze. Lastly, if you're packing for two or are going for an extended stay, you can't do better than Away's large checked bag. We know the suitcase has been Instagrammed to death by influencers the world over, but its cult status is actually well-earned. The durable polycarbonate shell is guaranteed for life and inside, a compression system works wonders for overpackers. Extra features like a removable laundry bag, 360-degree Hinomoto wheels, and personalized monogramming just seal the deal.
THE 3 PAIRS OF SHOES YOU'LL NEED FOR EXPLORING NASHVILLE
Women's Shoes
Nashville Street Style for Men
FIVE FOOLPROOF OUTFITS FOR NASHVILLE
1. WHAT TO WEAR TO VISIT THE COUNTRY MUSIC HALL OF FAME OR THE GRAND OLE OPRY
Neither the Country Music Hall of Fame nor the Grand Ole Opry have dress codes. In fact, the latter states on its website that "you'll see everything from faded jeans to business suits, cowboy hats to your Sunday best. Just remember a rule we take very seriously…you have to wear something!" For women, we'd go with a simple jeans and tee outfit, slightly dressed up with a Western bootie and fun belt. For men, a simple henley, pair of jeans, and Doc Martens boots will not only suit your Country Music Hall of Fame tour, but also a casual dinner and drinks afterward.
2. WHAT TO WEAR TO SEE LIVE MUSIC AT TOOTSIES NASHVILLE OR MUSIC ROW
Going out for a night of boot stompin' live music? Iconic Tootsies doesn't have a strict dress code, so you can wear whatever you're comfortable in. We're enamored with this eyelet midi dress which pairs perfectly with a jean jacket and espadrilles. Dudes can opt for khakis, a flannel, and an Americana-inspired boot like a pair from Frye, one of the States' leading leather manufacturers.
3. WHAT TO WEAR TO VISIT THE NASHVILLE ZOO OR THE ADVENTURE SCIENCE CENTER
The cornerstone of your zoo outfit should be a comfortable pair of shoes—it's time to tuck away your boots and opt for sneakers. From the ankles up, the options are really endless, but we always suggest bringing a pair of sunglasses and sunscreen if the weather calls for it.
4. WHAT TO WEAR TO DO A NASHVILLE WALKING TOUR, GO SIGHTSEEING, AND SEE STREET ART
Looking to take a new profile pic or Instagram shot on your walking tour of Nashville? Keep things cool and casual while searching for street art or learning about the city's civil right's movement. A mini backpack will hold all your essentials like a water bottle, sunglasses, and wallet.
5. WHAT TO WEAR TO GO SHOPPING IN NASHVILLE'S GREEN HILLS, 12 SOUTH, AND GERMANTOWN NEIGHBORHOODS
A shopping trip calls for comfort and cuteness. Take a page out of Nashville natives' books. For women, a flowy midi dress and flat suede sandals are a surefire way to look chic while shopping. Men can keep things cool and casual with slim jeans and a flannel shirt.
NASHVILLE'S WEATHER AND SEASONS

Like other cities in the Upper South, Nashville enjoys a pretty agreeable climate. Visitors will find hot, humid summers (but nothing too unbearable) and mild winters with little snow accumulation. Spring is the most unpredictable of Music City's seasons. Some months, like May, can dump upwards of five inches of rain, and most of the region's tornados also hit during this time. That said, Nashville delights no matter the season. Year-round you'll find festivals celebrating everything that makes the city great, including country music, whiskey, and even hot chicken. A good rule of thumb when packing for your trip is to prepare for every element with adequate layers. With a midweight jacket, flannel shirt, and umbrella in tow, you can rarely go wrong.
Note: Below is a packing forecast, not a traditional forecast. A packing forecast focuses on how cold it's likely to be in the early mornings and evenings based on historical data. Note that precipitation is an average per day, and not the entire month. We recommend using this together with a traditional forecast as you get closer to your departure date. This data comes from our friends at Weather Underground.