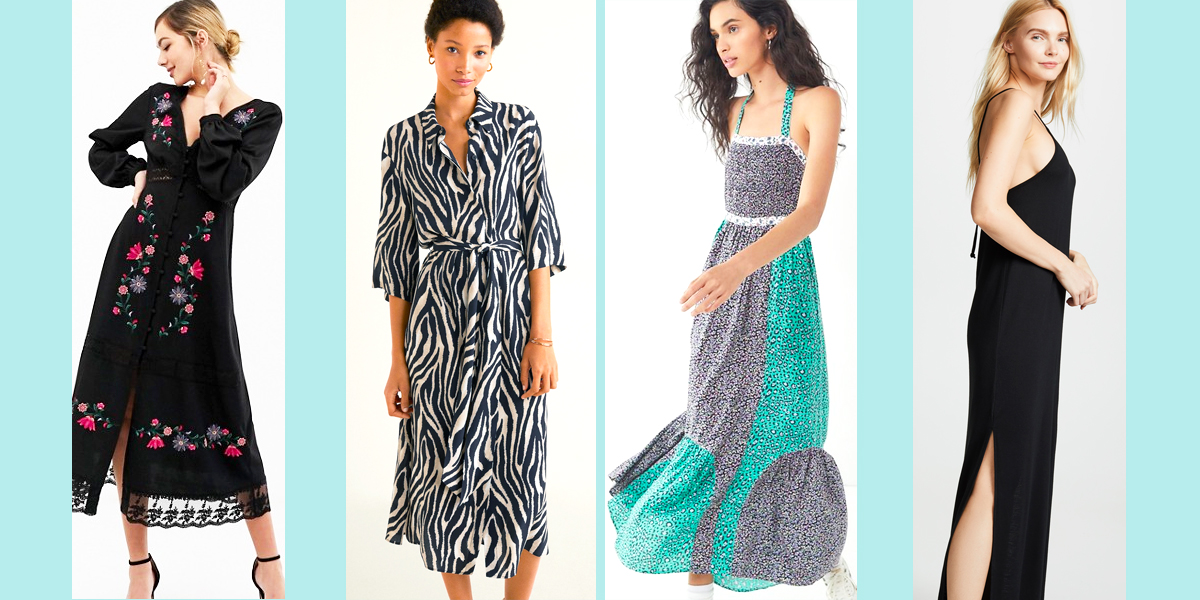 Shop
The Best Maxi Dresses of 2019 That Are Perfect for Travel
Maxi dresses are a suitcase staple. Why, you ask? They're the most versatile dress style, giving you both more packing space and more brain space, since you won't have to fret over how many accessories and shoes to pack. Floaty or formfitting, monochrome or floral, maxi dresses look good with simple or bold jewelry and a bright lipstick. Whatever the formula, a maxi dress never fails to look the part. They can be worn with sandals for a boho-chic look, or sneakers for a hip urban vibe. Throw a maxi dress on as a chic coverup at the beach and after dark dress it up with higher heels and a casual blazer slung over the shoulders. We've rounded up some of the best maxi dresses out there in a range of budgets, styles, and silhouettes. Take your pick, and make the maxi dress your go-to essential on your next trip.
1
Best Maxi Dress for Summer Travel
A breezy silhouette, flirty open back, and clashing prints that somehow still go together make this Urban Outfitter number our maxi dress of choice for summer 2019. Its relaxed cut and ruffled skirt give it a laidback, boho feel, while the loud seam-paneled mixed motifs perfectly capture that carefree, unruly vibe that only summer brings. Couple it with a denim jacket and pair of high-tops—and you're good to do some city exploring. Swap the sneaks for a pair of sandals, and you've got a beach-ready ensemble. 
$69 at Urban Outfitters
2
Best Maxi Dress for a Destination Wedding
Flowing chiffon. Check. A floral print that feels fresh and vibrant, rather than cutesy and childish. Check. Flattering pleats and a little bit of shoulder-flaunting. Check. This maxi dress by Eliza J has "Destination Beach Wedding in Jamaica" written all over it. It's both striking and elegant, and the naked shoulders evenly offset the floor-length. To put it simply, it's a fun and flattering choice—what all destination wedding guest dresses should be.
$158 at Nordstrom
3
Best Budget Maxi Dress
Besides the fact that it's under $10, this maxi dress from Forever21 wins in awesomeness because it can go from day to night with the single swap of a pair of shoes. Deceptively simple, it combines two of our favorite qualities when it comes to dresses: comfort, thanks to the light fabric and hint of spandex, and attitude, which comes through with the self-tie front. Navy is an excellent neutral, and flattering on a variety of skin tones. The front slit shows off long legs, and won't overpower more petite statures. This maxi dress definitely deserves space in your carry-on.
$9 at Forever21
4
Best Plus-Size Maxi Dress
Universal Thread's sleeveless, v-neck maxi dress might just be one of the best plus-size maxi dresses out there right now. The red and maroon color palette is a real show-stopper; the design is just oh-so flattering (thank you, vertical stripes) and the cut is ultra-snug instead of tent-like, because of the drawstring around the waist. It has edge, and it's likely to look even more glorious with a tan. Plus, it's wallet-friendly. Perfect much?
$32.99 at Target
5
Best Long-Sleeve Maxi Dress
Pairing long-sleeves with pretty embroidered flowers and a lace hem, this Asos maxi dress is a bit of a wild card—and all the more travel appropriate because of it. Made of a black crinkled woven fabric, it features black buttons and a delicate lace insert above the waist that give it an updated look, and an extra gold star in our books. The embroidered floral details also means you don't need to think too hard about styling. Just let the global vibes do all the talking.
$87 at ASOS
6
Best Petite Maxi Dress
Heart prints can get a bad rap when it comes to "grown-up" fashion (especially in the petite section), but not in the case of this heart-print Topshop maxi dress. Channeling a modern-day Audrey Hepburn in Roman Holiday, both the above-the-ankles hem and the black and white heart graphics make for a punchy look that's far from twee, but still feels pretty. The front-tying knot on the top adds a fun detail to the overall design, as do the delicate ruffled straps. Best yet, the busy motif doesn't overpower a petite frame. Just add a black clutch and a pair of mules or slides and this maxi  no-brainer for you and your suitcase.
7
Best Maxi Dress for Business Travel and Work
If you think business trip attire should be all staid and serious, think again. The beauty of going away for work is that you're allowed to inject some holiday style into your packing—you're in a new place and outside of your daily routine after all—and sport looks that yes, are sharp, but also sunny and cool. Like this maxi shirt dress from Mango. The animal print makes it interesting, the below the elbow bell sleeves look smart, and the tie at the waist is super flattering, both with flats and heels. Your overseas colleagues will be impressed, and so will you.
$99 at Mango
8
Best Floral Maxi Dress
What we most like about this maxi dress from Row A is how modern the floral print feels against the vintage silhouette. No ditsy motifs here, but boisterous, eye-catching wildflowers that look cool, fresh, and vacation-ready. The fact that the streamlined silhouette is universally flattering is also a major draw, as is its gathered waist structure: easy to toss into your case, even easier to put on without ironing.
$59 at Nordstrom
9
Best Black Maxi Dress
This Z Supply black number is the quintessential travel maxi dress, for a number of reasons. To begin with, it's oh-so soft and ultra-light, as it's made from jersey material. The fabric makes it easy to pack, and even easier to wash when you're on the move. Secondly, it's the perfect blank canvas for multi-tasking. It can be belted for a bit more oomph, or worn as it is for a more relaxed fit. Its simple, clean line and halter neck with a back tie means it works on pretty much any body type. Which is why is the first thing to go into our suitcase. And it should be yours, too. 
$60 at Shopbop
And for Shoes…
Related Stories
All products have been hand-picked by our writers and editors. Items purchased through links may earn us a commission.