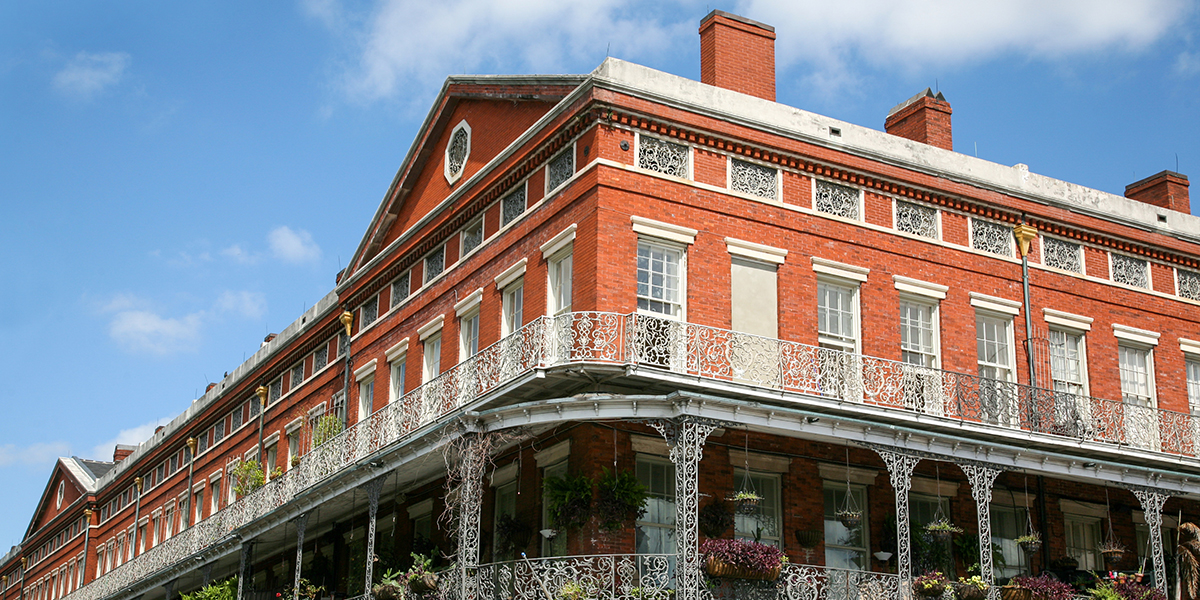 By Destination
The Ultimate New Orleans Packing List
We can think of few cities with more personality than New Orleans. A melting pot of French, African, Afro-Caribbean, European, and American influences, New Orleans is the swinging, sultry, southern city famous for its grand plantation-style mansions, red-hot nightlife, and live music—this trailblazing city is the birthplace of jazz, after all. The city's ragtime- and blues-influenced sound permeates the streets, but the Big Easy is also awash in finger-licking Creole and Cajun eateries, cast-iron balconies and cascading Spanish moss, voodoo queens and raucous celebrations (of which Mardi Gras is just the start). Planning a trip here calls for a little weather-centric research as heat, humidity, and hurricanes are par for the course. Prep yourself with our comprehensive packing list and month-by-month rundown of what to expect, and you'll head down south as prepared as possible.
Your suitcase packing checklist
Click items to view travel editor-approved options
THE PERFECT LUGGAGE
Planning a weekend jaunt to the Big Easy? Pack light with Madewell's much-adored canvas weekender. The cotton and leather tote features three interior pockets and measures a roomy 18 by 14 by 7 inches, offering plenty of space for all your essentials. Two top handles and an adjustable cross-body strap also make it easy to carry.
If you need more room than a duffel can deliver, upgrade to a 22-inch spinner. Ideal for trips up to a week in length, the Traveler's Choice Solon Carry-On features a clamshell design which means you can easily organize your belongings between two compartments. The polycarbonate and aluminum frame—which is available in silver, navy, and black—knows how to take a beating on the road, and the ergonomic, T-shaped handle and 360-degree spinner wheels make it easy to maneuver through airports and hotel hallways.
For longer trips to NOLA, a checked bag is likely in order. Made by Design's 28-Inch Hardside Spinner looks akin to a certain influencer-promoted suitcase (ahem), but it rings up for a fraction of the price. The spacious bag should have more than enough room for everything you need, but an additional zipper allows it to expand 2.5 inches if you find yourself tight on space. Of course, the spinner also offers everything else you'd want in a quality bag: a telescoping handle, top and side handles, interior zip pockets, and a strong, ABS polycarbonate shell.
THE 3 PAIRS OF SHOES YOU'LL NEED FOR EXPLORING NEW ORLEANS
Women's Shoes
Men's Shoes
If you're looking for a vacation spot with little walking, New Orleans is not the place. But if you go into your getaway with shoes that are able to go above and beyond your recommended 10,000 daily steps, you'll be in good shape. Ladies should pack a comfortable walking sneaker (for Garden District strolls and cemetery tours) along with two sandal varieties: one for casual outings and another for nights out (Bourbon Street, anyone?) Men will also do well with a comfortable sandal for relaxed shopping or zoo excursions, a tried-and-true pair of sneaks, and a boat shoe for sit-down dinners. Of course, New Orleans is subject to each season's weather so mix and match your shoe arsenal accordingly.
STYLE FOR NEW ORLEANS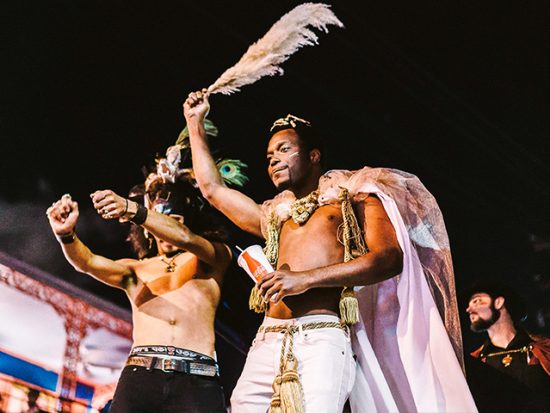 There are no hard and fast rules when it comes to fashion in New Orleans. Just as the city is a meld of cultures—French, African, and Caribbean among them—it embraces bold sartorial statements. You'll find everything here from flashy Carnival-inspired attire to preppy Greek-life looks. Given all that, when packing for NOLA, it's best to embrace your personal style and keep comfort in mind. Since you'll be strolling to and from hotspots like the French Quarter, Garden District, and Frenchmen Street, walking shoes and comfy outfits are key. If you find yourself in the Bayou State come Mardi Gras, just make sure you bring your best purple, gold, and/or green outfit.
New Orleans Street Style for Women
New Orleans Street Style for Men
FIVE FOOLPROOF OUTFITS FOR NEW ORLEANS
1. WHAT TO WEAR TO EXPLORE THE FRENCH QUARTER OR THE GARDEN DISTRICT
The beating heart of New Orleans, the historic French Quarter is jam-packed with Cajun restaurants, antique stores, Hurricane-peddling bars, cast-iron balconies, and storied mansions (a la the infamous mansion of Madame LaLaurie). This is sightseeing at its finest, so wear a comfortable outfit—maybe with some give—that can hold up to a lot of eating, drinking, and walking.
French Quarter/Garden District Outfit for Women
French Quarter/Garden District Outfit for Men
2. WHAT TO WEAR FOR A NIGHT OUT ON BOURBON STREET
Love it or hate it, Bourbon Street is worth seeing at least once. With open container laws (and hell, even drive-thru daiquiri joints) you'll find most people sporting Hurricanes and other drinks of choice in "go-cups." Whether you're out to throw some back or just observe, typical bar/club attire will do. Dresses and heels are popular with the ladies while men often opt for smart-casual combo of jeans and a tee.
Night Out On Bourbon Street Outfit for Women
Night Out On Bourbon Street Outfit for Men
3. WHAT TO WEAR TO NEW ORLEANS JAZZ FEST
The epic New Orleans Jazz and Heritage Festival unfurls the last weekend of April and the first weekend of May each year. With a 2020 lineup that includes Diana Ross; Katy Perry; Leon Bridges; Earth, Wind & Fire; Pit Bull; and Van Morrison among many, many others, it's an event you don't want to miss. Like any festival, you'll see all sorts of styles here, but cut-off shorts (or cotton drawstring ones for the guys) paired with a breathable tank top or tee will prove most comfortable when you're fighting for space in the crowd of nearly half a million festivalgoers.
Women's Outfit for New Orleans Jazz Fest
Men's Outfit for New Orleans Jazz Fest
4. WHAT TO WEAR TO THE NEW ORLEANS AQUARIUM OR AUDUBON ZOO
If you're spending the day at the Audubon Aquarium of the Americas or the Audubon Zoo, a lot of walking will be involved. Men and women would do well with an outfit of jeans, a tee, and comfortable footwear. Sunglasses are a must-have for perusing outdoor enclosures and a backpack or tote is also great for stowing sunscreen, water, snacks, and other essentials.
Women's Outfit for New Orleans Aquarium or Audubon Zoo
Men's Outfit for New Orleans Aquarium or Audubon Zoo
5. WHAT TO WEAR TO MARDI GRAS
If there were ever a time to embrace maximalist party style, it's Mardi Gras. That said, if you don't have room in your suitcase for a full-blown costume or you just want to go for a subtler look, embrace a purple-, green-, or gold-heavy color scheme as those are the holiday's official colors (representing justice, faith, and power, respectively).
Women's Outfit for Mardi Gras
Men's Outfit for Mardi Gras
WHAT NOT TO PACK FOR NEW ORLEANS
Unless your trip falls during Mardi Gras, leave the beads and purple wigs at home. Yes, the city takes its festivities seriously, but locals don't just walk the streets in parade-worthy costumes. NOLA is also quite casual in dress, so a comfortable pair of block heels—as opposed to stilettos—should be more than enough to get you through nice dinners and nights out. Another local tip: Don't wear black to Café du Monde! Unless you're cool with wiping powdered sugar from every square inch of your being, it's best to opt for an outfit that can hide tell-tale signs of your beignet binge.
THE *ONE THING* WTP EDITORS ALWAYS PACK FOR NEW ORLEANS
Going hands-free is a beautiful thing anywhere, but it can really change the game on a trip to New Orleans, where you have important things like selfies and to-go cups to consider. Let the good times roll with a belt bag (aka a fanny pack), which frees up your hands while you're drinking a Hand Grenade down Bourbon Street, clapping on street performers in Jackson Square, or dancing your butt off to the live jazz band at Preservation Hall. This honey-colored belt bag by Rebecca Minkoff is polished enough to tap into New Orleans' southern preppy style (it will fit right in while you're sipping mint juleps on the front porch of the Columns Hotel), but its cowhide leather body is tough enough to withstand that swamp tour you want to do. Opt for the slightly larger version of the bag if you want to fit in a small bottle of water—a brilliant thing to have on hand in this hot, hot city.
NEW ORLEANS' WEATHER AND SEASONS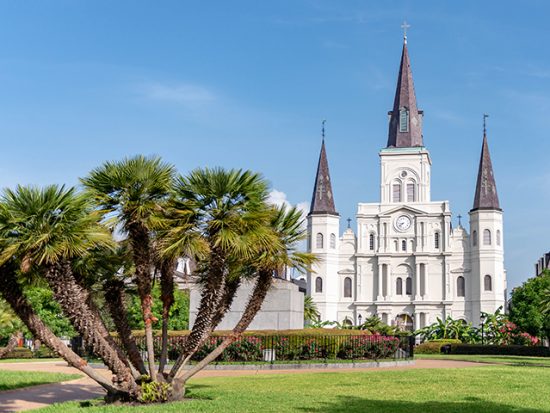 Located in the Mississippi River Delta, this far-south city is no stranger to heat and humidity. The city is classified as a humid subtropical climate, so New Orleans experiences hot, muggy summers and short, temperate winters with year-round temperatures between 53 and 83 degrees. While summer months in the mid 80s may not seem all that bad, NOLA ranks as the most humid major city in America with an average daily level of 76 percent (nearly 90 percent before 6 a.m.) Of course, humidity is low on the totem pole of weather concerns in New Orleans. Surrounded by swamps, marshlands, and sinking coastline, NOLA's low elevation leaves it highly susceptible to tropical cyclones, hurricanes, and other catastrophic storms. Peak season for such natural disasters is June 1st to November 30th, so it's wise for travelers to check and recheck forecasts in the days leading up to their trip. Stay on top of the weather and what to pack with our month-by-month rundown below.
Note: This data comes from our friends at Weather.com. We recommend using this together with a traditional forecast as you get closer to your departure date.
JANUARY
Plan for day temps between 45 and 62
Expect 5.15 inches of precipitation in January
What to Wear in New Orleans in January: January is technically NOLA's coldest month, but temperatures are pretty mild during the day. Pack a mid-weight coat, jeans (or other full-length pants), layerable tops, and some good walking shoes. If you plan on being out at night, throw a light scarf in your bag as temps can dip into the mid-40s.
Recommendations: Women's high-rise skinny jeans, Madewell pullover sweater, Keds leather sneakers
FEBRUARY
Plan for day temps between 48 and 65
Expect 5.46 inches of precipitation in February
What to Wear in New Orleans in February: With daytime temps in the 50s and 60s, weather is pretty temperate in February. Pack a fall-appropriate wardrobe—jean jacket, full-length pants, and light sweaters—and you'll be good to go.
Recommendations: Men's Everlane Chore jacket, men's Levi's Original Fit 501 jeans, men's Calvin Klein white sneakers
MARCH
Plan for day temps between 54 and 72
Expect 4.55 inches of precipitation in March
What to Wear in New Orleans in March: The start of spring is a great time to visit New Orleans. Temps hover in the high 50s to low 70s, summer's humidity hasn't snuck in yet, and rainfall is relatively scarce. Bring spring essentials like flowy skirts and dresses, cropped jeans, and tops that can be layered with a denim jacket.
Recommendations: Women's cropped jeans from Target, Madewell daisy-embroidered top, slip-on espadrilles
APRIL
Plan for day temps between 60 and 78
Expect 4.61 inches of precipitation in April
What to Wear in New Orleans in April: Come April, it's evident that summer is just around the corner. Bring a light jacket for chilly mornings and nights (denim, suede, or leather will do)—but otherwise, go all in on warm-weather essentials. Our packing list? Shorts, dresses, skirts, sunglasses, and a water bottle for fighting off sun- and Bourbon Street-induced dehydration.
Recommendations: Men's Everlane pocket tee, men's J.Crew Factory chino shorts, Hydro Flask water bottle
MAY
Plan for day temps between 68 and 85
Expect 4.63 inches of precipitation in May
What to Wear in New Orleans in May: Temps are on the up and up come May. Even early mornings and late nights remain in the high 60s. Pack spring and summer staples and stay prepared for occasional thunderstorms with a light raincoat or umbrella.
Recommendations: Men's Columbia rain jacket, men's Uniqlo linen-blend shorts, men's super-soft olive green tee
JUNE
Plan for day temps between 74 and 90
Expect 8 inches of precipitation in June
What to Wear in New Orleans in June: Flowy sundresses, midi skirts, and lightweight tops will do you well in June as temps climb into the high 80s and low 90s and humidity follows suit. Don't forget to pack sunscreen, a water bottle, sunglasses, a wide-brim hat or baseball cap, and an umbrella as rain is likely as NOLA slips into hurricane season.
Recommendations: Gap floral-print handkerchief midi dress, woven straw hat, Neutrogena Ultra Sheer Dry-Touch SPF 100+
JULY
Plan for day temps between 75 and 91
Expect 5.9 inches of precipitation in July
What to Wear in New Orleans in July: Heat and humidity are two weather factors you'll have to contend with in July. Daytime temps remain in the high 80s and low 90s, and humidity hovers around 80 percent. Pack your suitcase full of summer essentials and don't forget an umbrella as this month is still quite rainy.
Recommendations: Vumos travel umbrella, polarized sunglasses with 100% UV protection, Urban Outfitters color-block dad cap
AUGUST
Plan for day temps between 75 and 91
Expect 5.98 inches of precipitation in August
What to Wear in New Orleans in August: August ties July for NOLA's highest heat and humidity levels. Stick to lightweight materials like linen and be sure to pack a hat and sunglasses to protect your face and eyes from the sun.
Recommendations: Coola SPF 30 Sun Silk Drops, Forever 21 denim button-front skirt, embroidered tank top from Target
SEPTEMBER
Plan for day temps between 72 and 88
Expect 5.05 inches of precipitation in September
What to Wear in New Orleans in September: September is the height of New Orleans' hurricane season, so make sure you check the forecast right before your trip. Along with an umbrella and lightweight raincoat, pack flowy summer clothes like linen shorts, tees, and dresses.
Recommendations: Repel windproof travel umbrella, Men's J.Crew Factory short-sleeve linen shirt, Men's American Eagle Outfitters leather flip-flops
OCTOBER
Plan for day temps between 63 and 80
Expect 3.58 inches of precipitation in October
What to Wear in New Orleans in October: Temps begin to dip in October—especially toward the end of the month when days stray into the 60s. Pack long sleeve tops, jeans, and a light coat to fend off early morning and late-night chills.
Recommendations: Women's Express high-waisted ankle jeans, Anthropologie babydoll top, women's twill jacket from the Gap
NOVEMBER
Plan for day temps between 54 and 72
Expect 4.49 inches of precipitation in November
What to Wear in New Orleans in November: Weather fluctuates pretty widely this month. To contend with temps ranging from the mid 50s to low 70s, bring a few warm-weather essentials as well as sweaters and coats (preferably a raincoat) that you can layer as needed.
Recommendations: Men's Lands' End cotton crewneck sweater, L.L.Bean water-resistant color-block nylon jacket, Topman stretchy skinny-fit jeans
DECEMBER
Plan for day temps between 47 and 64
Expect 5.33 inches of precipitation in December
What to Wear in New Orleans in December: NOLA is far from freezing in December, but you can leave your spring and summer attire at home. Pack long-sleeved tees, sweaters, jeans, and comfortable walking shoes. An umbrella is also good to have on hand as the city is fresh out of hurricane season.
Recommendations: Everlane The City anorak for women, women's J.Crew crewneck cashmere sweater, Madewell high-rise skinny jeans
FREQUENTLY ASKED QUESTIONS ABOUT NEW ORLEANS

How safe is New Orleans in general? How does it compare to other cities?
New Orleans' safety is a tricky topic to unpack. Statistically, the city has an extremely high violent crime rate, but that number alone is quite deceiving. When considering tourist-frequented spots, New Orleans is about as safe as any major metropolitan area. Like anywhere, the best rule of thumb is to be aware of your surroundings and yourself. That means researching neighborhoods before you visit them, sticking to tour groups in cemeteries, avoiding unknown areas after dark, and always having at least one buddy with you.
Where are the best beignets in New Orleans? And what other food is a must-eat?
It's always hard to know whether Instagram's most photographed spots are actually the best, but in this case, Café du Monde does come out on top. Head down to the OG location on Decatur Street in the French Quarter (there are eight stands sprinkled throughout the city) and line up with every other tourist in town for the sugary fried fritters and a chicory-spiked cafe au lait. Word to the wise: Don't wear black! Other than beignets, also leave time and stomach space for po-boys, soft shell crab, gumbo, jambalaya, and muffulettas.
Are New Orleans' cemeteries open to the public? Can you tour them?
NOLA has 45 cemeteries—many of which are historic and open to the public. Because of vandalism, however, some—even the most popular, like St. Louis Cemetery No. 1—are only accessible via a tour group. Do your homework ahead of time to determine which cemeteries you want to see and arrange for a tour. Going with a group is both safer and more educational—so it'll ultimately be worth the extra expense. You can find a host of cemetery tours—some with exclusive after-dark access and additional voodoo excursions—on Viator.
What should I bring in my daypack when I'm exploring New Orleans?
Without a doubt: a water bottle! Whether you're day drinking on Bourbon Street or just soaking up the summer sun on a walk around the rest of the French Quarter, dehydration is all but guaranteed. Beyond that, be sure to carry sunglasses, a portable battery charger for your phone, and sunscreen.
What should I expect if I'm coming for Mardi Gras? What's the weather usually like, and how bad are the crowds?
Mardi Gras revelers begin to flow into NOLA roughly two weeks before Ash Wednesday each year. With major parades and masquerades going on almost every day between the end of February and beginning of March, the city sees its population double in size. That means the metropolitan area balloons to well over two million people. Luckily, the weather is usually pretty temperate hovering in the mid 50s, so while you're packed along the parade route like sardines in a can, you won't have to worry about heat stroke-inducing temps.
Related Stories